By Gary Alexander
America's central bank was born in 1913 but it was conceived in the Panic of 1907. On November 15, 1907, the Dow Jones Industrials bottomed out at 38.83, almost 50% below its peak of 75.45 set on January 19, 1906. The Dow wouldn't surpass its 1906 high until 1916, but the 1907 Panic was relatively short-lived because private super-banker J.P. Morgan personally saved the nation by providing overnight credit and forcing other bankers to follow his lead. After the dust settled, however, Morgan, aged 70, said he didn't want to play Superman anymore, so he advised Congress to create some kind of central bank.
The new central bank had to learn through experience, with alternating bouts of inflation and deflation: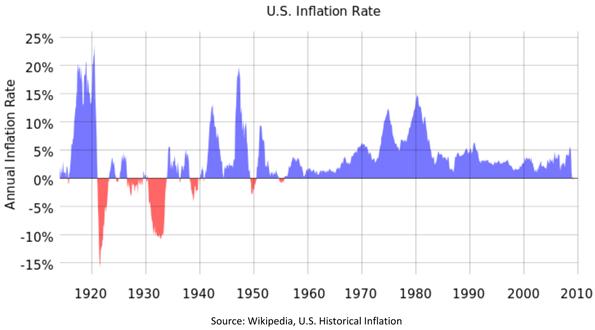 Graphs are for illustrative and discussion purposes only. Please read important disclosures at the end of this commentary.
First, the Fed fueled too much liquidity during World War I. The Consumer Price Index (CPI) rose by a total of 83% in four years: 1916 (+12.6%), 1917 (+18.1%), 1918 (+20.4%), and 1919 (+14.5%).
Then, the Fed slammed on the brakes in 1920, causing a flash Depression. The rate of CPI deflation in 1921 was -10.8%, followed by 2.3% deflation in 1922. Monetarily, the Roaring 20s didn't roar much. You can see the moderate rates of rotating deflation and inflation from 1922 to 1929 in the chart above.
After the stock market crash of 1929, however, the Fed cut the money supply by a third, resulting in three years of steeply plunging prices: -6.4% in 1930, -9.3% (1931), and -10.3% (1932). From 1920 to 1932, the CPI fell by 32.5%, but if you add up all the wild swings of inflation (1915-19) and deflation (1920-32), the average inflation rate (1913-32) would be 1.5%. That shows why so many "averages" are misleading!
The good news is that the Fed earned its sea legs and enjoyed 35 years of fairly stable management under two long-serving Fed Chairmen: Marriner Stoddard Eccles (serving 1934-1948) and William McChesney Martin (1951-1970). They helped engineer America's mid-Depression recovery and our greatest decades of post-war growth. (Never heard of them? That's great! A Fed Chairman shouldn't be making news.)
The Fed then lost its way under Nixon's appointment of Arthur Burns (Fed Chairman, 1970-78). He responded to political pressure for more liquidity by letting the inflation genie out of the bottle. Then, Paul Volcker (serving 1979-87) throttled inflation back into a manageable range of 1% to 5% since 1983.
Unfortunately, the last three Fed Chairmen have spent a lot of their time fighting "phantom inflation."
The Danger of Worrying Overmuch About Inflation
President Donald Trump just nominated Jerome Powell as the 16th Chairman of the Federal Reserve.
The two most recent Fed Chairs (Ben Bernanke and Janet Yellen) have been gun-shy about a supposedly fragile economy after the 2008 financial crisis, so they kept key short-term rates abnormally low - below 1% for almost a decade. Now, the Fed is gingerly taking rates above 1%, still low by historical standards.
Before Bernanke, Alan Greenspan was the Fed Chairman for a near-record 18+ years. Three years ago, I was honored to interview Alan Greenspan at the New Orleans Investment Conference in a panel and also in a one-on-one conversation. I was polite in my questions, but I asked him about the Fed's role in the business cycle and market cycle - including the Fed's role in the market disruptions during his tenure:
The 1987 crash: Greenspan took the reins of the Federal Reserve on August 11, 1987. He made a rookie mistake of raising the Fed's Discount Rate 50 basis points on September 4, fighting a return of phantom inflation. This caused a market panic: The next day, the Dow fell 2.5% and the Prime Rate rose a full point to 9.25%. After Black Monday (October 19, 1987), Greenspan quickly cut the Discount Rate back to where it was before he took office. Later, he raised rates six times in 1994.
The real estate crash: Greenspan left the Fed in 2006, but not before keeping the Fed Funds rate under 2% from 2002 to mid-2004. Low rates led many families to refinance their homes at a lower rate, using their homes like an ATM machine to buy better cars, bigger homes, and these wonderful new electronic toys - flat screen TVs, computers, and the emerging smartphones. Then, by raising rates 17 consecutive times from mid-2004 to mid-2006, the Fed shut off that liquidity, leading to a peak in real estate prices and a subsequent crash in mortgage derivates, leading to the 2008 crisis.
The 2000 crash: Greenspan raised rates from 4.8% to 6.5% in 1999, but the market kept rising. Due to widespread (but unfounded) fears of Y2K computer glitches, the Fed flooded the market with liquidity in late 1999, fearing there would be a run on cash in the banks. That didn't turn out to be the case, so investors used that cash to create a market "melt-up" (most notably in NASDAQ tech stocks) in early 2000. Then, Greenspan sopped up some of that excess liquidity in early 2000, leading to a sudden halt in buying as many tech stocks collapsed sharply during April 2000.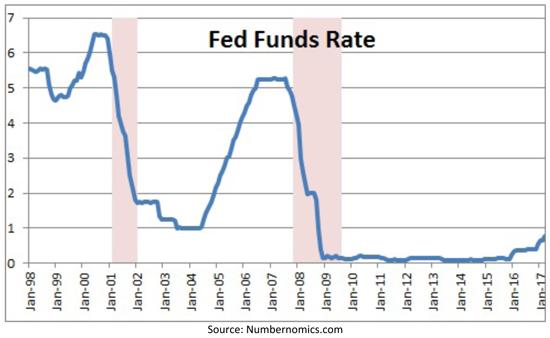 Graphs are for illustrative and discussion purposes only. Please read important disclosures at the end of this commentary.
Fed Chairmen, like military generals, tend to fight the current war based on the realities of the last war rather than focusing on the new weapons deployed by the current enemy. War has changed drastically and so has monetary economics. It is important to fight the risk of real inflation, but not phantom inflation.
Disclosure: *Navellier may hold securities in one or more investment strategies offered to its clients.
Disclaimer: Please click here for important disclosures located in the "About" section of the Navellier & Associates profile that accompany this article.