It is undeniable that 2017 has been kind to investors who are long Apple (AAPL) (up 47.8% YTD as of 10/31/2017) and the FAANG trade in general (Facebook (FB), Apple, Amazon (AMZN), Netflix (NFLX), Google (GOOG) (GOOGL) - Average YTD return 48.3%). Through the same 10 months, the S&P 500 is up 16.9%. Apple's run higher this year has most recently been driven by its better than expected Q4 earnings – which AAPL accomplished in the face of a lackluster first week sales of the iPhone 8 and without a single unit of the highly demanded iPhone X yet sold. Additionally, AAPL is positioned to be among the greatest beneficiaries should the proposed Republican tax plan pass through Congress, mainly because of the inclusion of a one-time 12% repatriation tax rate and their ever growing stockpile of oversees cash.
So what factors are at play that could derail this Apple rally?
With great performance comes great expectations: People are pricing in some pretty high demand and equally high margins for the iPhone X. Should Q1 2018 be weaker than expected for unit sales - or should margin pressure increase due to supply/production problems associated with the iPhone X's new features/components, investors could see AAPL retrace to previous support levels. iOS 11 is another potential speed bump for AAPL, as it has had some widely criticized issues since its Q4 rollout and will be the operating system powering that much awaited iPhone X.
Investor base churn: The huge YTD gain may have tempted investors to take some money off the table going into year-end. As the cost basis for AAPL investors "getting in now" is rising, will there be a smaller pool of investors willing to jump in at the increasingly higher prices?
Can corporate tax reform pass? To the extent that AAPL will be one of the biggest beneficiaries of the current proposed tax reform, how much has that been priced into the current YTD performance and what is the likelihood that the Republicans will be able to get it passed through Congress? If the end legislation looks fundamentally different from the current proposal, that may take some of the tailwind off of this name.
Are you getting more Apple than you realize?
Many investors turn to index funds in order to diversify their US equity holdings and the market cap weighted S&P 500 (NYSEARCA:SPY) continues to be the most recognized benchmark for diversified large-cap US equity exposure. However, as the largest market cap companies have continued to separate from the pack, what are investors really holding when they invest in SPY?
Exhibit 1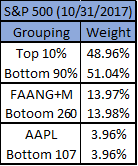 Exhibit 1 above demonstrates that an investment in the S&P 500, is more concentrated than many investors (this author included) would realize. The top 10% of positions (50 stocks), have nearly as much weight as the remaining 90% (450 stocks). FAANG+M (the addition is Microsoft (NASDAQ:MSFT), which this year has made a case to join the FAANG designation) represents just over 1% of the names in the S&P 500, yet holds the same weighting as the bottom 260 positions combined. Finally AAPL, the largest position in the S&P 500 (with a market cap currently over $900 billion) has as much weight as the bottom 107 companies combines.
Exhibit 2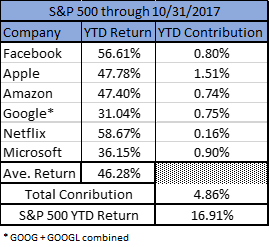 The concentration in these names has clearly been a net positive for the S&P 500 so far this year, as those six companies alone have accounted for over a quarter of the index's YTD performance. Exhibit 2 above shows that 28.7% (4.86%/16.91%) of the S&P 500 YTD return has been generated by the FAANG+M group. If the environment shifts such that AAPL and the broader FAANG trade becomes less attractive, moving into the Cap Weighted S&P 500 might not be as much diversification as one thinks.
Where can you get "FAANG(+M)-less" broad US large cap exposure?
An alternative method for an investor to gain access to broad US large-cap exposure without over concentration in the FAANG+M trade is through strategies such as the newly launched Reverse Cap Weighted US Large Cap Index calculated by S&P Dow Jones. This weighting methodology maintains allocations to the same 500 benchmark companies as the S&P 500, but weights them by (1/ Market Cap) – resulting in an index that is in the reverse order of the S&P 500. Therefore FAANG+M (which as noted above has such a large weight in the S&P 500), has a drastically lower combined weight in the Reverse index (0.08% combined! – 10/31/2017).
Exhibit 3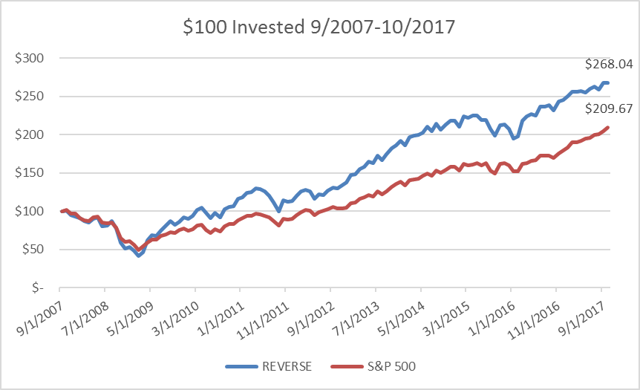 Exhibit 3 is a chart of the 10-year return of the S&P 500 alongside the Reverse Index, followed by a table showing the annualized return and volatility of the indices. Detailed information on the calculation, performance and characteristics of the Reverse Cap Weighted Index can be found via this Reverse Cap White Paper. Please note that Reverse Index performance prior to 10/23/2017 are the result of a back-test calculated by S&P Dow Jones using point-in-time-data and instituting the current index methodology. More information including Reverse Index performance and calculation is available on the S&P Custom Indices Reverse Index page.
Conclusion
Apple's 2017 run may continue as several tail winds seem to be in their favor. However, if the fortunes of Apple and the FAANG+M trade shift, moving into the broad S&P 500 may not be quite the diversified portfolio one thinks. Reverse serves as one of the few options for broad exposure to the S&P 500 constituents, which does not have outsized exposure to those names.
Disclosure: I am/we are long AAPL, FB, MSFT, GOOG, GOOGL, NFLX, RVRS.
Business relationship disclosure: The author, Josh Blechman is the Director of Capital Markets at ACSI Funds and Exponential ETFs, an SEC Registered Investment Advisor. Exponential ETFs is the issuer of the Reverse Cap Weighted US Large Cap ETF (Ticker: RVRS).
Additional disclosure: The Reverse Cap Weighted U.S. Large Cap Index (Reverse) is a rules-based reverse capitalization weighted index comprised of the 500 leading U.S.-listed companies as measured by their free-float market capitalization contained within the S&P 500 universe. The Index has an inception date of October 23, 2017, with a back tested time-series inception date of September 28, 2007. It is not possible to invest directly in and index.

The Reverse Cap Weighted U.S. Large Cap Index (the "Index") is the property of ACSI Funds, which has contracted with S&P Opco, LLC (a subsidiary of S&P Dow Jones Indices LLC) to calculate and maintain the Index. The Index is not sponsored by S&P Dow Jones Indices or its affiliates or its third-party licensors (collectively, "S&P Dow Jones Indices"). S&P Dow Jones Indices will not be liable for any errors or omissions in calculating the Index. "Calculated by S&P Dow Jones Indices" and the related stylized mark(s) are service marks of S&P Dow Jones Indices and have been licensed for use by ACSI Funds. S&P® is a registered trademark of Standard & Poor's Financial Services LLC ("SPFS"), and Dow Jones® is a registered trademark of Dow Jones Trademark Holdings LLC ("Dow Jones").

All information for an index prior to its Launch Date is back-tested, based on the methodology that was in effect on the Launch Date. Back-tested performance, which is hypothetical and not actual performance, is subject to inherent limitations because it reflects application of an Index methodology and selection of index constituents in hindsight. No theoretical approach can take into account all of the factors in the markets in general and the impact of decisions that might have been made during the actual operation of an index. Actual returns may differ from, and be lower than, back-tested returns.
All stock price and industry/company financial data was sourced from Factset unless otherwise noted.