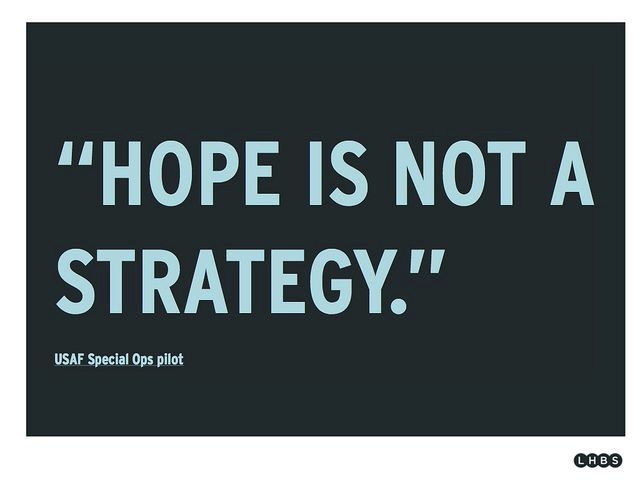 Let's be honest, OK? We all probably know people who have a "hope and prayer" strategy to secure a better financial future and retirement. Here are the basics of this approach, and I believe we can all relate to them:
I hope to be healthy enough to work for as long as I live and not need to worry about never having saved any money.
I hope that my government takes care of me when I need them.
I am praying that this lottery ticket will finally be the winner. I've played every week for 50 years, and I'm due.
I hope I will be inheriting lots of money from all the older relatives I have.
I am praying that God will take care of all of my retirement needs, since I am a true believer.
I hope my kids will take care of me when I am older.
I hope my savings lasts as long as I am alive, since I hate investing and never trusted the markets.
I pray for a financial miracle every day. I hope my prayers are finally answered.
The reality is, even though I have a plan and a strategy, I still hope and pray as a "back-up," but I absolutely do not count on it! It would be nice to win Powerball for $300 million, and I hope and pray that it happens, but I am not "banking" on it!
By now you all should realize that I believe a dividend growth investment plan, using Dividend Aristocrats and Dividend Kings as the core of my income stream for the future, combined with a spending plan that will never exceed my income, is the best plan for me with the least amount of risk for my tolerance level.
Once you have defined your goals and your tolerance for risk, I believe you might want to at least look at a dividend income strategy, combined with prudent spending, to secure your own financial future.
Aristocrats and Kings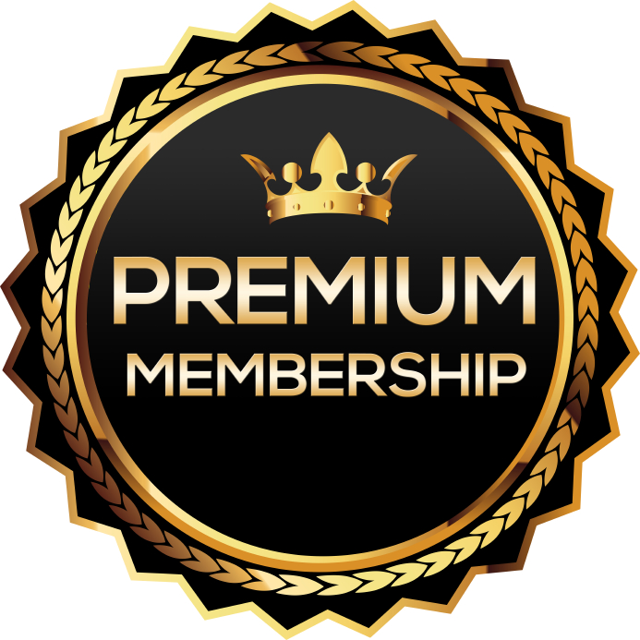 As a simple review, there are Dividend Aristocrats and Kings that have paid and increased dividends every year for at least 25 consecutive years (Kings have done it for at least 50 consecutive years). Through every major or minor correction or bear market, the stocks that fall into these categories have continued to pay and increase the cash that they pay shareholders every single year. These companies have proven that they can perform and are members of a very exclusive "club."
It does not matter what the share price has been, nor what the valuations have been, nor what business issues these companies have faced. The bottom line is that for the better part of many people's lives, these companies have paid shareholders just to hold their stock, period. It does not get any easier than that. As a matter of fact, you could have bought shares when they were over- or underpriced during these time frames and it would not have made one bit of difference. Your income would have gone up, every single year, and while some companies do stop paying or increasing, the vast majority just keep on paying. To me, that is as secure an "income" as anyone could ever have!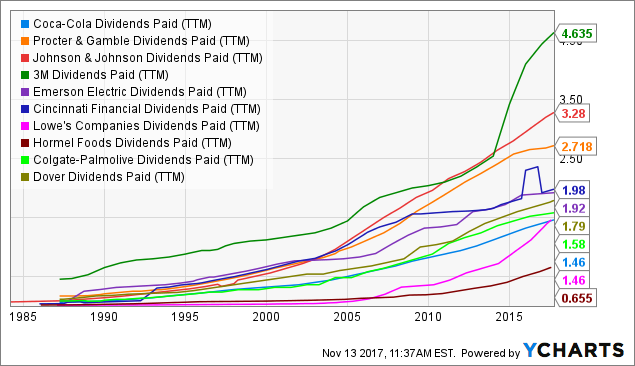 The 10 stocks in the above chart - Coca-Cola (NYSE:KO), Procter & Gamble (NYSE:PG), Johnson & Johnson (NYSE:JNJ), 3M (NYSE:MMM), Emerson Electric (NYSE:EMR), Cincinnati Financial (NASDAQ:CINF), Lowe's (NYSE:LOW), Hormel (NYSE:HRL), Colgate-Palmolive (NYSE:CL), and Dover (NYSE:DOV) - are all Dividend Kings. For at least 50 consecutive years or longer, these companies have paid and raised their dividends every single year.
I do not care what the yield on cost is right now, nor do I care what the share prices or business issues are. As long as they continue to pay, an investor will continue to have an ever-increasing income stream.
Some might argue that Dividend Aristocrats lag the returns of the S&P 500, but this chart might change some opinions: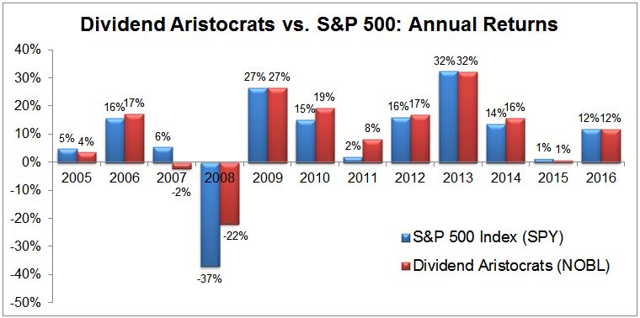 Here is a chart showing a sample performance of Dividend Kings versus the S&P 500 since 1991: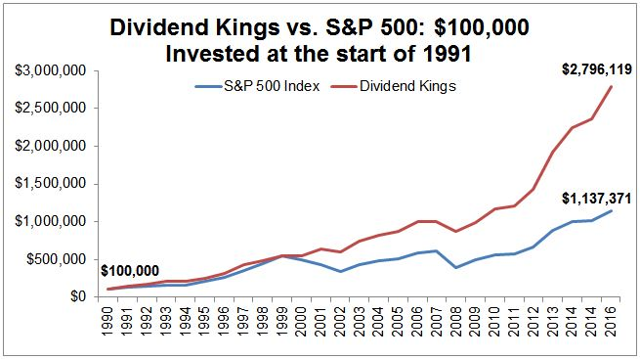 The Risks
Obviously, there is nothing that is a sure thing, and every investment has risks. As far as I am concerned, the key risks are as follows:
The company cuts or stops paying its dividend. I can break this down into hundreds of reasons, but the end result is what matters to me.
Fluctuating share prices can cause stress if you have a low tolerance for risk. If you don't watch the prices every day, your stress levels will be greatly reduced.
You will most likely never become filthy rich by investing in these stocks, or in just about any Dividend Aristocrat/King for the long term.
I cannot think of any other risks that I would be concerned with, maybe you folks can name a few, but to me it simply boils down to the above risks.
Model Portfolios I Have Developed
In 2011, I launched one of the very first model portfolios to show how an approach of this type might work, and they quickly became Seeking Alpha "standards" and, I believe, made investing a bit easier for even the most novice investors, as well as many seasoned ones.
TARP, or the Team Alpha Retirement Portfolio, was geared for those close to retirement, or already retired, and is still doing its thing with virtually no issues to the income stream. TARP II, or the Team Alpha Retirement Portfolio II, was launched several months ago for investors with longer time horizons to retirement and with less dollars to invest with.
Since 2011, just about every dividend income investor has a real or model portfolio for everyone to see. Some will charge money to follow it, and it has become supremely popular to the point where it is now overdone. That being said, the varying amounts of dollars invested and the number of metrics being followed have become a bit overwhelming, in my opinion. That is not a bad thing, but I believe the model portfolios can be streamlined to make it easier to follow and for a much wider audience, both age-wise and investable dollar-wise, and of course, for free.
Thusly, I am unveiling the newest TARP charts that hopefully will keep it easier and more "to the point" for more regular folks. Nothing has been changed as far as the stocks selected, but since everyone has different incomes and investment dollars, it does not make sense any longer to put dollar amounts or portfolio values any longer. The bottom line is still income, with a touch of growth for all ages and income levels of investors. What does matter is the stocks selected and the reasons behind owning them.
If you have followed me, you might have noticed a more specific stock analysis rather than just continuous (and boring) portfolio updates. That is what I will be doing for every stock that is held within each portfolio, and bringing you updated opinions of my own towards each position.
Here are the new TARP charts:
The original TARP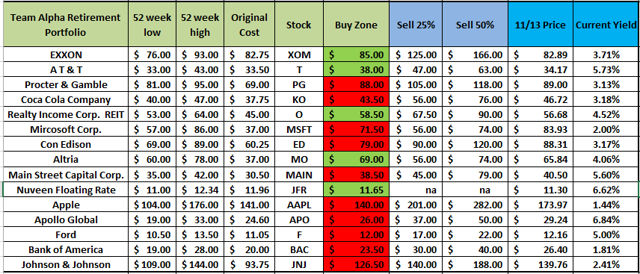 TARP II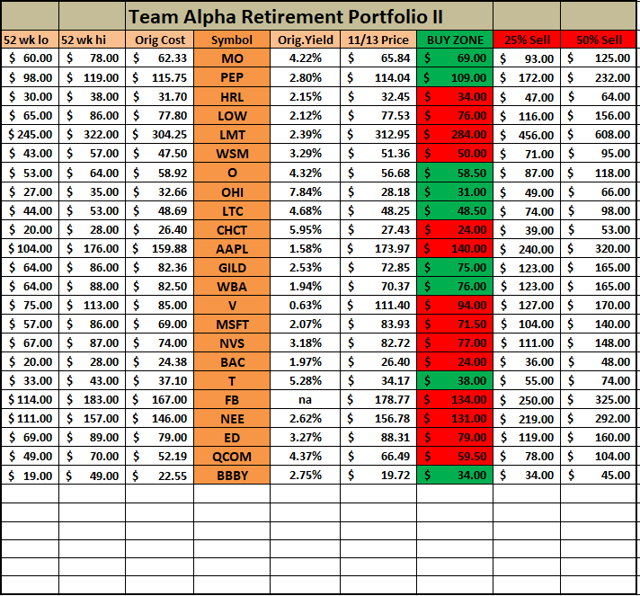 My approach stays the same. To briefly review:
The buy zone is my alert that the share price is now at, or below the mid-point of the 52-week high and low. For Dividend Aristocrats and Kings, it is my buy signal, and for all other stocks, it alerts me to do further research.
The yields are based on the current price. It is more important to know that than what the original yield on cost was.
The buy zone is highlighted in green or red to easily identify the stocks that are within my zone.
The current share price can easily be compared to the original share price to see how a stock is performing. Keep in mind that it is all about income anyway for me, so the ups and downs of the share prices are not important unless there is a fundamental change in the company.
The "sell" pricing is not mandatory. It is my own suggestion if an investor wants to take profits, and at what price. The percentages reflect a 50% increase (sell 25% of shares held) and a 100% increase (sell 50% of shares held).
Keep in mind that my personal approach is to never sell a Dividend Aristocrat or King unless the dividends are cut or stopped. I will use fundamental analysis to decide if any other stock should be sold (or purchased), regardless of the dividend or the share price. A breakdown of a company will be on the chopping block, and if it reaches a price low enough to become a value, it is eligible to be purchased.
Reliable income over the long term is my goal, and managing the portfolios will focus on achieving that goal.
The dollar value of these mock portfolios is not important. Each investor has their own amount that they feel comfortable investing. I have chosen not to have dollar values, just share prices and dividend yields, so that you can plug in any amount you choose to and purchase as many shares as you want.
For myself personally, I do not allocate more that 8-12% of investable funds in any one stock. For higher-risk stocks, I allocate no more than 3-5%. I have left that out of the charts because every investor has their own risk tolerance and should know what that is when determining how much to invest and allocate.
I myself will only automatically purchase Dividend Aristocrats and Kings with this strategy. Those stocks have a strong history of always going up over time, and of course, the dividends are reliable. I believe the risk level is reasonable enough for me to use this approach.
The Bottom Line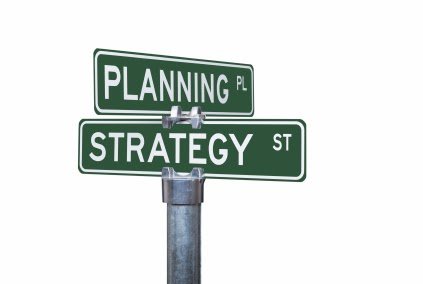 Updating the charts is much less important now. It is much more important to give reasoning and opinions of each stock held either personally or within each portfolio, which will be my focus now. I would also urge anyone who is just starting out to consider sticking with the Dividend Aristocrats and Kings before adding higher-risk equities.
Once an investor has established a core foundation of stocks that will create a reliable and increasing dividend stream, then a portfolio can add growth stocks when an opportunity arises. Remember this is a dividend growth investing strategy, not a hope and a prayer!
Not To Bore You, But...
Knowledge is power, and many folks shy away from the investing world because that very world makes it more confusing each and every day in an effort to sell you something: stock picks, technical strategies, books, videos, subscriptions with "secret ideas," gadgets, and even snake oil.
My promise to you is that my work here will remain free to all of my followers, with the hope of giving to you some of the things that took years for me to learn myself. That being said, let me reach out to you with my usual ending:
**One final note: The only favor I ask is that you click the "Follow" button so I can grow my Seeking Alpha friendships. That is my personal blessing in doing this and how I can offer my experiences to as many regular folks as possible, who might not otherwise receive it.
Disclaimer: The opinions and the strategies of the author are not intended to ever be a recommendation to buy or sell a security. The strategy the author uses has worked for him, and it is for you to decide if it could benefit your financial future. Please remember to do your own research and know your risk tolerance. The long positions held are based upon what the model portfolio holds, and I personally could have held all of the stocks noted at one time or another.
Disclosure: I am/we are long CINF, CL, DOV, EMR, HRL, JNJ, KO, LOW, MMM, PG.
I wrote this article myself, and it expresses my own opinions. I am not receiving compensation for it (other than from Seeking Alpha). I have no business relationship with any company whose stock is mentioned in this article.
Additional disclosure: The portfolio is for educational purposes only and not an actual portfolio. The long positions are based on the model portfolios.