Being a General Electric (GE) shareholder has been very painful with 2017 being especially excruciating. It is a fact that General Electric stock price has been crushed since Trian published a 2015 white paper, more on that below. Over $100 billion of shareholder wealth (market capitalization) has disappeared while GE acquired over $40 billion worth of its shares during the past two years.
The $40 billion of stock acquired resulted in no new assets or technology. However, the remaining shareholders have a greater ownership stake. The board recently inflicted further pain on shareholders by reducing the dividend by 50%. Therefore, shareholders will receive over $4 billion less in dividend income next year. Let us explore the possible reasons for the share price weakness and what might help the share price bottom.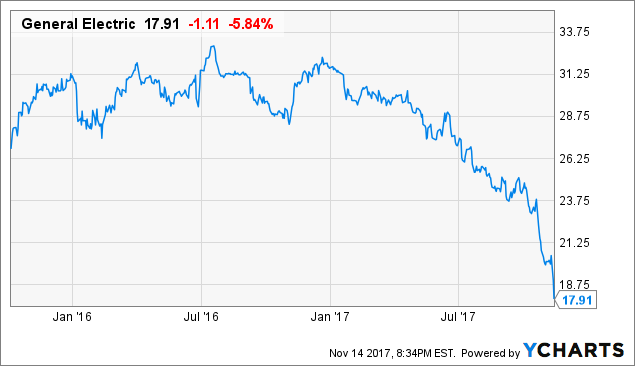 GE data by YCharts
GE Has A Credibility Problem
The board recently slashed the dividend income of owners by 50% or roughly $4.2 billion a year after the company spent over $40 billion repurchasing shares since September 30, 2015. The quarterly dividend was $0.24 and will be reduced to $0.12. The dividend reduction might be viewed as the board making the difficult decision to operate in a more fiscally responsible manner and to help the firm going forward.
Hopefully, the board will not repeat the massive share repurchase program of the past two years that resulted in purchasing shares at a far higher price than the November 14, 2017 closing price of $17.90. It will take time for income investors to regain trust in GE, and the current dividend yield of roughly 2.68% may have some investors question whether to stay invested or take a tax loss.
GE was too optimistic for 2017 earnings.
The first quarter 2017 presentation suggested 2017 operating earnings would be $1.60 to $1.70 per share.
Slide From The 1Q17 Presentation

The second quarter 2017 presentation indicated 2017 operating earnings would be $1.60 to $1.70 per share.
Slide From The 2Q17 Presentation

The third quarter 2017 presentation put 2017 operating earnings at $1.05 to $1.10 per share. Guidance was slashed, and the share price plunged.
Slide From The Third Quarter 2017 Presentation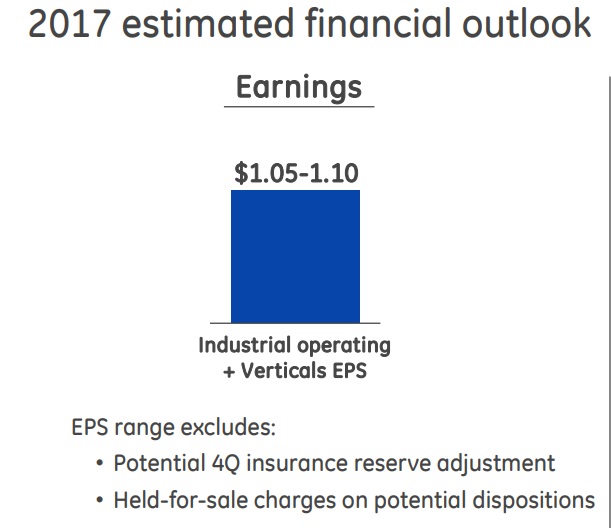 The November 13, 2017 investor update maintained 2017 earnings outlook at $1.05 to $1.10 per share and suggested 2018 earnings of $1.00 to $1.07. The new earnings guidance does not include a potential insurance charge for the fourth quarter and is non-GAAP. Earnings from continuing operations for the nine months ending September 30, 2017 were $0.47. The Industrial Operating + Verticals EPS (non-GAAP) was reported at $0.77 for the nine months ending September 30, 2017. The implied non-GAAP 2017 fourth quarter earnings are in a range of $0.28 to $0.33.
The massive reduction in operating earnings expectations unnerved many investors, and the big investor update initially sent the share price higher in the pre-market then the share price reversed lower. The share price had declined before the investor update, and while painful, it was somewhat mitigated by the then attractive dividend yield. The GE board then decided to slash the dividend by 50% reducing payments to shareholders by roughly $4.2 billion.
Slide From Investor Presentation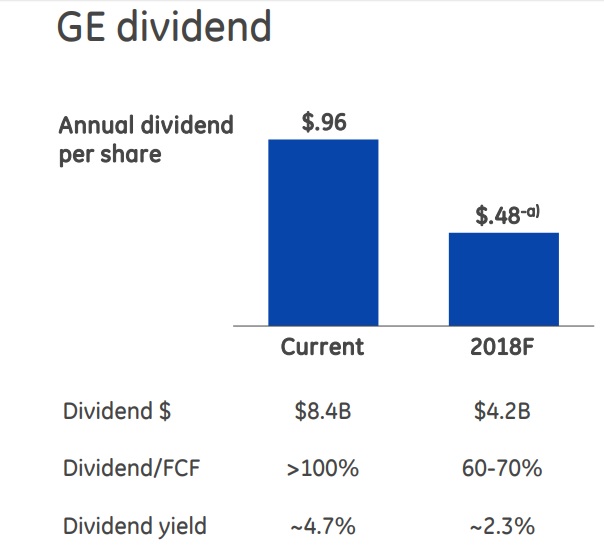 GE has disappointed income investors, and it could be tough for GE to regain investor confidence. The turnaround is going to be years in the making.
GE Has $85.199 Billion Worth Of Treasury Stock
As of September 30, 2017, the cost of treasury stock was $85.199 billion with 8.672 billion shares outstanding. The cost of the treasury shares represents $9.82 per outstanding share. A word scan of the third quarter report did not return the number of shares of treasury stock held. Therefore, the implied cost of treasury shares purchased during the nine months ending September 30, 2017, was $30.64. The average cost was calculated by dividing the change in the cost of treasury shares of $2,161 million by the change in reported shares outstanding of 70.529 million.

If GE follows through on making the financial statement more transparent, then it would include data on the number of treasury shares held, and the average cost paid. Nevertheless, that level of transparency is not expected. The treasury shares may also be suppressing the share price as an investor may wonder if the shares might be used in M&A, or sold to raise cash to improve the balance sheet.
GE was overly optimistic when it repurchased shares for an average cost of $30.64 in 2017, which traded on November 14, 2017, at a low price of $17.46. The cost paid for the treasury shares is another credibility issue. If board members felt the firm was undervalued, then they would be buying shares.
Director Compensation
The 2016 proxy statement showed that all independent directors earned $250,000. The 2017 proxy statement showed that all independent directors earned $275,000. That was a 10% increase or $25,000. Additional compensation is paid for serving on committees. The 2017 proxy statement increased the directors' stock ownership and or DSUs requirement to $550,000.
At the current stock price of $17.90, it would require 30,726 common shares to be held. As of the 2017 proxy statement, four directors held this much in common stock, though only five failed to own the required amount when PSUs, RSUs, DSUs were included. The size of the board will be reduced next year from 18 to 12, per the investor update. Increased oversight of M&A and buyback is also planned.
The board could increase transparency but stating under what circumstances they would use shareowners' money to buy another owners' shares (share repurchase) and what metric[s] were used to justify that the shares were undervalued. In addition, an explanation for why not all shareowners' were given the opportunity to sell shares back to the firm would be provided. A Dutch Tender would be transparent and provide all shareholders the same opportunity. However, this is not expected to happen.
Share Price Expected To Be Pressured By Tax Loss Selling
GE share price is expected to face tax loss selling for the balance of the year as the share price sets multi-year lows. Every investor since 2012 could be a potential tax loss seller, see chart. The massive decline in the share price is expected to weigh on investor sentiment, regardless of the financial performance. It is expected to take time for investors to regain confidence and the share price to recover.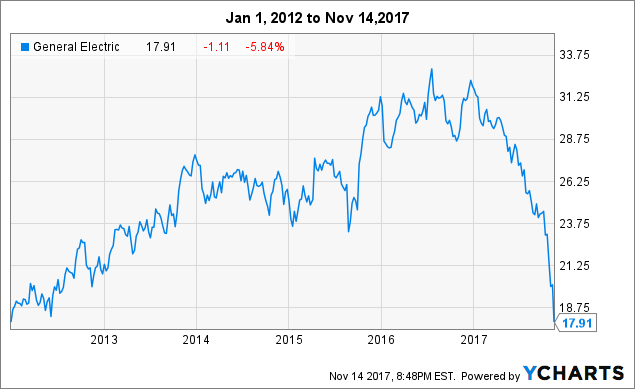 GE data by YCharts
Possible Upside Surprise
GE is not planning to receive a dividend from GE Capital during 2018. In prior years, GE Capital sent massive dividends to GE. In 2016, dividends totaled $20.095 billion and $4.016 billion for the nine months ending September 30, 2017. During 2015 and 2014, dividends totaled $4.3 billion and $3.0 billion respectively.
The following detail is in the more recent footnotes:
Should the net liability for future policy benefits plus the present value of expected future gross premiums be insufficient to provide for the present value of expected future policy benefits and expenses, we would be required to reduce any remaining capitalized acquisition costs and, to the extent a shortfall still exists, increase our existing future policy benefit reserves. We would record a charge to earnings for any premium deficiencies in the fourth quarter of 2017 upon completion of this review. Based upon the work performed to date and complexity of the review described above, a charge related to a probable deficiency is not reasonably estimable at September 30, 2017. Until the above described review has been completed we have deferred the decision whether GE Capital will pay additional dividends to GE.
The fourth quarter will be interesting to learn the size of the charge, if any. The market appears to be looking for a charge. Should the review permit GE Capital to pay a dividend to GE, it might help investor sentiment and the share price.
Credit Rating Agencies Turn Negative
The recent 10-Q showed that the credit rating agencies are concerned and may downgrade the credit rating of GE and GE Capital. A lower credit rating would be expected to increase the firm's interest expense, leaving less money available for shareholders.

Keep an eye on General Electric bonds for signs that bondholders become nervous.
Did An Activist Push GE Into More Leverage And Share Repurchases?
GE appeared to follow the October 2015 Trian Plan by repurchasing shares, rather than using the money for funding the pension fund, reduce leverage, and or invest in new ideas/research.
In Trian's white paper published October 2015, General Electric's market capitalization was roughly $260 billion, see slide below. Using the September 30, 2017 shares outstanding of 8.672 billion and the current share price of $17.90, the market capitalization is $155.2 billion. The loss of shareholder wealth exceeds $100 billion. The massive decline in wealth took place while GE spent $43.992 billion repurchasing shares from September 30, 2015, through September 30, 2017.
The cost of treasury stock on the September 30, 2015 balance sheet was $41.207 billion versus $85.199 as of September 30, 2017. The share count was reduced from the September 30, 2015 level of 10.109 billion shares to 8.672 billion shares as of September 30, 2017. Therefore, the average cost of the 1.437 billion shares repurchased was $30.61.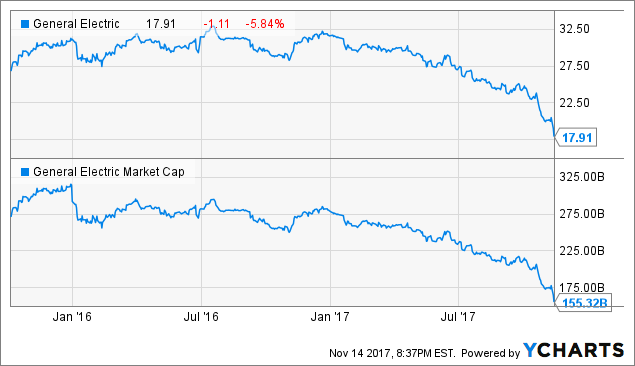 GE data by YCharts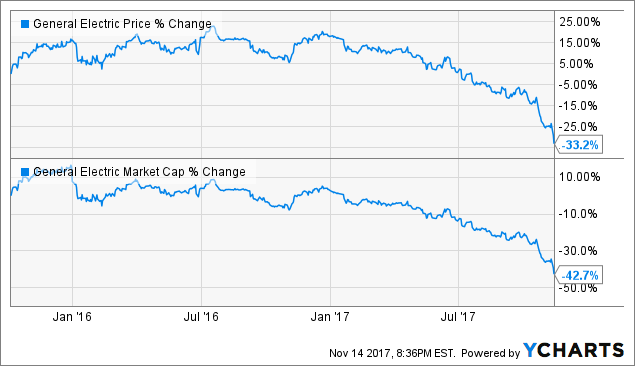 GE data by YCharts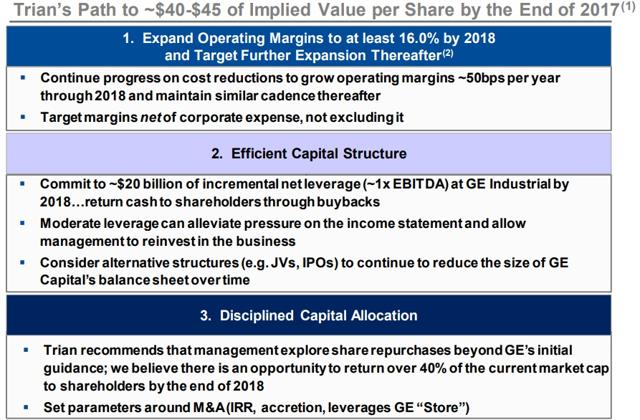 When Trian released the white paper, the 13F-HR filing for September 30, 2015 showed it held 90,565,555 shares of General Electric. The most recent 13F-HR filing for September 30, 2017 shows holdings of 70,851,055 shares. Trian reduced the holdings in GE by 19,714,500 shares, or 21.77%, from September 30, 2015 to September 30, 2017. Trian reported $11.716 billion and $12.983 billion of assets as of September 30, 2015, and 2017 respectively.
GE Once A Leader, Now Defers To Peers
General Electric had been viewed as an industry leader, but that changed during the investor update. GE suggested analysts look at its peers for the dividend payout ratio and dividend yield, per the Seeking Alpha transcript. The comment came as a surprise and was disappointing.
John Flannery

We're not giving a specific payout ratio, but I would say you would look at our free cash flow numbers and I look to our peer group around payout ratios and dividend yields and you should expect this to be in that general vicinity.
GE failed on being more transparent when it punted the dividend payout question by suggesting analysts and investors look at what its peers are doing. It sounds like GE is letting its peers determine its capital allocation decision making. What would have been so hard to say the dividend policy going forward would pay a base dividend of $0.12 per quarter and should financial performance improve then a special dividend would be paid so that total dividends would be approximately 50% (or pick the percentage) of earnings.
The more recent proxy statement suggests the peer group is used as a reference point, not setting policy. The performance of General Electric versus the Dow Jones Industrial Average is shown below.
LIMITED USE OF PEER GROUP COMPARISONS. The Compensation Committee considers executive compensation at the other Dow 30 companies as just one among several factors in setting pay. It does not target a percentile within this group and instead uses the comparative data merely as a reference point in exercising its judgment about compensation types and amounts.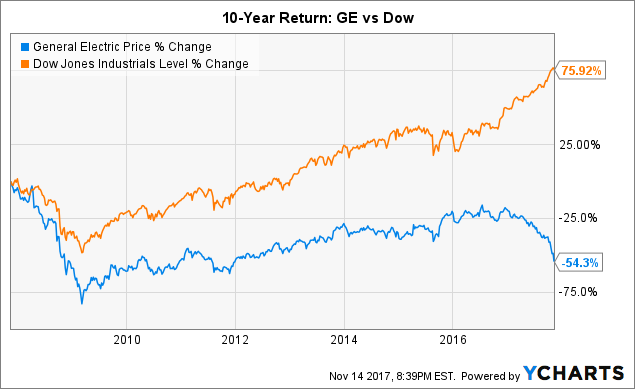 GE data by YCharts
GE badly lags the collective performance of the Dow 30 peer companies.
Bottom Line
Owning shares in General Electric this year has been a disaster. The only positive is that shares were purchased when the puts were assigned. The option premium reduced the loss somewhat, but the pain is real. The big mistake was taking the position while GE was transferring more of owners' monies to departing owners via share repurchase than to owners via a cash dividend. In addition to trusting the earnings guidance provided by the firm.
Beaten down issues are generally of interest and General Electric is a beaten down issue and has been for some time. However, there comes a time when it is prudent to take a step back before committing additional capital. This could be one of those times. The market reaction has been negative; this leads to discouraged investors resulting in shares being sold. For the time being, shares are being held in the belief that the current dividend could be safe and the board will focus on the business fundamentals and reduce the amount of financial engineering.
Looking at the charts and the earnings guidance, it now appears GE may have a tough time getting much higher than the low $20s for the next 6 months, unless an unexpected catalyst appears.
Investor sentiment appears to be very bearish and therefore it could be a sign that a bottom is nearing. However, a meaningful rally is not expected until near the end of the year or 2018.
Happy Holidays!
Trading ideas are provided via Stout Opportunities. Try a free two-week trial for the holidays!
Disclosure: I am/we are long GE.
I wrote this article myself, and it expresses my own opinions. I am not receiving compensation for it (other than from Seeking Alpha). I have no business relationship with any company whose stock is mentioned in this article.
Additional disclosure: Also short put options.