Altura Mining (OTCPK:ALTAF) has been on an absolute tear since we first covered the name a couple of months ago, running up over 100% since then. As a result, we wanted to take a second to discuss the run up, and the primary catalysts behind it.
Investor Awareness
As we mentioned in our original analysis, Altura is an underfollowed potential new entrant in the hard-rock lithium mining space. Many investors keep up with their neighbor, Pilbara Minerals (OTCPK:PILBF), while completely overlooking them. We mentioned this to management, who noted that it was one of the main reasons for their valuation lagging peers, and that they were making moves to ensure that the investor awareness problem was resolved. Since then, the company has become a lot more active on social media, completely revamped its website, and had several road shows. This has had a tremendous impact on the stock, leading to a massive rally.
Stage 2 Catalyst
Another potential catalyst we mentioned was the possibility of a Stage 2 expansion to double production levels in their flagship Pilgangoora lithium project. In early October, the company announced that they had raised $26m in funding to explore that possibility. This further fueled the rally in the stock as the successful capital raise displayed to the market that the company is for real, and that they have real backers. To top things off, just this week Altura approved a definitive feasibility study for expansion to 440,000tpa of lithium concentrate, further solidifying the expansion plans.
LIT ETF
Finally, we discussed the possibility of the company being added to the Global X Lithium ETF (NYSEARCA:LIT). The ETF has been rebalancing their portfolio lately, making moves across the board. Most notably, LIT lowered the weighting of FMC Corp. (NYSE:FMC), while increasing Albemarle (NYSE:ALB) to the top weighting. But the most interesting move the fund made was adding Altura Mining to the holdings. This is a show of faith for the junior miner because ETFs are passively managed vehicles whose holdings are not constantly being shuffled around. Consequently, any changes that are made are done with a longer-term horizon in mind.
What Does This All Mean?
The rally is great and all, but that's now in the past. What does it mean going forward? Well it looks like the market is definitely starting to buy into the hard rock producers coming out of Australia. We have seen monster rallies in the brine producers over the last year. But for most of that period, the Australian hard rock operators were lagging behind. More recently, with the supply/demand picture remaining tight and pricing continuing to trend upward, investors have started to show faith in these producers that will be coming online relatively quickly and in very favorable market conditions. This has breathed new life into the companies, sending their stocks soaring over the past two months.
Additionally, it means that market participants are starting to learn about Altura Mining. An underfollowed company that had a laser-like focus on the science and execution side of the equation, is proving that even just a little bit of increased exposure can do wonders for stock market performance. Given the massive returns we've seen in a short period of time, it's hard to fathom that Altura's stock continues to run up in a straight line in the short run without meaningful positive news flow coming out to justify a higher pre-production valuation. But from a longer-term perspective, everything we discussed in our previous post is still intact. Below we revisit our valuation analysis: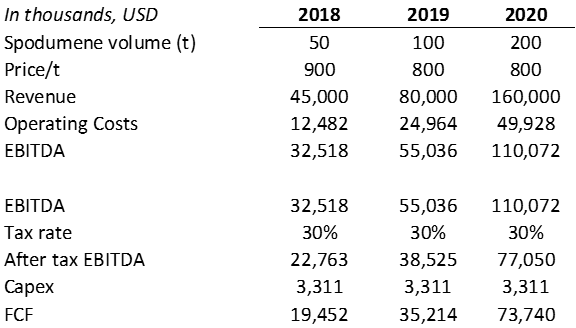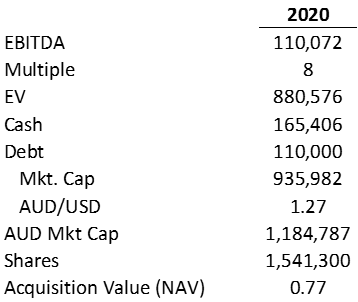 Source: Company filings, internal estimates.
The way to look at the above 2017-20 valuation chart is as follows: As the company increases production toward nameplate capacity, they start to get more credit for it in their valuation. For example, in 2018, when they are expected to produce 50kt of spodumene, we value them at 50% of the 2020 valuation (which is when we modeled them reaching nameplate capacity). Then, in 2019, as they ramp up, they get valued at 75% of 2020 valuation.
As we can see from the above charts, as the company continues to develop and work toward reaching nameplate capacity on just stage 1 of their production plans, there is a lot of room left to go on the valuation. Once the company begins breaking ground on stage 2 plans, the valuation model would need to be revisited to get an updated view of the upside potential. We believe in being conservative, and figuring out how much upside we could participate in without banking the thesis on hopes and dreams. Thus, we would like to reiterate that in our above analysis, we find that the company has the potential to reach A$0.77 per share. Further expansions and additional projects provide upside optionality on that number.
The final points that we would like to mention are that the company has a good project, a solid management team, and is still relatively underfollowed. Thus, as they progress toward commencing production, they will continue to be an interesting company to watch. As always, we will be here to keep an eye on them for our readers.
Disclosure: I am/we are long ALTAF, PILBF.
I wrote this article myself, and it expresses my own opinions. I am not receiving compensation for it (other than from Seeking Alpha). I have no business relationship with any company whose stock is mentioned in this article.
Editor's Note: This article covers one or more stocks trading at less than $1 per share and/or with less than a $100 million market cap. Please be aware of the risks associated with these stocks.