Shares of Amarin Corporation (AMRN) have risen by 20% since my initial article on the company back in May, in which I told readers to expect a run up shortly. While shares did increase by almost half at one point, the stock has come back down although it remains in an uptrend.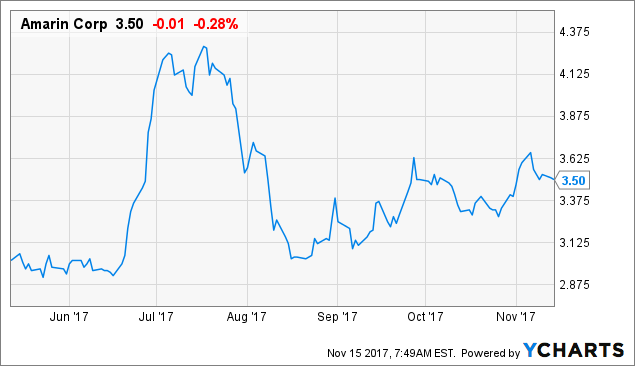 AMRN data by YCharts
Keys to the original bullish thesis included the following:
Prescription growth for the company's primary asset, Vascepa, had grown 50% every quarter for the past three quarters. Management projected $155 million to $165 million in 2017 revenue, while weekly scripts continued to power higher with market share at an all time high. Tailwinds from managed care coverage continued to aid the company

's efforts after several plans put Vascepa on exclusively and removed Lovaza.

Prior data was promising and suggestive of cardio-protective benefits while lowering triglyceride levels without increasing LDL-C levels. The ongoing REDUCE-IT study is the first cardiovascular outcomes study to test Vascepa in a high-risk statin treated population, with 8,175 patients randomized to receive the study drug or placebo. The primary endpoint is time to first occurrence of composite MACE and under special protocol assessment for 90% power to detect a 15% relative risk reduction.
I suggested that shares would run up into the pre-specified interim efficacy and safety analysis by the independent DMC, as well as into the middle of next year into top-line results.
In mid-August the company announced that the interim review by the independent data monitoring committee was completed, with the recommendation that the study continue as planned without being modified. Although Wall Street was obviously disappointed that early stoppage didn't take place, management reminded investors that the bars for stopping the study were quite high as the desire was to obtain a more robust result by seeing the trial through to completion. They again guided data to be released in the second or third quarter of 2018. As a reminder, the interim analysis occurred after 80% of the target 1,612 primary cardiovascular events occurred and final efficacy analysis will take place after 100% of events. Keep in mind the company itself is blinded to both interim data and results until after the study is stopped (when database is locked at final analysis).
At the end of August courtroom drama ensued when the company filed a lawsuit to the United States International Trade Commission to prevent import of predominantly EPA omega-3 products. In late September management reached a deal to commercialize Vascepa in Canada with HLS Therapeutics, with up-front and milestone payments of $65 million along with tiered double-digit royalties on net sales.
Third quarter results revealed that net product revenue in the United States grew 45% to $47.1 million, while Vascepa prescriptions grew by 44%. Gross margins climbed slightly to 75%. Management narrowed the window for top-line data to be reported, stating that results would be reported before the end of the third quarter next year.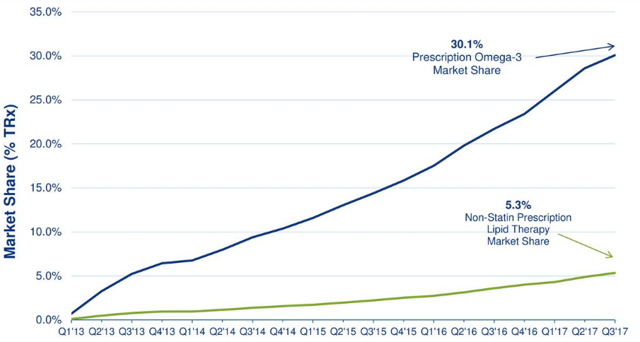 Figure 2: Growing Vascepa market share (source: Q3 slides)
For the third quarter the company reported cash and equivalents of $79.1 million, while management guided for positive net cash flow for the full year 2017. Net accounts receivable totaled $34.6 million, while accounts payable and accrued expenses came in at $67.4 million (due to timing of rebate and supplier payments). Net loss was $15.8 million, while I also remind readers that the company has $570 million in loss carryforwards.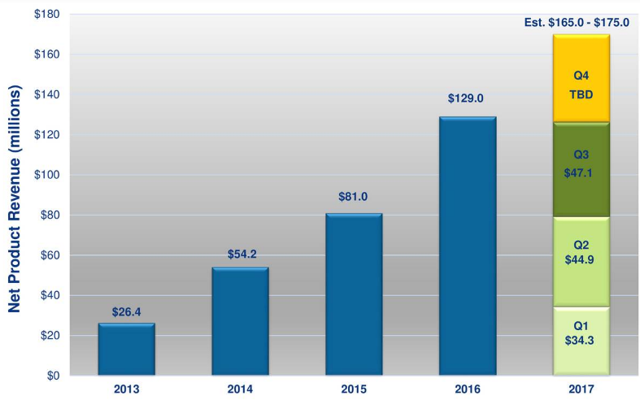 Figure 3: Past net product revenue and future guidance (source: Q3 slides)
I remind readers that share structure is bloated and should be taken into account (around 270 million ADSs, 32.8 million Series A Convertible Preferred Shares, 23.6 million equivalent shares underlying stock options at $3.26 exercise price, and 11.9 million equivalent shares underlying restricted/deferred stock units).
Another interesting development was the hiring of the company's first Chief Commercial Officer, Mark Salyer. This was done with the assumption of a positive REDUCE-IT outcome and the growth opportunities that could follow, and it should be noted that the executive hired has relevant experience at Teva (NYSE:TEVA) and Glaxo Smith Kline (NYSE:GSK). In the fourth quarter the company will hire 10 to 20 sales representatives and in the event of a successful outcome for REDUCE-IT management has guided for the sales force to increase from 135 representatives to between 400 and 500.
Another potential catalyst could be establishing partnerships with other companies for commercializing the rest of the world, including potentially being the first prescription EPA product in China.
I would be remiss if I didn't remind investors that Baker Brothers and Consonance Capital hold very large stakes in the company (both over 22 million shares).
Amarin Corporation is a Buy
For readers who have done their due diligence and are interested in the story, I suggest initiating a pilot position in the near term. In the event of a significant runup prior to data next year, I suggest taking partial profits while retaining upside for a probable successful outcome to the REDUCE-IT study.
Risks to the story include clinical setbacks, disappointing data, regulatory outcomes, near to medium term dilution and of course concentration risk, as the company is all about Vascepa and any setbacks with the asset could result in extensive downside for shareholders. While many investors believe that recent events and the company's preparations for increased sales bodes well for the trial outcome, I remind readers that a negative outcome for the REDUCE-IT study is possible and would result in significant losses for shareholders.
Generic competition is a real risk as well, with management believing they have protection for regulatory exclusivity into 2020. The company has already filed patent infringement suits against competitors who have filed their abbreviated new drug applications (ANDA), including Teva, Roxane, and Dr. Reddy's. Litigation costs are expected to increase and could add to the company's already considerable quarterly net losses.
Author's note: My goal is to bring to readers' attention undervalued stocks with catalysts that could propel shares higher, as well as provide a fresh perspective on stocks you may already be aware of. I also touch on planning trades and risk management, as those are two areas I feel are often neglected. If you found value in the above article, consider clicking the orange "Follow" button and getting email alerts to receive my latest content. My sincere appreciation for readers who add value and join the discussion in the comments section, as well as those who share my work with others who could benefit from it.
Disclaimer: Commentary presented is not individualized investment advice. Opinions offered here are not personalized recommendations. Readers are expected to do their own due diligence or consult an investment professional if needed prior to making trades. Strategies discussed should not be mistaken for recommendations, and past performance may not be indicative of future results. Although I do my best to present factual research, I do not in any way guarantee the accuracy of the information I post. Investing in common stock can result in partial or total loss of capital. In other words, readers are expected to (and encouraged) form their own trading plan, do their own research and take responsibility for their own actions. If they are not able or willing to do so, better to buy index funds or find a thoroughly vetted fee-only financial advisor to handle your account. I am in a collaborative relationship with The Biotech Forum/Bret Jensen.
Disclosure: I/we have no positions in any stocks mentioned, and no plans to initiate any positions within the next 72 hours.
I wrote this article myself, and it expresses my own opinions. I am not receiving compensation for it (other than from Seeking Alpha). I have no business relationship with any company whose stock is mentioned in this article.