If you follow our articles, we've been fairly bullish on oil prices all along, and if you have, here's our updated thesis in three parts (Part 1, Part 2, Part 3). We still think oil prices are completely nonsensical at this stage, and that they're going much higher.
Today, we're going to take a quick look at 2018. As we roll through what's been an extraordinary 2017, with crude oil and products destocking at decade high-levels, we're beginning to firm-up our 2018 projects, and what we're still seeing among the oil analyst communities is something like this (Morgan Stanley):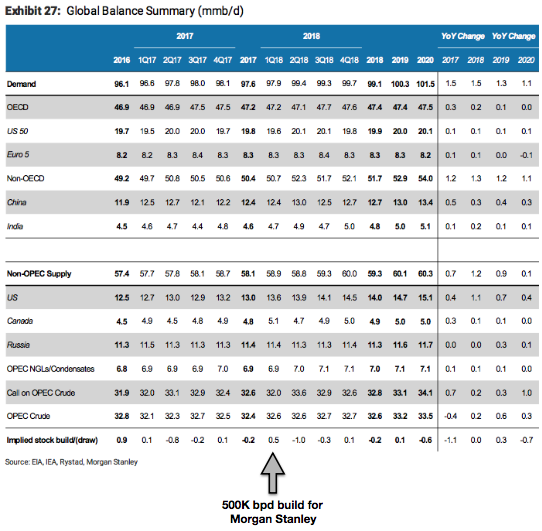 500K build in Q1 2018 . . .
Now some of the oil commentators will say that a confluence of lower demand coupled with increase supplies is creating that forecasted build. For instance, refinery maintenance will begin to kick in reducing crude demand in Q1, or that seasonality will also play a role. In addition to demand weakening, the consensus also believes that oil supplies from non-OPEC countries will increase. EA is projecting an increase of 800-900K bpd in Q1 2018 from Q4 2017 (where such supplies will come from we won't even begin to explain). Overall crude inventories will build , which in turn will negate the drawdowns in products, thus lead to an "overall" build. Fair enough, but we've historically preached maintaining perspective. It's important to not lose sight of what is currently happening and what occurred this year.
Let's compare the consensus' take with this picture.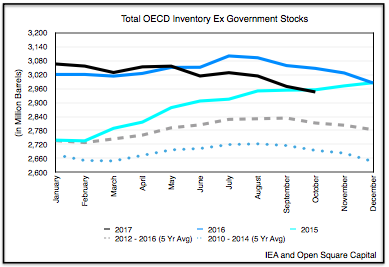 This is global supplies, down and continuing to fall. Here's another picture.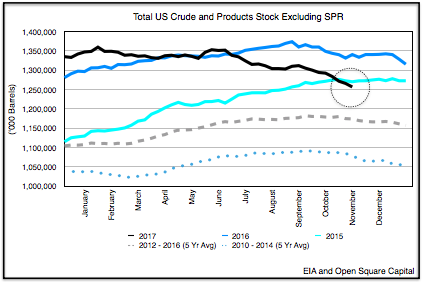 This is US supply. This is really the last bastion of inventories, and even that will prove short-lived as WTI/Brent spreads continue to be above $6/barrel, which means strong US exports coupled with US refineries coming out of maintenance season will quickly erode US inventory balances. See that black line? You've all seen it, that's what we call a free-fall. All indications are that it will continue, and such a draw doesn't automatically become a build and reverse itself because the calendar turns to January 1. We believe that the draw continues to be the outcome of higher demand and lower supplies.

Moreover, 500K bpd of build equates to about 45M barrels over the course of Q1. Historically, global inventories increased by about 36M barrels, and that's using the elevated averages of 2012 - 2016. Go back further and use 2010-2014, the world had an 11M barrel build over Q1.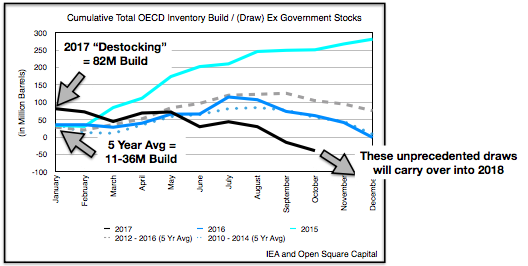 So consensus is saying that next year we'll build by 4x versus the 5 year average on the back of historic 2017 draws? We think that's... unlikely.
Destocking Skewed Data in Q1 2017
We also think the data earlier this year was skewed. Inventory levels would appear much lower, but for the destocking that impacted Q1 2017 inventories. Recall that in November 2016, OPEC and Non-OPEC members came together in Vienna to agree to cap oil production in an attempt to reduce historically high inventory levels. We've written about it extensively here. We estimate that before the agreement became effective on January 1, 2017, certain OPEC and Non-OPEC members intentionally destocked and cleared out inventories, inventories that eventually ended-up in OECD countries, and in particular the US. We believe this destocking drained close to +40M barrels of crude from Non-OECD countries, which means inventory builds in early 2017 (January and February) were elevated.
This will not happen again in 2018. What does this mean? Well take a look at what happened in late-2016.
In the second half of 2016 we were drawing down our oil stocks (crude and petroleum products) by over 600K bpd. Then in January and February of this year we reversed course and saw a build, and by March we had increased inventories of crude and petroleum products by 45M barrels. Coincidentally that's close to the amount of crude we believe was destocked by OPEC/Non-OPEC and found its way to OECD countries. Take that away, and we likely would have had a flat Q1 2017 inventory "build".
Now as we turn to 2018, we believe the set-up is very similar and may be even better (for oil bulls) as we've built less inventory counter-seasonally and we're drawing faster than the historical averages. We think the draws are set to accelerate as we enter the year-end and the IEA data catches-up with us. We're drawing down faster by almost 20% vs. 2016, and in Q1 2018, there won't be another destocking to increase commercial supplies.

So, in the end, we think the 500K bpd build forecasted by the consensus is aggressive. Well, that might be a bit too charitable; we think they're wrong absent significant demand drop-off. It's counter to what we're seeing currently in H2 2017 and what has occurred historically. Interestingly we don't really mind that consensus is being aggressive - yes, we may disagree with it, but overall it's actually beneficial for oil bulls that the consensus is this bearish on inventories because it artificially and temporarily suppresses oil prices. It creates the illusion that lower will actually last longer, but in reality, we're simply headed higher and much much faster. Thanks, consensus.
As always, we welcome your comments. If you would like to read more of our articles, please be sure to hit the "Follow" button above.
Relevance: USO, OIL, XLE, UCO, VDE, ERX, OIH, SCO, XOP, BNO, DBO, ERY, DIG, DTO, USL, DUG, BGR, IYE, IEO, FENY, DNO, PXE, FIF, OLO, PXJ, RYE, SZO, NDP, GUSH, DRIP, DDG, FXN, OLEM, CRAK