This post was written by Bob Ciura for Sure Dividend
Dividend yields of 10%+ are enticing, but can often be a sign of impending danger. When a stock declines far enough that the dividend yield reaches double-digits, it could be an indication that the market doubts the sustainability of the dividend payout.
This could be the case with telecom giant CenturyLink (CTL). Shares of CenturyLink have lost nearly 40% of their value since the beginning of 2017. Such a massive drop has pushed its dividend yield to 15%.
CenturyLink is one of the highest-yielding stocks on our list of stocks with 5%+ dividend yields. You can see all 413 stocks with 5%+ dividend yields here.
On the surface, CenturyLink's 15% dividend yield is very attractive. If the dividend holds up, investors would still be earning a 10% annual return from the stock, even if the share price declined by 5% per year. But if a dividend yield looks too good to be true, it very well could be.
This article will discuss why investors should consider the significant risk that CenturyLink could cut its dividend in 2018.
Business Overview
CenturyLink is in the telecommunications sector. It has a market capitalization of $15.8 billion and generated revenue of approximately $17.5 billion last year. CenturyLink offers services including voice, TV, and Internet, to homes and businesses.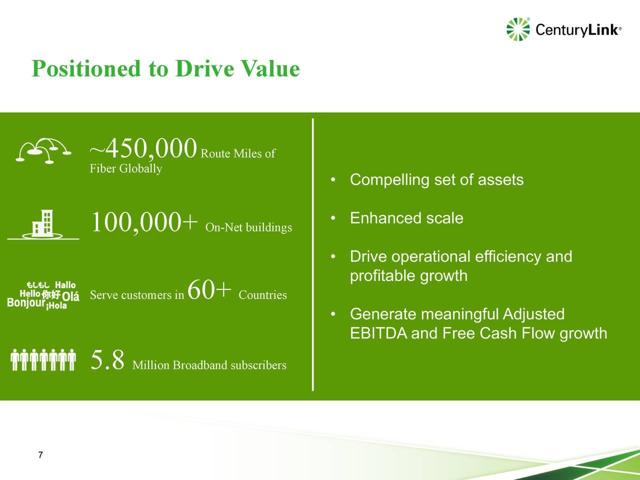 Source: Q3 Earnings Presentation, page 7
The current business climate for CenturyLink is challenging. The company offers a number of legacy services, such as landline and DSL, which are facing obsolescence. In its Internet business, CenturyLink competes with industry giants like Comcast (CMCSA), and has struggled to keep up. And in sharp contrast to telecom giants like AT&T (T) and Verizon (NYSE:VZ), CenturyLink has missed the boat in wireless.
As a result, CenturyLink's fundamentals are under pressure. In 2016, its operating revenue declined 2%, while operating income fell 11%. Adjusted earnings per share declined 10%, to $2.45.
Unfortunately, conditions have not improved to start 2017. Operating revenue and adjusted earnings per share declined 6% and 26%, respectively, over the first three quarters of 2017. Not surprisingly, the legacy business has performed the worst, with a 10% revenue decline over the first nine months.
The third quarter was particularly rough.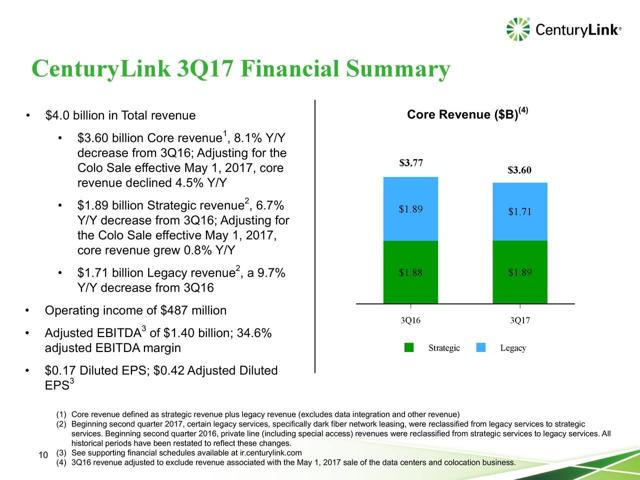 Source: Q3 Earnings Presentation, page 10
Revenue and earnings per share both missed analyst estimates, and the company lowered its full-year guidance. The stock reaction in recent weeks seems to question whether the company's growth strategy will be successful.
Growth Prospects
CenturyLink's growth relies largely on customer additions, which it is pursuing through acquisitions. The biggest catalyst for CenturyLink is its $34-billion acquisition of Level 3 Communications (LVLT). On November 1st, the two companies officially joined.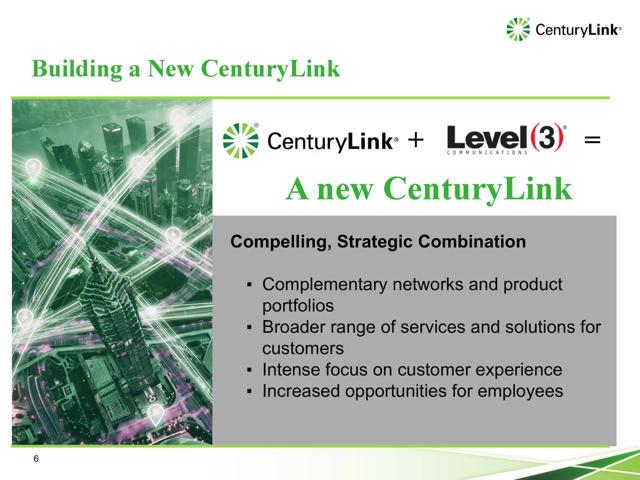 Source: Q3 Earnings Presentation, page 6
At first, the Level 3 acquisition looks like a big win for CenturyLink. It will help broaden the company's scale, provide it with new growth opportunities, and generate significant cost synergies that are typical of large M&A deals.
Level 3 is expected to add approximately 200,000 route miles of fiber to CenturyLink's network. And, the company expects the increased scale of the combined company will generate annual cost synergies of $975 million. CenturyLink believes the transaction will be free cash flow accretive in the first year after closing.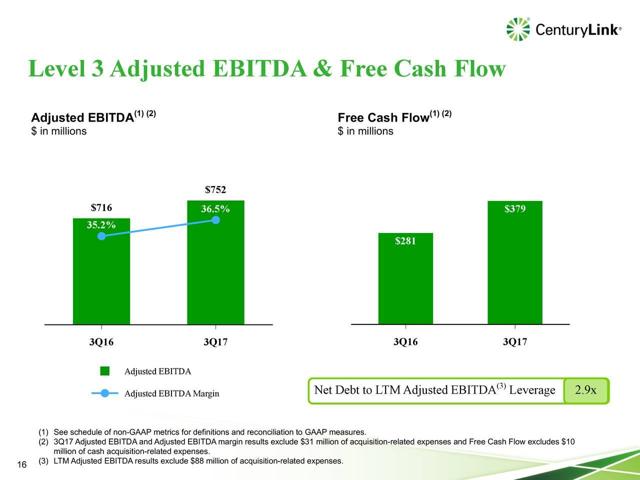 Source: Q3 Earnings Presentation, page 16
On paper, this looks great. However, the market did not react favorably to the acquisition news at all. CenturyLink's stock fell 13% on the day the acquisition was confirmed and has continued to decline ever since. This indicates the market is signaling disapproval of the acquisition, and it is easy to see why.
CenturyLink has a mountain of debt on the balance sheet and added even more debt to purchase Level 3. Its hefty debt load, combined with deteriorating fundamentals of the legacy businesses, could endanger the dividend. Level 3 is performing well, but whether it will help plug the hole in CenturyLink's dividend coverage is uncertain.
Dividend Analysis
CenturyLink's debt load is a concern, particularly since the dividend coverage is already tight. From an earnings perspective, CenturyLink had a dividend payout ratio of 88% in 2016. Coverage has only gotten tighter throughout 2017, and CenturyLink had a dividend payout ratio of 115% over the first three quarters. The payout ratio has gone well beyond 100%, which is a sign of an unsustainable payout.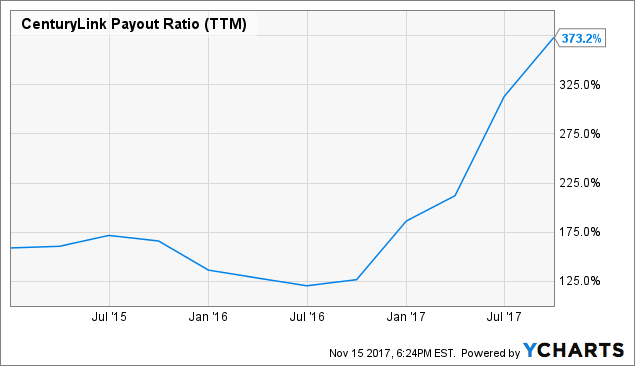 CTL Payout Ratio (TTM) data by YCharts
The dividend coverage does not look much better on a cash flow basis. Free cash flow of $1.62 billion covered the dividend last year, which required $1.16 billion of cash. But cash flow coverage has deteriorated so far this year. Over the first three quarters, CenturyLink's free cash flow shrank to $337 million. Dividends required $881 million of cash in that time.
CenturyLink's dividend coverage could improve once Level 3 is integrated. There is significant potential for cost synergies, which could help free cash flow. But the growth offered by Level 3 is coming at a steep cost, from the debt CenturyLink has incurred to finance the acquisition.
CenturyLink ended last quarter with long-term debt of $24.85 billion, up from $18.19 billion at the end of 2016. This means interest costs will increase as well. For example, interest expense increased 11% last quarter.
Due to the Level 3 acquisition, the company's leverage ratio has expanded beyond the target range. Management stated on the third-quarter conference call that the pro-forma net debt-to-adjusted EBITDA ratio at the end of the third quarter was 4.2. CenturyLink maintains a target leverage range of 3 to 4.
CenturyLink has just $160 million in cash and equivalents on the balance sheet, so it does not have the liquidity to pay the dividend out of cash on hand.
Final Thoughts
CenturyLink has a lot riding on the Level 3 acquisition. It incurred a great deal of debt to make the acquisition. Shareholders have not expressed confidence that the deal will help fix what is wrong with the company.
If CenturyLink can generate enough growth and cost savings to substantially improve free cash flow, there is a chance the dividend could be maintained. But this is a very big if.
Investors might recall that CenturyLink cut its dividend by 25% in 2014, so it is no stranger to cutting its dividend when necessary. To borrow a phrase from Yogi Berra, it seems like deja vu all over again.
If CenturyLink's dividend coverage does not meaningfully improve over the coming quarters, a dividend cut may be in the cards at some point in 2018.
Stocks with extremely high yields can be a trap. For more reliable dividend growth, consider investing in the Dividend Aristocrats. Our service Undervalued Aristocrats provides actionable buy and sell recommendations on some of the most undervalued dividend growth stocks around. Click here to learn more.
Disclosure: I/we have no positions in any stocks mentioned, and no plans to initiate any positions within the next 72 hours. I wrote this article myself, and it expresses my own opinions. I am not receiving compensation for it (other than from Seeking Alpha). I have no business relationship with any company whose stock is mentioned in this article.