During the past months, the bioscience world is much excited with the FDA approval of Yescarta (the CAR-T indicated for the treatment of dreaded cancer, non-Hodgkin lymphoma). The approval of this individualized medicine represents a historic milestone (to cement the aforesaid novel mode of cancer treatment since the introduction of chemotherapy). Both patients afflicted with dreaded cancers, as well as shareholders of Gilead Sciences (NASDAQ:GILD) and Kite Pharma (now acquired by Gilead), cheered.
Interestingly, there is another firm brewing a highly likely efficacious and distinctive form of CAR-T in this background. For the past year, the South San Francisco, CA-based company, Atara Biotherapeutics (NASDAQ:NASDAQ:ATRA) (that is focusing on the innovation and commercialization of drugs to treat severe and life-threatening diseases like cancers) receded over 32%. Back in 2016, the share price traded as high as $60. Integrated BioSci Investing initiated research on Atara. And, we'll elucidate the investing thesis as well as the underlying fundamentals of this stellar company in this report.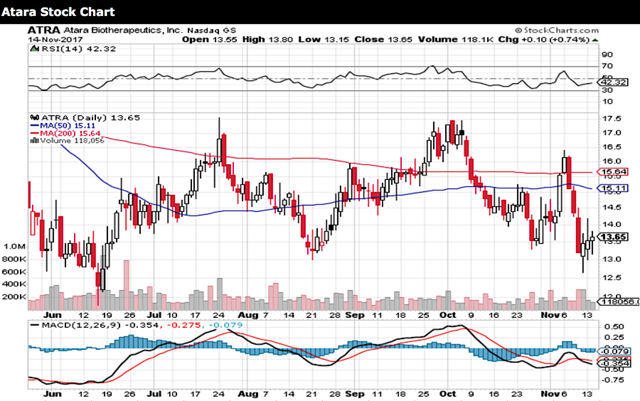 Source: Dr. Tran BioSci (Adapted from Atara)
About Atara
As alluded, Atara Biotherapeutics is focusing on the innovation of individualized medicine to target severe and life-threatening diseases like virus-induced cancers. Before we go over the pipeline, we wish to explain to readers the underlying science of chimeric antigen receptor and T cells antigen receptors (CAR-T). This approach is basically the priming of the general immune system (T cells) so that they can better recognize and kill cancer cells.
Of note, there are two types of T cells, CD4 (helper) T cells and CD8 (killer) T cells. Helper T cells are geared toward priming the memory of the immune system for better antigen (virus and cancer) detection, which then recruits other immune systems cells to come in for the kill. In contrast, killer T cells' main function is to find and destroy the virus. And, this has important ramifications for Atara's technology, of which we will present later.
The main difference between the approved CAR-T (Yescarta) versus CAR-T of Atara is that Yescarta primed the Helper T cells while Atara's CAR-T empowered Killer T cells. Since CD8 T cells are adept at attacking viruses, this makes sense that Atara's drugs are aimed at treating various cancers and diseases caused mainly by viruses. Accordingly, the company is studying a vast number of therapeutics in various types of diseases, including blood cancers, solid tumors, autoimmune diseases, and infectious diseases.
The common denominator (investors need to keep in mind) is that these conditions are due to viruses. You might say, wait a minute, multiple sclerosis is an autoimmune disease rather than infectious! True and false. By definition, the said disease is due to the body's defense system going haywire (and attacks itself). Nonetheless, there is a growing school of thoughts that autoimmune diseases are in large part due to the certain innate viruses dormant in our DNA (intron) sequences (which are being activated to incite the immune system to attack itself).
While conventional treatments to autoimmune diseases (that suppress the immune system) are efficacious, the treatment of autoimmune diseases by priming the immune system like killer T cells to better recognize and clear out those viruses can be far superior with less adverse effects.
We prognosticate that an overwhelming majority of the conditions being studied by Atara will achieve positive data results. In the foreseeable future, various molecules will post robust Phase 2 and 3 outcomes. And, the mentioned novel treatment modalities will subsequently gain regulatory approvals. Of note, we are most interested in how this form of treatment affects autoimmune diseases (as it fits with our theory that autoimmune disease itself is caused, at least in part, by viruses).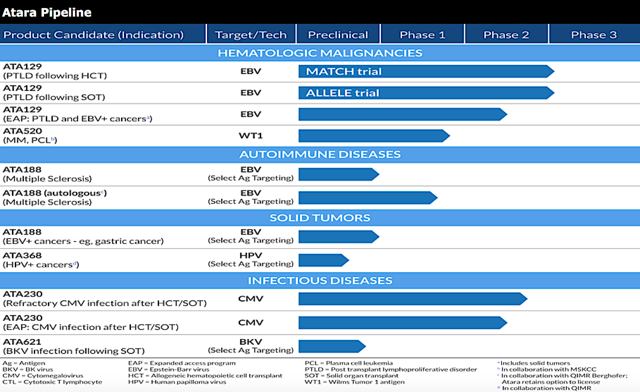 Source: Dr. Tran BioSci (Adapted from Atara)
Financials And Valuations
As of Sept. 30, 2017, Atara has $200.2M in cash and investments (which should be sufficient to fund operations into Q1 2019). For the third quarter, the firm posted a net loss of $31.1M ($1.02 EPS). The company has only a small amount of debts, which tallied to be $23.7M. Overall, the financial position is strong. And, it is the norm for a developmental stage bioscience to post a net loss, as much money is needed to fund research and development. The key is that it needs to have sufficient fund to power the developing pipeline (while keeping the debts to a manageable level) - And, Atara is well safe within those parameters.
Earnings Highlights
Atara completed the manufacturing of ATA-129, which is an off-the-shelf Epstein-Barr virus ("EBV")-specific T-cell immunotherapy (to support the Phase 3 comparability assessment). With that, the firm is in discussion with the FDA regarding the initiation of two Phase 3 studies for the said molecule (in EBV-associated post-transplant lymphoproliferative disorder, i.e. EBV-PTLD) by year-end. Moreover, the firm received positive feedbacks from Health Canada (to expedite the approval pathway for ATA-129 in rituximab-refractory EBV-PTLD following hematopoietic cell transplant ("HCT").
That aside, Atara will present the positive interim results from the multicenter study of ATA-129 - in 10 patients with rituximab-refractory EBV-PTLD, 5 patients with EBV-PTLD following solid organ transplant ("SOT"), and another 5 patients with EBV-PTLD following HCT - at the 59th American Society of Hematology ("ASH") in Dec. Accordingly, results from the 10 patients will be disclosed at the meeting.
At the time of the abstract submission, all other patients (in the 5 cohorts) responded to treatment (with the exception of 1 patient in EBV-PTLD following SOT). Judging from this preliminary data, this is an overwhelming 80% response rate. Notably, treatment was well-tolerated with only a few patients reporting serious adverse effects. The full results will be disclosed at the said event.
For the upcoming ASH, the positive ATA-230 results in patients with cytomegalovirus ("CMV") viremia and disease post-transplant will also be presented. In addition, Atara recently granted rare pediatric disease designation for ATA-230. If the later trial can prove positive results (and the molecule to be approved), the firm can charge a premium price (which will help increase its intrinsic value). While the CMV franchise can prove fruitful, we are most interested in the data for the EBV and multiple sclerosis ("MS") segments.
Of note, the data for MS based on the Phase 1 study showed robust results; however, we'll wait for the upcoming Phase 2 data (that we believe will be much more interesting. It can surprise the medical community). With a whirlwind of stellar developments, it's great that the firm recently appointed Dr. Kanya Rajangam as SVP and CMO. He has extensive global oncology experience, which will help the firm advance its robust pipeline.
Potential Risks
The main risk to investing in Atara is that there is a small chance that the various molecules in the pipeline can post negative trial data. If this is to occur, the share price can move south in the ballpark of 70%. Nonetheless, if positive data is shown going forward, the stock can increase multiple folds (as the firm is having only $417M market cap). There is much room for the stock to appreciate. It is also comforting for shareholders to know that when a similar biotechnology has proven efficacious (i.e. CAR-T gearing at CD4 T cells), the chances that the CD8 T cells technology platform will work is also high.
Conclusion
The recent approval of Yescarta paved way for a plethora of CAR-T therapeutics gearing to treat various cancers and autoimmune diseases. Based on our analysis, most of the future approvals will come from Gilead Sciences' CAR-T (that primed their CD4 helper T cells). Atara will highly likely take lead in the potential new approval of CAR-T therapeutics (that enlightened CD8 killer T cells, which are adept at detecting and killing cancer-causing viruses).
As of late, Atara stock is trading well below its highly promising prospects. With more data and catalysts to be unleashed in the foreseeable future, we expect the market will realize the substantial unlocked value in this pipeline. By then, the stock will most likely trade much higher. In bioscience investing, it tends to pay off big by investing in an unpopular company having stellar technology platforms that the market is overlooking.
Author's Notes: This is an example of a detailed Integrated BioSci Investing, marketplace article.