The Treasury just announced that is reopening of CUSIP 9128282L3 - creating a 9-year, 8-month Treasury Inflation-Protected Security - auctioned with a real yield of 0.512%, the highest auction yield for this term since January 2016.
The after-inflation yield came in a bit higher than where this TIPS was trading on the secondary market at mid-morning, when the yield was steady at 0.48%. After the 1 p.m. close, the TIP ETF dipped a bit, indicating a negative reaction, but then quickly recovered.
CUSIP 9128282L3 first auctioned on July 20, 2017, with a coupon rate of 0.375%. That means investors at today's auction got it at a discount, about $99.58 for $100.88 of principal, when accrued inflation is added in.
So today's auction was a pleasant surprise for investors. A real yield of 0.512% broke a string of 10 TIPS auctions in the 9- to 10-year term with a yield under 0.50%. Here is the real yield trend over the last four years, with the 0.50% level marked in red:

Inflation breakeven rate. With a nominal 10-year Treasury trading with a yield of 2.35%, this TIPS gets an inflation breakeven rate of 1.84%, meaning it will outperform a nominal Treasury if inflation averages higher than 1.84% over the next 10 years. That seems like a reasonable bet, but inflation breakevens have been climbing since reaching a low of 1.66% on June 21, 2017. That means the market is pricing in higher inflation, even as interest rate gradually rise. Here's the one-year trend in the 10-year inflation breakeven rate: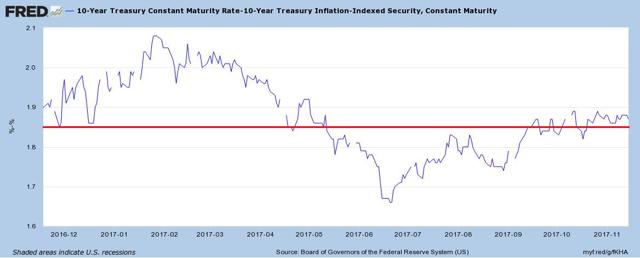 TIPS remain a reasonable investment when compared with a nominal Treasury, because they provide inflation protection with just a small risk of under-performance. If inflation rises strongly, the return on a TIPS will rise to match inflation.
Today's auction closes out the history of CUSIP 9128282L3. A new 10-year TIPS will be auctioned on January 18, 2018.