In compiling the Dividend Champions list, I get to see which companies are nearing the anniversaries of their previous dividend increases. Since most of these firms raise their payout about the same time every year, I can say with some confidence that they are likely to do so again. I have separated the Champions (25 or more years of higher dividends), Contenders (10-24 years), and Challengers (5-9 years) into distinct groupings, so please look for the other articles, which I hope will be published about the same time. Note that "CCC" refers to the combination of Champions, Contenders, and Challengers.
Dividend Growth Activity Moderates
The pace of dividend-increase announcements surged during the past month, as expected, but should ease slightly during the holidays, before picking up again next month. The number of announcements for all Champions, Contenders, Challengers, and Near-Challengers expected in the next 11 weeks settled back down to 94 from 146 last month, which was up from 94 in my mid-September articles. (Those numbers are still below the 186 during the busiest season, around Groundhog Day 2017.) As mentioned previously, 2018 should be a banner year for new Champions, as there are 15 companies with current streaks of 24 years, while the Contenders will be replenished by an equal number of companies adding to their current 9-year streaks.
The table below coincides with the usual "forward look" of about 11 weeks for this article. Based on last year's announcements, I'm expecting the following companies to announce dividend increases between now and the anniversary of the Ex-Dividend Date of their previous increase:
Dividend Challengers (5-9 years):
MR=Most Recent; LY=Last Year; DGR=Dividend Growth Rate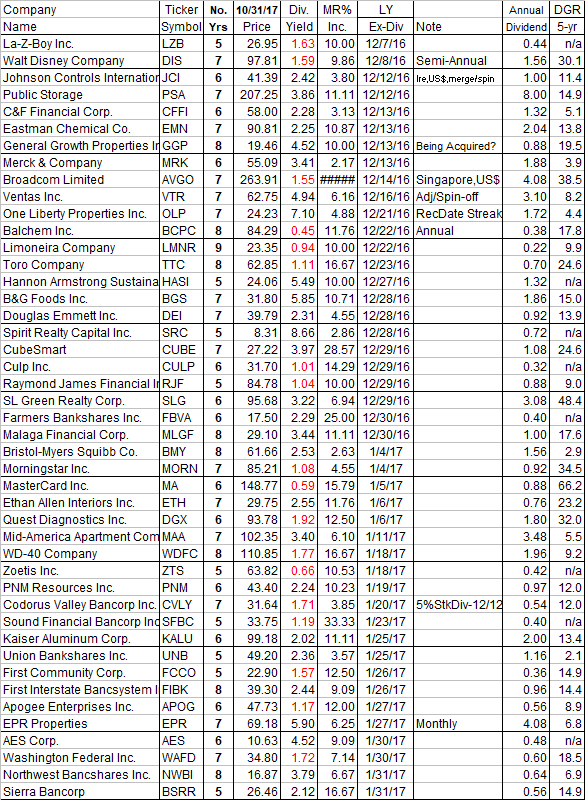 In addition, there's a number of Near-Challengers that are on schedule to record their fifth year of increases during this period: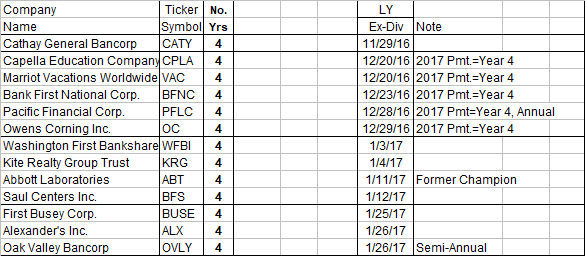 Not all of the above companies will meet the strict standards of every investor, but some may be appropriate for portfolio diversification. Potential investors should do more research before committing funds.
Every Picture Tells a Story
As a bonus, I'm inserting one of Chuck Carnevale's F.A.S.T. Graphs below, highlighting one of the companies listed above. When the stock's price line has moved into the green area, it indicates that the stock is undervalued in relation to its earnings. I'm attaching the chart below.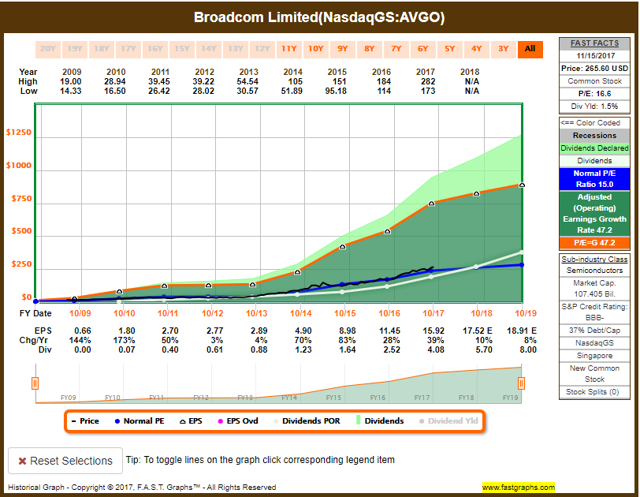 Disclaimer: Just because a chart looks "interesting" does not make it a Recommendation!
Disclosure: I am/we are long JCI, ABT. I wrote this article myself, and it expresses my own opinions. I am not receiving compensation for it (other than from Seeking Alpha). I have no business relationship with any company whose stock is mentioned in this article.
Editor's Note: This article covers one or more microcap stocks. Please be aware of the risks associated with these stocks.