Background
This article is a follow up to a speech I gave in Boston on November 13 to bank risk executives at the RMA Conference. This Seeking Alpha post includes charts used in the presentation as well as an expanded discussion of other factors that will influence bank profitability in 2018.
As discussed at the conference, economic and bank lending data are moving in opposite directions since early 2017. It now appears that loan growth for US banks will end 2017 trailing GDP growth. When lending grows slower than GDP, it usually bodes well for bank growth in the year ahead provided the economy is not in a recession. I expect the banking industry's risk profile to expand over the next couple of quarters if the 3%+ GDP growth rates proves sustainable.
What A Difference A Year Makes
A year ago, it appeared bank lending was growing too fast relative to the real economy. At that time, I wrote a number of articles for the American Banker raising concern that lending growth of 7% versus real GDP growth of 2% could lead to trouble. Historically, when bank lending grows 70% faster than the rate of growth of the real economy, it's only a matter of time before there is a reversion to the mean. When that happens, as it did dramatically in 2008 through 2011, lending growth rates actually goes negative, and bank stock prices suffer.
Thankfully, U.S. Bank regulators are paying much more attention to loan growth than they have in the past. In 2016 and early 2017, the Office of the Comptroller of the Currency issued three reports identifying specific concerns with loan growth:
Spring 2016: "Credit risk is increasing… This is particularly evident in indirect auto, commercial and industrial, and commercial real estate."
Fall 2016: "Banks continue to ease underwriting… These actions are evident in commercial, commercial real estate and auto lending."
Spring 2017: "Over the past two years, commercial and retail credit underwriting has loosened."
It should also be pointed out that bank risk executives continue to hold substantial sway over bank risk appetites. Memories of the Financial Crisis remain strong and bank executives and directors remain cautious. This is particularly true of the nation's largest banks as will be shown.
While bankers and regulators appropriately monitor quarterly change in loan growth, they also need to track longer lending trends. Chart 1 shows the five-year loan growth for the banking industry dating back to 1989. Several observations can be drawn from this chart. First, and most importantly in the context of this analysis, is that the five-year loan growth for the industry is currently nearly identical to the historic average.
Second, as this chart shows, over time, excess growth is almost always punished by excess declines in loan growth. The fact that the industry is currently tracking with historic average growth is a positive sign for the industry. It indicates that recent loan growth is not out of line with history.
Chart 1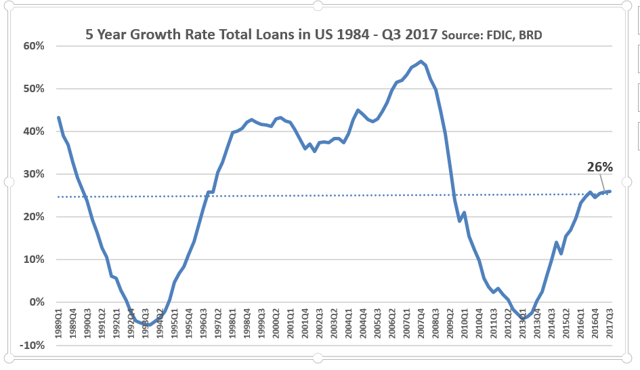 Another positive sign for the banking industry is the industry's credit quality. Chart 2 shows my favorite credit quality metric for the industry: the moving four quarters of loan-loss provision as a percentage of industry assets. This chart reveals credit quality concerns are at historic lows: .29% versus historic average of .58% and a peak of 2% in 2009.
Chart 2


Chart 3 provides an important insight into the aggregate risk profile of the banking industry in November 2017. This chart is derived from the Federal Reserve's quarterly survey of senior loan officers from across 60 US banks. It indicates that banks as a group are tightening credit in card, auto, commercial real estate, construction and development, and particularly multifamily lending.
In contrast, banks are modestly loosening credit standards for commercial and industrial lending. Finally, 1 to 4 family mortgage lending shows little change since the last survey. The punch line from this report is that there is no evidence US banks are opening up the credit spigot.
Chart 3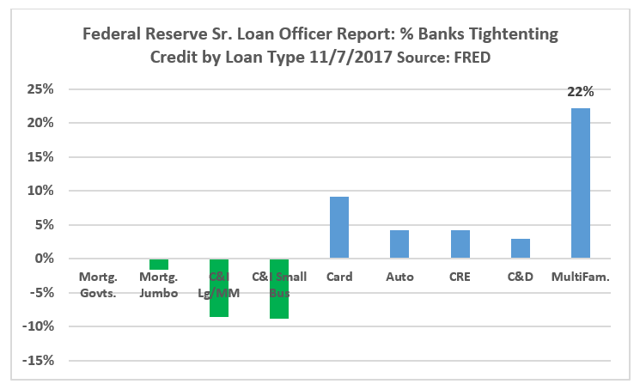 Given the industry's cautiousness, it should come as no surprise bank lending is not robust. Chart 4 shows the industry's loan growth year over year at 3.38% as of September 30, 2017. Note that the growth rate has been cut in half from one year ago. (The data from 1984 through Q2 2017 are drawn from the FDIC quarterly reports. Q3 2017 data are from www.bankregdata.com, which compiles its reporting from Call Reports.)
Chart 4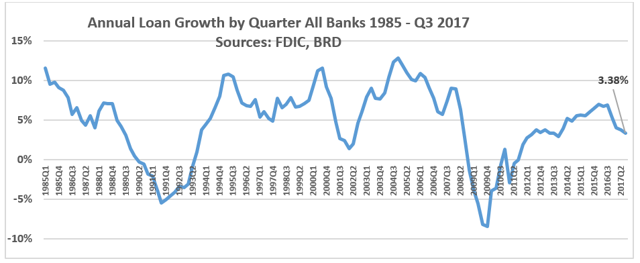 Chart 5 drills deeper into the year-over-year slowdown in lending. While industry-wide lending grew 3.38% as of the end of Q3 2017, there is evidence that big banks are growing loans much slower than smaller banks. The nation's 40 largest banks in aggregate grew their loans by 2.24% compared to a 5.87% growth rate for the nation's smaller banks as a group. This is a stunning differential and likely reflects a combination of influences. As a footnote, the biggest 40 banks hold 60% of all bank loans.
Chart 5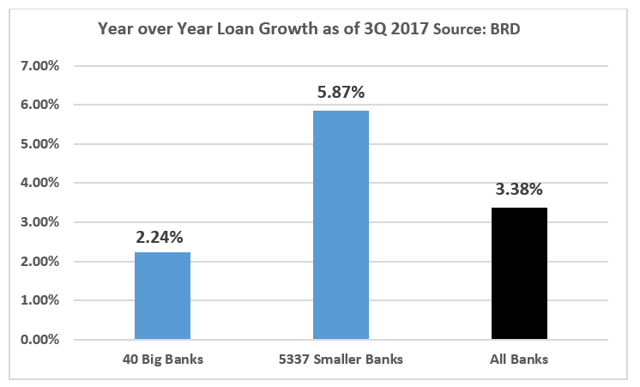 Chart 6 drills further into the big bank lending trends. This chart shows year-over-year loan growth for 17 big banks. Six banks show year-over-year declines in total loans. Among the six is Wells Fargo (WFC). This decline may reflect a management team distracted by the intense regulatory and public scrutiny. Investors in WFC should expect the bank to continue to lag the industry in growth for at least the next four quarters given all the noise. Also, as will be shown, WFC is not only experiencing a decline in bank lending, but the bank's Net Interest Margin has fallen since year-end 2015. Shrinking loans and declining NIM are a bad combination.
There are two other key observations to draw from chart 6. The first is that the greatest lending growth is coming from Discover Financial Services (DFS) and Capital One (COF). Both lenders are Mass-Market lenders, and in both cases, traditionally focus on credit card lending. It is my opinion that the majority of big banks have adopted a common strategy of lending to Mass-Affluent prime borrowers (i.e., borrowers with superior credit scores) in addition to a heavy high quality C&I focus.
Consequently, opportunities for loan growth in the Mass-Market have expanded as big bank competitors exit the market. That said, there is a reason big banks now prefer Mass-Affluent prime borrowers. Quite simply, the Mass-Affluent market is less volatile than Mass-Market lending. Investors in banks focused on Mass-Market lending should expect earnings volatility over time that exceeds that of banks focused on only prime borrowers.
There is a second observation to be drawn from chart 6. Note that PNC Bank (PNC) shows the highest year-over-year loan growth among all banks except mass-market lenders DFS and COF. Why is this important? The reason is because PNC over the past 40 years has produced arguably the best risk-adjusted returns on lending of all big banks in the country. They are principally a lender to high quality commercial and industrial borrowers. Over time they rarely lead the industry in loan growth.
My assessment is that PNC's recent loan growth spike reflects two factors. First, it has adopted a risk appetite that reflects a level of confidence in the economy that most other big banks do not share. Second, and probably more significant, the bank has expanded into new markets through loan production offices.
Much of the growth in loans at PNC has incurred recently in newly established loan production offices in cities like Dallas, Minneapolis, and Kansas City. The risk, of course, is that PNC is moving into markets in which it does not have expertise. My own view is that PNC remains keenly focused on superior risk-adjusted returns and its lending models have not changed. I believe the market expansion is prudent and shareholders will be rewarded over time by this strategic initiative.
Chart 6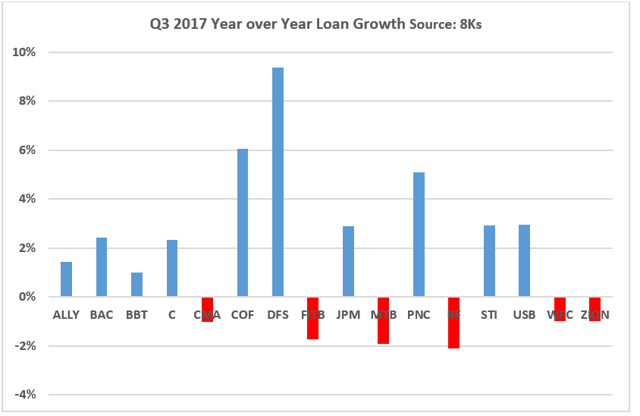 The next chart provides further evidence of the slowdown in bank lending. This chart examines the rate of change in lending growth by loan type compared to historic performance dating back to 1984. While a Z-score of plus or minus 1.0 is not statistically significant, the fact that six out of eight of the loan categories show a decline is telling. Note that multifamily lending has the highest Z-score (although not very high at .28); this is also the loan category as reflected in chart 3 with the greatest tightening of credit.
Based on my recent discussions with risk officers at many banks, there is no question more and more banks are exiting multifamily lending. The actual credit quality for this lending, however, remains sterling. Underlying multifamily vacancy rates and rental price trends remain strong across most of the country and for most types of apartments. It appears to me that banks remaining in the multifamily lending business will benefit from expanded profit margins as competitors exit the market.
Chart 7 obviously shows a steep decline in auto lending. An asterisk may be appropriate here. Unlike the other loan categories with data dating back to 1984, the FDIC's historic data for auto lending dates back only to 2011. The decline in auto lending is real. WFC has experienced a big drop in auto loans, down -12.2% Y/Y, from $61 billion to $53 billion according to www.bankregdata.com.
This same source shows auto delinquencies for the industry on 9/30/2017 at a three-year high of 2.31%, up from 1.93% a year ago. Capital One (COF) and Ally (ALLY) are big auto lenders. COF's delinquencies are elevated but generally flat while ALLY is experiencing increasing delinquencies.
Chart 7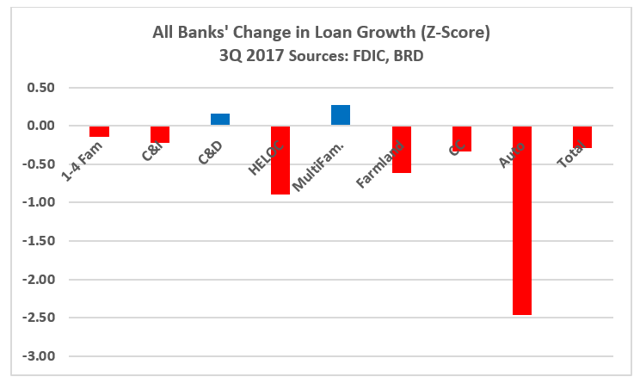 Coming out of the Financial Crisis, bankers are much more aware that lending growth over time syncs to the growth rate of the real economy. While it is true that bank lending can grow much faster than GDP, almost always excess growth reflects inappropriate risk-taking and an appetite for cheap revenue fueled by substandard loans.
What is most encouraging about chart 8 is that the US economy has grown by at least 3% for two consecutive quarters. The Federal Reserve Atlanta is forecasting 3.2% growth in 4Q. Bank profits are consistently strong when the economy grows 3% or more as I documented in my recent book about bank investing. We will return to this topic shortly.
Chart 8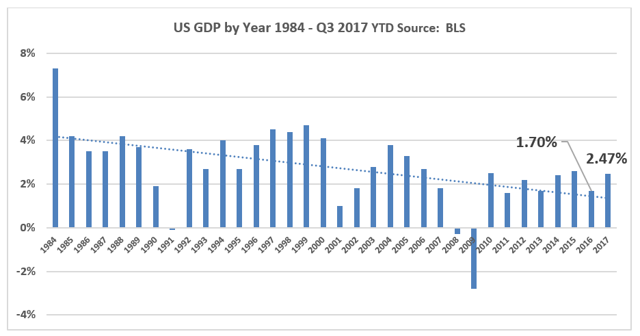 Chart 9 shows the annual inflation rate for the US economy from 1984 to 2017. Bankers younger than 60 years of age have virtually no experience dealing with inflation. While inflationary trends appear benign for now, bank risk executives need to begin to think through the implications of rising inflation.
The impact will likely be seen in rising interest rates as well as a general appreciation in the prices of certain asset categories. Moderate inflation growth can actually be beneficial to bank profitability. However, should inflation grow out of control - as students of the Phillips Curve argue is inevitable - some banks will suffer acutely as was the case in the late 1970s and early 1980s.
Chart 9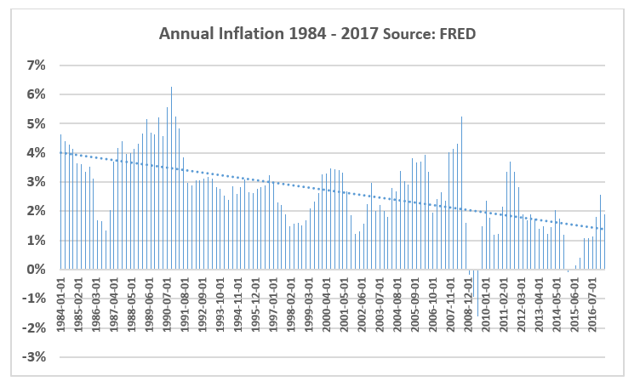 The prior two charts can be combined to produce a trend analysis for Nominal GDP (Real GDP plus inflation rate). The next chart is a busy one. The blue line represents the annual growth in lending by quarter from 1984 to 2014. The orange line reflects the moving average of 12 quarters of Nominal GDP.
Chart 10 also includes the linear trend lines for both annual loan growth and the moving 12 quarters of Nominal GDP. Very importantly, note that the two lines coincide. The overlap in lines tells investors, bank regulators, and bankers that over time bank lending growth regresses to the future growth rate of Nominal GDP. In other words, bank lending is a barometer of the overall health of the economy.
Chart 10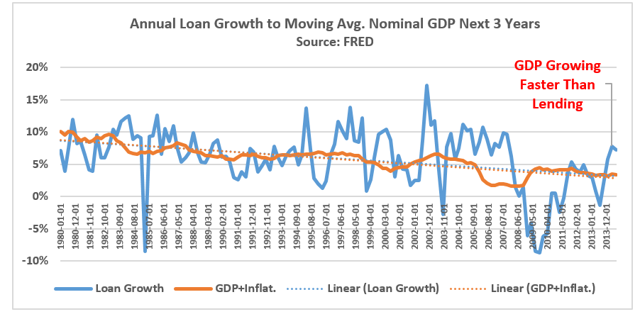 Banking Industry Risk Profile 2017-2018
Based on the data and charts reviewed for this analysis, it is my conclusion that the banking industry's current risk profile is stable and decreasing. Chart 11 mirrors chart 10 except that it includes a forecast showing Nominal GDP grows 5.5% between 2018 and 2020. The assumption is that Real GDP continues its current trend and grows between 3.0% and 3.5% while inflation accelerates 2.0% to 2.5% over the next 12 quarters.
If that assumption proves to be true, it indicates that banks have a meaningful opportunity to accelerate lending without incurring significantly greater risk. Why? The answer is because lending growth across the board is only 3.4% compared to forward Nominal GDP of 5.5%. Historically, when lending trails forward GDP, it is only a matter of time before lending growth reverts to the growth rate of the economy.
Chart 11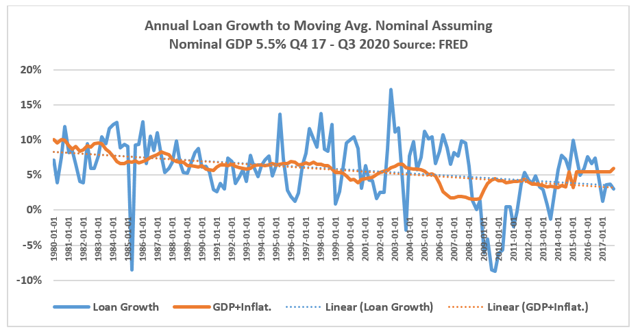 While a healthier economy bodes well for bank lending, it is not a free lunch. Last year I warned bank investors in two Seeking Alpha articles to not expect the industry Net Interest Margin to improve much when the Federal Reserve Open Market Committee began ratcheting up interest rates. As you recall, the FOMC began raising interest rates in December 2015. Chart 12 shows the absolute change in NIM for 19 big banks from 12/31/2015 to 9/30/2017.
Pay special attention to the change in NIM for the five biggest banks in the country: J.P. Morgan Chase (JPM), WFC, Bank of America (BAC), Citicorp (C), and US Bank (USB). BAC leads the pack with an increase in NIM of 16 basis points. Citi, USB, JPM, and WFC show changes of NIM of 7, 4, -4, and -5 respectively. During this time the FOMC has raised Fed Fund rates by 100 basis points.
The nation's biggest banks generally choose to not take enormous market risk. In other words, they position their balance sheet to be interest rate neutral. An exception to that rule of thumb is Comerica (CMA), which as I pointed out in a prior article, is principally a commercial and industrial lending bank, and consequently has very cheap core deposits and a book of C&I loans that float with interest rates. Like Silicon Valley Bank (SIVB) and very few other banks, CMA has a business model that benefits from rising rates.
Should the economy accelerate and show sustained real growth of 3% or better, bank lending will expand and demand for deposits will require banks to pay depositors higher interest rates. While the cost of funds for all banks has increased since December 2015, the big risk to some banks in 2018 - 2020 is that the cost of funds accelerates at a pace faster than the increase in the earnings yields of assets. This problem is particularly acute for banks that have a book of long duration earning assets (securities and long term fixed rate loans).
All three bank regulators are highly concerned about rising rates. In early November, they held a rare joint phone conference with small bank CEOs to discuss this very risk. Expect regulatory concerns with Market Risk to heighten if rates go up three or more times over the next year.
Chart 12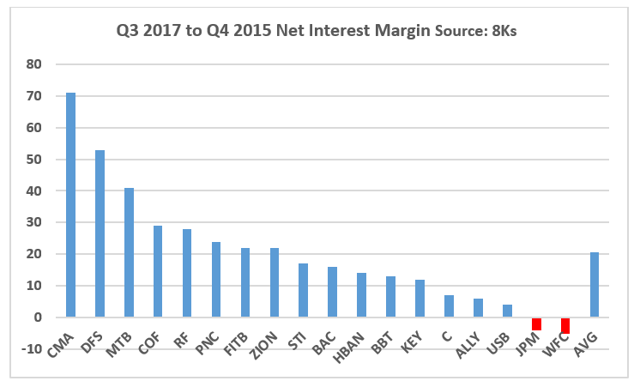 Conclusions
Bank management and boards are in the process of wrapping up 2018 business plans. A year ago, most of the big banks reduced their risk appetites to reflect concern about the overall health of the economy. Today there is evidence that the economy is improving and justifies an increase in lender risk profiles.
If the economy proves capable of sustaining a real growth rate of 3.0% to 3.5% and inflation accelerates at a pace of 2.0% to 2.5%, expect to see a wide divergence in bank stock price growth in 2018. If many of the nation's biggest banks continue to grow loans at 2.0% to 2.5%, there is an opportunity for others in the industry to grow by roughly 6%. Assuming these faster growth banks do not sacrifice credit quality and growth assumptions for the economy are realized, bank investors will likely see in the year ahead a wider valuation differential between fast and slow growing banks.
Banks that appear best positioned for an improving economy are PNC, CMA, DFS, and COF. CMA will benefit from rising rates given its business model and balance sheet composition. DFS and COF will benefit from their Mass-Market strategy if unemployment remains around 4% and wages improve moderately. PNC's expansion into new markets should continue to fuel above average loan growth.
Loan growth and net interest margin trends at WFC are unlikely to improve markedly in 2018 as management attention is diverted by regulatory and legal concerns. Do not expect WFC shares to outperform the banking industry.
Bank investors should not neglect community and smaller regional banks. This population is generally growing faster than big banks. The risk with this group is credit concentration reflecting a lack of geographic diversification of borrowers. As identified in my 2016 book about bank investing, the following community and regional banks were identified as "Buffett Banks." Each has demonstrated superior risk-adjusted returns since 2004: Bank of Hawaii (BOH), BOK Financial (BOKF), Bank of the Ozarks (OZRK), Bar Harbor Bank & Trust (BHB), CVB Financial (CVBF), EagleBank (EGBN), German American Bancorp (GABC), Lakeland Financial (LKFN), and Stock Yards Bancorp (SYBT). There are other terrific smaller banks in the US with outstanding long-term performance and business models likely to do well in the years ahead.
It should be noted that the banking industry will benefit considerably from any corporate tax relief passed by Congress in the year ahead.
Keep a close eye on Net Interest Margin trends if the economy continues to improve. A strengthening economy will likely lead to rising interest rates, which contrary to popular wisdom, does not necessarily help bank profits. The risk of rising rates could increase if inflation accelerates. Certain community and regional banks are vulnerable to a profit squeeze in this scenario.
These banks generally have a high cost of funds, rely on brokered deposits, and hold longer-term fixed rate assets, most notably consumer mortgages and commercial real estate. A high loan-to-deposit ratio is another factor investors must monitor in a rising rate environment. In a future Seeking Alpha article, I may identify specific publicly-traded banks most at risk.
The biggest risk to bank stock prices in the year ahead is a slowdown in the economy. History has proven that bank profitability and stock prices suffer during a recession. Investors who believe the economy has a meaningful chance of slipping into recession in 2018 should stick with only the highest quality bank stocks or avoid the industry altogether.
Finally, as an investor in banks, I am closing with the key questions I would like to see bank board risk committees debate as they approve 2018 profit plans over the coming weeks:
What are our GDP and inflation assumptions for 2018-2020? How confident are we in these assumptions?
How will key competitors' lending standards change if the economy grows 3%+? How will we know if competitors are being too aggressive, forcing our bank to reduce its risk appetite?
Should we modify our risk appetite in light of growing confidence in a sustained improvement in the US and global economy?
How confident are we in our Net Interest Rate assumptions and specifically our forecast of funding costs in 2018-2020? What factors challenge our assumptions?
What are our assumptions for our bank's and the industry's loan loss provision expense in 2018? Why may our assumptions be wrong? How confident are we in our loan loss provision assumptions?
Disclosure: I am/we are long JPM, CMA, HBAN, SIVB, BHB, CVBF, BOKF, OZRK. I wrote this article myself, and it expresses my own opinions. I am not receiving compensation for it (other than from Seeking Alpha). I have no business relationship with any company whose stock is mentioned in this article.
Additional disclosure: As a retired Bank of America employee (2011), I continue to have certain financial interests in BAC although I do not currently own BAC.