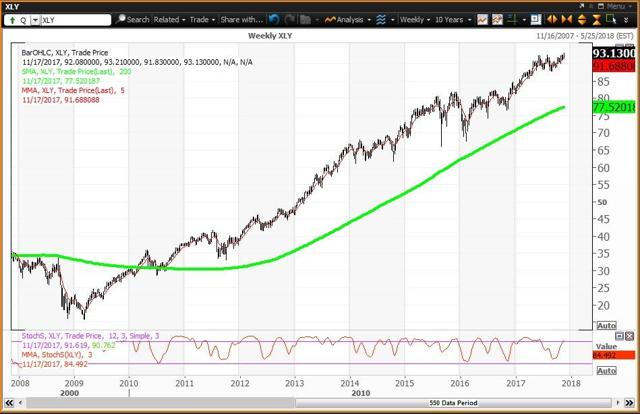 When you invest in a sector exchange-traded fund you are participating in a segment of the S&P 500 without the challenge of stock picking. In the case of the Consumer Discretionary Select Sector SPDR Fund (XLY) there are 85 retail-oriented stocks.
If you picked Amazon.com (AMZN) you would be out-performing the ETF, but thanks to the momentum of the on-line retail giant, the consumer discretionary ETF set an all-time intraday high of $93.21 on Thursday. With the ETF your investment is heavily-weighted to Amazon with its 17.11% weighting, and you did not have to pay more than $1,000 a share. In addition, you have a 7.48% stake in Home Depot (HD), 6.03% in Walt Disney (DIS), 5.14% in McDonald's (MCD) and 2.84% in Nike Inc (NKE). These five stocks are 38.6% of your investment in the ETF.
Based upon what I see in my community, holiday spending is off to a robust start. Consumers on Main Street, USA are anticipating a tax cut in 2018 and appear to be spending accordingly. United Parcel Service (UPS) is already operating their holiday cart deliveries from a depot in the community parking lot. The U.S. Postal Service is operating separate trucks seven days a week delivering packages mostly from our local Amazon fulfillment centers. I have not noticed additional deliveries from FedEx Corp (FDX) yet.
Investors need to be aware that household debt rose by 0.9% ($116 billion) in the third quarter to a record $12.96 trillion. This includes increases in mortgage, student, auto and credit card debt, which rose by 3.1%.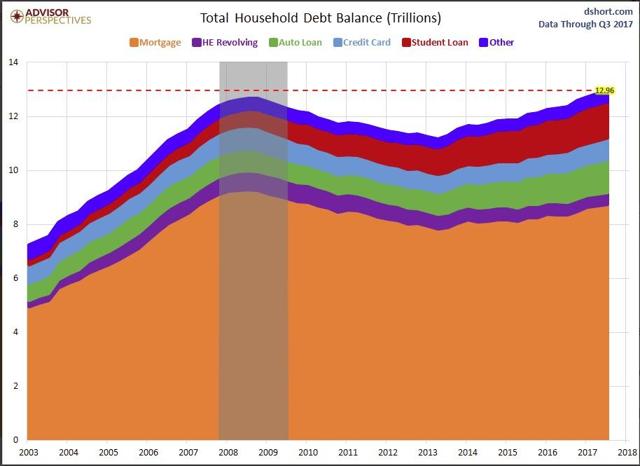 The Consumer Discretionary Select Sector SPDR Fund (XLY)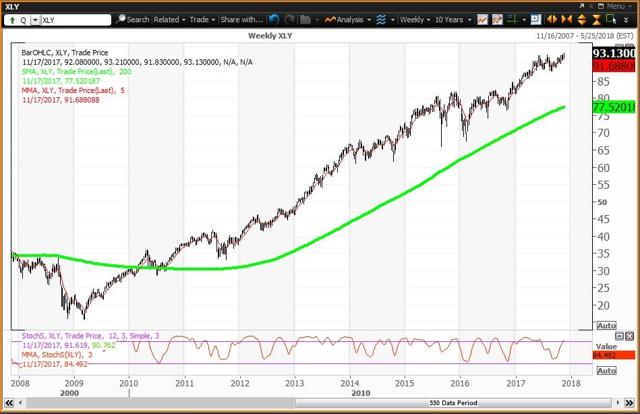 Courtesy of MetaStock Xenith
The weekly chart for the consumer discretionary ETF ($93.13 on Nov. 16) is positive but overbought with the ETF above its five-week modified moving average at $91.69. The ETF is well above its 200-week simple moving average or "reversion to the mean" of $77.52 which was last tested during the week of Sept. 3, 2010 when the average was $30.61.
Based upon this analysis, reduce holdings on strength to my quarterly, monthly, semiannual and annual risky levels of $93.41, $94.47, $96.76 and $97.00, respectively. I do not show value levels at which to buy on weakness at this time.
Disclosure: I/we have no positions in any stocks mentioned, and no plans to initiate any positions within the next 72 hours.
I wrote this article myself, and it expresses my own opinions. I am not receiving compensation for it (other than from Seeking Alpha). I have no business relationship with any company whose stock is mentioned in this article.