The future for North American natural gas producers seems pretty bleak when judging solely from the present day supply glut which has manifested itself as low prices. However, the supply situation contrasts sharply against natural gas' generally bright future. It is preeminently the hydrocarbon of choice of the future being that it is both much more plentiful and cleaner than legacy hydrocarbon sources.
In the previous installment of this series, The Battle For Dawn, Part 1: The Making Of A North American Natural Gas Super Glut, I examined the supply-side mechanisms for rebalancing the current glut. I concluded that a supply-driven rationalization is likely to underwhelm because, in many cases, tightening competition can lead to a self-reinforcing feedback mechanism in which low prices beget low prices.
Intensifying competition precludes most possibilities of a supply-led rationalization. However, it is also likely to create more demand going forward. The current cheapness of natural gas compared to other energy and hydrocarbon sources lowers switching costs and will likely result in new demand pathways. The proliferation of LNG import/export facilities will expedite this outcome by ensuring supply is in no place scarce.
While prospects for a demand-driven recovery in North America are promising, the longer-term situation does again look bleak for producer price realizations. The world is poised for a decadal natural gas supply glut due to overbuilding of LNG export facilities which have recently or will soon commence operations. Additionally, over the very longer term, demand for fossil fuels could wane as regulators impose greater restrictions on fossil fuels and as renewables become increasingly cost competitive.
The Narrative Thus Far
Author's note: What follows is a synopsis of previous articles regarding the WCSB supply glut. Readers who are familiar with my previous installments may wish to skip to the following header below.
While I was attempting to sift for upstream bargains, I began to notice a valuation gap in which natural gas-weighted producers with operations in the Western Canadian Sedimentary Basin (WCSB) looked especially cheap both with on an absolute and relative basis, especially compared to U.S.-based peers. As I dug into this, I found a good reason for the apparent "cheapness."
Key regional price indicators at West Coast Station 2 and the AECO-NOVA virtual hub were actually dipping into negative territory. Since 2017 July, what began as regionally depressed prices due to localized bottlenecks at West Coast Station 2 spread to key market hubs throughout the region, including the AECO-NOVA virtual hub in Alberta.
Negative prices are an extraordinary occurrence which signals either an acute imbalance or acute lack of logistical capacity. The headlines sold a narrative that bottlenecks along TransCanada's NGTL system were to blame for market perturbations. However, even superficial analysis precluded inadequate logistical as the sole contributor. Summer maintenance work is seasonally recurrent. Furthermore, regional natural gas production was much greater in the recent past. Therefore, logistical bottlenecks and service disruptions were only symptomatic of other market forces.
Upon further analysis, I concluded that negative prices which appeared to be a consequence of regional logistical bottlenecks were actually the result of oversupply.
For context, Canadian natural gas production has long exceeded regional demand. Since the 1950s, excess production from Canada was shipped to demand centers toward the east and south on TransCanada's TCPL mainline. Recently, however, that pipeline has been mostly empty attesting to the erosion of Canadian natural gas' supply share. For over a decade, growing production from U.S. shale, especially from Appalachia (e.g., Marcellus and Utica) has been out-competing Canadian producers.
That dynamic has recently shifted. Recent supply growth from the WCSB has led to a reversal of decades of declines, but sufficiently supplied legacy demand centers will no longer readily absorb spare capacity. As a result, excess supply became backed up into Canadian regional markets and storage hubs to a point where markets could no longer support a bid.
In response to backed-up market conditions at key Western Canadian natural gas hubs, the recent TCPL open bidding season was met by overwhelming demand from regional producers who at last conceded that better market conditions would not magically manifest themselves. The logical alternative to death by one thousand paper cuts from U.S. producers was to punch back, thereby guaranteeing low prices for much longer, but ultimately ensuring there would be a bid at relevant markets.
According to Nick Schultz, VP of Canadian Association of Petroleum Producers (CAPP), this decision was born from a simple choice: "Stay at NIT and lose the market or move to the market - go to Dawn and compete. Western Canadian producers have chosen to compete."
It is ironic and contrary to classical economic thinking that low prices could lead to even lower prices, but the market mechanism for this outcome clearly exists.
Thus, as of 1 November, Western Canadian producers began shipping an additional 1.42 bcf/d of natural gas through TransCanada's underutilized mainline from Empress, Alberta to Dawn, Ontario through Long-Term Fixed Price Contracts (LTFPs).
Canadian producers' concerted efforts to recapture market share at this important market hub comes prior the completion of two under-construction pipelines projects. Energy Transfer Partners LP's ((ETE) (ETP)) 3.25 bcf/d Rover Pipeline and Enbridge's (ENB) 1.5 bcf/d Nexus Pipeline projects will both move gas from logistically under-served Appalachia to the same demand centers in the Midwest and Pacific Northeast. I argue that the joining of these regional natural gas gluts is likely to result in a North American super glut.
Figure 1: Dawn market limited in size to absorb growing supply access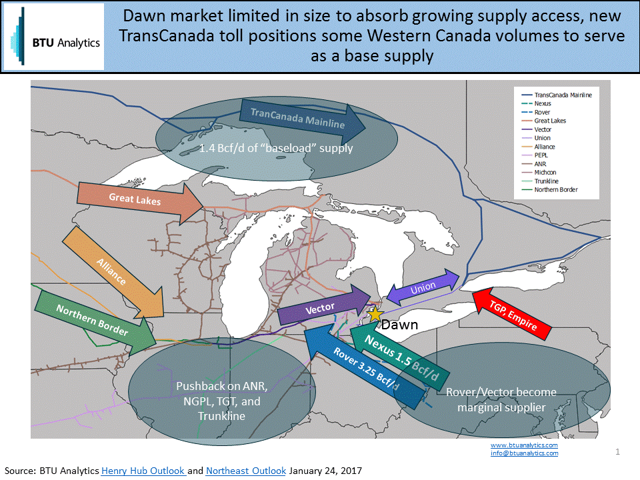 (Source: Jason Slingsby. TransCanada Mainline Tariff - Securing Market Share To Dawn. BTU Analytics. 23 March, 2017)
A supply response to low prices is already underway but is likely to undershoot due to ramping up competitive pressures as free-ish markets continue to exploit resources which are not nearly as scarce as previously thought.
Recent Price Action and Seasonal Outlooks Add Color to Earlier Assessment
I previously assessed that Canadian natural gas markets are distressed due to oversupply; not due to logistical bottlenecks as most headlines reported. Recent price action adds color to my original position.
A tightening basis between AECO-NOVA spot and near-month futures indicates that an increase of 1.42 bcf/d of natural gas flow-through along the mainline to Dawn has allowed backed up gas to flow into market hubs, debottlenecking conditions which led to negative pricing this summer and fall. Spot prices have even flirted with backwardation.
Figure 2: NGX AECO Spot and Futures (Front Month) Market Prices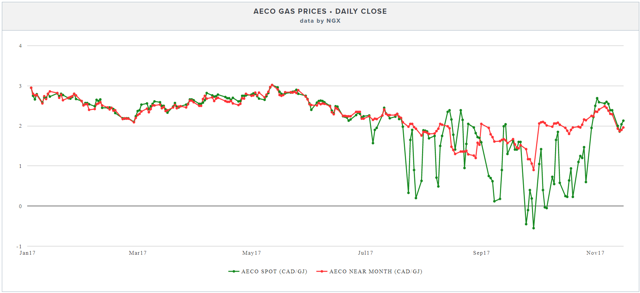 (Source: Oil Sands Magazine. Oil and Gas Prices. Accessed: November 17, 2017)
However, the basis between AECO and Henry Hub has continued widening presumably due to the increasing regional supply overhand in Canada. Although heightened mainline activity has allowed gas to flow out of Canadian hubs, completion of seasonal maintenance work and capacity expansions along the NTGL System have forced much gas right back into these hubs, effectively offsetting any previous hard-won rebalancing.
Shippers have recently signed over 2.981 Bcf/d in total new firm supply contracts across the system, including an over-subscribed open season for a 381 mmcf/d expansion connection to the Alberta/British Columbia export delivery point, which connects Canadian supply to Pacific Northwest, California and Nevada markets. Producers' eagerness to pursue additional egress routes entails that market hubs along the way to demand centers could become increasingly flooded.
Figure 3: NGX AECO and NYMEX Henry Hub Spot Prices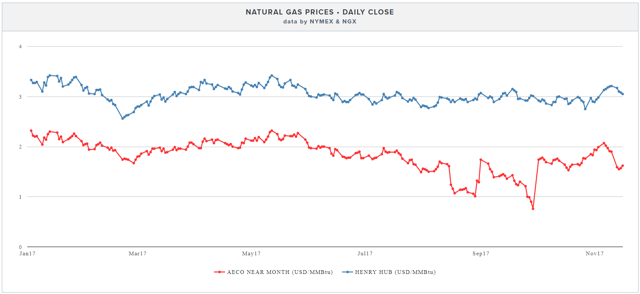 (Source: Oil Sands Magazine. Oil and Gas Prices. Accessed: November 17, 2017)
The net effect of these capacity expansions has relieved very short-term pricing pressure, but I believe that increasing throughput has dulled the price lifting effects of winter weather. Several pricing indicators spiked earlier this month, presumably due to winter. Increasing consumption and demand for storage due to a colder seasonal outlook has provided short-term relief after a particularly mild summer. However, much of that spike has all but dissipated over the last few days.
Figure 4: United States Winter Weather Outlook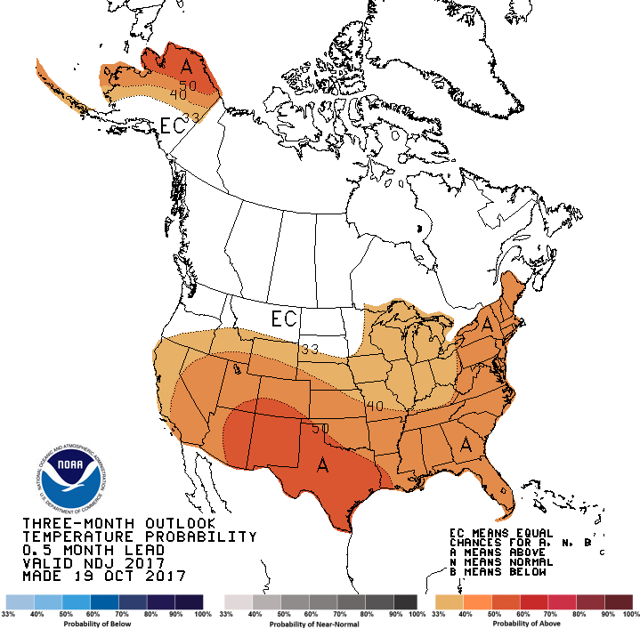 (Source: NOAA - National Weather Service - Climate Prediction Center. Three-Month Outlook for Nov-Dec-Jan 2017-18. Accessed: November 15, 2017)
Figure 5: Canada Winter Weather Outlook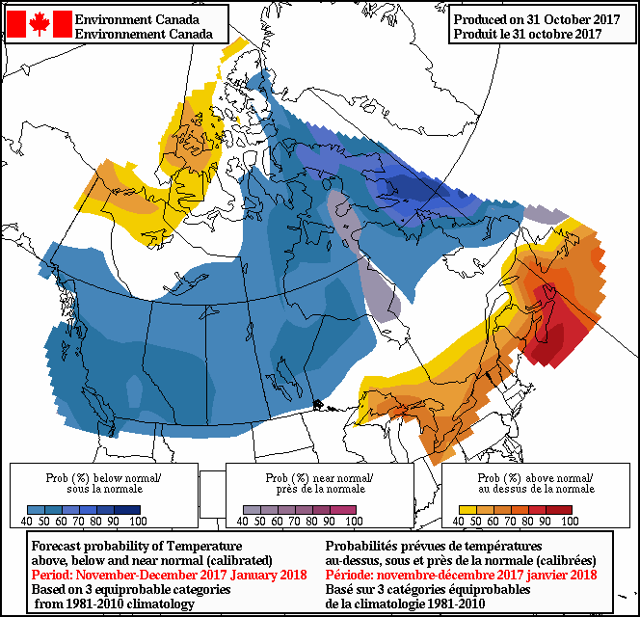 (Source: Government of Canada. Temperature Probabilistic Forecasts - Current - 2-4 month. Accessed: November 15, 2017)
While consumer price benchmarks have held on to these gains, Western Canadian producer benchmarks have lost ground. Seasonal outlooks which are guiding for a colder winter in the North and Northwest and a warmer in the Atlantic Northeast preclude weather as a cause of Western Canadian pricing softness.
Figure 6: Western Canadian Natural Gas Producer Price Benchmarks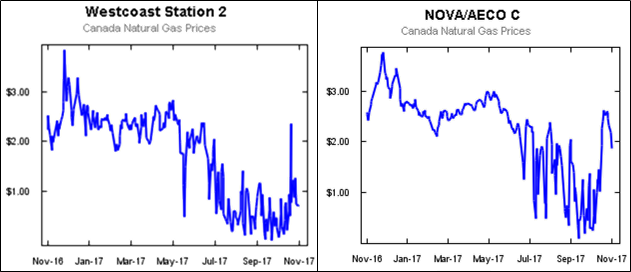 (Source: Natural Gas Intelligence; author's modifications)
Figure 7: Canadian Natural Gas Consumer Price Benchmarks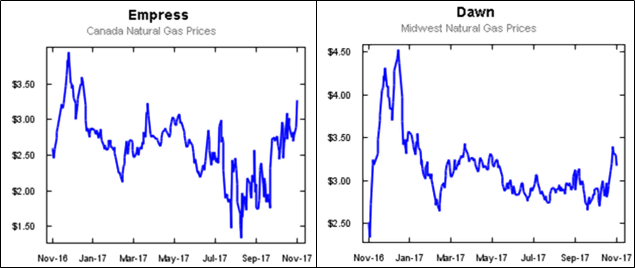 Source: Natural Gas Intelligence; author's modifications
Therefore, I stand by my original position with an added caveat: Canadian natural gas markets are depressed due to oversupply, and thus are prone to experience distress due to lack of market egress options. In this modified viewpoint, additions of logistical infrastructure could help debottleneck backed up gas (i.e., tighten calendar spreads), but would ultimately exacerbate the severity of the regional glut (i.e., widen the NYMEX basis).
Darkest Before Dawn
Natural gas' bright future as the hydrocarbon of choice for future energy and hydrocarbon needs contrasts starkly against the present day producer situation. Indeed, quantifying the problem on a continental scale indicates that the current supply glut might not really be that bad. Furthermore, demand growth through increased consumption and major logistical capacity expansions of LNG export facilities should be able to absorb regional excesses.
Recent estimates from RBN Energy and Blue Quadrant Capital Management indicate that U.S. natural gas demand is likely to be 10 Bcf/d through 2019 (with 8 Bcf/d due to the commencement of Gulf Coast LNG operations). In contrast, L48 supply is expected to increase by 9-10 Bcf/d. The addition of my estimates for 3-5 Bcf/d in Canadian supply growth over the same period indicates that short-term supply will exceed demand by 2-5 Bcf/d.
For frame of reference, according to BP's (NYSE:BP) 2017 Statistical Review, combined U.S. and Canadian production has exceeded consumption by 2.2-3.8 bcf/d since 2015-2016. In 2016, Mexico ran a supply deficit of 4.1 bcf/d.
Figure 8: Natural Gas Supply-Demand Imbalance - U.S. and Canada: 1970-2016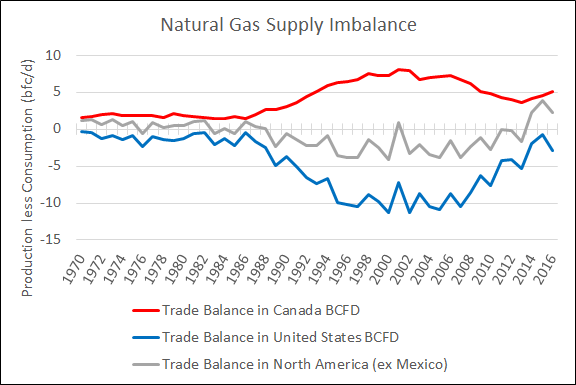 (Source: BP 2017 Statistical Review. BP Energy Charting Tool)
Therefore, the continental supply glut is basically nonexistent. The issue, however, of moving gas from areas of supply to demand centers is non-trivial.
Low Prices Incent Greater Consumption
I previously predicted that Canadian natural gas supply could grow by 3-5 bcf/d by 2019, far outstripping demand growth projections over the same period. I now have reason to suspect that regional demand growth will surprise to the upside by nearly that amount. My analysis concludes that regional demand could by grow ~3 bcf/d over the same period, greatly exceeding consensus projections (Albertan natural gas demand is expected to grow by ~2.27 bcf/d by 2025 to 6.94 Bcf/d from 4.67 Bcf/d).
Low natural gas prices incent electrical utilities to convert coal fired plants to natural gas. Currently, the government of Alberta's Climate Leadership Plan mandates that 100% of the regional coal fired plants must covert to natural by 2030. Upside from converting 100% of Alberta's present-day gas fired plants (42,227 GWh coal generation in 2016) would add about .9 Bcf/d in regional demand growth.
Condensate and NGL demand growth from regional oil sands producers will improve price realizations even if natural gas markets remain glutted. Heavier NGLs ("pentanes plus," aka condensates) are used to dilute and reduce the viscosity of bitumen so it can be shipped via pipelines to refineries. Bitumen production has proved resilient to the recent downturn as product costs continue to fall on lower cost inputs and expanding scale. Due to the prolific natures of known bitumen deposits, efficiency gains in recovery methods tend to be directly related to project scale.
As a result of bitumen supply growth, regional condensate prices reached C$78/bbl last week, even exceeding regional oil prices, signaling under supply for products which were once thought of as mere byproducts of gas production. Raymond James analysts expect demand to hit 490 mboe/d (~2.94 bcf/d) this year while they noted that producers are only supplying 300 mboe/d (~1.8 bcf/d).
Unfortunately, methane and methanol increase the viscosity of bitumen due to hydrogen bond forming.
Lower prices incent growing end-use of natural gas in petrochemical and manufacturing operations. NGLs, such as ethane, are the primary feedstock for regional olefins producers such as Nova Chemicals and Dow Chemical (DWDP) based out of Joffre and Fork Saskatchewan. Regulatory initiatives to incentivize expansion of the current petrochemical complex are already in place. The government of Alberta's Petrochemicals Diversification Program -which offered $500 million in royalty rebates to provincial petrochemicals projects - has met with an overwhelmingly positive response. From December to April 2016, Alberta received 16 applications worth an estimated $20 billion in new petrochemicals investment.
The disconnect between the disposition of ethane supply and polyethylene production indicates that Canadian petrochemical growth could be a significant opportunity. The addition of only two "typical" polyethylene facilities with nameplate capacities of ~1,000,000 tonnes/yr could absorb up to 279 mmcf/d in ethane and propane supply (assuming 78% conversion yields).
Figure 9: Disposition of North American Polyethylene Demand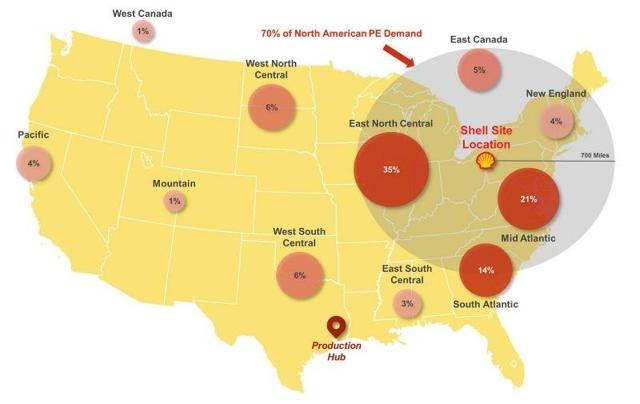 (Source: Royal Dutch Shell. Shell takes final investment decision to build a new petrochemicals complex in Pennsylvania, US)
The upside of low prices to methanol production could also be quite significant, according to a September 2014 article featured in Alberta Oil Magazine. Unlike the United States, Canada does not have a renewable fuel standard which mandates ethanol blending but blocks out methanol.
Indeed, Methanex (MEOH) has been making aggressive moves to lock in low prices in order to secure future supply for expanding methanol operations in Medicine Hat, Alberta. It was recently announced that Methanex had locked in a 14-year gas price commitment with regional producer Painted Pony Energy (OTCPK:PDPYF). The deal commits 10 mmcf/d beginning in 2018, increasing to approximately 50 mmcf/d by 2023. Painted Pony's CEO commented on this deal in a recent interview, but was unable to comment on the pricing component of this agreement.
Though the Methanex deal is not significant on its own to the broader market imbalance, it signals the beginning of a delayed onset demand response to low prices which will only accelerate as long as prices remain low.
The build out gas-to-liquids facilities which convert methane into methanol and other petrochemicals could also become attractive if/when liquids (naphtha and ethane) become cost prohibitive, and if/when associated production of hydrogen comes into greater demand from hydrogen fuel cell use. While future expected gas-to-liquids demand growth is dominated by two mega-projects in South Africa and Uzbekistan, a single investment decision could change that expectation drastically.
These developments on the consumption front corroborate the intuition that energy demand lags changes in prices and supply because it takes time and money to build out the infrastructure necessary to respond to the imbalance. If anything, demand growth could even begin to exceed supply growth, thus perpetuating the commodities cycle for the pleasure of future generations. It is also perhaps notable that any demand growth tends to be inelastic to price, thus resulting in very long-term demand growth.
LNG As a Pipeline to Anywhere
The assessment for demand growth regards only the regional dynamics. The situation is even more bullish when one regards LNG exports growth from the Gulf Coast. Compared with expected L48 natural supply growth of 9-10 Bcf/d by 2018, LNG export capacity is expected to increase by about that much, effectively preventing a continental supply build.
Figure 10: U.S. Lower 48 LNG Export Projects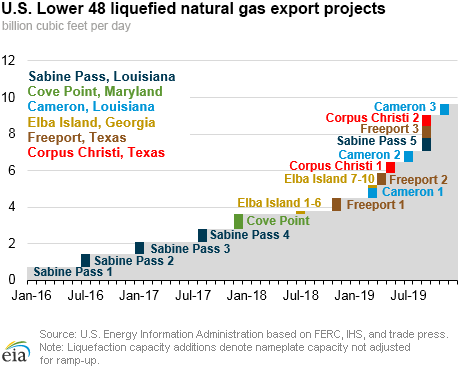 (Source: EIA. Natural Gas Weekly Update. 25 October 2017)
While Canadian gas molecules are not likely to reach the Gulf Coast, they will displace natural gas supply from the Mid-Continent and Appalachia which is now able to find a bid from LNG exporters. Thus, Canadian producers may be able to indirectly piggyback off of LNG through improving price differentials.
So if we take a step back, one might conclude there will be no effective build in the L48, and only about 0-2 bcf/d in excess supply from Western Canada which could easily be absorbed by a single LNG export facility, thus bringing North American markets back into deficit.
Moreover, while LNG is not a consumer per se of natural gas, but global LNG export growth is likely to promote demand growth of natural gas, especially from undeveloped and developing economies where the growth potential is highest, by ensuring that nowhere is supply scarce.
Pending further updates, I am assigning about 0% upside from Canadian LNG export facilities, with the exception of the under-construction 0.29 bcf/d Woodfibre facility in Squamish Bay. A positive FID announcement of a large LNG export facility from Canada's Western Shoreline, such as Shell's (RDS.A) (RDS.B) 3.23 bcf/d Kitimat Project, would be a game changer.
Contemplating the Ramifications of a Global Supply Glut
Mere mention of the words "resource deficit" might evoke recent memories of days in which resource scarcity was the canonical doctrine of markets. Fads on scarcity led to at least a few speculative bubbles in precious minerals, oil, and natural gas commodities and their producers. While natural gas is a finite resource on Earth, I think recent developments have definitively shown that it is not nearly as scarce as the consensus once believed. Perhaps nowhere is this more evident than in the looming decadal global LNG super glut.
Supermajors overbuilt for years in anticipation of future global supply shortfalls in a quest for first mover's advantage. But in doing so, they greatly underestimated one another's resolve for the same. They also underestimated the onshore tight oil and gas revolution, and the regulatory costs of these megaprojects as extractive regulators sought to carve out a larger slice of the economic pie. Systemic delays and budget/cost over-runs raise serious questions regarding LNG megaprojects' future cost competiveness with other sources of growing supply.
According to Bloomberg's New Energy Finance (BNEF) division, "excess capacity is forecast to peak at 87 million tons in 2020, about 28 percent of total demand." BNEF expects that the market will rebalance by 2025 if no new export projects are developed.
A WSJ report recently affirmed that energy giants like Royal Dutch Shell, Chevron (CVX), and Total (TOT) face the new challenge of creating more demand in an oversupplied market after spending hundreds of billions of dollars to transform themselves into global natural gas giants.
It should be apparent that the specter of a North American super glut pales in comparison to the inevitable global natural gas super glut. 87 mmtp/a (~11.5 Bcf/d) in excess global capacity is a significant overhang which will take time to work out. Eventually, though, it would work out except for... peak demand.
Contemplating Peak Petroleum Demand in the Face of Global Supply Glut
The rules which will have led to the rebalancing of the North American natural gas supply glut may not apply to the future global supply glut due to both natural (i.e., market driven) and man-made (i.e., regulator imposed) causes. As a result, the global oversupply situation looks even direr when one contemplates the potential effects of peak petroleum demand.
Already, regulators throughout Europe have imposed hard sunsets on the use of fossil fuels to power automobiles. France has even imposed a hard end date to petroleum exploration by 2040. Regulators in China are contemplating following suit. Even Governor Jerry Brown has suggested that California may pursue similar restrictions on fossil fuel use.
While these sunsets and restrictions will undoubtedly have a greater impact on petroleum liquids demand, they might also stifle demand growth of CNG and LNG as transport fuels.
Demand for petroleum could also come under increasing pressure from efficiency gains along the renewables frontier. In September, Seeking Alpha Editor Michelle Carini spotlighted a BNEF research presentation which demonstrated that efficiency gains in renewables have far exceeded consensus expectations. Its author reasons that efficiency gains will continue to surprise to the point where "clean energy will become more economical than fossil fuels for utilities in many places".
Although EIA does not expect global demand for fossil fuels to ever fall in aggregate, efficiency gains in renewables and machinations of regulators could begin to change this narrative.
Figure 11: EIA's Global Energy Consumption Projects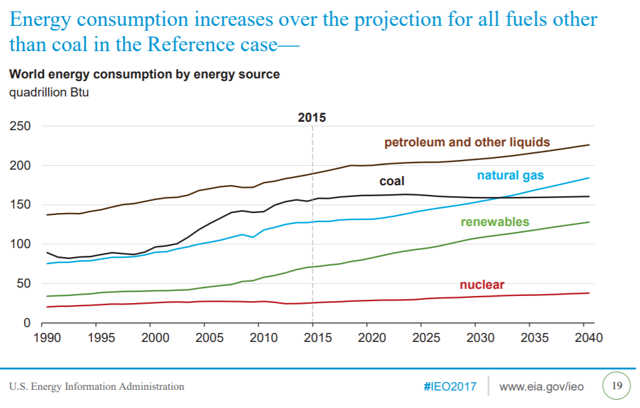 (Source: EIA. International Energy Outlook 2017. 14 September, 2017)
Conclusion
What do a looming global LNG supply glut combined with prospects for demand destruction mean in the context of the current North American supply glut?
This is a trillion dollar question.
Trying to look forward into energy future is basically like looking into a black hole. Transformative developments are like an event horizon past which arguably no one is able see. The only thing for certain is that future looks radically different than the past. At the heart of the singularity, though, I believe that a few insights can be inferred:
The current North American supply glut will be overwhelmed by global supply-demand fundamentals. Creating a global natural gas benchmark and marketplace was actually the original intent of early LNG promoters, even if the winners are not early adopters.
Seismic shifts in the energy landscape could derail billions of dollars in legacy and proposed infrastructure investments. Given how North American natural gas markets could easily shift back into a supply deficit, I think there may be a coming to Jove moment when markets begin to appreciate how moving natural gas away from demand centers makes no sense. In this outcome, investors will cease viewing LNG export facilities as a panacea of demand growth, but rather as very expensive means of exploiting opportunistic arbitrage trades. Think Cheniere (CQP) (CQH). Now think dry shipping.
Attempts to answer this question suggest possibilities as to how future commodities cycles could play out (e.g., a global supply glut leads to deleterious environmental effects of runaway demand growth, which leads to regulator imposed demand destruction, which leads to even further out ramifications of scarcity).
Preview of Future Installments
Readers of recent installments who recall that I committed to providing weekly articles may notice that I am beginning to fall behind that timeline. I apologize for this. Even so, I am more so committed to providing complete and well-researched narratives than timely ones.
Going forward, I plan to shift more towards company-specific investment analyses. Not only do they entail much less work than macro-focused articles, but are also potentially more alpha-rich (and thus profitable for readers and myself). Moreover, focusing more on the micro will allow me to provide more frequent analysis.
As always, thank you for reading. Please check in approximately one week for a new and/or updated investment idea. A third installment of The Battle for Dawn is also forthcoming.
Disclosure: I am/we are long PDPYF.
I wrote this article myself, and it expresses my own opinions. I am not receiving compensation for it (other than from Seeking Alpha). I have no business relationship with any company whose stock is mentioned in this article.
Editor's Note: This article discusses one or more securities that do not trade on a major U.S. exchange. Please be aware of the risks associated with these stocks.