One of the most important tasks of a savvy investor is a continuous pursuit of portfolio diversification. There are multiple ways to search for uncorrelated or little correlated investments by focusing, for example, on different asset classes, regions, or sectors of economy. In this article, I would like to describe a simple framework for geographical diversification implemented using individual country ETFs.
List of ETFs
I have been able to track down ETFs following stock returns in 48 different countries. For simplicity, I have narrowed the list down to the following 16 ETFs that each has at least $1 billion of assets under management:
| | | |
| --- | --- | --- |
| Ticker | Country | AUM ($ bn) |
| SPY | United States | 245.5 |
| EWJ | Japan | 17.9 |
| EWZ | Brazil | 6.5 |
| INDA | India | 5.1 |
| EWG | Germany | 4.7 |
| EWY | South Korea | 4.1 |
| EWT | Taiwan | 3.8 |
| FXI | China | 3.6 |
| EWC | Canada | 3.1 |
| EWU | United Kingdom | 2.5 |
| EWH | Hong Kong | 2.0 |
| RSX | Russia | 2.0 |
| EWA | Australia | 1.8 |
| EWL | Switzerland | 1.3 |
| EWW | Mexico | 1.1 |
| EWP | Spain | 1.0 |
Source: ETFdb, data as of 16 November 2017
Least correlated countries
The simplest way to identify diversification potential is to look at pairwise correlations of the above-mentioned ETFs. For this purpose, I have used a freely available online risk analysis tool InvestSpy with 5 years' worth of data of daily returns: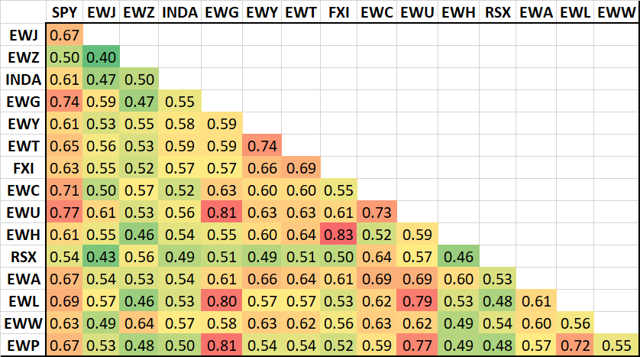 Source: InvestSpy, data as of 16 November 2017
The red-yellow-green color scale highlights highest to lowest correlated pairs. The red cells are the ones with highest correlation coefficients, whilst green ones with lowest.
The lowest correlation was observed between iShares MSCI Japan ETF (EWJ) and iShares MSCI Brazil ETF (EWZ) - a coefficient of 0.40, which is indeed a low reading in the context of stock market. The second least correlated pair was EWJ and VanEck Vectors Russia ETF (RSX) with a coefficient of 0.43. By analyzing pairwise correlations between single country ETFs, an investor can easily identify efficient diversifiers for their portfolios.
Looking beyond correlation coefficients, there are good reasons why stock markets in the above-mentioned move largely independently from each other. In the case of Japan vs. Brazil, the Japanese ETF is dominated by companies from Industrials (21%), Consumer Discretionary (20%), and Information Technology (13%), whilst the top 3 sectors in EWZ are Financials (37%), Consumer Staples (16%), and Materials (14%). So not only these two countries lie on different continents, are at different stages of economic development (developed vs. emerging) but also have a dissimilar composition of the stock market. In essence, a low correlation coefficient will typically have underlying fundamental reasons that make a compelling case for putting such investments together in one portfolio.
US investor's perspective
As home country bias is prevalent among investors across the world, the same exercise can be adapted to a specific country's perspective. As US investors will have most of their investments in US companies, one may want to be aware which countries are good diversifiers for such portfolios. Looking at the first column of the table above, it becomes clear that the least correlated markets to the SPDR S&P 500 ETF (SPY) are Brazil (0.50), Russia (0.54), India and South Korea (both 0.61). Meanwhile, developed European markets such as the United Kingdom (0.77), Germany (0.74) and Canada (0.71) offer substantially less of the diversification benefit. Therefore, if an investor is considering adding international exposure, it is worthwhile keeping in mind that different countries will have a different impact on the overall portfolio. One may want to take correlation analysis another step further and focus on portfolio risk contributions rather than nominal values of investments.
Conclusion
Diversification is a fundamental part of successful portfolio management process. This article has outlined how a simple analysis of pairwise correlations between single country ETFs can help investors identify diversification opportunities. As long as one believes that the identified markets offer positive returns, this might be the only free lunch available.
Disclosure: I/we have no positions in any stocks mentioned, and no plans to initiate any positions within the next 72 hours.
I wrote this article myself, and it expresses my own opinions. I am not receiving compensation for it (other than from Seeking Alpha). I have no business relationship with any company whose stock is mentioned in this article.