This is my third portfolio review of the year. Not much has changed since the last time save for a recent purchase of Walgreens (WBA). Rather than talk about transactions I'll focus on current holdings and what some of my next moves might be.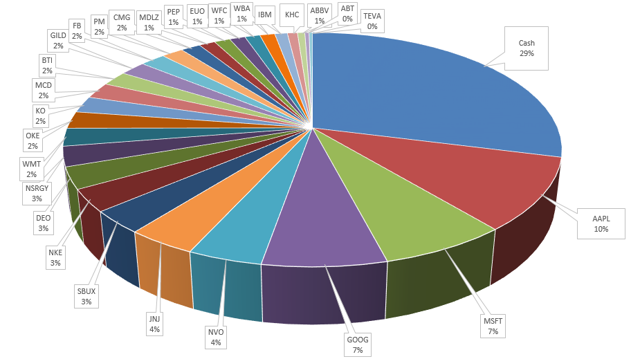 Above is my overall portfolio.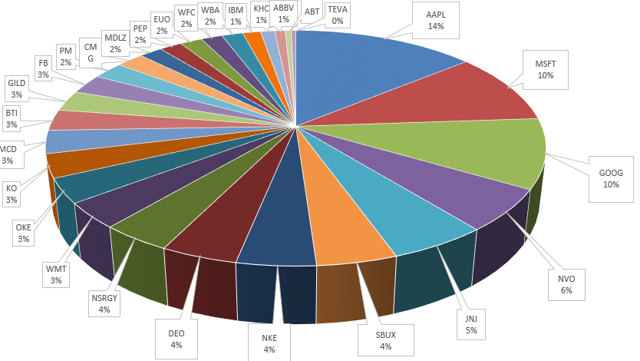 This is the equity invested portion which excludes cash/fixed income.
*Not super important but these value are about 1 week old and I know that Wal-Mart (WMT) popped about 10% this week and Nike (NKE) did well also.
29% Cash (overall): This "cash" position is about 87% cash and short-term investments, and about 13% in a bond market index fund. Some like my "high" cash position, some hate it. Philosophically I do NOT believe you have to be fully invested at all times; from time to time bargains present themselves and I want to be able to capitalize. Also, some of the biggest investing mistakes I've ever made were selling winners too early. If you are always fully invested you will have to sell something (you like or liked) to buy something new that you like more.
What if there are never bargains again? What if the market never corrects? These are just FOMO (fear of missing out) talking points that don't worry me at all.
Yields are so low, and almost all of my stocks produce income. I'm OK with ~ 87% of my cash position being low yield with the remaining 13% being a total market bond index. Almost all fixed income now is "low yield"; the idea here is to NOT lose money and have dry powder. Anything extra is a cherry on top.
14% Apple (AAPL): Apple has been a tremendous winner for me. It's my #1 holding and a few years ago I sold a couple times in the $100-$120 range. I almost re-purchased back in the low 90's and wrote an article about it but it got away from me.
Apple is currently "cheaper" than the market, it's well capitalized, and sells the iPhone, one of the most profitable products of all-time. People are addicted to phones, that won't change anytime soon and Apple can ride this cash cow for years.
The law of large numbers scares many - people fear they can't add to growth - but I'm still bullish on Apple's future. This is one stock that was obvious to me, Main Street retail investors got right and Wall Street was behind the curve on.
10% Microsoft (MSFT): Another big winner. Around 10 years ago on Seeking Alpha you could read any Apple article and you'd always read the negative Microsoft comments. Many of the Apple longs had to bash Microsoft but in reality you could be long both and should have been long both.
One thing I liked about Microsoft compared to other tech stocks is the proven track record and the ~3% dividend yield. David Einhorn and his pro Microsoft bull arguments also made sense to me. He equated Microsoft to the Texas Rangers at the time; they had A-Rod, who was the best baseball player at the time surrounded by garbage. Microsoft had the valuable franchise, and when Ballmer left and they really expanded Azure the company took off. One of my other favorite investors thought MSFT was highly undervalued when it was in the $20s, and it all made sense to me.
9.5% Alphabet (GOOG) + (GOOGL): Google is another one that could have been an even bigger winner for me if I hadn't sold some shares. One thing that turned me off is the no-dividend. A dividend is almost a requirement for me but in certain cases I will make exceptions. Google's growth, balance sheet and runway were too impressive to ignore.
I still see Google as 1 of 2 companies that will "win the internet" but Google has more risks than I think many realize. The risks to Google in my opinion are politically motivated. Look at what happened in August with the fired employee's internal memo and have you seen some of the biased search results? How about the search results around the last election time? This is not probable but I could possibly see half the country getting fed up with Google's biases and taking their searches elsewhere.
6% Novo Nordisk (NVO): This is my first foreign stock on the list. Thematically I like "health care" far into the future as the developed world ages. Novo Nordisk is a well-run company that is tackling diabetes which is growing rapidly. Obesity isn't just an American or Western European problem, 2015 WHO data shows American men having tied for 19th highest BMI and American women having the 29th highest BMI (you'd have guessed we were #1 right?) While many of the top countries are small island nations, you do see Egypt, Qatar, UAE, Jordan ahead of us and Saudi Arabia shortly behind. The Middle East, North Africa, South America, Central America are getting bigger. A JAMA study showed 36% of Chinese have pre-diabetes, as they move into cities, eat more westernized diets and transition to more sedentary lifestyles.
5% Johnson & Johnson (JNJ): I've owned JNJ for 10+ years. I believe it was in the $60s for the longest time, and I was happily collecting my dividends and sold some when it first popped. Another sell-too-early mistake (notice a theme here). Again, I love the company, love the health care theme. It's probably not a good add at this time but it's an (almost) never sell. Never say "never."
4% Starbucks (SBUX): Starbucks is a more recent add to the portfolio. To me investing in Starbucks in 2017 is like investing in Mcdonalds (MCD) decades ago. I actually considered investing in Starbucks 10 years ago but I felt like there was already one on every street corner. The world is their oyster. They are opening a store in China every single day and believe they can for decades. At some point, sure they can hit saturation, but rather than building new stores they will be gifting extra income to shareholders in the form of dividends and buybacks. That 20% dividend hike is music to a dividend growth investor's ears and there's plenty more to come.
4% Nike (NKE): Like Apple, Starbucks and McDonald's, Nike is also one of the best brands in the world. The stock trades at about the market average, but it's a way better than the average company. So what I'm saying is that you can buy a great company at a fair price.
Nike is the No. 1 clothing brand and No. 1 footwear brand with teens right now per the Piper Jaffray survey. Adidas (OTCQX:ADDYY) is hot, but Nike is built for the long-term. Footwear is also a great business to be in as shoes are constantly wearing out and Nike dominates the NBA and their shoe culture.
The 1.22% dividend isn't impressive, but the 14.7% 10 year dividend growth rate is. Nike is one of the better risk-adjusted buys on the market today.
4% Diageo (DEO): This was a nice purchase after Brexit was announced around $100. The stock popped to around $115, it fell back to the $100 range, and I added more. Great company with a great history was was able to be had for a good price around a fearful event. Do I think this stock is wildly undervalued? No, but I think people will keep drinking, and they will keep paying me dividends that I can use to fund future undervalued stocks.
4% Nestle (OTCPK:NSRGY): This is another sleep-well-at-night stock that pays a solid dividend that allows me to fund future undervalued acquisitions. Nestle is another (almost) never sell.
3.5% Wal-Mart (WMT): If Wal-Mart wasn't the dog of the Dow it was a big time laggard. This stock has been a big winner over the last 1-2 years. I want to say I bought in the high $50s or low $60s and the stock touched $100 this week. Chalk this one up as a successful fade Amazon (AMZN) play. Wal-Mart makes money, it's America's No. 1 grocery store and they are supposed to be improving their online game. Also, this is not necessarily a binary thing; multiple retail companies can and will survive and thrive in the 21st century.
3% Oneok (OKE):My only energy play has been a winner. I literally purchased Oneok Partners, the MLP on March 9, 2009 the day the market bottomed collecting around 5% to 10% per year and increasing in value. I've thankfully stayed away from energy for so long, it might actually be worth looking at. Energy stocks are definitely out of flavor as some have under performed for years. I've shorted oil @ $100 in the past and my gut tells me it's overvalued at this time. All of the talk about oil being priced below extraction costs was a joke. If Brazil can extract Pre-salt off-shore oil fields for $7 per barrel, how much do you think it costs the Saudi's or others to extract a barrel of oil? Two years ago I predicted we won't see $100 for a decade, maybe forever. So far we're 20% of the way there.
3% Coca-Cola (KO): This is another stock I added to the day the market bottomed in 2009! Right now I'd say that Coke looks overvalued BUT this can actually be the opposite of a value trap. We now have a new CEO that can hopefully take this company a new direction. Some might argue that their growth potential is limited. Why? That's thinking inside the box. Pepsi (PEP) got into snack foods, more healthier/organics, they can create new products. Why does growth have to be limited? I'm cautiously optimistic about Coke, in the meantime I'll "get paid to wait" as it's another stock in my dividend growth machine.
3% McDonald's: The stock was out of favor a few years ago and I wrote an article for Seeking Alpha that was cautiously optimistic. MCD is a sleep-well-at-night stock. It's an amazing company although it's overvalued at the moment.
3% British American Tobacco (BTI): This stock came about from Lorillard which was a top holding that was acquired twice. I'll gladly hold onto the 3.35% dividend and not realize any capital gains.
3% Gilead Sciences (GILD): I want to say I purchased this stock 10+ years ago and traded it, missed out on the tremendous ride up. More recently I purchased due to being an undervalued stock. This is probably NOT a hold forever, more of a collect dividends then trade until it better reflects fair value.
3% Facebook (FB): Hate the product but love the stock. Facebook along with Google are winning the internet. Sure, this isn't a low-PE stock but the company is growing leaps and bounds. To me, and this is anecdotal but the giddy optimism I see on Seeking Alpha with Facebook is how the Seeking Alpha community felt about Apple about 10 years ago. That worked out. Like Apple, this is one that my crystal ball says that main street will make more money on than Wall street and it could be a future $1 trillion market cap company along with Apple, Google, and Microsoft.
Like Google, I think the biggest risks to FB are mass-boycott-related and potentially government-censorship-related. I don't see Snap (SNAP) or any competitor taking them out; rather, it would be fake news, political bias, banning people, being irresponsible/shady with user data, or government-censorship-related.
Facebook is a position that needs to be more than 3% of my portfolio. Even though I believe it's risks are misunderstood and probably understated, I think on a risk-adjusted basis it's one of if not the best large cap buy out there if you have a 3-10 year time horizon. I purchased shares a couple of months ago for a newborn in the family; in 18 years he might call those shares the best birthday present ever.
2% Phillip Morris International (PM): Don't you just love dying but profitable businesses? I'll take that greater-than-4% yield in this market.
Another trend I'd like to look into is marijuana as that's a trend I don't see stopping or slowing down over the next few decades. Owning two big tobacco stocks, I think there's a slight chance they can become players and thrive in the cannabis market. That's not why I purchased and added to these stocks 5-10 years ago, but it's an underrated potential future catalyst.
2% Chipotle Mexican Grill (CMG): This is one of the two positions "I'm down" in and also one of my few non dividend payers. I'm not worried about Chipotle, it can certainly still go down but it's a turn around play. The company has no debt, has runway to expand, and doesn't even have to get back to "peak" efficiency in 2015; if this stock comes back anywhere close it's very undervalued. The vultures with no imagination point out the "bad numbers" now, but things change. If investing was simply looking at PEs or a formula, we'd all know intrinsic values and it would be a lot easier. There is an element of predicting the future too, or looking at base case, best case and worst case. I like CMG's chances here and I'm more willing to add to my position.
2% Mondelez International (MDLZ): I love the products, but this is one of my lesser followed holdings. It was a spin-off from Kraft.
2% Pepsi (PEP): I considered adding after the recent pullback, but Pepsi has had too much "financial engineering" to my liking. I like the company but can't say the stock is undervalued. I like that they ventured into snack foods, the company has been better run than Coke for 10 to 20 years but Coke has had the Buffett halo. I think a couple years ago people realized Pepsi has been the better stock.
2% Euro Short (EUO): The euro is overvalued. Why not make some money off it?
2% Wells Fargo (WFC): My first financial in awhile. Could be an undervalued sector. Love the 2.88% dividend yield.
2% Walgreens (WBA): I've had my eye on Walgreens awhile and pulled the trigger in the $67 range. Before I felt I had missed the boat, but it came back down, I'm thankful for staying a disciplined investor on this one. It was tough to decide between Walgreens or CVS (CVS), I considered both, so I might wait 2-6 months and invest in CVS also.
1% IBM (IBM): I hate selling stocks, but IBM is really testing my patience. The 4% dividend is nice, but I would have been much better off buying Apple, Google, or Microsoft at the time of purchase.
My guess is that this stock probably IS a value trap. I don't trust management or think they're very good. Honestly, Ginni Rometty should have been fired years ago, and it's a massive pet peeve of mine that the CEO avoids all earnings conference calls. 22 quarters of declining revenues is NOT the kind of stock I like; I prefer the "up and to the right" growing earnings.
The good news is IBM could be at least somewhat at an inflection point. There's also a chance their cloud/blockchain/IoT/Watson could work out in the future but I typically prefer "sure things","surer things" or even "proven things" to chances.
To me this one is a catch 22. Maybe others can sympathize. If I dump IBM the stock will probably double over the next 24-48 months as things turn around. If I hold, the revenue will probably continue to decline and burn money. For now I'm deciding to holding on.
1% Kraft Heinz (KHC): No strong opinions on Kraft - more like collect my 3.14% dividend and be happy.
1% AbbVie (ABBV) and Abbott Laboratories (ABT): I like the health care theme long term; this is a small position.
0.36% Teva Pharmaceutical Industries (TEVA): Teva and Chipotle are my only "losers" at the moment.
So which of my current holdings would I be most likely to add to? FB, WFC, NKE, SBUX, CMG come to mind.
What stocks are are on my watch list?
Financials: Visa (V), Square (SQ), Paypal (PYPL), the big banks like (JPM) and (BAC).
Tech: Nvidia (NVDA), Tencent Holdings (OTCPK:TCEHY), Naspers (OTCPK:NPSNY).
Staples/DGI: McCormick (MKC), Colgate-Palmolive (CL).
Health care: Beckton Dickinson (BDX), CVS (CVS), Medtronic (MDT), death stocks like Hillenbrand (HI), for example.
Others: Luluemon (LULU), Under Armour (UAA), small cap stocks and Bitcoin.
I'm off to South America next week. Questions, comments and feedback are much appreciated.
Disclosure: I am/we are long AAPL, MSFT, GOOG, GOOGL, NVO, JNJ, SBUX, NKE, DEO, NSRGY, WMT, OKE, KO, MCD, BTI, GILD, FB, PM, CMG, MDLZ, PEP, EUO, WFC, WBA, IBM, KHC, ABBV, ABT, TEVA. I wrote this article myself, and it expresses my own opinions. I am not receiving compensation for it (other than from Seeking Alpha). I have no business relationship with any company whose stock is mentioned in this article.
Editor's Note: This article discusses one or more securities that do not trade on a major U.S. exchange. Please be aware of the risks associated with these stocks.