In this article, I share part of my research process. As I'm a generalist portfolio manager who works on his own, I need to be able to go through several stocks relatively quickly. The first things I look at are valuation, risk, fundamentals, and story. Today I will talk about how I quickly assess risk, and how both General Electric (GE) and Mylan (MYL) didn't pass.
General Electric (GE)
GE has been in the news as this "blue" chip's stock has been tumbling, so I decided to take a look. My value model ranked it at 29% (the closer to 0%, the cheaper it is). I don't usually look at anything above 20% but decided to make an exception this time because of the name.
I started at the Bloomberg "FA" page, which is shown further below, and briefly watched the Investor Update. Rather than watching the almost 3-hour event I recommend you just go to SA page and read the update and the slides. I watched the event expecting to hear a dynamic CEO with a plan that would excite me but what I felt was best described by SA contributor Investment Pancake:
I also felt that Flannery was not being completely candid. Now, when JP Morgan screws up (as it sometimes does, and sometimes does in SERIOUS ways), Dimon comes out and says 'we screwed up. We were stupid.' This is the tone Flannery should have taken. If he had come out and said "this company is rotting from the inside out, and I'm going to shred like a bulldog gnawing the New York Times, I'm going to isolate the businesses with profit margins of 15% and growth potential of at least that much, and every other division, I'm going to fire everyone and sell off the typewriters for scrap." I think investors would have reacted in a more positive way - EVEN if the ultimate plan he presented was precisely the same as the one he presented on Monday.
As we see there is little growth, margins are dropping, negative free cash flow in 2016 and over the last twelve months and more importantly a lot of debt. (The debt should be adjusted for GE Capital but for simplicity sake of the 'checklist' example it is kept as is). For free cash flow, skip the adjusted figured and go straight to page 138 (168 of PDF doc) of the annual report.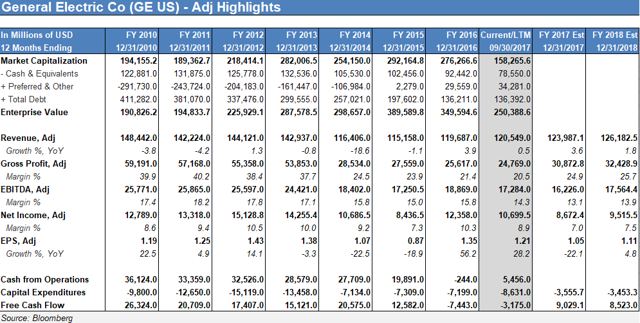 Debt to EBITDA is 7.9x and the 2018 outlook guided for $6-7 billion of "Industrial FCF". Analysts estimates are higher, but these will likely be revised downwards. In any case, this FCF is pitiful. If I were to buy the entire company I wouldn't even earn 4% based on those numbers! It should also be noted that the company has an underfunded pension plan with a $31 billion deficit and that GE will issue new debt to prefund $6 billion in obligations.
Popular ratios used to assess the financial health of a company are:

In my opinion Total Debt/EBITDA is the most important. Many prefer Net Debt, which excludes cash, but cash can disappear very quickly. If the company has a lot of operating leases you may also want to include those, but you should only consider the leases if the operations are doing poorly. In my experience working on high yield debt for over a decade for an Emerging Markets hedge fund, I noticed that companies with Total Debt / EBITDA of up to 4x were relatively safe. Above 5x was risky, with 4-5x being in a grey area. This sounds crude, but it's from my practical experience. I apply this to my equity investments as well regardless of geographical location. I'm not interested if the ratio is above 5x, so GE failed right away, but let's also look at the Altman Z-Scores for the last six years.
Professor Edward Altman created the formula to predict bankruptcy. In his initial test, the Z-Score had a 72% accuracy in predicting bankruptcy 2 years in advance. The Z-Score is a weighted summation of 5 ratios.
Z = 1.2X1 + 1.4X2 + 3.3X3 + 0.6X4 + 0.999X5
X1 = Working Capital / Total Assets.
To calculate X1 , take current assets minus the current liabilities to calculate working capital and then divide the result by Total Assets. Firms that lose money exhibit declining current assets relative to total assets. Note that Altman also tested current ratio and the quick ratio but found them less helpful.
X2 = Retained Earnings / Total Assets.
Retained earnings can be found under Shareholder's Equity. All the accumulated profits and losses of a firm over its life are here. Obviously, a young firm will probably show a low ratio as it hasn't had time to build up profits but it should be noted that young firms are also the least likely to succeed. (According to Dun & Bradstreet (1993), approximately 50% of all firms failed in their first 5 years).
X3 = Earnings Before Interest and Taxes / Total Assets.
Operating profit is important and essentially this measures operating efficiency before the effects of tax and leverage. According to Altman this ratio continually outperforms other profitability measures, including cash flow.
X4 = Market Value of Equity / Book Value of Total Liabilities.
Contrarians may not like this ratio but the truth is that the stock price can be a possible red flag. Altman found total liabilities to be a more effective predictor than total debt.
X5 = Sales / Total Assets.
This is also known as total asset turnover. Essentially it tells us how much in sales per every dollar in assets the company is bringing in.
If the Z-Score is less than 1.23 then it is in the Distress Zone, between 1.23 and 2.9 in the grey zone and above 2.9 it is safe. GE was in the distressed zone from 2011-14 and in the last two years in the grey zone.

So in my book, the stock has pretty much failed twice and it is not worth looking into further. Below is the average Z-Score by bond rating.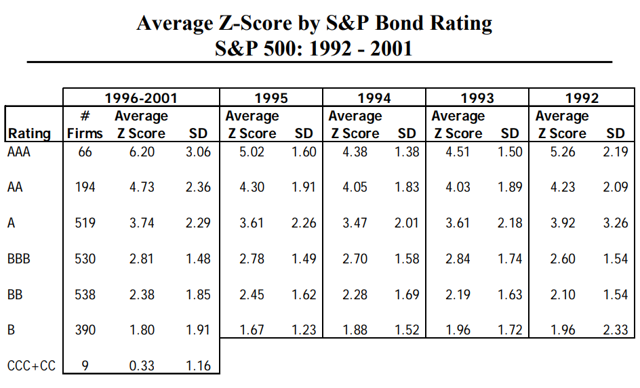 (Source: Altman, NYU)
Also, Moody's has downgraded the company, as reported by Seeking Alpha, and I don't blame them. If we look at the debt maturities, we can see that there is $46 billion coming due from now until 2020.
We also know that the dividend was cut in half, which very likely brought in additional sellers. Based on the company's performance, the cut makes sense. We also know that the stocks of companies that cut their dividends usually don't do well. For an interesting discussion on dividend cuts and studies, check out this Chuck Walston article. Also, SA contributor "Ironman at Political Calculations" posted an interesting chart that shows the relationship between the share and the forward year dividends. Based on the relationship, Ironman states that "we would anticipate GE's share price continuing to fall to the $14-16 per share range in the near future."
I really don't need to do any more work on this stock as I see that it is not as cheap as I would like it, with deteriorating fundamentals, a high debt/EBITDA, poor Z-Score and a management that has not convinced me. The dividend cut may not be the only one, Moody's is also worried and there are future potential negative catalysts such as getting kicked out of the Dow (discussed here).
Mylan (MYL)
David Einhorn is one of my favorite investors, and I noticed his position in Mylan (MYL) when John Vincent mentioned it in his article on Greenlight's portfolio. If you look at my cheat sheet below, you will see that the stock has had some nice double-digit growth and decent margins. The stock declined due to a reduction in guidance. This was because of delays in new drug approvals and drop in prices of existing products. Einhorn believes that estimates are likely to be achieved and possible exceeded and remains excited over the upside potential from the company's pipeline of complex generics.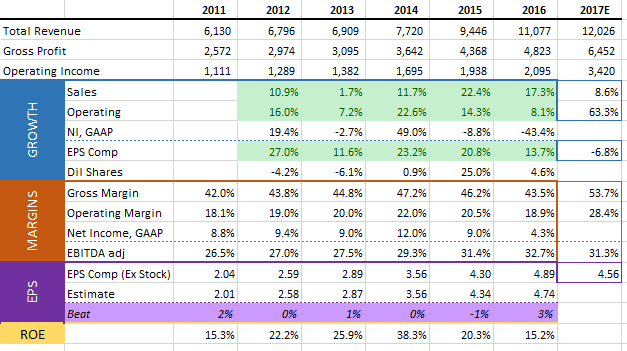 My value model ranked this 20%, so I decided to put the numbers into my spreadsheet is to assess the risk of the company. Total Debt/EBITDA was 4.3x in 2016. Not as low as I would like but still not rejected just yet. So I move on to the three models: Piotroski, Altman, and Beneish. To read up on Piotroski please see my article that combined Piotroski and O'Shaunessy and a post I made on it. For more reading and a modified Piotroski which Harry Domash uses see an old article I wrote on Angie's List (ANGI) which I had a short position in. Domash essentially is a variation on Piotroski and is taken from his book Fire Your Stock Analyst). I use Domash's approach as well, but as it is mostly Piotroski I'm not calling in a separate method.
As the table shows below, the Piotroski score for 2016 was 3. Below 5 the company is financially weak. Next, I look at the Altman score. The company was in the grey area from 2011-15 and in the distressed zone for 2016.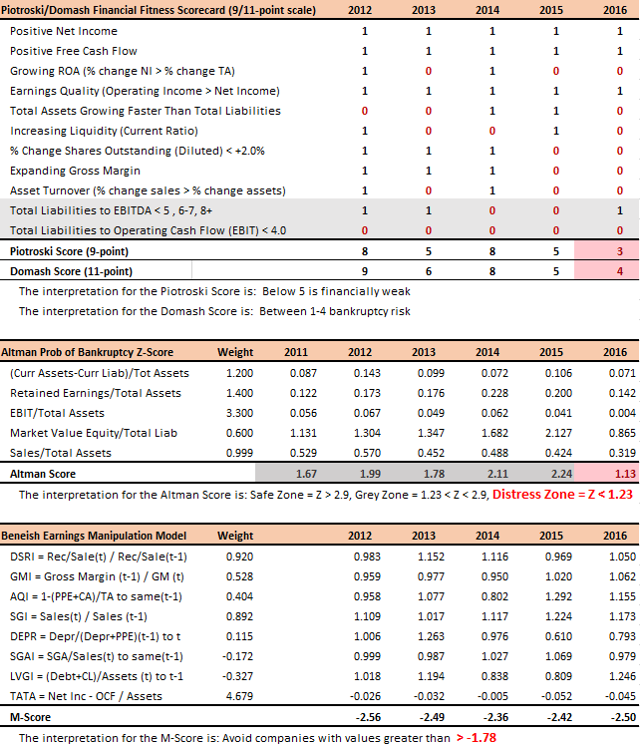 The final model used is by Professor Daniel Beneish's, which tries to find if there is a high probability of earnings manipulation. This is also a weighted summation formula.
M = -4.84 + 0.92*DSR + 0.528*GMI + 0.404*AQI + 0.892*SGI + 0.115*DEPI - 0.172*SGAI - 0.327*LVGI + 4.679*TATA
Be careful of the plus (+) and minus (-) in the formula. It's a long one but once you put it in your excel your done. Please note that T is for Time and that 'T-1' means the previous year. So if T = 2016 then T-1 = 2015
DSRI = Receivables(NYSE:T)/Sales(T) / Receivables(T-1)/Sales(T-1)
GMI = Gross Margin (T-1) / Gross Margin (T)
AQI = ( 1 - (Property Plant & Equipment (T) + Current Assets (T)) ) divided by ( 1 - (Property Plant & Equipment (T-1) + Current Assets (T-1)) )
SGI = Sales (T) / Sales (T-1)
DEPR = ( Depreciation(T-1) / (Depreciation(T-1) + Property Plant & Equipment (T-1)) dividend by ( Depreciation(T) / (Depreciation(T) + Property Plant & Equipment (T))
SGAI = (Selling General & Administrative Costs (T) / Sales (T)) dividend by (Selling General & Administrative Costs (T-1) / Sales (T-1))
LVGI = (Long-term Debt (T) +Current Liabilities (T)) / Total Assets (T) divided by (Long-term Debt (T-1) +Current Liabilities (T-1)) / Total Assets (T-1)
TATA = Net Income (T) - Operating Cash Flow (T) / Total Assets (T)
According to the professor's paper, companies with a high probability of overstating earnings have lower returns. So this model essential helps me avoid companies that may be overstating earnings and increases my chance of success. According to the model, companies with a score above -1.78 should be avoided. As you see above, while there is no earnings manipulation, the company is risky as it scores poorly on Piotroski, Domash and Altman. This is enough for me to skip the stock and go to the next one. Note that the 2016 figures are based on the company's 10-K which came out on March 1st when the stock was at $45. The stock today is $37 while it fell as low as $30. So monitoring this scores does help.
Conclusion
I'm also sure that there are investors shaking their heads as they will quickly point out that stocks are worth the discounted future earnings and it is the future score that counts, not the past. Valid points, but there are plenty of stocks to choose from. Investing is a game of probabilities. Academic studies can increase our probability of success. Incorporating Piotroski, Altman and Beneish are an easy and proven way to help you assess the financial health of a company. If you avoid companies with high leverage and poor scores, then you are more likely to succeed as an investor. Good luck!
Disclosure: I/we have no positions in any stocks mentioned, and no plans to initiate any positions within the next 72 hours.
I wrote this article myself, and it expresses my own opinions. I am not receiving compensation for it (other than from Seeking Alpha). I have no business relationship with any company whose stock is mentioned in this article.