Rising interest rates don't have to be a roadblock for REIT performance
By Thomas Boccellari, Multi Asset Product Strategist. Posted on Expert Investment Views: Invesco US Blog.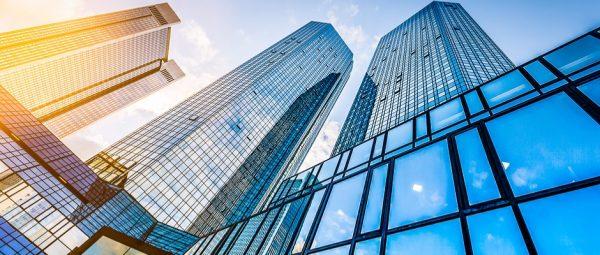 Real estate is hot. As the US economy has continued to gain steam, residential developers have benefited from the migration of educated professionals and millennials into large urban areas. Investment in upscale multi-family housing has been especially robust over the past few years. Often overlooked, however, is the performance of commercial real estate.
Commercial real estate an important driver of REIT performance
Although high-profile residential projects generate many of the headlines, commercial real estate activity has also been clipping along at a steady pace. Investors in real estate investment trusts (REITs) have reason to cheer this trend, as commercial real estate has been the primary driver of REIT prices over the past 12 years. This is evident in the chart below, which plots commercial real estate prices against REIT performance.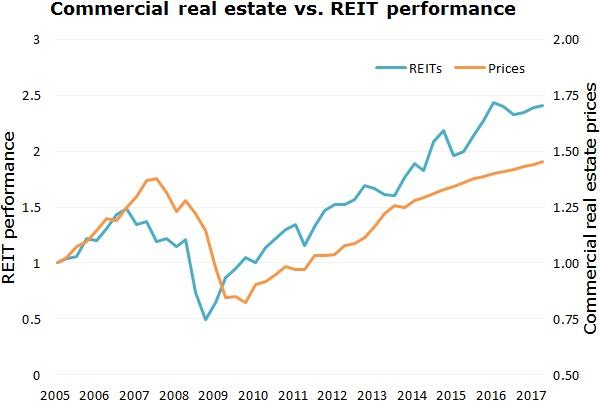 Source: Bloomberg L.P., June 30, 2005, through Oct. 31, 2017. REITs represented by the MSCI US REIT Index. Prices represented by the US Baseline Scenario Commercial Real Estate Price Index. Past performance cannot guarantee future results. An investment cannot be made in an index.
How much impact do interest rates have on REIT performance?
We often get questions from clients about how interest rates might affect REIT prices. While REITs often move opposite to interest rates for short periods of time, their sensitivity to interest rates (shown in the chart below) has been far less consistent than their sensitivity to real estate prices.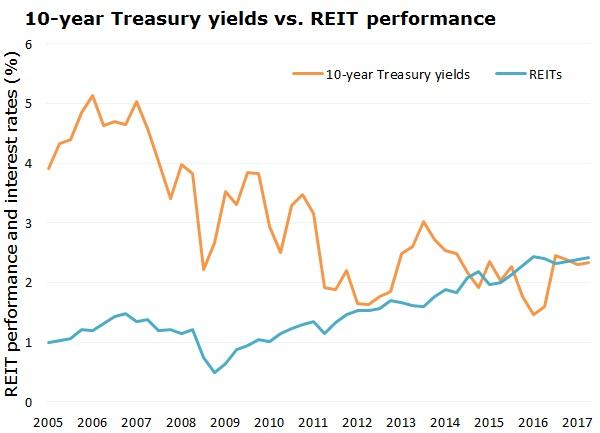 Source: Bloomberg L.P., June 30, 2005, through Oct. 31, 2017. REITs represented by the MSCI US REIT Index.
Could interest rates eventually stall REIT activity?
Although it is difficult to know for sure, I believe there is reason to be optimistic about REITs with commercial real estate holdings - even in the face of rising interest rates. US developers continue to see robust demand and are locking in rates at levels that remain low from a historical perspective. In turn, higher demand may help keep pushing prices higher, and the lower rates secured today can help keep REIT borrowing costs from rising too steeply - a combination that can provide a boost to REIT cash flows.
Also providing a tailwind are commercial real estate delinquencies, which remain below 1%, signaling a healthy supply/demand balance for commercial property.1
REIT due diligence is important
Of course, not all REITs are the same, and it's important to know what you're investing in. Although past performance is not a guarantee of future results, it may be useful to see how REITs performed when interest rates were rising. Note how differently the two indexes below - the KBW Nasdaq Premium Yield Equity REIT Index and the MSCI US REIT Index - performed when 10-year US Treasury yields were moving higher. The KBW Nasdaq Premium Yield Equity REIT Index includes small- and mid-cap holdings and is weighted by dividend yield, while the MSCI US REIT Index is market-cap-weighted and covers 99% of the investable REIT universe.
Daily 90-day rolling total returns when the 10-year US Treasury yield increases

Bloomberg L.P., May 16, 2008, through Oct. 31, 2017. KBW represented by KBW Nasdaq Premium Yield Equity REIT Index; MSCI represented by MSCI US REIT Index. The indexes may have underperformed in different interest rate environments.
In addition, the mix of holdings matters. For example, many big-box mall retailers have struggled as consumers shift from brick-and-mortar to online shopping. In some cases, investors may be better off focusing on REITs that eschew traditional mall stores in favor of specialty retailers with pricing power - those that sell products that can't easily be found online.
Investors interested in equity REIT exposure with high yield potential may wish to consider PowerShares KBW Premium Yield Equity REIT Portfolio (NASDAQ:KBWY), which tracks the KBW Nasdaq Premium Yield Equity REIT Index.
1 Source: Federal Reserve Bank of St. Louis, Aug. 23, 2017
Important information
Blog header image: canadastock/Shutterstock.com
A real estate investment trust (REIT) is a closed-end investment company that owns income-producing real estate.
The US Baseline Scenario Commercial Real Estate Price Index is an average of commercial real estate prices across the US.
The KBW Nasdaq Premium Yield Equity REIT Index is a modified dividend-yield-weighted index designed to track the performance of small- and mid-cap domestic equity REITs that are publicly traded in the US.
The MSCI US REIT Index is a free-float-adjusted, market capitalization index that is composed of equity REITs.
Investments focused in a particular industry, such as real estate, are more greatly impacted by market volatility than more diversified investments.
Investments in real-estate-related instruments may be affected by economic, legal or environmental factors that affect property values, rents or occupancies of real estate. Real estate companies, including REITs or similar structures, tend to be small- and mid-cap companies, and their shares may be more volatile and less liquid.
Securities that pay high dividends as a group can fall out of favor with the market, causing such companies to underperform companies that do not pay high dividends.
Stocks of small- and mid-sized companies tend to be more vulnerable to adverse developments, may be more volatile, and may be illiquid or restricted as to resale.
The information provided is for educational purposes only and does not constitute a recommendation of the suitability of any investment strategy for a particular investor. Invesco does not provide tax advice. The tax information contained herein is general and is not exhaustive by nature. Federal and state tax laws are complex and constantly changing. Investors should always consult their own legal or tax professional for information concerning their individual situation. The opinions expressed are those of the authors, are based on current market conditions and are subject to change without notice. These opinions may differ from those of other Invesco investment professionals.
| | | |
| --- | --- | --- |
| NOT FDIC INSURED | MAY LOSE VALUE | NO BANK GUARANTEE |
All data provided by Invesco unless otherwise noted.
Invesco Distributors, Inc. is the US distributor for Invesco Ltd.'s retail products and collective trust funds. Invesco Advisers, Inc. and other affiliated investment advisers mentioned provide investment advisory services and do not sell securities. Invesco Unit Investment Trusts are distributed by the sponsor, Invesco Capital Markets, Inc., and broker-dealers including Invesco Distributors, Inc. Each entity is an indirect, wholly owned subsidiary of Invesco Ltd. PowerShares® is a registered trademark of Invesco Ltd., used by the investment adviser, Invesco PowerShares Capital Management LLC (PowerShares) under license. PowerShares and Invesco Distributors, Inc., ETF distributor, are indirect, wholly owned subsidiaries of Invesco Ltd.
©2017 Invesco Ltd. All rights reserved.
Commercial real estate is on a roll. What do we see ahead? by Invesco US