There is nothing like a sector that suffered over a decade of decline and which now shows increasing signs of reversing the trend to present investors with a potentially lucrative investment opportunity. I believe that the signs we are seeing in the uranium industry point to just such an opportunity emerging. I first identified this as being the case in an article written at the end of last year, as I predicted then that the November, 2016 monthly spot price bottom might hold, setting the stage for a long-awaited awaited end to the very long bear market, on our way to a new bull market. A year later, the monthly bottom seems to have held, we saw a higher bottom form, and now we seem to be on our way to a higher post-bottom high. This is further confirmation of my thesis that this year and 2018 are good years to start building a position in uranium miners, which is something I already started doing a few months ago.
It was not long ago that it seemed that nuclear power was going to be dealt a major long-term blow, in large part because the Fukushima disaster unleashed an overall negative world-wide public sentiment towards the industry. Naturally, it was Europe where progressive populism is politically very strong that nuclear power became a target for being phased out. Germany announced it intends to go nuclear-free by 2022, soon after the Japanese nuclear disaster. France, which currently produces 75% of its electricity from nuclear power proposed to cut its dependence down to 50% by 2025. Japan realized early on after the nuclear disaster that it cannot go nuclear free and has been bringing its reactors back on line. I have been arguing for a year now that Europe's own plans seem unrealistic and economically harmful, therefore there is a strong chance that some of the governments will back-track on their pledges. It seems we are now witnessing that turn away from idealism and back towards reality, which I think is just the trigger that uranium may need to start pushing prices higher.
It was a year ago that I pointed out the fact that uranium spot price may have bottomed in November, 2016, in an article I wrote in December of last year and thus far, even though in recent months it looked like the bottom may be breached, it in fact held so far, and recently it started moving back up again.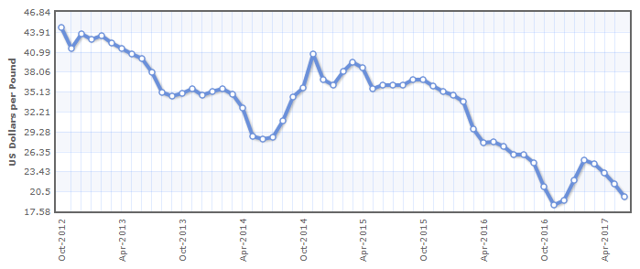 Source: Index Mundi.

I should note that while the chart above shows a constant decline in uranium prices for the past few months, it is only up till June, when the average monthly spot price was $19.68/pound, while it is currently at $24.40, meaning that we are now getting further away from the Nov, 2016 bottom of $18.50. I pointed out then that it may take a while for the turnaround in the decade-old uranium market to become obvious. At this moment, it is not entirely obvious yet that this is what has been happening, even though the bottom has held for a year now. We have had such instances of the bottom holding for even longer in the past decade, only to see a new low made later on. While the chart above does not show it yet, we seem to have made a second higher bottom, which is very often an indication of a secular bull trend. The next thing we will have to see is whether there will be a higher monthly average high.
Aside from the price movements we are seeing in uranium, there is also the longer term supply/demand outlook that suggests we are on the verge of a reversal in the decade-old slide in uranium prices.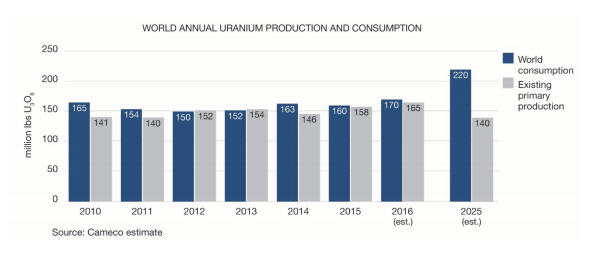 Source: Cameco.
Most uranium forecasts suggest that there is a growing imbalance between global mined production and demand, with the gap being currently filled by secondary sources, such as the conversion of weapons grade to fuel grade, as well as other reserve draw-downs.
Demand may surprise to the upside.
The current demand forecasts assume that there will be a significant decline in European demand. But France just recently announced that its self-imposed goal of cutting nuclear's share of the electricity generation industry to 50% from the current 75% should be re-considered. The original idea was that all of the nuclear capacity will be replaced by renewable energy. I think the French are starting to sober up to the realities in regards to what that would mean for their energy prices and thus for their overall economy. I personally think that any reduction by 2025 will be rather modest. Electricity prices in France are currently only half of those in Germany, which is pretty much the only competitive advantage France enjoys over its rival in regards to EU hegemony.
Germany is also starting to wake up to the realities of the dramatic changes that it has been pursuing in regards to its electricity generation industry. Germany has been pushing hard on replacing fossil fuels & nuclear electricity with wind & solar. It is currently considered to be the global leader in this regard.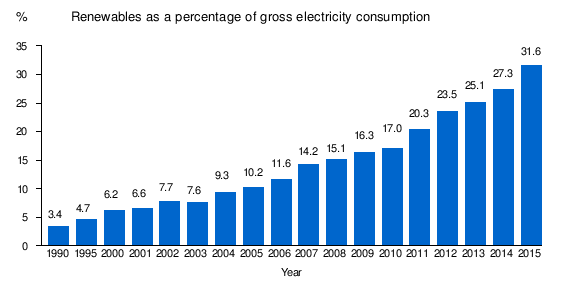 Source: Wikipedia.
I should note that currently about 60% of the total renewable electricity that Germany produces comes from wind & solar. The rest comes from other sources such as biomass & hydro power. Biomass is renewable, but not a clean source of energy when it comes to emissions. Hydro power is limited by geographical and other realities in place, therefore wind & solar is what Germany expects will help it reduce emissions, while simultaneously replacing its nuclear power capacity, which currently makes up about 13% of total electricity generation. Thing is that German consumers are already paying a very high price for the current wind & solar capacity it uses. In 2016, $26 billion in subsidies were handed out in order to sustain the share of wind & solar that Germany produces as part of its overall energy mix. And all this is still not enough to meet its goal of reducing emissions by 40% compared with 1990.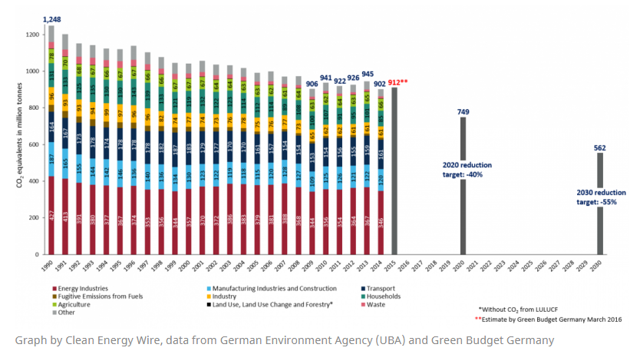 Source: Climate Home News.
I personally think that the political moment will come in Germany when they will have to decide whether they want to sacrifice their emissions reductions goals in the name of meeting their nuclear-free goals, or keep nuclear and try to at least come close to meeting those emissions targets. There is of course option number three as well, in the form the the new Russian gas pipeline, which will bring an additional 55 Bcm of natural gas to Germany by the end of 2019. A massive switch from coal to gas, could in theory bring emissions within close range of the goals, while still allowing for the closure of its nuclear facilities perhaps. At this point, my bet is on option number three being the favorite course of action. Although that option may still require Germany to also re-think its nuclear power options, because as things stand right now, some of its neighbors are eyeing a part of that Russian gas supply as well.
From a global point of view, we now have news that this year's, emissions are set to increase by 2% compared with 2016. We had three years of more or less flat emissions growth, due mainly to China's reduction in coal consumption. I think emissions are set to continue to rise if the only game plan in regards to curbing emissions will be wind & solar. As long as the world's energy demand keeps rising, using more natural gas to meet new demand, as well as to displace some of the dirtier coal we are burning can complement the growing supply of wind & solar that we are getting around the world and help to keep emissions levels from getting out of control. Having said that, it will not be enough to meet the global need to cut emissions, nor the local needs to cut smog. China's air quality problems are already well known, while India is now waking up to the same problem as it increases its own energy consumption, much like China was doing decades ago. Whether it is out of global environmental considerations, or more local concerns in regards to how public health may be affected by the massive use of coal, or whether it is due to a growing appetite for energy, which cannot be satisfied without making use of all available means of producing it, I think countries around the world will continue to either use their existing nuclear capacity, or expand it. The latest news we have coming out of Europe is confirming this fact, which is why I think that uranium demand is currently being grossly under-estimated for the longer term.
Investment implications.
Before I get to mentioning some of the uranium mining companies I already invested in this year, or intend to consider investing in within the next year or so as a response to the turn in the uranium market I see as being imminent, I want to mention something in regards to my investment philosophy. I tend to focus on longer term fundamentals, rather than shorter term rumors, stories or events. My strategy therefore inevitably involves taking up a position for several years. In fact, with one exception, where I recently bought a stock out of shorter term considerations, I never held a stock for less than a year for over a decade now. It has been a strategy which requires a great deal of patience, as well as significant torment at times, as the timeline of the fundamental trend cannot always be guessed with accuracy. I often found myself down for the first few months of my investment, leading to a lot of second-guessing. I learned to view such situations as an opportunity to buy, as long as the longer term fundamental trend remains intact. While the psychological aspect of my investment strategy is not always pleasant, I do find the results to be satisfactory. I never lost money on a trade in the past decade. My first loss may in fact come from my shorter term investment move I made a few months back. Although it is not yet certain whether it will be a loss either, because there is still some time left, before I intend to sell. Bottom line, my readers should keep in mind the fact that I have longer term considerations in mind when I look at investment opportunities.
The one uranium mining stock I bought this year was Ur-Energy (URG). The thing I found compelling about it is not only its potential profitability profile, but also its capacity to bring significant volumes of production online in the event of a significant improvement in the uranium market. In effect, it offers the potential for very significant, profitable growth in the event that uranium prices move significantly higher. Other companies I am looking at, include Cameco (CCJ) and Denison (DNN). There are a few other interesting names out there, however they do not necessarily fit my needs, in terms of longer term considerations, given that some of them may be less than resilient in making it in case that there is still some uranium market softness ahead. It is out of such considerations that I tend to favor companies like Cameco, which may not have as much upside as some of its riskier peers, but are more likely to stick around for the long haul, thus removing the pressure of timing an investment perfectly, which in my view happens more by accident rather than due to skill.
It is still possible that I may be off in terms of my timing when it comes to the uranium market turnaround story. While the November, 2016 monthly price bottom has held thus far, it may still be breached at some point this year, or next year. Although, at this point, given everything we know, I do believe that by this time next year we will be looking at significantly higher uranium prices, rather than lower, compared with the current price, which is now around $24/pound. I therefore believe that this is the time to be positioning for a long term play.
Disclosure: I am/we are long URG.
I wrote this article myself, and it expresses my own opinions. I am not receiving compensation for it (other than from Seeking Alpha). I have no business relationship with any company whose stock is mentioned in this article.
Editor's Note: This article covers one or more stocks trading at less than $1 per share and/or with less than a $100 million market cap. Please be aware of the risks associated with these stocks.