Darden Restaurants (NYSE:DRI) owns and operates restaurants such as Olive Garden, Yard House, LongHorn Steakhouse, and other chains. The company's yield, return on invested capital, and valuations all look good on paper, so I decided to dig deeper into the company's fundamentals.
Analyzing Darden's return on invested capital
The firm earns attractive ROIC, illustrated by the below model I created using data from its 10-K.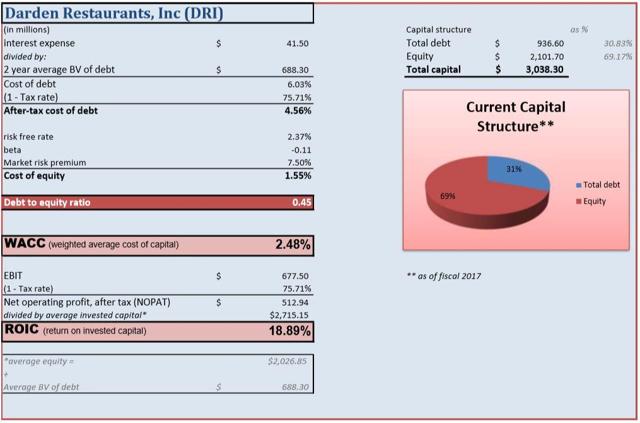 I think that its cost of capital assumption in my model is way too low (DRI's negative Beta unrealistically skews the cost of equity lower than it should be), so below I'll include a range of more realistic equity costs, as well as their impact on the firm's overall cost of capital.

Darden earns excess profits (ROIC exceeding its WACC), even when assuming an abnormally high cost of equity at 20%. It also utilizes a significant amount of "off balance sheet" financing in the form of operating leases, however. This is a fairly normal practice for most retail/restaurant companies, so next, I will adjust the firm's balance sheet and return on invested capital to account for them.
Adjusting for operating leases
The first step involves determining the present value of the operating leases, discounted at the firm's pretax cost of debt.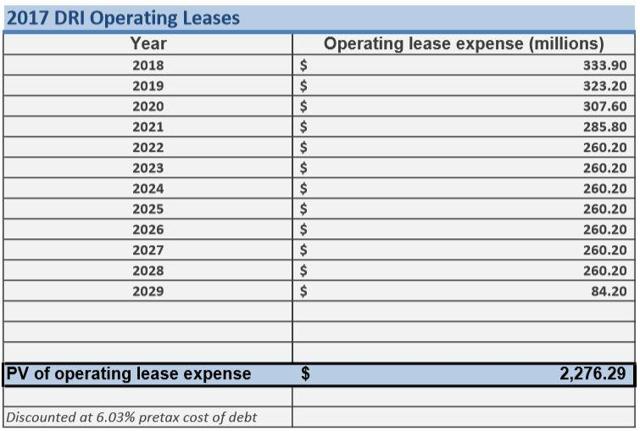 Next, we can insert them into the overall capital structure. This shifts the capital structure more towards the debt-heavy side.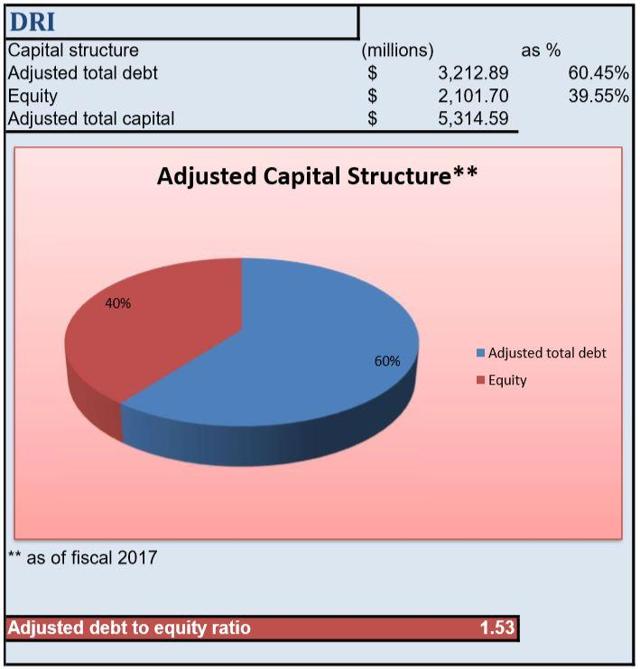 Darden's debt-to-equity ratio jumps from just 0.45x to 1.53x after capitalizing the operating leases. This expands the size of its overall capital base, which is the denominator in the ROIC equation. To arrive at the numerator, NOPAT (net operating profit, after tax), we first need to adjust the company's operating profit. This involves making adjustments for depreciation and interest expense related to the leases.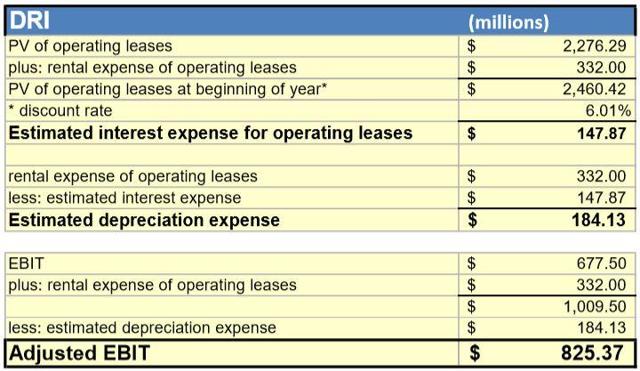 The next step involves taking taxes into account, and then dividing by the adjusted capital base.

Now, we have our lease-adjusted ROIC, which comes out to be significantly lower than the initially advertised ROIC of 18.89%. This increase in liabilities also lowers the firm's cost of capital as well, though.

I'll conclude this section by stating that I think that even after adjusting for operating leases and using a very conservative equity cost, Darden earns economic profits - indicating a competitive advantage. This advantage is the firm's moat reflected in numbers, most likely arising from the valuable brand equity of its name-brand restaurants and possibly its size-and-scale as well.
An analysis of return on equity
Below, I broke down Darden's return on equity into five pieces with a DuPont analysis.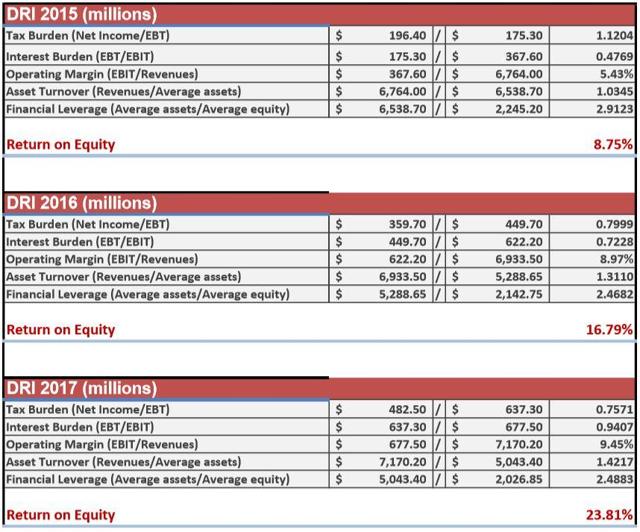 The company has been able to boost margins and increase its asset turnover (indicating better efficiency), and this, coupled with a slight increase in leverage year over year, has driven its ROE north of 20%.
Darden has also improved its interest burden year over year, likely by retiring some of its debt, as indicated on page 31 of its 2017 10-K:
Net interest expense decreased as a percent of sales in fiscal 2017 primarily due to debt retirement costs of $106.8 million recorded in fiscal 2016 and lower average debt balances in fiscal 2017 as compared to fiscal 2016 due to the repayment of debt with proceeds from the real estate transactions and additional cash on hand.
Increasing margins and better asset turnover are the main story here I think, and as long as these are trending towards improvement, I think ROE will continue to remain at above-average levels and possibly even increase, especially if the company decides to continue to boost leverage by buying back more shares.
Valuation
DRI shares currently trade at a discount to the S&P 500 and the industry average multiple, as well as their own average five-year multiple of 29.6 times earnings.

Shares are valued more dearly than the thirteen-year median multiple of only 13.74, however. Taking growth into consideration paints a different picture, though.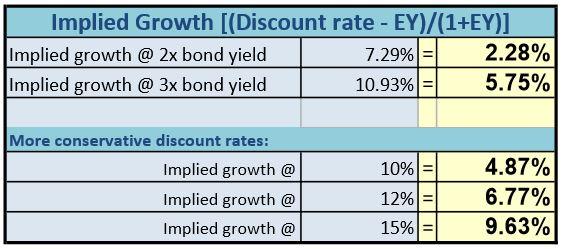 The market is currently expecting 5-7% growth in the bottom line if we utilize a conservative discount rate range of 10% to 12%. Management is guiding for growth in EPS of 8.96% to 11.94%, however, indicating undervaluation. Analysts expect $4.44 in EPS for fiscal 2018 on average, or 10.45% growth, and then another 9.91% growth spurt to EPS of $4.88 in fiscal 2019. If Darden can grow earnings anywhere near these estimates, it appears shares could be undervalued on a growth basis.
Conclusion
Shares of Darden look relatively attractive right now, trading at roughly 18.5 times expected earnings for 2018, and only about 16.82 times expected EPS for 2019. The yield at 3% is icing on the cake, and the last increase of 12.5% was quite nice. The restaurant business can be choppy due to fluctuating input costs, labor costs, health risks, cutthroat competition, heavy reliance on non-cancelable leases, etc. - but I think Darden is one of the stronger operators in the sector, despite not being priced that way by the market currently.
If you enjoyed this article and would like to receive further updates and articles in the future, please feel free to hit the "Follow" button at the top of the page next to the author's name.
Disclosure: I/we have no positions in any stocks mentioned, but may initiate a long position in DRI over the next 72 hours.
I wrote this article myself, and it expresses my own opinions. I am not receiving compensation for it (other than from Seeking Alpha). I have no business relationship with any company whose stock is mentioned in this article.
Additional disclosure: Articles I write for Seeking Alpha represent my own personal opinion and should not be taken as professional investment advice. I am not a registered financial adviser. Due diligence and/or consultation with your investment adviser should be undertaken before making any financial decisions, as these decisions are an individual's personal responsibility.