REIT Rankings: Healthcare
In our REIT Rankings series, we analyze one of the fifteen real estate sectors. We rank REITs within the sectors based on both common and unique valuation metrics, presenting investors with numerous options that fit their own investing style and risk/return objectives. We update these rankings every quarter with new developments for existing readers.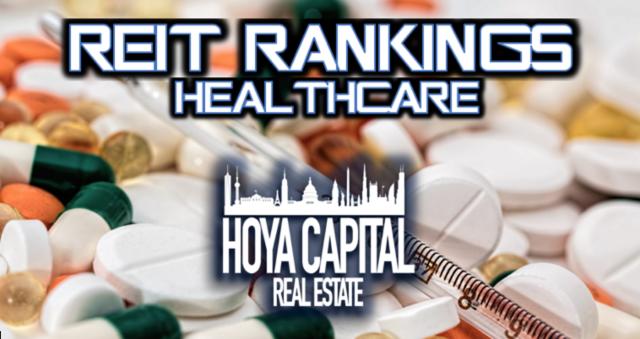 We encourage readers to follow our Seeking Alpha page (click "Follow" at the top) to continue to stay up to date on our REIT rankings, weekly recaps, and analysis on the REIT and broader real estate sector.
Healthcare Sector Overview
Healthcare REITs comprise roughly 12% of the REIT Indexes (VNQ and IYR). Within our market value-weighted healthcare index, we track 10 of the largest REITs within the sector, which account for roughly $90 billion in market value: HCP (HCP) Healthcare Realty (HR), Healthcare Trust (HTA), Omega Healthcare (OHI), Ventas (VTR), Welltower (HCN), Physicians Realty Trust (DOC), Medical Properties (MPW), National Health (NHI), and Sabra (SBRA).

There are four distinct subsectors within the Healthcare REIT category: senior housing, medical office building, skilled nursing, and hospitals. Each of these subsectors has separate risk/return characteristics.
Skilled nursing and hospital REITs assume the most policy-related risk, followed by senior housing. Medical office building REITs are generally the most predictable and stable. As we'll discuss in more detail shortly, the Affordable Care Act pushed more of the financial risk from payers (insurers and government) onto healthcare providers (doctors, hospitals, healthcare facilities), which has pressured the healthcare real estate sector, particularly at the higher-cost end of the spectrum.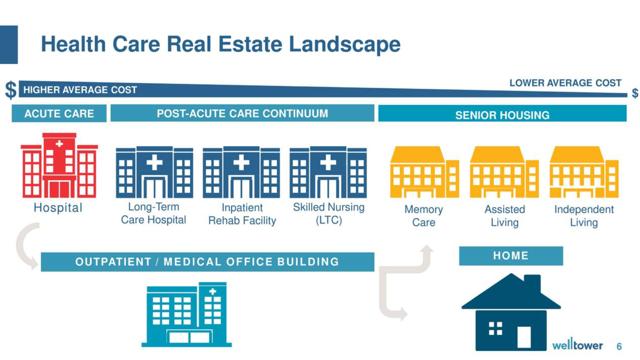 Recent Developments and Performance
Healthcare REITs have underperformed the broader REIT sector since the start of earnings season. The sector has fallen nearly 8% over the past six months and is roughly flat YTD.

Healthcare REITs delivered results that were generally below expectations in 3Q17. While FFO results were generally above estimates, the underlying same-store metrics and coverage ratios were disappointing and guidance was cautious. Broader trends of deteriorating fundamentals continued across the much of the healthcare provider industry. Below we break down the quarterly performance of the ten REITs.

Same-Store NOI peaked in 2010 before the ACA was initiated and has steadily declined ever since. In 3Q17, it ticked up slightly to 2.1%. We expect further downward pressure on SS NOI in coming quarters.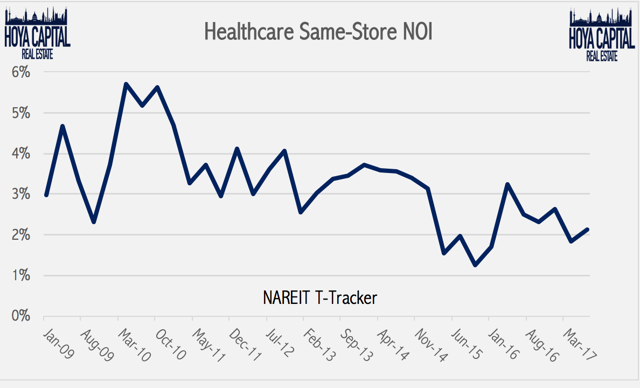 Between conference calls and the recent NAREIT conference, several key themes continue to be discussed.
Skilled Nursing Troubles Continue
Skilled nursing performed below expectations as coverage levels generally deteriorated and more operators were added to the list of "at-risk" tenants, a list that includes at least four top 20 tenants, including Genesis (GEN), Signature, Orianna, and Preferred Care. The two primary issues continue to be reimbursement methodology and payer mix. In an effort to "bend the cost curve," the transition to a value-based reimbursement system under the Affordable Care Act has resulted in shorter lengths of stay, lower reimbursement rates, and lower occupancy rates.

Relating to reimbursement, the Center for Medicare and Medicaid released a draft of their proposed changes to SNF reimbursement methodology that would likely put continued downward pressure on margins by adopting a more value-based method rather than a fee-for-service method of reimbursement. This would especially hurt the SNF operators that have lower quality-ratings. In regards to the payer-mix, SNF operators have been badly hurt by the decline in private-pay and the rise of government pay, particularly Medicaid. Government-pay generally reimburses SNF at 20-30% lower levels and often at levels below the cost of care.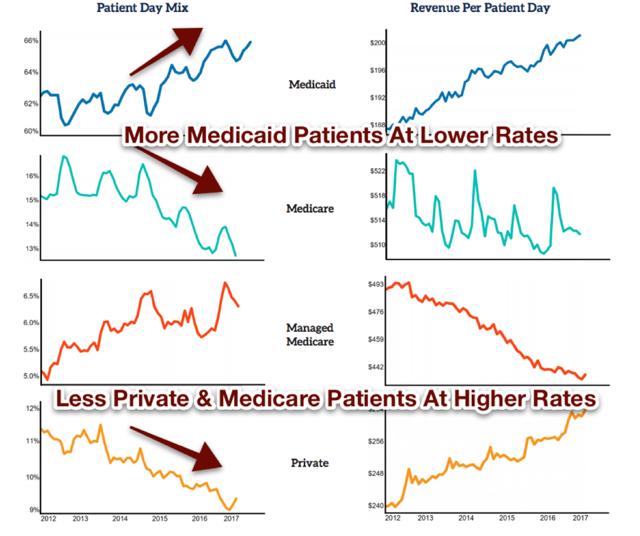 Omega and Sabra are actively trying to contain the damage from struggling operators by offering concessions and rent reductions to these tenants in an effort to keep them solvent. We believe that these REITs are far-better positioned than smaller SNF owners to work out favorable deals with operators that may result in short-term pain but longer-term gain. As we'll discuss below, these REITs see opportunity in the turmoil and are actively recycling capital to acquire assets at favorable valuations.
Oversupply Continues To Pressure Senior Housing
Senior housing was the best-performing sector, but results were only mildly better than the dim forecast. For senior housing, oversupply issues continue to put downward pressure on occupancy and rent growth. Occupancy fell more than 200 bps from the same quarter in 2016. Senior housing net lease coverage ratios also deteriorated.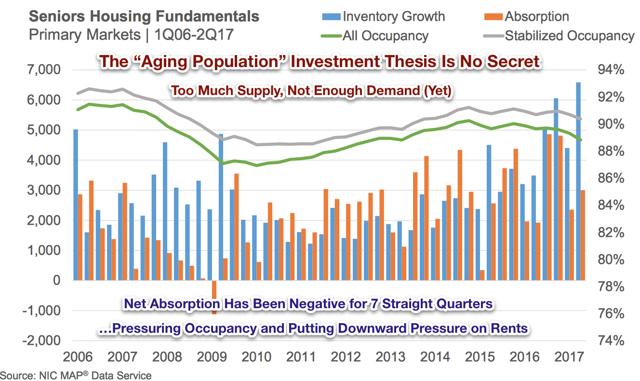 NIC data shows that senior housing construction as a percent of inventory remains high at 5.8% and is most acute in the assisted living category, which remains very elevated at over 8% of existing inventory. Net absorption has been negative for seven consecutive quarters. Using the NAREIT T-Tracker data below, we see that the healthcare development pipeline (primarily concentrated in the Senior Housing category) remains historically high.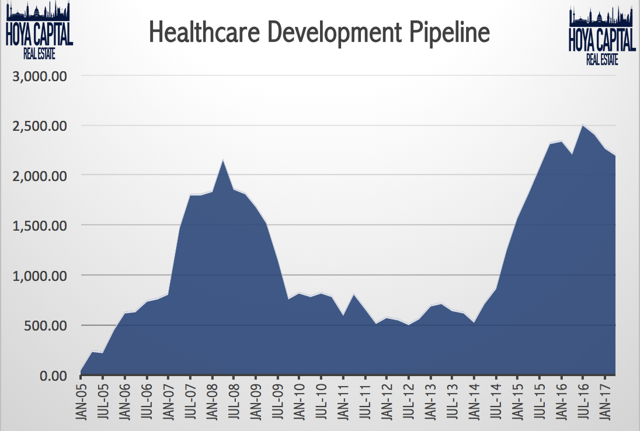 Below is our REIT Heatmap, showing the YTD performance in relation to other sectors.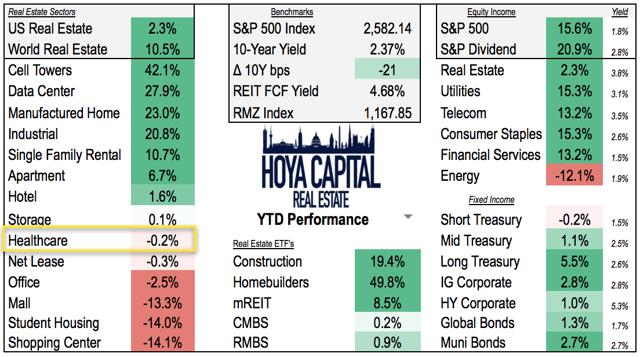 2 Reason To Be Bullish on Healthcare REITs
1) Aging Population
Long-term demographics are very favorable for the healthcare sector and a primary bull thesis for the healthcare REIT sector. The Baby Boomers, an atypically large generation, are reaching retirement age, while life expectancy continues to increase. The 75+ population is expected to grow by more than one million people per year in the United States beginning in 2020 and this rate of growth won't level-off until at least 2040, assuming the same rate of life expectancy.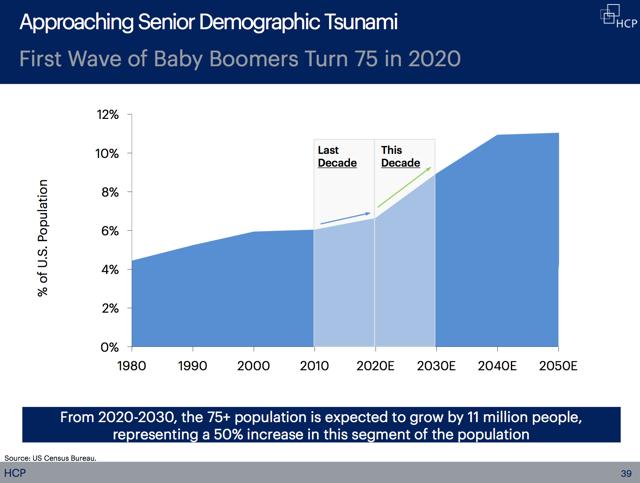 As we point out in "Old People Aren't Old Yet!" though, this anticipated rise in demand for healthcare will likely not be fully realized until 2025-2030 when the median Boomer is well into their 70s when this demographic's healthcare spending is highest. For healthcare REITs, the primary benefit of this demographic shift is still at least 5 years away, and even then, the initial benefits will accrue to the property types with less acute care needs. Skilled nursing, which typically caters to patients over 80, won't see the demographic benefits until well into the 2020s.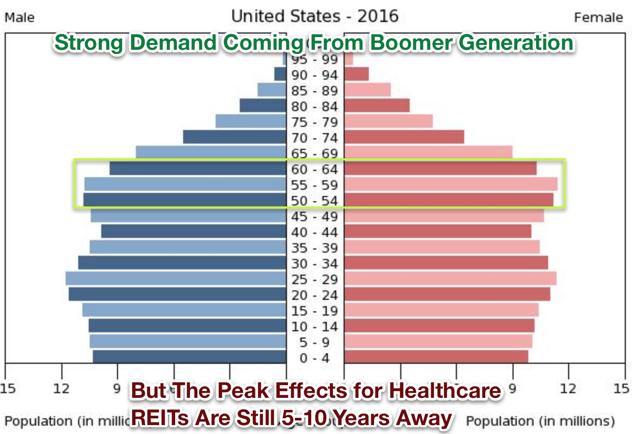 2) Industry Troubles Could Benefit Well-Capitalized REITs
As described above, the skilled nursing sector is going through a period of significant disruption as operators struggle to cope with lower reimbursement rates and a shifting of the cost burden onto operators. This shake-out will undoubtedly continue to result in short-term pain for the skilled nursing REITs as their tenants struggle to pay their bills and require lower rent or other concessions. This pain is being felt across the sector and affects skilled nursing operators both large and small. Small operators, however, don't have nearly as much access to capital as the skilled nursing REITs and are already showing a willingness to sell assets to SNF-focused REITs. Large diversified REITs don't want to hold these assets either, as Welltower, Ventas, and HCP have sold-off the majority of their SNF portfolio.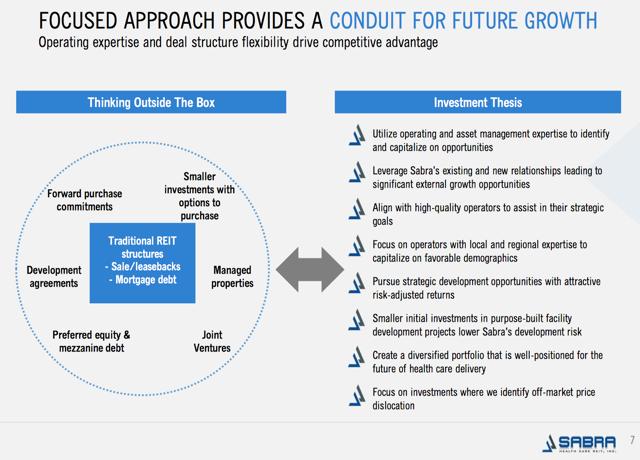 Importantly, oversupply is not really the issue as occupancy remains relatively steady and the new development pipeline for new SNF is almost nonexistent. As we saw in the single-family rental sector in the aftermath of the financial crisis, there is an opportunity for the larger, more focused, and more well-capitalized companies in the space to benefit from the dislocation and distaste for these assets. We have already seen the transaction market heat up and the capital recycling kick into high-gear at Sabra and Omega. We think there is an opportunity for these focused SNF REITs to expand their asset base at attractive valuations, but only if their investors are willing to endure the short-term pain for the potential for longer-term gain. Make no mistake, these SNF REITs aren't for the faint of heart.
3 Reasons To Be Bearish On Healthcare REIT
1) Healthcare Is Expensive… And Somebody Has To Pay The Bill
The most challenging dynamic of the healthcare industry is a simple paradox that as healthcare gets better, it unavoidably gets more expensive. The expense associated with innovations in the quality of healthcare, in recent decades, has outpaced the expense-reduction innovations, which has given rise to the "healthcare crisis" we have today. Medical inflation has outpaced the general inflation rate by more than 2x since 1985 and this was at a time when there were relatively few older and sicker patients in the system.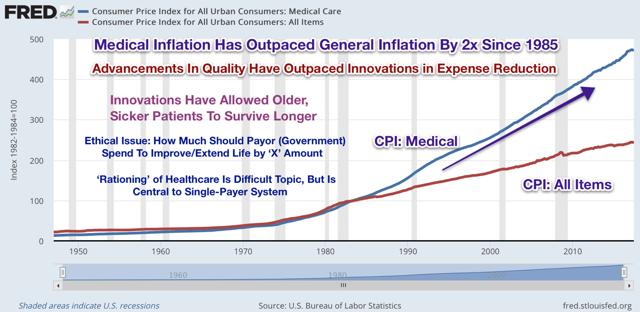 A distinct feature of the healthcare sector is the heavy reliance on government-pay systems: directly through Medicare and Medicaid, and indirectly through government-controlled insurance markets. As in any sector with heavy government involvement, the value-based and market-based pricing mechanisms can be highly distorted, which leads to significant inefficiencies in cost, value received, and allocation of resources. Over the past three decades, the patient mix has shifted away from private-pay towards government-pay. This trend was further accelerated by the ACA. Healthcare providers are generally reimbursed at significantly lower rates through government-pay and often are compensated at rates lower than the cost of care. This shifting burden from payers to providers has put tremendous pressure on an industry that already operates on very tight margins.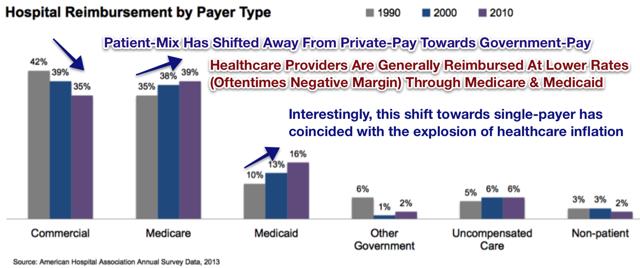 Of course, there are also significant ethical issues related to rationing and access to healthcare that make policy changes extremely challenging. This lends itself to a more difficult analysis of healthcare REITs and warrants a discount based on policy uncertainty.
2) Labor Costs Pressure Already Thin Margins
This risk may be further compounded by the initial ineffectiveness of the Affordable Care Act to lower the overall cost of healthcare delivery. It's important to note that healthcare inflation has actually been driven by labor and services costs, not drug prices. Therefore, it is likely that the continued focus from policymakers will be on the services-side of the industry.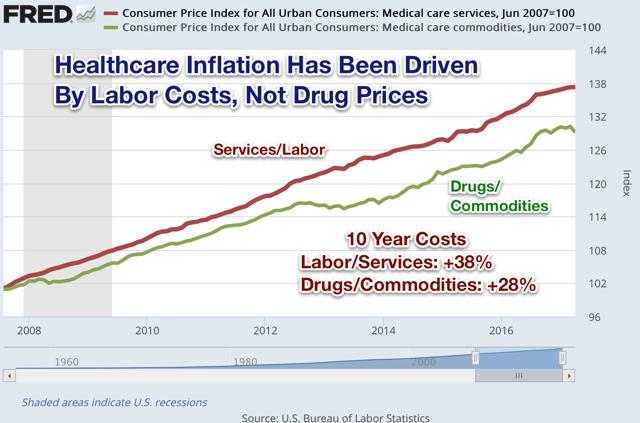 Many healthcare operators note a significant shortage of nurses and doctors, driving up labor costs at a time when margins are already razor thin. Numerous studies have concluded that the country is likely to face an increasing shortage of skilled labor absent significant changes to the education system to encourage more students to become healthcare professionals. As we've discussed in other articles, the mis-allocation of educational resources (away from professional studies and towards liberal arts studies) is a significant structural issue that is likely to drag on economic growth and contribute to inflationary pressure in the decades ahead.
3) Aging In Place Is Cheaper… And Preferable For Many Seniors
The primary bullish thesis for healthcare REITs hinges on the assumption that the baby boomers will show an equal or higher willingness and capacity to leave their homes and move into senior housing or nursing facilities as previous generations. For many seniors that require constant or specialized care, there is a medical need to live in facilities that can provide 24/7 monitoring or access to services for memory issues or other chronic illnesses. For seniors that require less care, however, "aging in place" is often a cheaper and preferable substitute to senior housing facilities. Surveys indicate that boomers would far prefer to "age in place" if at all possible. While it's hard to track the evolution of this preference over time, if indeed the boomer generation shows a lower willingness to move into senior housing communities, this could impair the demand assumptions for senior housing, particularly for the independent living facilities that are less medically necessary.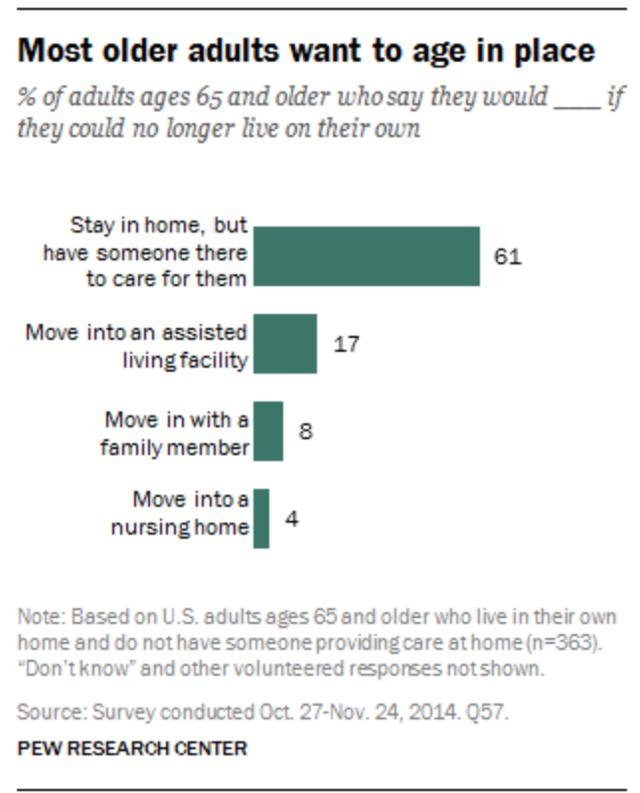 The robust growth in remodeling spending over the past several years, combined with rising home equity values and a higher home ownership rate among the 65+ category, indicates that boomers may be planning to age in place for a longer period and at a higher rate than prior generations. Surveys indicate that a significant portion of this spending is going towards accommodations for senior-living such as elevators, ramps, and first-floor bedrooms. This has implications beyond the healthcare REIT sector.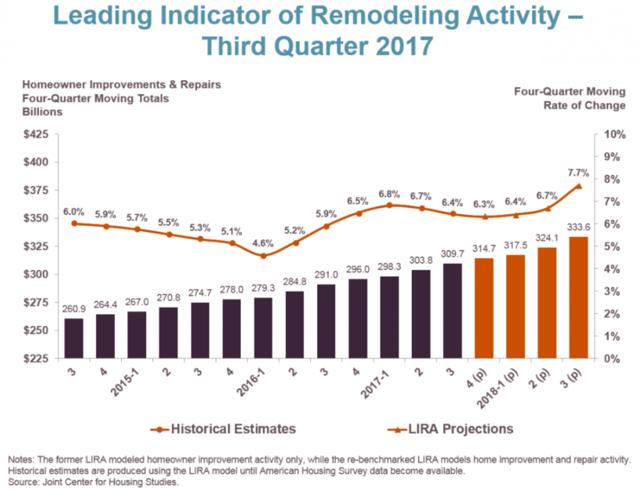 Valuation of Healthcare REITs
Compared to the twelve other REIT sectors, Healthcare REITs appear cheap based on FCF metrics.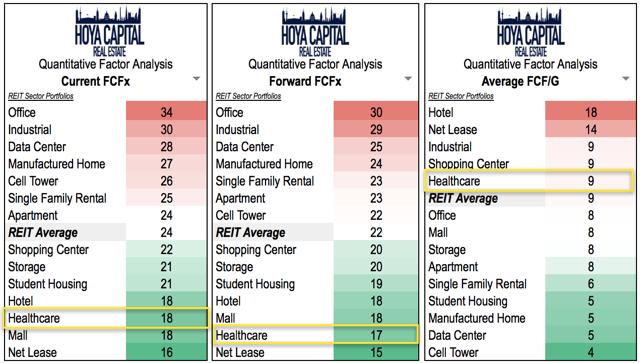 At the sector level, we note the deep discount applied to the skilled nursing-focused REITs, Omega Healthcare and Sabra. Healthcare Realty Trust and Healthcare Trust of America, which have a portfolio concentrated in medical office buildings, command the highest premiums within the sector.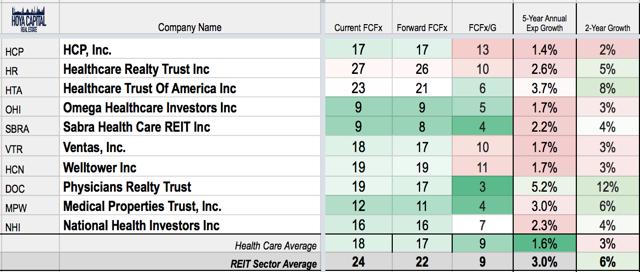 In terms of healthcare policy, the worst-case-scenario for SNF appears to be largely priced into the stock valuations, in our view. Omega Healthcare and Sabra are some of the "cheapest" REITs we track based on cash flow metrics. We, therefore, like the SNF space at these valuations, but caution that significant risks remain.
Sensitivities to Equities and Interest Rates
Healthcare REITs, along with net lease REITs, are two most "bond-like" REIT sectors, meaning that these REITs are heavily influenced by movements in interest rates. Interest rate sensitivity is a result of long lease terms, high dividend yields, and lower growth prospects.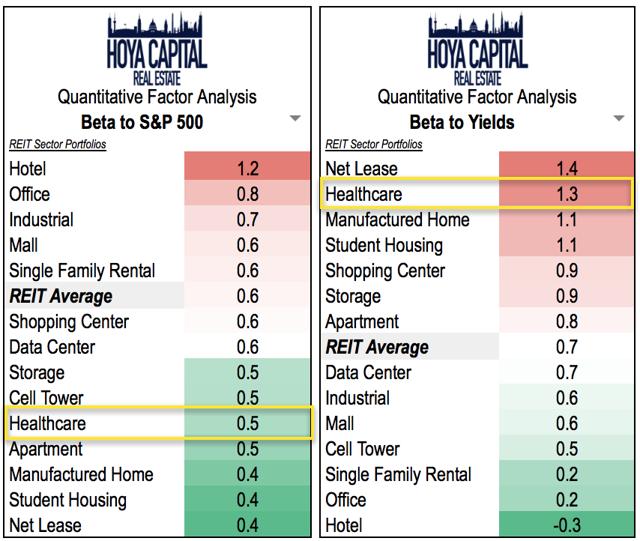 We separate REITs into three categories: Yield REITs, Growth REITs and Hybrid REITs. (Click on each link to read more information about our methodology).

As a sector, healthcare REITs are firmly in the Yield REIT category. All healthcare names we track are highly sensitive to interest rates, and VTR and HTA are two of the most sensitive names across all REIT sectors. Notably, the skilled nursing REITs exhibit lower sensitivity to yields and more sensitivity to the equity markets than other healthcare REITs.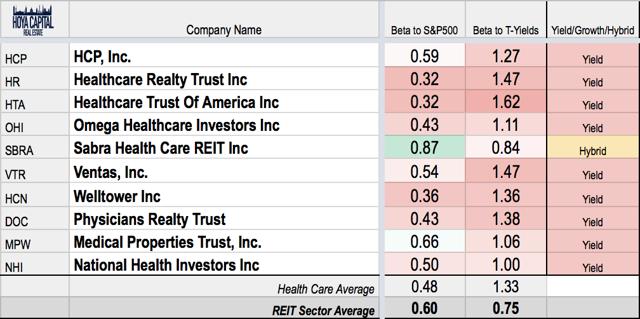 Dividend Yield and Payout Ratio
Based on dividend yield, healthcare REITs rank at the top, paying out an average yield of 5.4%. Healthcare REITs payout roughly 91% of their available cash flow.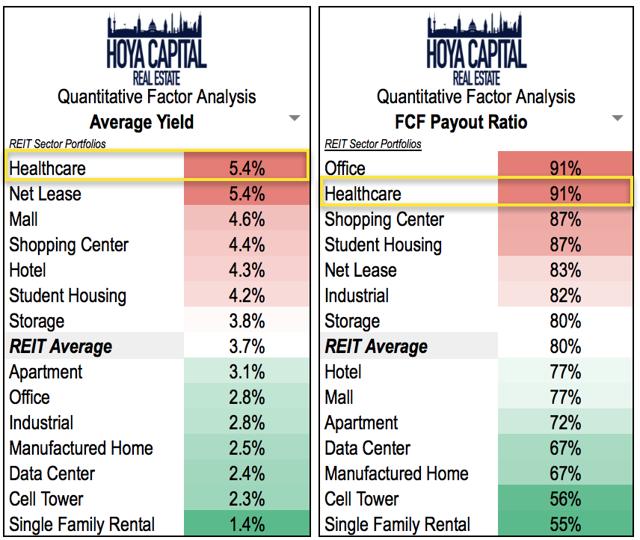 Investors looking for income and are willing to take on policy and operational risk should take a look at the skilled nursing REITs Omega and Sabra. Investors seeking more of a safe, predictable income stream would be better suited with the MOB or diversified healthcare REITs.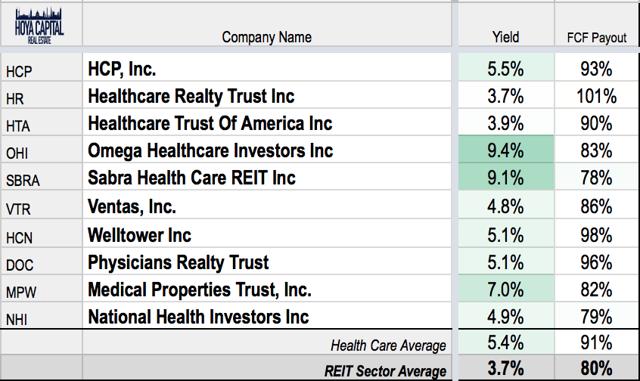 Bottom Line
The healthcare real estate landscape has undergone a seismic shift since the Affordable Care Act was initiated in 2010. The ACA began to shift the financial risk from payers to providers. In an effort to contain runaway costs, the ACA has taken aim at the higher-cost providers of healthcare, including skilled nursing REITs. SNF operators are struggling amid deteriorating fundamentals. Meanwhile, private-pay healthcare REITs are facing a different set of challenges. While longer-term demographics remain highly favorable, supply growth continues to outpace demand for senior housing facilities.
Broader trends of oversupply and tenant troubles across the healthcare REIT space continued into 3Q17. The benefits of the aging population are substantial, but still 5 to 10 years away. Amid the dislocation, we believe skilled nursing REITs may see short-term pain but longer-term gain. For senior housing, however, we worry that boomers have a desire to "age in place."
We aggregate our rankings into a single metric below, the Hoya Capital REIT Rank. We assume that the investor is seeking to maximize total return (rather than income yield) and has a medium to long-term time horizon. Valuation, growth, NAV discounts/premiums, leverage, and long-term operating performance are all considered within the ranking.

We currently view the skilled nursing REITs, Sabra and Omega, as the most compelling long-term names in the sector for investors willing to assume a high degree of short-term risk. To see where healthcare REITs fit into a diversified REIT portfolio, be sure to check out our other REIT Rankings for all fifteen REIT sectors: Apartment, Net Lease, Data Center, Mall, Manufactured Housing, Student Housing, Storage, Single Family Rentals, Hotels, Cell Towers, Office, Shopping Centers, and International.
Please add your comments if you have additional insight or opinions. Again, we encourage readers to follow our Seeking Alpha page (click "Follow" at the top) to continue to stay up to date on our REIT rankings, weekly recaps, and analysis on the REIT and broader real estate sector.
Editor's Note: This article covers one or more microcap stocks. Please be aware of the risks associated with these stocks.