Investing in cheap stocks is not as easy as it may sound. It's important to check the underlying quality of the businesses, because cheap stocks are usually cheap for a good reason.
If the business fundamentals are deteriorating, then any price can turn out to be too high, no matter how attractive the valuation ratios. On the other hand, buying an undervalued stock with improving fundamentals can generate outstanding returns for investors over time.
With this in mind, I have developed a quantitative stock-picking system for members in my research service The Data Driven Investor. The system looks for stocks trading at attractive valuation ratios and also showing improvements in earnings expectations. The main idea is that we are looking for cheap stocks, but we also want to pick only companies that are making progress in terms of financial performance.
System parameters are as follows:
The company needs to have a price-to-earnings ratio and a price-to-sales ratio below the industry average. The system also requires the price-to-earnings growth ratio be below 2. The point is that we want the stock to be cheaper than the industry average, and also moderately priced in comparison to growth expectations for the business.

The system also requires earnings expectations to be improving. Both earnings forecasts for the current year and next year need to be increasing over the past four weeks. This is to make sure that financial performance is moving in the right direction.
Among the companies that meet these requirements, the system picks the 50 names with the best Power Factors Ranking. This is a proprietary system that ranks stocks according to three different factors: financial quality, valuation, and momentum.
The backtesting assumes that positions are equally weighted and monthly rebalanced. The portfolio has an assumed annual expense ratio of 1% and the benchmark is the iShares Russell 1000 Value ETF (IWD).
Performance numbers are quite impressive. Since January of 1999, the iShares Russell 1000 Value ETF gained 6.64% per year, while the system delivered an average annual return of 24.15% annually in the same period.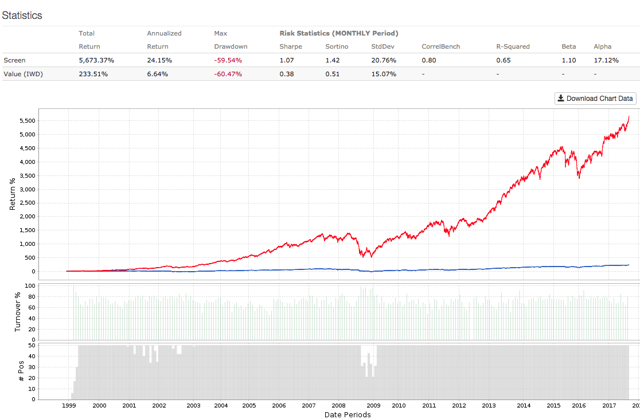 In other words, a $100,000 investment in the value-oriented ETF in January of 1999 would currently be worth $333,500, and the same amount of capital allocated to the portfolio recommended by the system would have an exponentially larger value of $5.77 million.

All charts and data are from Portfolio123. The full portfolio of stocks picked by the system is available to members in The Data Driven Investor. Free trial available now.
Case Study: General Motors
General Motors (GM) has come a long way since emerging from its bankruptcy in 2009. The company has significantly improved the quality of its vehicles, and it has implemented a wide variety of metrics to increase profitability and financial flexibility.
The new General Motors works with a demand-pull model, producing only to meet demand, a strategy that substantially reduces financial problems when industry demand is weaker than anticipated.
General Motors has substantially reduced its breakeven point over the past several years. According to statements from management, the company's new break-even point is when the industry is selling between 10 million and 11 million annual units. Based on data from PwC, light vehicle sales in the U.S. could amount to 17.4 million in 2017, and industry analyst estimates that total sales volume will remain substantially above GM's breakeven point in the coming years.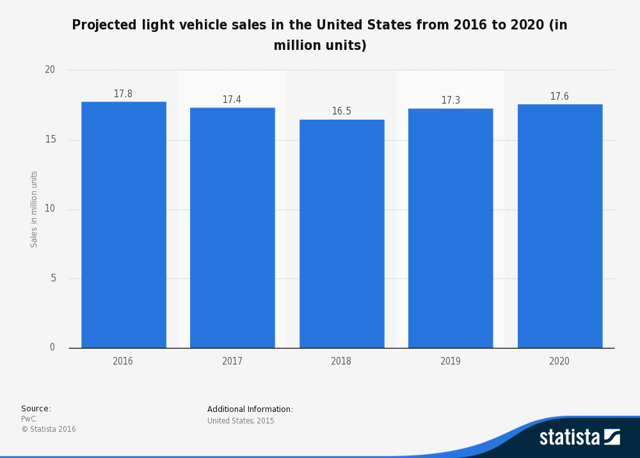 The company is also making big bets in innovative technologies such as alternative propulsion, autonomous vehicles, car sharing and all kinds of connectivity systems. Chevrolet Bolt EV was the first mass-market electric car with over 200 miles of range, and the company owns 9% of Lyft, a deal which formed a strategic alliance between the automaker and the car sharing company.
These efforts are bearing their fruits on the financial front, core profit margin has steadily increased over the past several years, and management believes it's well on track to achieving its target of a core operating margin of 10%.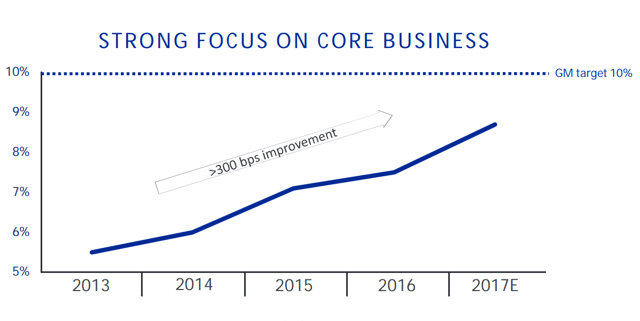 General Motors is making a lot of progress regarding cash flow generation and financial position, and this is allowing the company to reward investors with generous cash distributions. Dividends and buybacks over the 2012-2017 period are estimated to be around $25 billion.
Attractive Valuation
It looks like investors haven't fully incorporated these improvements into the stock valuation, though. Even after rising more than 30% in the past year, GM stock is still trading at remarkably attractive valuation levels, not only in comparison to the average stock in the market but also by industry standards.
The following table compares GM versus the average company in the industry and the average name in the S&P 500 based on traditional valuation metrics. Looking at price to earnings, price to book, price to sales, and dividend yield, the valuation ratios are painting a clear picture.

| | | | |
| --- | --- | --- | --- |
| | GM | Industry Average | S&P 500 |
| Price/Earnings | 9.5 | 14.4 | 22.3 |
| Price/Book | 1.5 | 1.5 | 3.1 |
| Price/Sales | 0.4 | 0.6 | 2.2 |
| Dividend Yield % | 3.4 | 1.8 | 2 |
Over a trailing twelve-month period, GM has allocated almost $4 billion to share repurchases and $2.3 billion to dividends. The dividend yield stands at 3.4% at current prices, quite an attractive level in comparison to a dividend yield of 2% for the average company in the S&P 500. When including both dividends and buybacks, investors in GM are receiving total cash distributions for nearly 10% of the company's market capitalization.
It's one thing to say that a company is undervalued in accordance to ratios such as price to earnings or price to revenue, which can sound like an ephemeral concept to many investors. However, when it comes to cold-hard distributions via dividend and buybacks, then undervaluation turns into a much more tangible concept.
Healthy Business Momentum
The following chart shows earnings estimates, the actual reported number, and the earnings surprise both in absolute dollars and percentage terms over the past four quarters. GM is clearly doing better than expected, so momentum in financial performance is a strong tailwinds for the stock.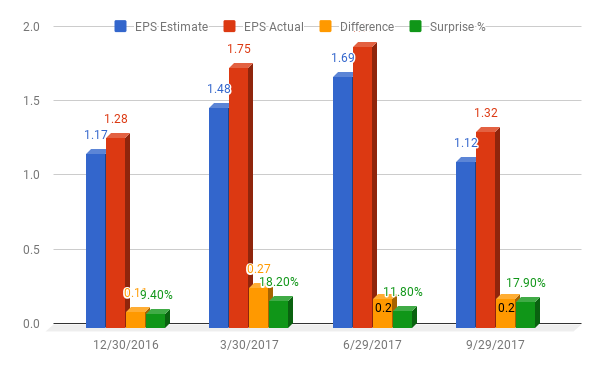 Offering a similar perspective, over the past 30 days, several Wall Street analysts have increased their earnings forecasts for the company in different periods, and no analyst has reduced earnings expectations for GM recently. This is indicating consensus among the analyst community.

| | | | | |
| --- | --- | --- | --- | --- |
| EPS Revisions | Current Qtr. (Dec 2017) | Next Qtr. (Mar 2018) | Current Year (2017) | Next Year (2018) |
| Up Last 7 Days | N/A | N/A | N/A | N/A |
| Up Last 30 Days | 8 | 8 | 4 | 7 |
| Down Last 30 Days | N/A | N/A | N/A | N/A |
| Down Last 90 Days | N/A | N/A | N/A | N/A |
General Motors is exposed to all kinds of risk factors. The industry is notoriously cyclical and competitive, with low profit margins and high capital requirements. This means that investors in General Motors need to accept considerable macroeconomic risk, and the stock can also be quite volatile.
Notwithstanding, General Motors stock is remarkably cheap, and the company is making considerable progress both from a financial and strategic perspective. This means that the upside potential in General Motors could more than compensate for the risks over the middle term.
Disclosure: I/we have no positions in any stocks mentioned, and no plans to initiate any positions within the next 72 hours.
I wrote this article myself, and it expresses my own opinions. I am not receiving compensation for it (other than from Seeking Alpha). I have no business relationship with any company whose stock is mentioned in this article.