Based on the materials discussed below and my prior discussions of cobalt supply and demand dynamics, I believe the cobalt cliff thesis I proposed in March 2016 is no longer debatable and Tesla's (NASDAQ:TSLA) management and board were negligent, if not grossly negligent, in starting Gigafactory construction without secure supply chains for cobalt and other critical technology metals.
Since this is a holiday weekend, I'm going to refer readers to my source materials and limit my observations on what those materials say. I strongly encourage everybody to follow the links, read the reports, listen to the recorded interview and then think about how the Cobalt Cliff will impact Tesla and all non-Chinese players in the EV and lithium-ion battery space.
MIT-Berkeley Supply Chain Report
Volume 1 Issue 2 of Joule, a new journal that focuses on ground breaking energy research, featured "Lithium-Ion Battery Supply Chain Considerations: Analysis of Potential Bottlenecks in Critical Metals" - an MIT-Berkeley study that was partially funded by the National Science Foundation and confirms the core of my cobalt supply and demand thesis.
The principal researchers for the study were Elsa Olivetti, the Atlantic Richfield Assistant Professor of Energy Studies at MIT, and Gerbrand Ceder, the Chancellor's Professor of Materials Science and Engineering at Berkeley.
While the MIT-Berkeley study was very comprehensive, it did overlook three points that I discussed last week in a conference call with Professors Olivetti and Ceder:
First, the research team missed the fine point that only 75% to 80% of the cobalt contained in mined ores leave the refinery in useful form. While a 20% to 25% process shrinkage is quite rare, anybody can quickly confirm the facts by comparing the global totals in Tables 8 (mine production) and 9 (refinery production) of the 2015 USGS Cobalt Minerals Yearbook.
Second, the report

did not give adequate consideration to inelastic old-line industrial demand for cobalt from industries that will pay any price for a consistent 50,000 to 60,000 tonnes per year, or TPY.

Third, the report did not give adequate consideration to the fact that 80% of cobalt refined in China is used for

battery production while only 20% of cobalt refined outside of China is used for battery production.
When the research team's conclusions are adjusted to account for these realities, the cobalt supply chain for non-Chinese EV and lithium-ion battery manufacturers is beyond dire.
From my perspective, the most valuable number in the MIT-Berkeley study was the research team's estimate that total cobalt demand in the battery industry will range between 136,000 and 330,000 TPY in 2025 when cobalt analysts invariably expect non-battery demand of 60,000 tonnes and refined metal supplies of 135,000 to 150,000 tonnes.
Let's get real here, refined cobalt supplies of 135,000 to 150,000 tonnes in 2025 won't be anywhere near sufficient. Something will have to give and it won't be the old-line industrial users.
I was very impressed with this graphic that shows global trade flows of lithium (top) and cobalt (bottom) from miners to refiners. I find it fascinating that big trade flows in lithium go to Europe, Japan and Korea, but the only large cobalt trade flow is DRC to China.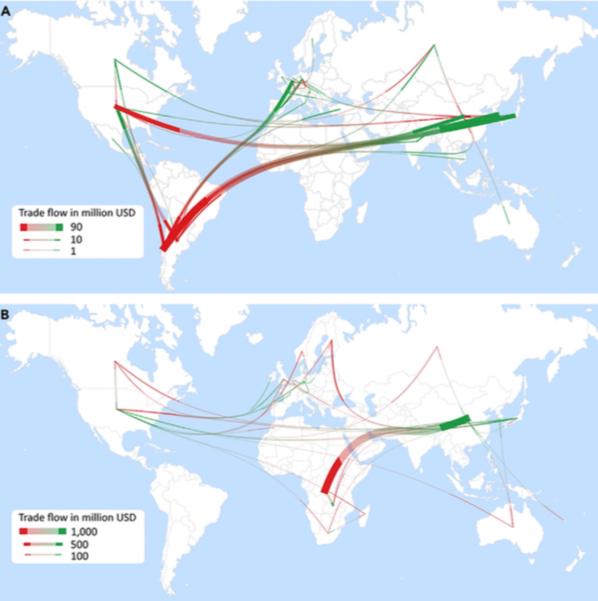 (Source: MIT-Berkeley study)
In addition to the supply chain analysis, the MIT-Berkeley study provides a fine overview of where battery technology is today, where it may go in the future, and how long it will take for new technologies to emerge and achieve cost and performance optimized scale. It's a must read for anyone who believes better and cheaper batteries are just over the horizon.
Nick French interview
In a recently posted 20 minute interview, Palisade Radio interviewed Nick French on the supply and demand dynamics surrounding the Cobalt Cliff.
An article describing Mr. French's experience and credentials is here:
Nick French: We Are Approaching The Cobalt Cliff
A recording of the full French interview is here:
Nick French: We Are Approaching The Cobalt Cliff
I have no problems with anything Mr. French had to say and I encourage anyone who thinks higher prices will be enough to ensure adequate cobalt supply to listen carefully to the entire interview.
Elon Musk's Cobalt Soliloquy
Some commenters have said that Tesla's (TSLA) Q3 conference call didn't leave them with the sense of a well-oiled machine. When I listened to the call, the adjectives that sprang to mind were surreal, even Daliesque. In any event the final question came from Rob Serra who focused on Tesla's solar products. After Mr. Serra thanked the team for their answer (1:09:15 on the recorded webcast) Mr. Musk launched into this soliloquy on Tesla's need to eventually pay attention to supply chains for battery materials.
Mr. Musk. You know, down the road, there will be some cell conflict. I think if you sort of fast forward a year or two, we really need to think about cell production as being a constraint and some of the raw materials going into cell production. So if you go couple of years out, making sure that we have secure supplies of lithium hydroxide, cobalt – because actually it's a small amount of cobalt, I meant to say nickel...
Mr. Straubel. Nickel, graphite, copper, aluminum.
Mr. Musk. Yeah, separator, electrolyte.
Mr. Straubel. The module lines that we're operating to assemble the cells into modules are totally separate.
Mr. Musk. Yeah.
Frankly I was surprised by Mr. Musk's admission that Tesla will eventually need to pay attention to supply chain integrity issues, but it confirmed my view that Tesla was less than scrupulous in conducting its Gigafactory due diligence.
I cannot accept Mr. Musk's proffered excuse that he meant to say nickel.
To operate at its original planned capacity of 35 GWh, the Gigafactory will need roughly 5,000 tonnes of cobalt per year, or about 5% of last year's planetary refined cobalt production. While it will also need 26,500 tonnes of nickel, that's just a little over 1% of last year's global refined nickel production. Building a supply chain for 1% of a large and elastic market like nickel is far easier than building a supply chain for 5% of a small and inelastic market like cobalt.
Messrs. Musk and Strobel both understand these realities, and my reading of the soliloquy suggests that Mr. Musk was on the verge of toppling the house of cards when Mr. Strobel stepped in, jerked Mr. Musk back from the brink and saved longs from the ugly truth about one of Tesla's most daunting challenges.
The other intriguing aspect of the Musk soliloquy is that it also confirms my calculations that the Cobalt Cliff will cap Tesla's Model 3 production at 250,000 units a year. At present, Tesla's Freemont plant can only produce 250,000 Model 3s per year and Tesla has said that it won't be able to ramp production to 500,000 units per year without building a second line after working out all the bugs in line one. The process of resolving the line one bugs and building a second Model 3 line could easily take a year to eighteen months, which ties perfectly with Mr. Musk's caution that "if you sort of fast forward a year or two, we really need to think about cell production as being a constraint and some of the raw materials going into cell production."
I'd like to thank Mr. Musk for confirming that the second Model 3 line will not be built unless and until Tesla finds a detour around the Cobalt Cliff.
Last September, Volkswagen gave everyone an object lesson in what real automakers do to secure technology metal supply chains before building factories that depend on those metals. It went to the world's miners with a multi-billion RFP for long-term cobalt offtake agreements. Since VW was seeking steep discounts from the prevailing market price, the miners just laughed. Now VW is back at the drawing board rethinking its EV supply chain strategy.
Interesting times.
In summary, I believe Tesla's management and board were negligent if not grossly negligent in starting construction on the Nevada Gigafactory without first securing reliable long-term supply chains for cobalt and other critical technology metals.
Only time will tell whether that negligence was a fatal error.
Investment Conclusion
The Cobalt Cliff is an undeniable fact, an immense challenge for the battery industry and an existential threat to the EV revolution. Without a relevant scale solution, EVs will never be more than eco-oddities that make a fortunate few feel good but do nothing to reduce oil consumption and clean the air.
This is do or die stuff. Until a relevant scale solution emerges, owning the stock of Tesla or any pure play battery manufacturer is a sucker's bet because the deck is stacked and the miners hold all the aces and face cards.