While many Americans enjoy standing in line on Black Friday looking for deals, I prefer shopping for stocks. With tax loss selling season well underway, it's time to start getting your shopping lists ready to buy this year's most beat-up stocks.
For the purpose of this article, I've used a screener to look at the 50 S&P 500 stocks down the most year-to-date. Out of that group, I've selected the seven that appear most promising for a decent turnaround in 2018. If your stock isn't on the list, it's probably either not fallen enough year-to-date or it's not part of the index (the cutoff is -18% YTD to be among the worst 50 performers of the year as of November 22nd data).
One more thing - I don't own all of these stocks. At least not yet anyway. See the disclosure statement below the article for which ones I do own. Given how tax loss selling plays out, there's no rush to buy many of these stocks tomorrow - there's a decent chance you can get them cheaper into December. But if you're interested in any of these names, don't wait too long; the odds are good that many of them will put in big rallies early in 2018.
For the list, I've sorted these by performance - from least bad to worst, along with their rank out of the worst-performing S&P 500 stocks of the year:
#50 AT&T (T): -18% year-to-date
I've never been a fan of AT&T. Members of my service in particular have seen me pan the name repeatedly. The company's recent investments (DirecTV, the Mexico cell network, etc.) strike me as misguided. And the effort to take over Time Warner (TWX) brings back all the sorts of wrong memories of the dotcom bubble.
That said, there's a decent price for anything, and T stock is getting fairly close. I don't expect the company to grow much going forward. That said, given the current interest rate environment, a 6% yield off T stock - which isn't far away at the moment - is a pretty attractive offer. Sure, the dividend is only going to grow by nominal amounts going forward, but it still stacks up reasonably well against preferred stocks where you are guaranteed to get no growth whatsoever.
While I find AT&T management's strategy baffling, its core assets are good enough that more mediocrity still doesn't endanger the value proposition here, at least in the medium-term. If we're lucky, perhaps the antitrust folks will kill the Time Warner deal and help T stock dodge a bullet on that front. In any case, telecom has had a bad year, and the stocks are likely to rally if for no other reason than that they are relative safe havens and the market is long overdue for a correction in riskier names.
#48 Molson Coors Brewing (TAP): -18.2% year-to-date
This author makes no secret of the fact that (unless you have ethical concerns) just about everyone should have a large position in alcohol stocks. Over the past 80 years, alcohol stocks have been the second-best performing sector in the US, only trailing cigarettes in performance. And given the divergence in alcohol and tobacco consumption trends, there is a good chance that beer, wine, and liquor will lead the market going forward.
As such, it's a great sector for consumer staples picks. You generally get decent dividends, strong capital gains, and more insulation from store brands than you would in food or cleaning products.
It's generally been a great 2017 for beer and liquor stocks. A whole bunch of international names have surged within the sector. My #3 and #4 largest holdings in my IMF real money portfolio - Diageo (DEO) and Brown-Forman (NYSE:BF.B) - that I track at Seeking Alpha are having big up years.
However, two big beer names that I don't own have gotten largely left behind. Those are Anheuser-Busch InBev SA/NV (BUD), which is still dealing with merger pains and an excessive debt load, along with Molson Coors. Molson, like ABI, is dealing with merger issues, a lot of debt, and also persistently low margins as opposed to peers.
Regardless, these issues are now largely priced in, as TAP stock has gone flat this year while peers have surged. Ignore the trailing PE, it's meaningless due to massive one-time gains. That said, the forward PE of 17 now looks quite attractive compared to peers. Sure, Molson Coors isn't the best brewer out there by a long shot, but as part of a diversified basket of alcohol stocks, it works fine. Last year was the time to buy Diageo on Brexit rumors and Brown-Forman as part of the selloff in Dividend Aristocrats. Now the tide has turned, and TAP (and to a lesser extent BUD) are the better plays for new money within the sector.
Performance of Molson Coors (blue line), Diageo (green), Brown-Forman (yellow) and ABI (red) over the last year:

#43 AutoZone (AZO): -19.2% year-to-date
I wrote up the bull case AutoZone at $503/share earlier this summer. Since then, shares have rallied to $640, coming just short of my then-$650 price target.
That said, in the interim, AutoZone has reported good earnings, and other peers have shown less loss to online retail than bears had feared. Amazon.com (NASDAQ:AMZN) killing everything has arguably been the leading investment theme/worry of the year, and AZO stock got caught in the crossfire.
The market appears to now realize it was wrong in throwing out AutoZone in the panic. That said, the shares are still well short of all-time highs, and management continues gobbling up stock with its massive buyback. This situation isn't as compelling as it was when I wrote my first article, but it's probably going up a good deal more in 2018 anyway.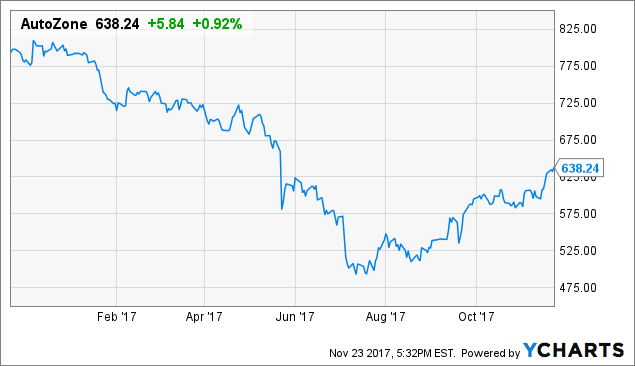 #40 Cardinal Health (CAH): -20.8% year-to-date
Cardinal Health is one of the very few Dividend Aristocrats to show up within the 50 worst performers out of the S&P 500 this year. Cardinal has gotten caught up in a nasty pricing war with the other major drug distributors including AmerisourceBergen (ABC) and McKesson (MCK).
This has led to operating earnings plunging 29% (year-over-year for Q4) despite a 5% increase in revenues. Cardinal typically only makes 1-2% profit margins, thus every penny counts - even a modest price war takes a scalpel to the bottom line.
That said, the market may be overreacting. Cardinal Health has raised its dividend more than 30 years in a row - this isn't its first price war. Investors are nervous about both healthcare reform and the possibility that Amazon enters the space. The second concern doesn't particularly trouble me. As Bezos said, "your margin is my opportunity". I don't think he's salivating to undercut prices in an industry where a 1% profit margin is the norm (even grocery stores are substantially higher than that!).
And on the healthcare reform front, something will happen eventually. It doesn't appear Trump will succeed in getting anything too revolutionary passed though. At the end of the day, people need pharmaceutical drugs (in increasing numbers, sadly, given the decline in the nation's health overall), and pharma companies aren't selling direct to consumers.
Cardinal could have another bad year in 2018, its guidance and strategy don't seem to indicate any big turnaround coming soon. But if you want to accumulate Dividend Aristocrats - the best of the best blue chip stocks - at decent prices, you have to buy when things are looking rough. Most of the time, you have to pay through the nose to get a Dividend Aristocrat because people spend up for quality. Only when there is big fear about a company's business model do you get a decent value.
CAH stock could certainly get cheaper before it turns. But it is already down to 16x trailing and 11x forward consensus earnings. The dividend yield is up to 3.3% - that's unusually high for Cardinal. Morningstar, for what it's worth, has Cardinal's fair value up at $84/share, which is a mountain of upside from the latest $57 quotation.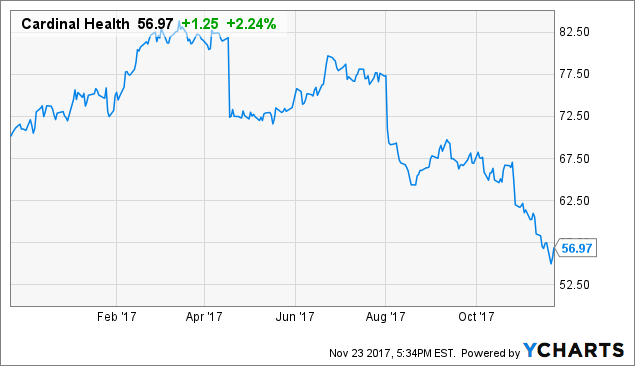 CAH data by YCharts
#27 TripAdvisor (TRIP): -26.2% year-to-date
I bet more readers will disagree with this pick than any other. I'm known for safe blue-chip dividend-paying picks. TripAdvisor doesn't check any of those boxes. However, I'll look for value wherever, and given the beating that online travel agents have taken in 2017, these names are on my radar.
There are various reasons that the sector has struggled, including an unusually bad stretch of natural disasters, pricing competition, threats of more intense competition from Google (NASDAQ:GOOG) (NASDAQ:GOOGL), and so on. Several overseas OTAs, most notably the Indian ones, and also Trivago (TRVG) also blew up this year, lowering comparative valuations across the board.
That puts TripAdvisor in an interesting place though. Shares are down 70% off the 2014 highs. The company has grown revenues at 18%/year compounded over the past five years; however, it has not translated this to earnings growth, and the market is reacting most negatively.
However, TripAdvisor's user base remains strong (400 million plus monthly unique users). The company hasn't figured out monetization that well - ideally it'd do a lot more than sell hotel packages - however the property holds immense value to an acquirer if internal management can't figure out how to fix the earnings issues. As it is, TripAdvisor is at just 3x sales (cheap compared to peers) and analysts expect earnings to double in 2018, bringing the PE ratio down to 31. If you think all tech stocks are overvalued, this one won't change your opinion. As far as online properties go, though, this one looks compelling in light of 2017 valuations at its peers.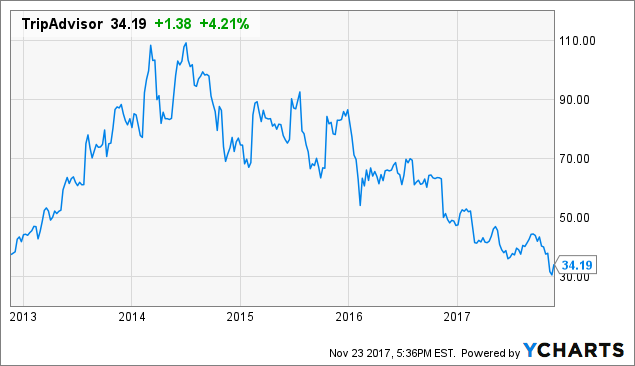 TRIP data by YCharts
#13 Scana Corporation (SCG): -40.7% year-to-date
South Carolina utility company Scana Corporation is now back to levels last seen in late 2011. You'll be hard-pressed to find any other US utilities that have fared this badly as of late. The drop came with good reason - the company canceled an expensive and controversial nuclear power plant project. The lawyers and politicians are now swarming the firm, and it looks like Scana is going to have to cough up a fair chunk of money to make the complaints go away.
That said, should Scana really be down 41% on the year and have had its last six years of gains wiped away? I'd argue it's overkill - and in fact I've started buying SCG stock in my IMF portfolio. Here's what I wrote earlier this month about Scana - nothing material has changed since that article:
You rarely see utilities get hit this hard within the space of a year. Now, to be clear, I don't think SCG stock was ever worth $70+/share (utilities as a sector were seriously overpriced last year). That said, I don't see a high probability that South Carolina will shake down Scana for all that much money.

Scana initially offered $90 million/year in rate cuts as a settlement last week. Many analysts expect Scana to ultimately have to offer more. The folks at Morningstar, for example, forecast that Scana will ultimately give up $130/million and that each $10 million is worth $1 per share for SCG stock. Thus, if SCG was worth $65 prior to this scandal, it's worth something in the $50-56/share range now depending on how big the settlement ultimately is. Regardless, this months' $43 cost basis and 5.7% yield on cost look nice. There's some possibility that Scana totally blows up, but at the current price, I'm happy to take that risk - we haven't had a chance to buy cheap utility stocks in many years.
#3 Under Armour (UAA): -54.9% year-to-date
This is arguably the riskiest pick of the bunch. Not only is down the most year-to-date, but it also faces the most troubled business model of the bunch. Under Armour, for good - and now bad - has had one of the most amazing charts of recent years. 10-baggers in a few years are rare enough, and the subsequent 75% drop over the next two years takes it to the next level as far as volatility goes: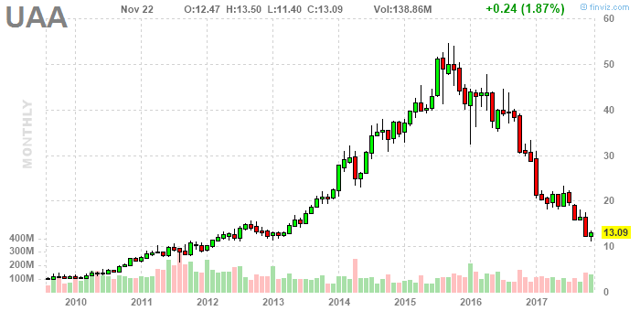 For a while, it appeared Under Armour was shaping up to be a top-tier competitor to Nike (NKE). It was signing all the right big endorsement deals, and appeared to have built a great deal of brand loyalty. While Under Armour may never have been the "new Nike," even being the strong #2 would have justified a high-flying stock.
However, consumers remain a fickle bunch. While Nike's stock has been dead money since 2015, it hasn't crashed like Under Armour. Nike retains a $95 billion market cap while Under Armour has shriveled back to just $5 billion - less than 6% of Nike's value. Is that fair, or too low?
Critics will point out that Under Armour's revenue growth has turned negative year-over-year, and that profit margins have gotten clocked. The question is - is this a permanent or temporary condition?
With UAA stock trading at just 1.1x sales compared to 2.7x over at Nike, the reward is huge for investors who buy now if Under Armour can start putting up positive comps again. Sure, this is a risky play - some apparel makers never get the fashion cycle right a second time and fade into obscurity. However, reward is huge if Under Armour can recapture its 2010-15 era excellence. And the 14% short interest in UAA stock should be sufficient to jump-start a major rally on any positive quarterly earnings report.
Honorable Mentions
Those are the seven beat-up S&P 500 stocks I like the odds for best in 2018. I figured I should throw in a few more names that I considered but ultimately excluded from the list.
First-up energy stocks. 10 of the 50 worst S&P 500 stocks this year were energy names. This is somewhat surprising since oil has had a good year, and is now trading near multi-year highs. Natural gas, on the other hand, has underwhelmed, and energy stocks in general have lagged oil prices. This could turn around in 2018. Ultimately, though, I don't know these names well enough to pick out one or two best names out of the whole bunch.
The advertising stocks also look interesting, with Omnicom (OMC) and Interpublic (IPG) among the year's 50 biggest losers. The market is pricing these as though advertisers will directly buy from Google and Facebook (NASDAQ:FB) and cut out the middlemen. However, more and more consumer staples companies are admitting their digital strategies aren't working. Throw in all the issues you see with fake users, botnets, advertising against obscene content, etc. and digital ads are no panacea for multinational brands. I like the odds of traditional advertising shops recovering in 2018.
I was planning on putting Viacom (NYSE:VIA) (NASDAQ:VIAB) on this list, except it rallied 20% in recent days. Still, we may be near peak bearishness for that firm. It's hard to believe the valuation of other content players - such as Disney (NYSE:DIS) - while Viacom stock sinks ever lower.
Finally, General Electric (GE) could be set for a big rebound rally in 2018. I was looking to buy GE stock, but was hoping it would drop to $15-16 on the dividend cut. It never got there, and to my eye, it still doesn't look cheap enough even at today's prices. That said, if new management can get earnings going in the right direction, this can trade back into the low 20s in a flash. There are a ton of people that want to buy GE stock - it is an American institution - and will do so as soon as the negative news quits flowing out of the firm.
Disclosure: I am/we are long DEO, BF.B, AZO, SCG.
I wrote this article myself, and it expresses my own opinions. I am not receiving compensation for it (other than from Seeking Alpha). I have no business relationship with any company whose stock is mentioned in this article.