A Franchise Kindergarten
RYB (Red, Yellow and Blue) Education (NYSE:RYB), a Chinese company that provides early childhood education for children aged 0-6, had just debuted on NYSE two months ago. They operate 80 direct and 175 franchise kindergartens in China.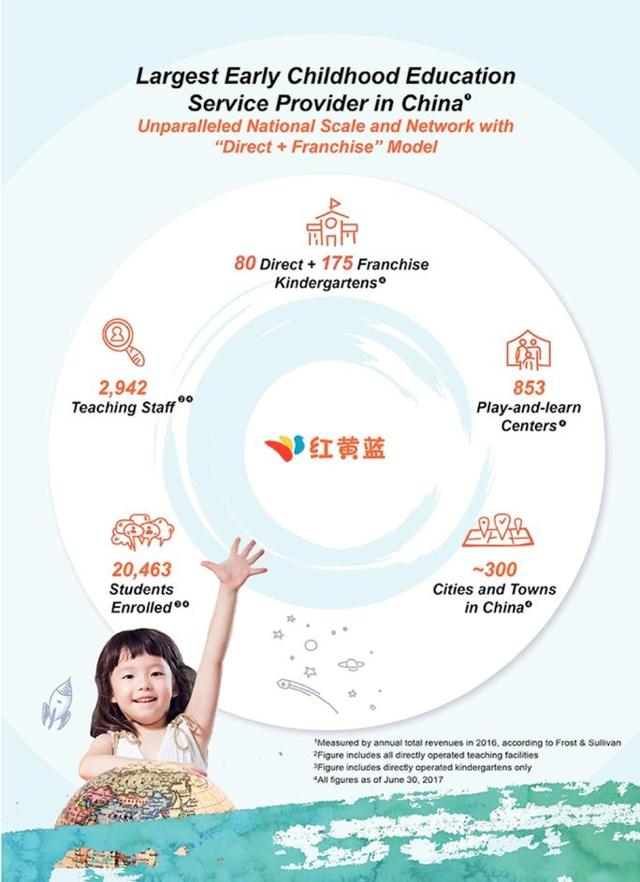 Source: RYB's Prospectus
Child Abuse Allegation
On the prospectus, RYB states the following about its teacher selections:

Source: RYB's Prospectus
Now it seems like that is clearly not the case, as news broke out on Thanksgiving day, reporting that the toddlers were "sexually molested, pierced by needles and given unidentified pills." Parents of affected children spoke up and demanded answers.
This is a YouTube video that shows the mother of a victimized child describing to the reporter how she discovered her child's experience. I translated as much as possible, only taking out redundancies, to give you an accurate and complete reflection of the situation.
My child came home and told me that he's been injected. At first, I was confused, because immunizations shots are usually only given after obtaining the parents' permission...I asked the teacher, but they said they didn't know anything. Later, I asked my child again about the injection. He told me that there were two doctors, one "grandpa doctor" and one "uncle doctor" who were doing "checkups" on the children. I felt suspicious and asked him if the "grandpa doctor" had any clothes on, he said yes. I asked him if he had clothes on, he said yes. I asked him 'did the uncle doctor do checkups?' he said yes. I asked 'how many children are there?' he said 'there are kids in front and behind me, they were all naked' I felt that was strange, why would the kids be naked? So I asked 'what about the uncle?' he said 'uncle was naked too.' So I said 'let's pretend your dad is the uncle doctor now, show me what happened' He asked his dad to take off his clothes. 'is it like this?' I asked. He said no, the pants are off too. After that, I asked 'was the uncle fully naked?' he said 'yes.' So I asked, 'what happened after that?' he said 'just checking up the body!' I said 'How did the uncle doctor check the body?' Then he imitated the motion that the uncle doctor did. It was the motion of intercourse.
Social Media Explosion
Since it has only been less than a day, the majority of the news coverage is still in Chinese, but I am sure more will come out in English by the time you are reading this. However, just to let you know the impact of this news, on Zhihu - the Chinese version of Quora- there has already been 12020 answers under the question "What is your opinion on RYB Kindergarten teacher sexual allegation."
There have been other child abuse cases where there are yelling, insulting and beating of children. However, most agree that this time it's different. We are talking about children being injected, drugged, and sexually assaulted by adults. Needless to say, Chinese people are shocked, and hearts are broken.
Impact On Its Business
After such a horrendous event, I can't imagine that any parents would still choose to enroll their children in the school. Market recognition of the brand is listed as the first risk factor in RYB's prospectus. It's safe to say that their brand has taken a catastrophic hit.

Source: RYB's Prospectus
Also, if the allegations were true, management level personnel could potentially be indicted, and their license to operate as an educational institution could even be suspended or revoked.
Why You Should Care: Censorship In China, RYB's Defamation Statement, And Potential Cover-Up
I was sickened when I read about the horrendous stories that came out, on a day that's supposed to celebrate family and love. It was hard to write this article, but considering the low visibility and coverage of this company, and potential censorship in Chinese news outlets, this could potentially go under the radar soon. There are already reports that the parents of the abused children were not allowed to see the security footage, and some uploaded articles and videos about the event were mysteriously removed.
It has also been reported that RYB released a statement saying that they have sued certain individuals for defamation. RYB is a powerful company, and no one knows whether this story will be allowed to spread further. I felt compelled to share the story and allow as many people as possible to at least become aware of this company, do their own research and find out what it did. The market can then decide what to do with the company.
Conclusion
In my opinion, this is an obvious short, as this company has no place on a publicly-traded platform. And as I've mentioned in the summary, any earnings I make on this article will be donated to a charity of my choice that helps child abuse victims, so please share if you can.
Disclosure: I/we have no positions in any stocks mentioned, but may initiate a short position in RYB over the next 72 hours.
I wrote this article myself, and it expresses my own opinions. I am not receiving compensation for it (other than from Seeking Alpha). I have no business relationship with any company whose stock is mentioned in this article.