Wesdome Gold (OTCQX:WDOFF) could be described as one of the last small Canadian gold miners left standing, a member of a once sizeable peer group that has been decimated by larger players eager to make an entry into Canada during the past few years. Think Brigus Gold, Lakeshore Gold, Claude Resources, or most recently Richmont Mines (RIC) - all of them along with several others have been acquired by larger aspiring mid-tiers who suddenly remembered the virtues of gold mining in Canada; and all of them opting to acquire a small producer with growth potential rather than developing a project themselves.
There are plenty of reasons underpinning takeover speculation, but such speculation just by itself would not be sufficient for us to recommend Wesdome Gold to our readers. Luckily, there is a strong bull case to be made for the company all by itself, a turn-around story with a significant growth perspective consisting of the following ingredients:
The share price has benefitted greatly from the mentioned discovery. However, in-ability to follow through quickly enough paired with a fidgety market un-willing to reward the long-term potential, and in-ability to communicate a coherent story has led to the sub-sequent decline to 52 week lows. A new management team has been installed as a result with a mandate to rectify this situation, and based on past performance we have little doubt about the outcome of the new team's effort.
We see a high-conviction bull case for Wesdome Gold, with limited downside left after the slide; and tangible take-over potential as an icing.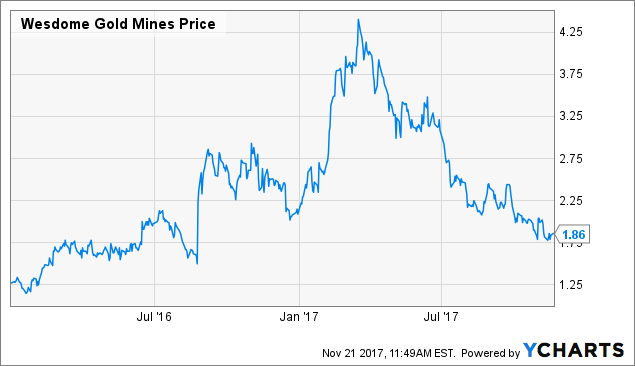 WDO data by YCharts
Summary
Wesdome Gold is a small gold miner with a 30 year tradition currently controlling 100% of the producing Eagle River operation, and the Kiena and Moss Lake development projects. All three assets are located in Canada with Kiena just outside of Val d'Or in Quebec, and the other two further to the West across the border in Ontario.
The market had all but abandoned Wesdome Gold in the course of the recent bear market, and perhaps rightly so as the Eagle River operation seemed to be stuck in increasingly unprofitable territory at prevailing gold prices. The outlook suddenly changed when Wesdome Gold announced a discovery at Kiena mid-last year. Within just a few months the share price tripled to a 10+year high (and we were fortunate enough to profit handsomely from the move at the time).
Since then the share price has drifted down to current levels again, driven by investors getting frustrated by Wesdome's inability to benefit from a rising gold price environment, and apparent inability to show a way forward to bring Kiena to account.
A management re-shuffle addressed these concerns a few weeks ago, and we submit that this new team has the pedigree to turn around Eagle River, re-ignite market interest in the developing Kiena growth story, and sell the company at advantageous conditions if the opportunity arises. Since much of our thesis depends on improved management performance, let's have a look at this team next.
New Management Team
It was the first of a series of aggressive moves when Kirkland Lake Gold (KL) acquired St Andrew Goldfields last year. The sale marked the culmination of a success story that saw a seemingly un-profitable operation turn around, expand, and develop into an attractive cash-flowing asset worthy of a takeover bid - accomplished throughout a severe bear market.
St Andrew Goldfields had consistently out-performed peers prior to the transaction, and it sold at a handsome premium to boot. And just like Wesdome Gold now, St Andrew Goldfields operations consisted of a couple of underground and open pit mines feeding a central mill, plus certain growth opportunities.
Mr. Duncan Middlemiss was the CEO in charge of St Andrew Goldfields throughout this success story; and he became CEO at Wesdome Gold shortly after the buy-out by Kirkland Lake Gold. It seems that his former team is still very much aligned with Mr. Middlemiss, as practically all of his former executive officers of St Andrew times joined Wesdome in the mentioned recent re-shuffle. The executive team now in charge of Wesdome Gold is the same team that so successfully steered St Andrew Goldfields; and we believe Mr. Middlemiss et al are about to replicate this story with Wesdome Gold.
Let us now re-visit the remaining ingredients listed in the introduction and let us analyze them in more detail in the following.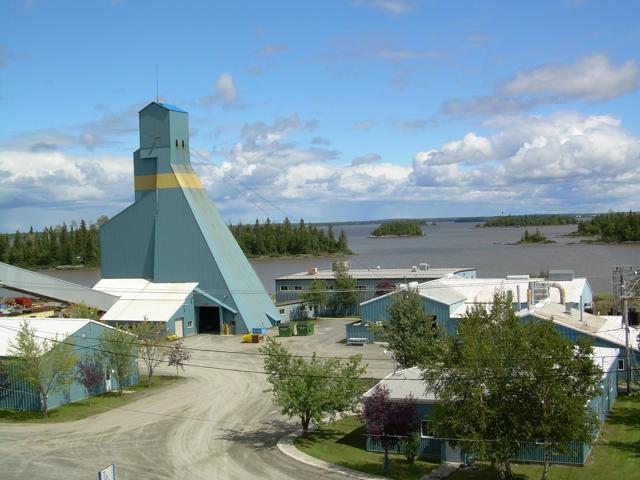 (source: company website)
A Producing Gold Mine About To Turn Free Cash Flow Positive
The Eagle River operations consist of the namesake high-grade underground mine, and the Mishi open pit mine. The 1,200 tpd mill is located close to the Mishi pit, processes an ore blend from both mines, and produces around 50,000 ounces of gold per year at a utilization rate of presently close to 80%. Year-to-date all-in-sustaining costs (or AISC) computed to $1,163/oz, already a significant reduction from last year's $1,272/oz.- -- but still too close to the prevailing gold price to generate meaningful cash flow. And we believe that's about to change in the near future.
Wesdome Gold has found the so-called 300 Zone at Eagle River with even higher grades and better widths than currently producing zones. This new zone is located only 300-400m away from the 8 Zone, which has been providing the bulk of ore from the mine for the past 20 years. Zone 300 has received a substantial amount of attention in this year's drilling program and we expect a strong effect on the resource and reserve update early next year, with added ounces exceeding 2017 mine depletion by a good margin and reserve grades increasing from the already respectable current 9.2g/t.
This reserve growth will increase the mine life, but perhaps even more importantly the thick nature and geometry of the 300 Zone should also allow for an increase in mining rates as production from this zone is set to start around the end of the year.
Increased mine production will be a boon as the additional ore will fill some of the idle capacity at the mill, increase gold output, and drive down costs. Guidance for 2018 has not been announced yet; however, if our back-of the envelope calculations are confirmed, then production is set to rise towards 60,000 ounces next year, a 20% increase on this year's number, at AISC in the $1,050/oz range or roughly $100/oz lower than during the present year so far.
Consequently, production guidance release for 2018 can be expected to act as a veritable catalyst as the general market will realize that Eagle River is about to turn from a marginal asset into an asset generating in the order of $12M in free cash flow per year at a gold price of $1,250/oz.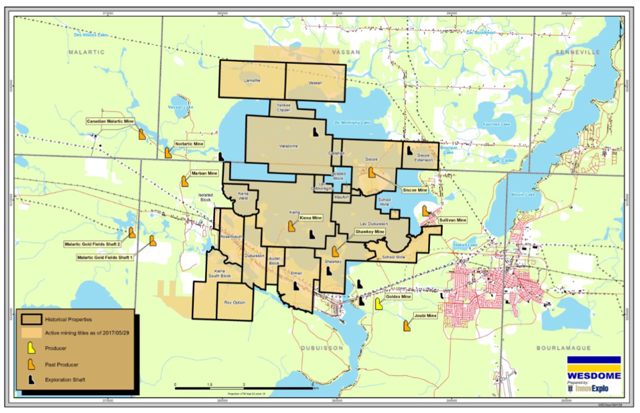 (Source: technical report)
A Fully Permitted Past-Producing Gold Mine With Ample Infrastructure And A Potentially Game-Changing Discovery
Kiena has been the big story early this year, a story that has fizzled away - and very much un-deservedly so. This is a past-producing mine on the outskirts of Val d'Or in the heart of one of the most prolific gold camps - across the bridge from Agnico Eagle's (AEM) Goldex mine, and a bicycle ride in the other direction from the Canadian Malartic mine also operated by Agnico Eagle in JV with Yamana Gold (AUY). In other words, this land package represents prime gold mining real estate.
Almost 2M ounces were mined from Kiena mine before it was put on care and maintenance in 2013. The 7,500 hectare property remains fully permitted with all necessary infrastructure including a fully functional 2,000 tpd mill in place.
Exploration re-commenced after a three year hiatus last year, and almost immediately Wesdome Gold announced a high-grade discovery sending the share price on the previously mentioned trajectory to a 10+ year high. Kiena Deep as the discovery was dubbed deserved all the excitement it got, but it never justified the short-term expectations the market appeared to foster. Currently known mineralization starts 100m below existing infrastructure and has been traced 550m along trend and over a 400m depth range.
Given the extent of the discovery, and given the fact it remains open in multiple directions, and considering the challenging drilling conditions from existing underground infrastructure it made sense to re-consider exploration strategies. Wesdome therefore decided to drive an exploration decline in order to be able to position drill rigs at more advantageous locations, which caused news flow to ebb temporarily.
The market quickly lost interest and patience, and sentiment was certainly not aided by almost a month of work stoppage sadly caused by a fatality. There were other nagging issues, but in very simple terms the herd moved on, and Wesdom's share price came under pressure.
The mentioned nagging issues were addressed as part of the management re-shuffle, and the first drill bays have now been established along the advancing exploration decline. One drill is already turning and a second one is scheduled to start drilling before the end of the year. News flow from Kiena Deep drilling can be expected to resume in early 2018 -- and we have little doubt that it will not be long before Wesdome can prove up a resource on which to base a business case for a Kiena re-start.
Looking at grades found so far at Kiena Deep, and looking at grades in the residual resource in higher levels of the mine, and also considering the capacity of the existing mill we expect potential output at Kiena to settle somewhere between 100,000 and 150,000 ounces per year - and that's 3 to 4 times the current annual gold production from Eagle River.
This production boost will not happen in 2018 as plenty of technical work still needs to be completed; but this growth will become a lot more tangible throughout 2018 as drill results flow in, a resource estimate becomes available, and a mine plan is developed. Remember, the mill is ready to go, and plenty of equipment is ready for use on site - a production re-start at Kiena is not a blue-sky scenario, but a very realistic and rather probable near-term catalyst.
The market will realize the game changing and true long-term potential of Kiana Deep in its own time, but we intend to buy ahead of this realization.
The Recent Q3 Report Looked Much Worse On Surface Than It Actually Was
This is how the market reacted in the aftermath of Wesdome Gold reporting Q3 results in early November: Wesdome down 9%, peers up 1% -- that's a 10% penalty in total, with the chart to prove it below.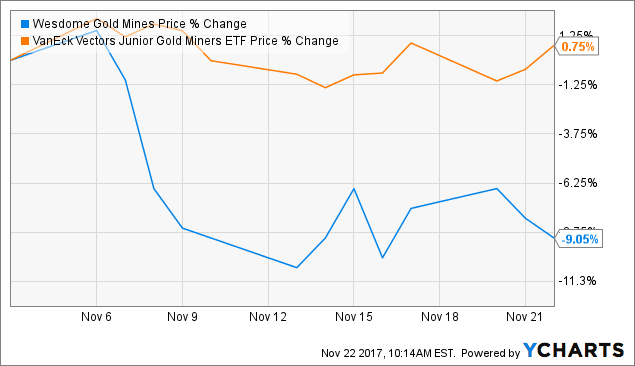 WDO data by YCharts
And why wouldn't the market react in such a way given that...
revenues were down 30% year-on-year;
free cash flow had switched from C$5.6M to negative -C$4.7M;
earnings per share had gone from C$0.06 to zero;
and AISC had ballooned from $992/oz to $1,093/oz;
... while gold production had remained practically the same around 15,500 ounces?
I am glad you asked. Here is why: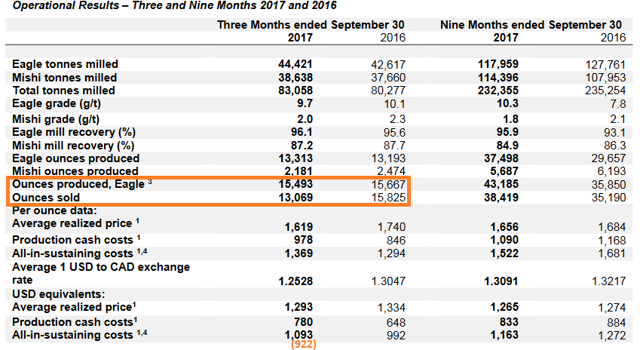 (source: Q3 MD&A)
The company only sold 13,069 ounces, and had 2,424 ounces left in inventory at the end of the quarter. That's 16% of quarterly production not generating revenues; and also a much reduced basis on which to compute AISC. If all ounces produced had actually been sold, then revenues would have been in line with previous quarters, and AISC would have dropped to $922/ounce. And if one also backs out one-off costs of C$2.2M in severance pay for the departing managers then Q3 actually looks solid.
The market didn't seem to find the time to look beyond the head line results, and management did a rather poor job of explaining the numbers in the earnings call - in fact, they only got around to discussing inventories in some detail when prompted by an analyst. The reply by CFO Mr. Ben Au revealed that there were not only 2,424 unsold ounces at the end of September, but an additional 3,500 ounces in process, which have since been sold at the very start of Q4.
"We have at the end of September about 6,000 ounces of gold in inventory. We sold it in October, in early October and so a potential portion of it and thereby our cash increased by closer to CAD8 million."
There may well be some method to that madness. Q4 will be the first full quarter for the new management team to take credit for, and those 6,000 ounces generated a veritable C$8M head start for the occasion. Just like these ounces in inventory made Q3 look rather less-than-average, they will do the reverse to the upcoming quarterly results. Expect disproportionate high revenues, plenty of fresh cash flow, and very low costs. And the same Mr Market who sold the company off a couple of weeks ago will presumably buy those shares back in three months. It is for this reason that we expect Q4 results to act as yet another catalyst.
Moss Lake
The Moss Lake project hosts a sizeable 1.3M ounce indicated resource, plus 1.7M ounces in the inferred category. The 2013 PEA showed that this project will probably need a higher gold price environment before it becomes viable. Wesdome has continued to spend moderate amounts on exploration at Moss Lake, but it seems to us that this project has been demoted to back-burner status since Kiena Deep has come onto the scene. We are not assigning much value to Moss Lake at this stage, but we note the "optionality" of this project in the event of a gold price rally.
Balance Sheet
Wesdome had working capital worth C$13M and C$16.6M in cash at the end of Q3 (to which the company has added C$8M in cash from inventory sales since then). The company has very manageable debt, and a declared current policy of using all available free cash flow for exploration.
We see sufficient cash to fund ongoing operations, including the described exploration programs; and a solid basis on which to add some modest debt to fund the anticipated re-start of the Kiena mine.
In fact, this is a thoroughly un-remarkable balance sheet. And that's another feature we like about Wesdome Gold.
Valuation & Investment Thesis
At the time of writing Wesdome shares were trading for C$1.81 a piece, which translates into a market capitalization of C$242M, or $190M in US denomination.
Eagle River has a 30 year history of resource replacement, and with exploration results presenting as described earlier in this piece we have no issue with valuing Wesdome on cash flow multiples. And if our assumptions about Eagle River are correct ($12M in annual FCF) then Wesdome is currently trading at 6.3% forward free cash flow at a gold price of $1,250/oz; and that already indicates quite respectable value.
If we revert to a NPV-based valuation and assume a 10 year remaining mine life and 5% discount rate we compute $97M as the asset value for the Eagle River operations. Typically, the market would assign a multiple of 1.2 at the bare minimum to a producing asset with a solid production history in Canada; and we therefore submit that Eagle River covers for roughly 60% of the current market cap when viewed from this angle.
We will have to wait for an updated technical report before being able to assign value to Kiena and Kiena Deep. Given our valuation for Eagle River above the market seems to factor in a price tag in the order of $70M for Kiena and Moss Lake. To this we say: one wouldn't quite be able to sell all the fixed equipment at Kiena for this amount of money, but it wouldn't be a lot less. In other words, it seems to us as if the market has written off most of the Kiena Deep discovery by now; and it seems to us that there is little or no space left in this valuation for Moss Lake. Or put differently: any upside at Kiena will come on top of present market value.
So what could Kiena potentially be worth? Eldorado Gold (EGO) only recently paid C$590M for Integra Gold and its flagship Lamaque project across on the other side of Val d'Or - admittedly a much more advanced project, but there is nothing to say Kiena Deep can't rival Lamaque's Triangle zone. Or consider Richmont Mines (RIC), which is presently getting acquired for C$905M by Alamos Gold (AGI) for its Island mine not far at all from Wesdome's Eagle River operations.
Kiena still needs a lot of work before it can rival these examples; but from what we have seen so far there is no reason to discard the possibility of Kiena reaching this status; and with all the infrastructure in place it will get there very quickly if the gold is actually there.
We submit that Wesdome Gold is currently trading for fair value with regards to its producing Eagle River mine. There currently seems to be very little market consideration for the upside at this producing asset; and Kiena Deep seems to have fallen off the market radar for now.
As such we don't see much potential downside except for the usual gold price-related fluctuations, and we see a lot of quite tangible upside at Eagle River as well as Kiena - along with plenty of catalysts, which we mentioned throughout this piece. And should Wesdome go the same way as all those other small Canadian gold miners we mentioned throughout this article, then this upside could be realized quicker than current market valuation implies.
We view Wesdome as a solid growth investment proposition, with all the typical risks associated with small-cap miners, but more than the usual share of potential rewards. We are currently considering initiating a position in this company.
Thank you for reading this Seeking Alpha PRO article. PRO members received early access to this article and get exclusive access to Seeking Alpha's best ideas. Sign up or learn more about PRO here.
Editor's Note: This article discusses one or more securities that do not trade on a major U.S. exchange. Please be aware of the risks associated with these stocks.