Real Estate Weekly Review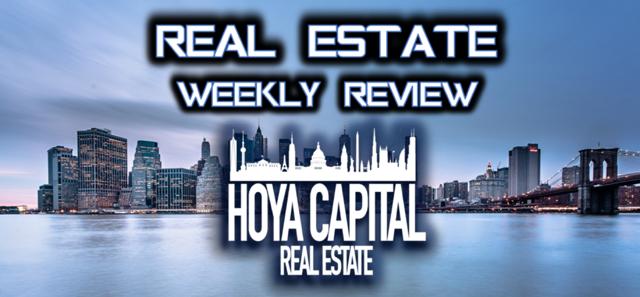 The REIT ETFs (VNQ and IYR) finished the week higher by 0.5% led by 2% gains in the cell tower, student housing, and single-family rental sectors. The S&P 500 climbed 1% to finish the week at a record closing high. Retail REITs await initial data from the important Black Friday weekend. Recent trends indicate that this should be a very strong holiday season for brick-and-mortar retail. We published iMall X: A Holiday Resurgence where we forecasted a strong holiday season for mall REITs, noting the disconnect between the negative perception of retail and the reality of solid fundamentals in the high-productivity mall space.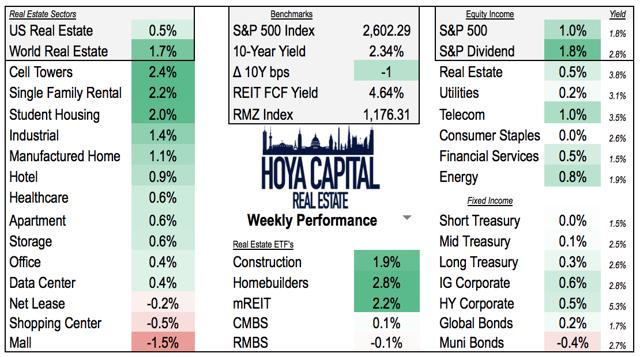 (Hoya Capital Real Estate, Performance as of 12pm Friday)
Homebuilders (XHB) climbed nearly 3% as existing home sales were slightly stronger than expected. Mortgage REITs (REM) climbed 2.2% while international real estate (VNQI and RWX) climbed 1.7%. Within the Equity Income categories, we note the performance and current income yield of the Utilities, Telecom, Consumer Staples, Financials, and Energy. Within the Fixed Income categories, we look at Short-, Medium-, and Long-Term Treasuries, as well as Investment-Grade and High-Yield Corporates, Municipal Bonds, and Global Bonds.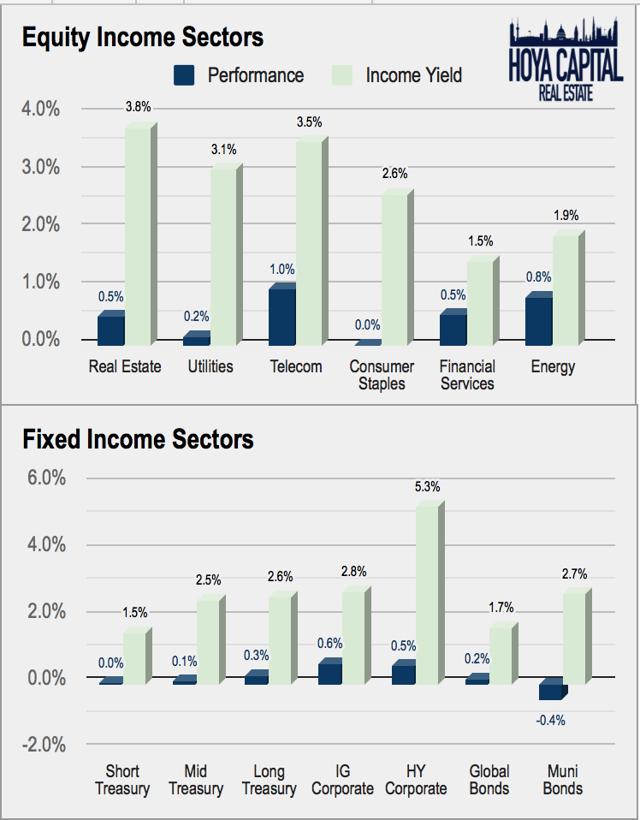 REITs are now higher by 3% YTD on a price basis and higher by roughly 5% on a total return basis. REITs ended 2016 with a total return of roughly 9%, lower than their 20-year average annual return of 12%. Going forward, absent continued cap-rate compression, it is reasonable to expect REITs to return an average of 6-8% per year with an annual standard deviation averaging 5-15%.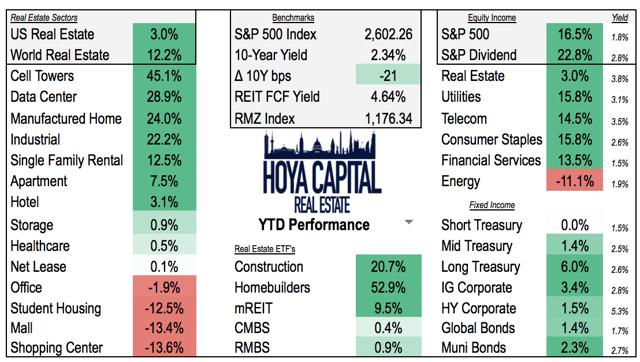 3Q17 Earnings Season Recap
Third-quarter earnings in the REIT sector concluded in mid-November. Overall, results were solid with no particular surprises. Roughly 50% of REITs beat 3Q estimates while 20% missed. The highest rates of NOI growth appear to be behind us for this cycle, however, as new supply has equalized market conditions in most sectors. Per NAREIT's 3Q17 T-Tracker, same-store NOI growth slowed to 3.2% YoY, the slowest rate of growth since 1Q14.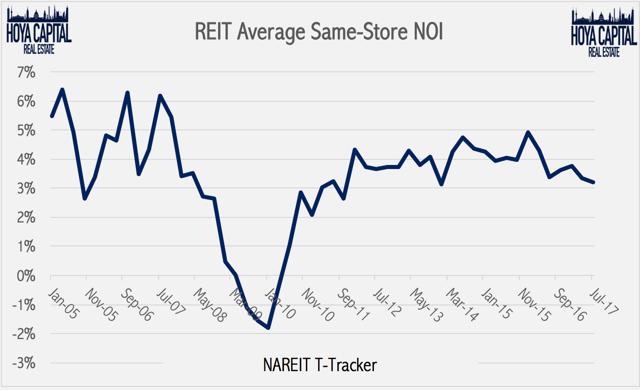 Same-store NOI growth was strongest in the manufactured housing, single-family rental, and industrial sectors. Malls, shopping centers, and healthcare REITs reported the slowest same-store rent growth.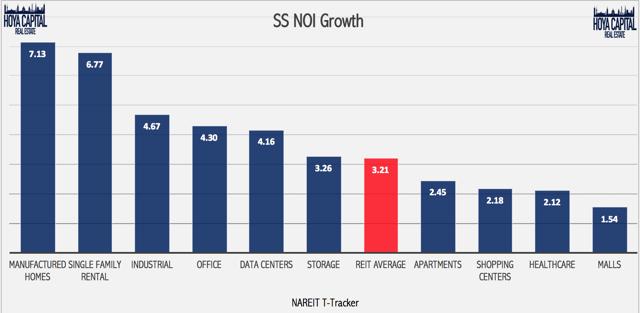 Overall, earnings reports in the data center, apartment, and industrial REIT sectors were the strongest relative to consensus estimates, while student housing was the weakest.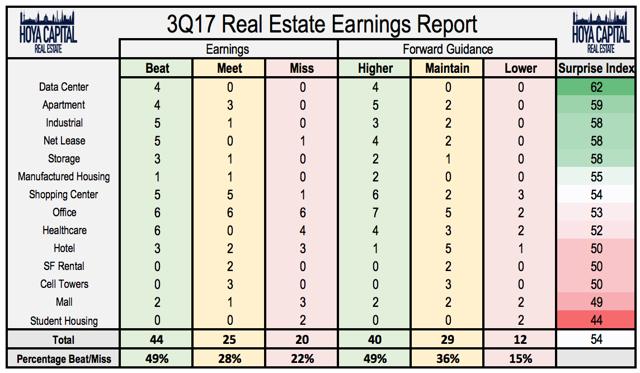 We continue to update our REIT Rankings where we analyze the quarterly performance of each real estate sector. So far, we have updated our reports on the Healthcare, Apartment, Mall, Net Lease, Data Center, Manufactured Housing, Student Housing, and Storage sectors. Next week, we will continue our updates with the Single Family Rental and Shopping Center sectors.
The best performing REITs on the week included Preferred Apartment Communities (APTS), QTS Realty (QTS), Independence Realty (IRT), Invitation Homes (INVH), Taubman (TCO), and Macerich (MAC).

The worst performers on the week included DDR Corp. (DDR), Pennsylvania REIT (PEI), Kimco (KIM), Simon (SPG), and Acadia (AKR).

Real Estate Economic Data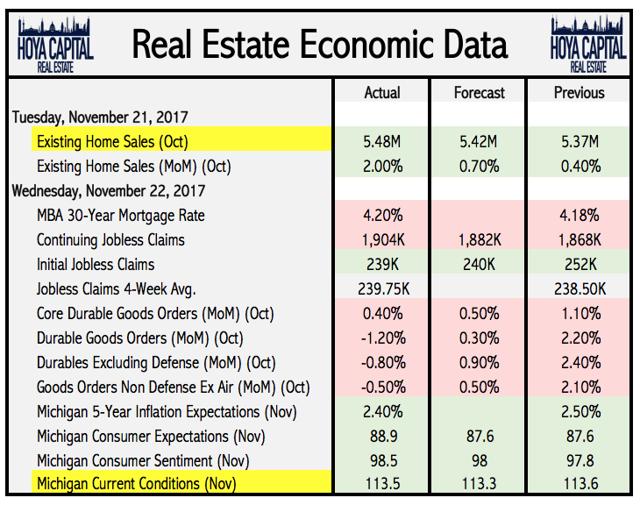 (Hoya Capital Real Estate, HousingWire)
Existing Home Sales Continue To Move Sideways
After a strong start to 2017, existing home sales have weakened into year-end 2017. Existing homes were sold at a 5.48 million annualized rate in October, 0.2% lower than the October 2016 rate. This rate, however, remains healthy by historical standards. Too many existing home sales (as we saw from 2003 to 2006) indicate that either mortgage standards have gotten overly loose or short-term housing flipping activity has increased. At around 7% per year, the turnover rate of existing homes is roughly in line with pre-2000 levels.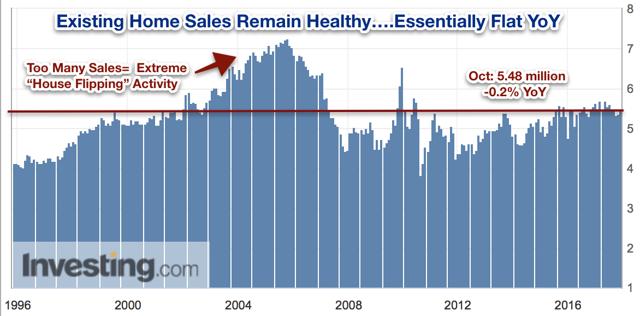 Existing home inventory remains near historically low levels, primarily a result of the tepid pace of new home construction in the aftermath of the recession. Other effects are at play, too, including the increased institutional presence in the single-family rental markets and the rising rate of homeownership among the older demographics. First-time homebuyers made up 32% total existing home sales, down from 33% in October 2016. The rate of first-time homebuyers remains stubbornly below the pre-bubble level of 40-45%. We have yet to see the younger demographics enter the homeownership markets in any significant numbers.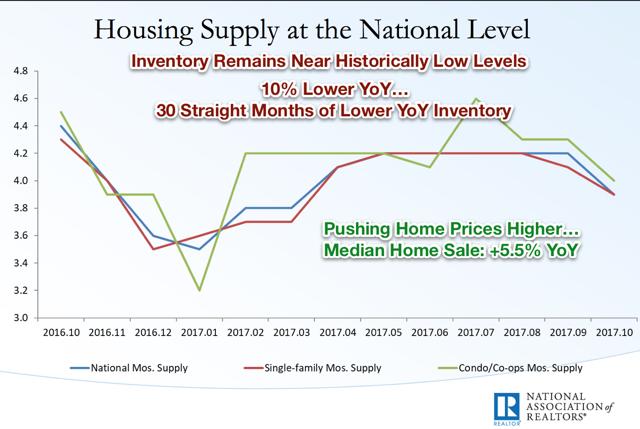 The major home price indexes continue to show a steady 5-7% YoY rate of home price appreciation. Home prices have risen at least 5% YoY in every month since late 2012. As we often point out, rent growth has risen far more moderately than home prices over the past five years. The economics of renting are more attractive than owning for the majority of potential first-time homebuyers based on these statistics.

The homeownership rate among households less than 44 years old has fallen considerably more than the overall rate since the recession and has been moving sideways since bottoming in 2015. The largest climb in homeownership rate in the third quarter, interestingly, was among the 65+ demographic. That being said, the data does indicate that homeownership rate among millennials has indeed bottomed in this cycle.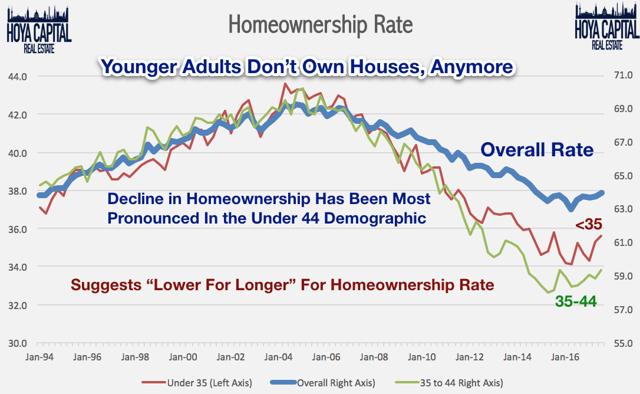 While the current state of the US housing markets increasingly gets compared to the conditions during the housing bubble, there are important differences that make the comparisons largely inappropriate. The housing bubble was fundamentally driven by oversupply and fueled by house flipping and loose lending standards. While home price appreciation has been similar to the bubbleperiod, we have yet to see the bubble-like activity when it comes to new construction, lending standards, or house flipping.
Retail Sales: Solid October, But E-Commerce Dragged Down Headline Number
Last week, we analyzed retail sales for October, which is obviously a focus during this Black Friday week. October retail sales were stronger than expected, led by a resurgent "brick-and-mortar" segment. Shockingly, nonstore retail sales (e-commerce) were negative for the third month out of the past five. E-commerce growth has continued to slow through 2017 while brick-and-mortar sales have been solid above 2.5% YoY. Below we see that the SAAR rate for nonstore retail reached the lowest YoY growth rate since June-15 while brick-and-mortar saw the highest YoY SAAR since Feb.-16. We continue to point out that, while online sales growth continues to take incremental market share away from traditional retail, the sentiment around brick-and-mortar retail appears to be far too negative given the data.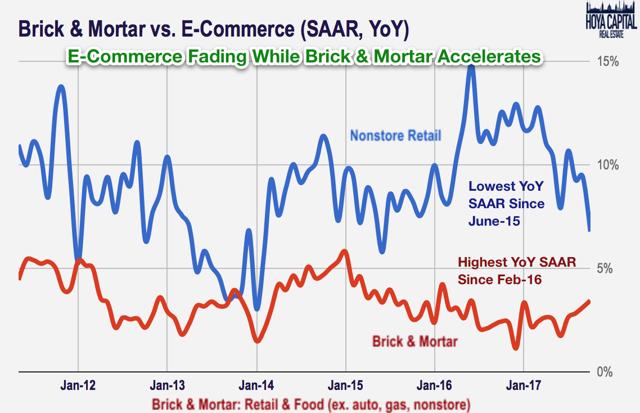 Our favorite chart below shows the "Amazon (NASDAQ:AMZN) effect" or lack thereof in many of the retail categories. Restaurants, furniture stores, grocery stores, and building/home improvement retail sales continue to be strong. Even in the "retail losers" category, we've seen a recovery in the general merchandise and clothing categories in recent months, which are now in positive growth territory YoY. Only the electronics and sporting goods/books categories have seen negative YoY growth.

E-commerce represents just over 10% of total retail sales but nearly 20% of "at-risk" categories (total retail minus auto, gas, and food). Where will the "at-risk" e-commerce market share top out? Estimates vary widely, but we continue to believe it will be at the low end of the estimates for the next decade, evidenced by the already slowing rate of e-commerce growth. This has significant implications for retail real estate: if the state of brick-and-mortar retail is not really as dire as the valuations and narrative suggest, there may be strong investment opportunities in the space.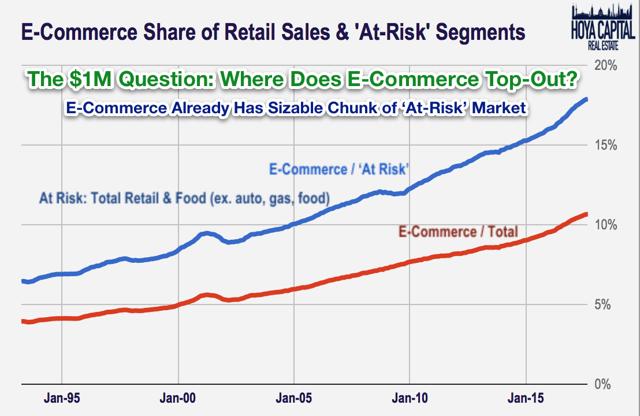 Bottom Line
REITs finished the Thanksgiving week higher by 0.5%, led by strength in the cell tower, single-family rental, and student housing sectors. Homebuilders rallied 3%, pushing 2017 gains above 50%. Retail REITs await initial data from the important Black Friday weekend. Mall and Shopping Center REITs are each down 14% YTD. We expect a strong holiday season for brick-and-mortar.
Last week, retail sales topped estimates in October despite sagging e-commerce sales. Shockingly, nonstore retail sales (e-commerce) were negative for the third month out of the past five. After a strong start to 2017, existing home sales have weakened into year-end 2017. Existing homes were sold at a 5.48 million annualized rate in October, 0.2% lower than the October 2016 rate. Existing home inventory remains near historically low levels, primarily a result of the tepid pace of new home construction in the aftermath of the recession.
This week, we published an update on the Healthcare sector, "Healthcare REITs Are Sick." We discuss that the healthcare real estate landscape has undergone a seismic shift since the Affordable Care Act initiated in 2010. The ACA began to shift the financial risk from payers to providers. In an effort to contain runaway costs, the ACA has taken aim at the higher-cost providers of healthcare, including skilled nursing operators. SNF REITs are struggling amid deteriorating fundamentals. Broader trends of oversupply and tenant troubles across the healthcare REIT space continued into 3Q17. The benefits of the aging population are substantial, but still 5 to 10 years away.
Last week, we published an update on the Apartment Sector where we analyzed the supply/demand trends affecting rent growth. We noted that strong job growth, a "rent-by-choice" attitude among a large demographic of Millennials, and homeownership unaffordability have kept demand growth firmly above expectations. Strong demand has kept rents solid in 2017. The homeownership rate has increased modestly in recent quarters back to the pre-bubble average. The economics of renting, however, remain highly favorable relative to owning for most households.
We also published an update on the Net Lease Sector where we discussed how Net Lease REITs have thrived in this Goldilocks economy with solid economic growth and low rates. In theory, these companies should perform like inflation-hedged, long-duration corporate bonds with retail exposure. These REITs depend on their cost of capital advantage. VEREIT (NYSE:VER) and Spirit (NYSE:SRC) have taken steps to boost investor confidence. Buffett's investment in STORE Capital (NYSE:STOR) was a critical stamp of approval.
Please add your comments if you have additional insight or opinions. We encourage readers to follow our Seeking Alpha page (click "Follow" at the top) to continue to stay up to date on our REIT rankings, weekly recaps, and analysis on the real estate and income sectors.
Sector ETFs Mentioned: VNQ, IYR, SPY, XHB, ITB, PKB, REM, VNQI, IYZ, IDU, KXI, IYF, LQD, JNK, IEF, VDE, VGLT, ISTB, BNDX.
Disclosure: I am/we are long VNQ, SPY, MAA, CPT, OHI, PLD, GGP, STOR, SHO, SUI, ELS, ACC, EDR, DLR, COR, REG, CUBE, PSA, EXR, BXP, EQR, INVH, SPG, HST, TCO, SBRA. I wrote this article myself, and it expresses my own opinions. I am not receiving compensation for it (other than from Seeking Alpha). I have no business relationship with any company whose stock is mentioned in this article.
Additional disclosure: All of our research is for educational purposes only, always provided free of charge exclusively on Seeking Alpha. Recommendations and commentary are purely theoretical and not intended as investment advice. Information presented is believed to be factual and up-to-date, but we do not guarantee its accuracy and it should not be regarded as a complete analysis of the subjects discussed. For investment advice, consult your financial advisor.