Radian (RDN), the mortgage insurer, looks attractive in an absolute framework and also in comparison to its close peer, MGIC Investment Corp (MTG).
Though I've written positively about Radian on Seeking Alpha, and the stock has done reasonably well, I have tended to emphasise MGIC Investment Corp (MTG). This was due to MTG's cheaper valuation in comparison to Radian. The YTD strong outperformance of MTG has taken care of that gap and it is time for investors who follow my ideas to consider a more even weighting between then two stocks.
This is a YTD performance chart for Radian and MTG (Green)

Bloomberg
Here are the PE ratios of the two stocks using consensus sell side forecasts.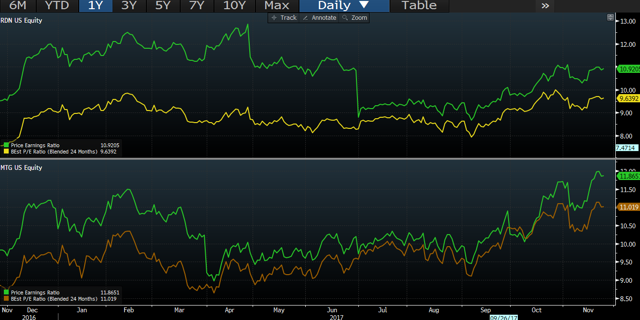 Bloomberg
So, Radian is on 10.9x 2017 and 9.6x 2018. MGIC according to these numbers, is on 11.9x and 11x resp. for the same years.
OK, so first of all, the MTG numbers are too conservative for 2019. The stock is actually on about 9.8x EPS. I recently published a discussion of why consensus is wrong for MTG and I'd urge interested investors to take a look at the analysis. However, there's an equally important observation to be made in respect of Radian. First, I think sell side numbers are about right for RDN and second, it's a little bit cheaper out there than MTG, even when we put MTG on my own forecast rather than the sell side's.
What interests me most about the current valuation of RDN is that the stock is trading at a greater discount to the one that readers old enough to remember the pre 2008 cycle will be familiar with. Then, current year PE for RDN was frequently 13x while the S&P (SPX) was in the late teens.
RDN at the time was writing remotely sourced bulk risk for very shaky credit brackets. Now, in contrast, the company is far more conservative and its risk in force (RIF) is dominated by post 2009 vintages. New risk is written on a specific borrower basis. This is the key slide: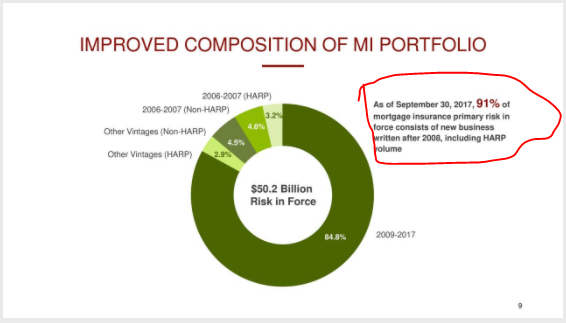 Company Data
Of that RIF, we see below that the poorer quality of credit RDN has insured comes from the 2009 and 2010 vintages. But of course, these are now so much lower as a percentage of total risk.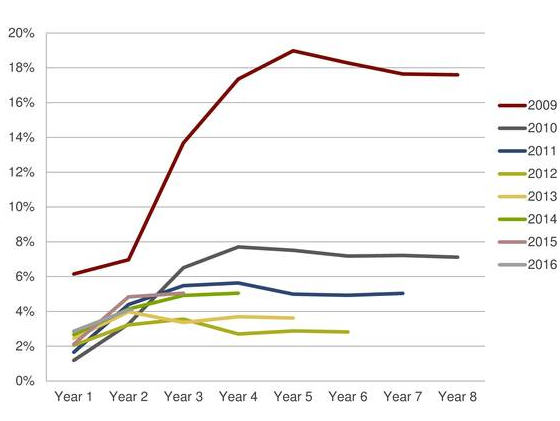 This chart is also very useful in understanding the improved performance of the company - you see there that loss ratios are consistent across years after vintages have been written, so there is no seasoning "bomb" to come through in the numbers.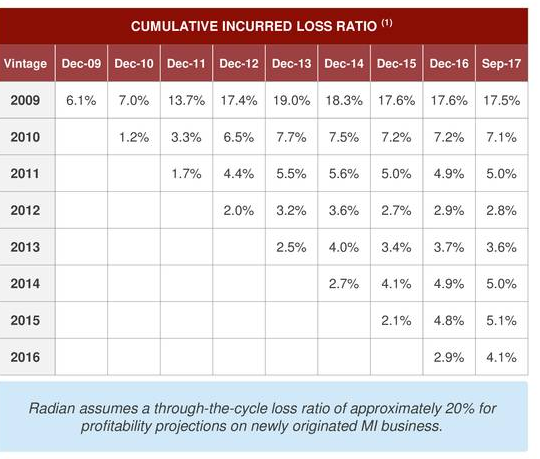 Accordingly, RDN has continued to work down its total stock of investory in default, which bodes well for its losses incurred (the equivalent of risk provisioning costs) in the P&L. I've highlighted the progress with default inventory below.

Dividends?
RDN continues to build capital and on its most recent results call management said that an ordinary dividend is several years away. However, as its capital cushion builds, RDN might approach the State of Pennsylvania for permission to pay a special dividend. I think MTG may be nearer to normal dividend service than RDN, but there is no question that management wishes to return to dividend paying status with its capital position allows it to.
Conclusion
Cleaned up, but still a recovery play due to its capital build, RDN will not trade on such as massive discount to the wider market forever, and the market continues to re-rate the stock as the business builds back. The stock should continue to outperform the wider market and most financials in the US as it continues the journey back.
Disclosure: I am/we are long MTG. I wrote this article myself, and it expresses my own opinions. I am not receiving compensation for it (other than from Seeking Alpha). I have no business relationship with any company whose stock is mentioned in this article.