By Mitchell Grant
Nearing a point where it should find a directional trend, the Japanese Yen is 5.15 percent higher than lows from December 2016. The most recent Japanese PMI in November came in at 53.8, which is the highest it's been since March 2014. This signals expansion in the manufacturing sector, with readings over 50 to be expected.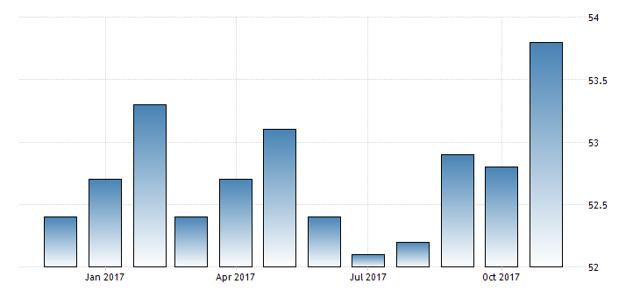 The exchange rate for the major pair, USD/JPY, was around 118 on New Year's Day 2017, but has failed twice to break through resistance at 115.
As the Euro retreats against the recent one-month-high gains vs. the U.S. Dollar, we should see a reversal of USD/JPY coincide with this retreat from the Euro. We would like to see a correlated retracement of the USD/JPY cross-pair back down to around 107 before we consider going long the Japanese Yen. And at around 112 earlier this year, we did see some backwardation in the Yen futures markets, signaling uncertainty, which is where we are at currently, at a higher price, ironically.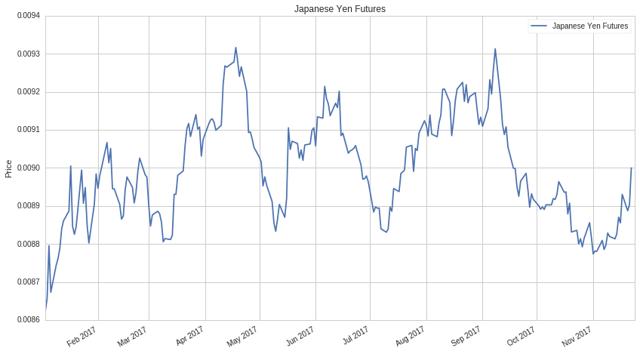 Recent political turmoil should increase risk aversion in the markets and decrease speculative demand for the Euro, eventually pulling it lower, and strengthening the Dollar against foreign currencies. This sweeping move should coincide with the Yen dropping with a flight to quality going to the U.S. Dollar assets.
Bounce-Up Or Break-Down?
The Japanese Yen ETF, FXY, is designed to track the price of the Japanese Yen, and has had a tough time since the Great Recession. Currently trading around the 86 USD level, this is more than 33 percent below highs that it saw in October 2011 when FXY traded at a greater level of 130 USD/share.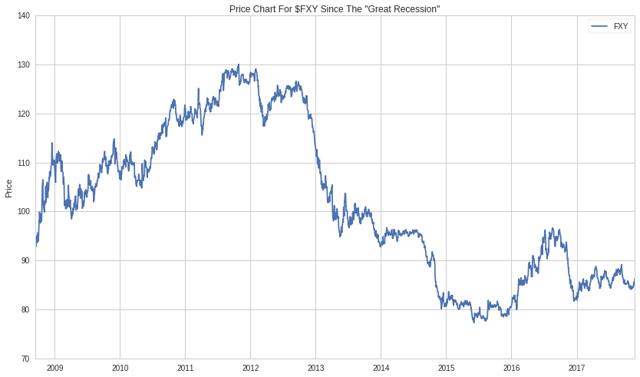 This is an exceptionally long period of decline. Here's a look at a more suitable time period; a chart depicting prices for the last 12 months: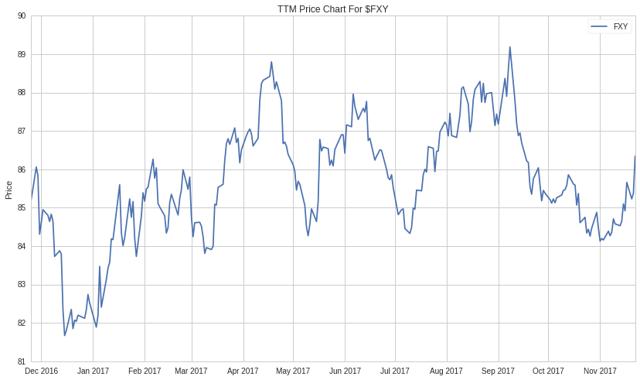 Only twice in the past year has FXY traded near its 52-week highs: in April and, more recently, early September - around the 89 markers. This is due in large part to non-committal Fed meetings. A recent spike on November 22 saw FXY pop up, looking ready for a breakout, but eventually got slammed down the very next day, closing near daily lows.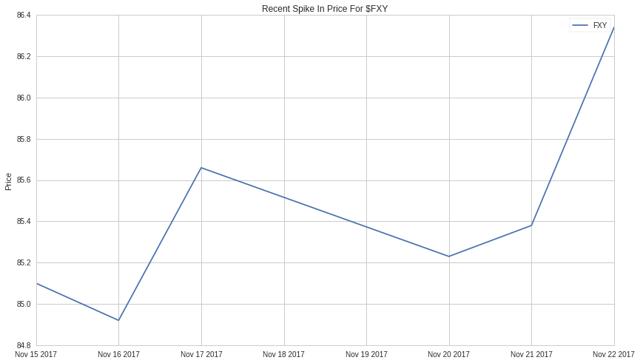 FXY, like its benchmark Yen, has been trading in a steady channel for the past three months. This followed some nice gains since the New Year, when FXY bottomed out at 81 and a quarter.
If the Yen were to make solid gains - which doesn't seem likely - the tailwind would need to be substantial, built on solid news to propel the stock forward.
As we said earlier, FXY has already tried to test resistance around 89 and both times was hastily slapped down. Like we all know, sentiment has as much to do with trading as anything, and each time any stock, currency, or bond fails to break through substantial resistance, each time makes it more difficult to break that same resistance.
The Japanese Yen should have a hard time making such gains, at least for the near term, if you take into account the current political landscape in Germany and Spain. German Prime Minister Angela Merkel losing support to a coalition government last month happened at the worst possible time. Markets have become very anxious over the British exit from the EU, and the political vortex that will likely ensue should weaken confidence in the Euro, which in turn would benefit the USD, a further bust for the Yen.
The US Dollar, after having a tough week, is due for another modest upside move, and has often had an easier time to regain ground from bottoming, more so than the Japanese Yen.
Technically speaking, the Yen does have room to the upside, having bounced up from support nicely - even before a dovish Fed meeting. There is a potential for a solid run. There are arguments to be had for both longs and shorts, and until a solid trend or direction is indicated, exercise caution before investing in FXY.
Disclosure: I/we have no positions in any stocks mentioned, and no plans to initiate any positions within the next 72 hours.
I wrote this article myself, and it expresses my own opinions. I am not receiving compensation for it (other than from Seeking Alpha). I have no business relationship with any company whose stock is mentioned in this article.