The retail is sector is one that has been under tremendous scrutiny recently with the importance of e-commerce continually growing and fears that Amazon (NASDAQ:AMZN) will destroy malls as we know them. It's easy to associate the risk of brick-and-mortar store locations with the products that are sold within them but that's not necessarily the way investors should be looking at it. There are certain products that can (and will) continue to be purchased regularly without much interruption from the migration of sales from storefront to online. Items such as perfumes and colognes fit this bill as shoppers in search of a new scent can head to their closest store and then subsequently find that fragrance online. This process can be repeated as many times as needed without affecting the sales of perfumes and colognes materially. This logic leads me to International Flavors and Fragrances (NYSE:IFF). The fragrance producer is leveraging its Vision 2020 program to drive continued top and bottom line growth.
Vision 2020
This was the 5-year strategic program launched by the company in mid-2015 with the intent of unlocking value. The stock has appreciated 30% since the management team announced Vision 2020 to the public: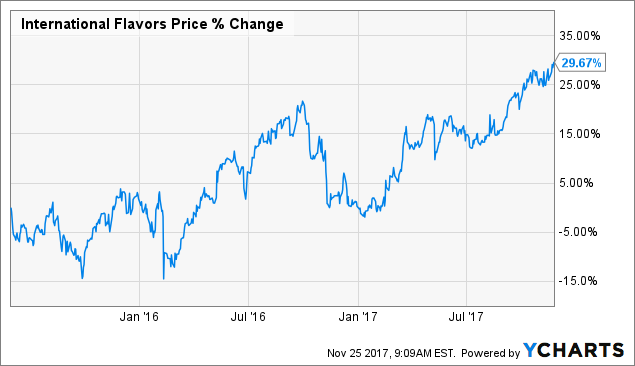 IFF data by YCharts
The strategic initiative consisted of five core pillars:
Win where we compete
Innovating firsts
Become our Customers' Partner of Choice
Strengthen and Expand the Portfolio
Financial Guidance
Since Vision 2020 was announced 2 and a half years ago, let's take a look at how the company has performed against its goals.
Win where we compete
"We aim to be #1 or #2 with key customers and in strategic categories and regions. To succeed, we must all be explorers, constantly pushing each other to take smart risks. This mindset, courage, and drive for the future is critical to IFF's Vision 2020 and our team is ready." - Matthias Haeni, Group President, Flavors
IFF's new brand, Tastepoint, is a great example of the company acting upon Mr. Haeni's words. According to CEO Andreas Fibig on the Third Quarter Conference Call, Tastepoint is "designed to service the dynamic and faster growing middle market customers in North America". This nascent brand is growing sales at a double digit pace giving management confidence that its investment is working out so far. Another part of IFF that is aligned with this pillar of the initiative is its acquisition of Lucas Meyer Cosmetics, which closed two years ago now. Lucas Meyer is also growing at a double digit rate and the company just opened a fully-renovated and expanded facility in Cairo, Egypt to support its growth in the region as well as in key product categories. The results of both Tastepoint and Lucas Meyer Cosmetics should give investors confidence that Fibig and his management team are putting their money where their mouths are, while also driving strong results.
Innovating Firsts
In order to enhance innovation the company created its IFF Taste Design business unit. IFF Taste Design is "a combination of artisanal, handcrafted techniques and proprietary technologies that drive consumer preference and market differentiation". IFF combines this new segment with its (also new) Re-Imagine program in an attempt to marry different technologies and ideas in hopes of creating fragrances and scents that people have never experienced before. The company's description from its website can be found below: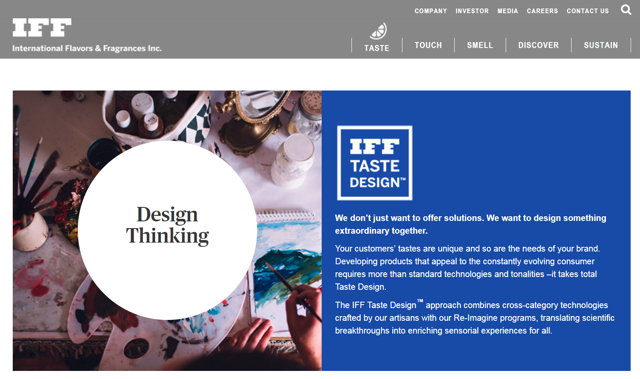 This initiative is still a rather raw R&D experiment without tangible results just yet, but it's certainly in-line with the goal of fostering innovation and creative thinking.
Become Our Customers' Partner of Choice
Conveniently, IFF's primary driver to become their customers' partner of choice is the aforementioned IFF Taste Design and Re-Imagine platforms. The basis for the link between the two is the collaborative nature of the company's approach to innovation. While it's easy to think of partnerships as exclusively external alliances with other entities, the combination of internal business units can be just as much, if not more fruitful. This shows that IFF is leveraging both internal and external (remember its acquisition of Lucas Meyer Cosmetics) resources to achieve its long-term vision.
Strengthen and Expand the Portfolio
The company defines this goal using three core principles:
1. Talent and Organization with investment in its people
2. Continuous Improvement with a relentless focus on finding efficiencies and streamlining processes to reinvest in the business
3. Sustainability by strengthening sustainable practices and innovation in every area of the organization
This past quarter saw a great example of how IFF invests in its people. The company grew adjusted operating profit 7% on a constant currency basis. According to the company's profit bridge below, the biggest headwind faced in these results was RSA expense which brought down adjusted operating profit an eye-catching 9 percentage points, a large portion of which was due to increased incentive costs: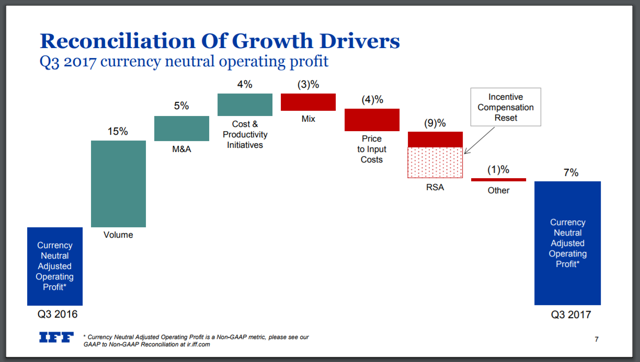 Source: Q3 2017 Investor Presentation
With regard to continuous improvement, much of what has been discussed already addresses this. Investments in the business, its people and its future all drive continuous improvement. The company's sustainability effort recently received a boost as IFF has just joined a Sustainable Development Program, see the excerpt from the Conference Call where Fibig outlined the news:
In terms of sustainability, I'm pleased to announce that we have joined FReSH, a project of the World Business Council on for Sustainable Development designed to improve the health of people and the planet while recalibrating the global system of consumption, transportation, production, and agriculture, thus achieving the initiatives goal to make responsibly-produced healthy, enjoyable diets available for all.

As a standing member of the WBCSD, IFF will join forces with the EAT Foundation and 25 leading businesses and science companies to accelerate transformational change in global food systems. We are passionate about doing the right thing and happy to have the opportunity to contribute in areas where we can make a positive difference in the world.
This venture by IFF is yet another example of management sticking to its plan and executing the strategy it clearly outlined to Wall Street.
Financial Guidance
When Vision 2020 was announced there was also a long term financial plan associated. The following list sums up the major elements:
4%-6% sales growth, constant currency
7%-9% operating profit growth, constant currency
Payout ratio of 50%-60%
Year-to-date in 2017, IFF has posted sales and net operating profit growth of 9% and 5%, respectively. The top line target is being met and exceeded so far but there is still some margin expansion needed to reach the operating profit goal. The good news is that the company isn't very far off and Vision 2020 still has two and a half years to go. For the payout ratio, IFF has returned $152 million to shareholders via dividends year-to-date while its net income for the first nine months of the year is $336 million resulting in a payout ratio of approximately 45%. So still some progress to be made with regard to the payout ratio as well but as mentioned earlier there is still some time left before this 5-year plan is over.
Conclusion
Two and a half years ago International Flavors & Fragrances' management team revealed a five-pronged plan to create shareholder value. The company has stuck to its word and has taken steps to deliver on its promises. Vision 2020 is looking like an effective strategic initiative that has caused a 30% rise in shares. Long IFF.
Disclosure: I/we have no positions in any stocks mentioned, and no plans to initiate any positions within the next 72 hours.
I wrote this article myself, and it expresses my own opinions. I am not receiving compensation for it (other than from Seeking Alpha). I have no business relationship with any company whose stock is mentioned in this article.