The Czech-Republic has received a large amount of foreign flows over the past year, the majority of which has been invested in the local bond market. Like the boom-bust cycles of EM past, these foreign flows, pressuring down local interest rates, have led to a boom in real-estate prices. But with bonds starting to sell off, it might be time for foreign investors to think about hedging their exposure.
I always find local proverbs to be an interesting entry point into a culture. For instance, you can quickly figure out the bipolar nature of French citizens ("Après la pluie, le beau temps"), while the practical nature of Germans comes out in earnest ("Aller anfang ist schwer"). These are caricatures of course, but caricatures are always informative. When I look at Czech proverbs, I see a society focused on being great hosts. "Host do domu, Buh do domu", literally translated as "A guest in your home is like a God in your home", seems to be a good representation of Czech nature: be a wonderful host even if it means submitting yourself to them.
Czechs have been among the most welcoming country towards foreign portfolio flows, with close to 10% of GDP in inflows over the past year.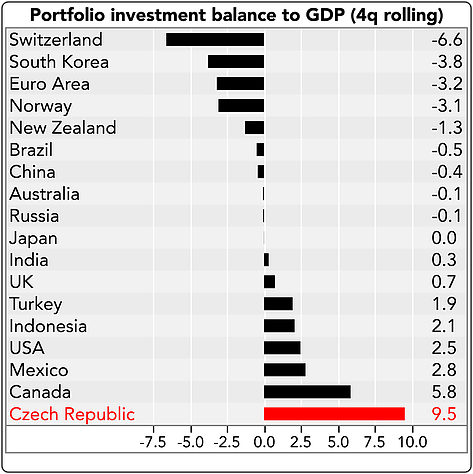 Most of these flows have ended up in the local bond market.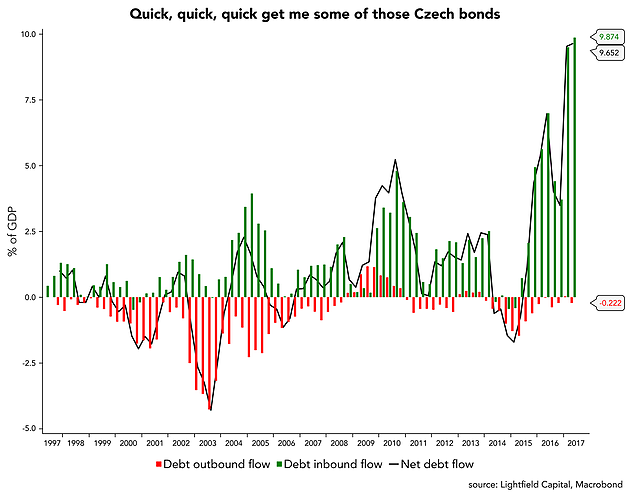 And in classic EM boom/bust fashion, this has increased the appetite for real-estate by putting pressure on local interest rates.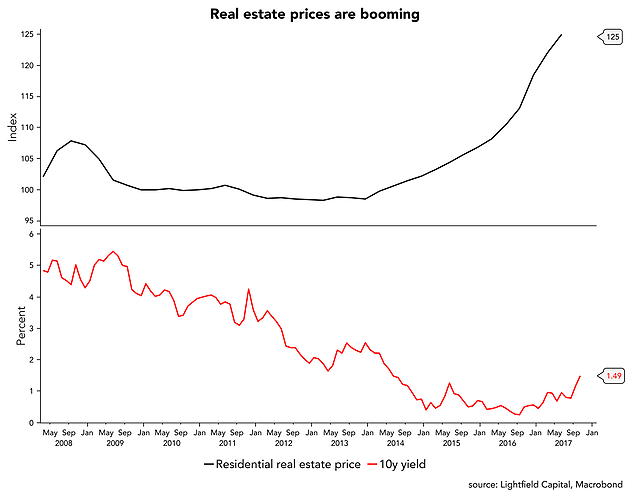 Now the country has been doing fantastically well from an economic standpoint, tracking closely the uptick in activity in the Eurozone.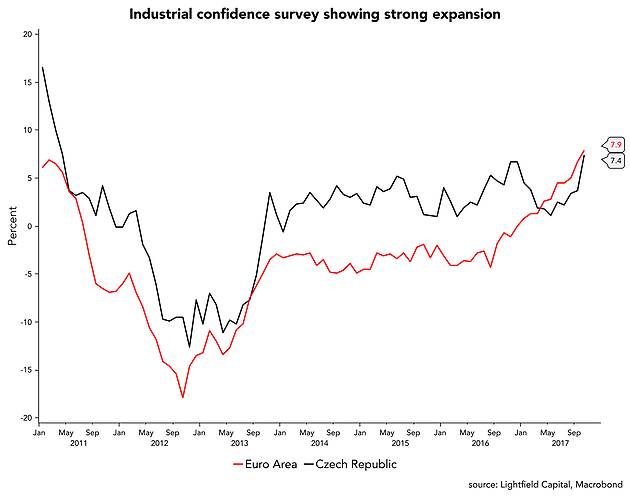 But unemployment and wages are both showing signs of growth running above potential.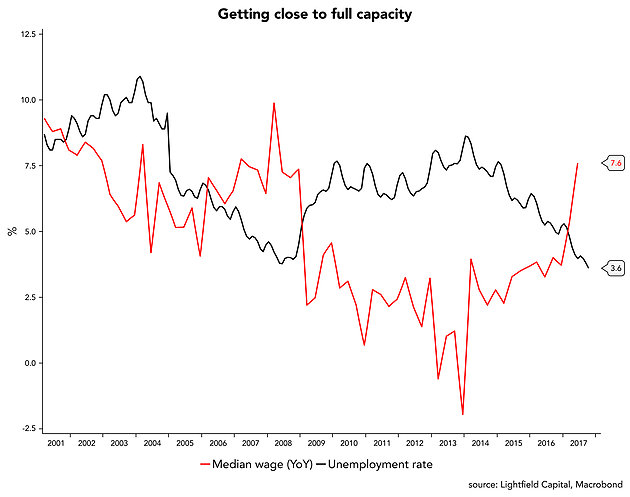 Now caricaturing as I like to do, the Czech economy basically exports cars to Europe and imports energy. So far rising wages haven't impacted the export side of the trade balance and rising oil prices haven't impacted the import side, so the current account balance looks all right.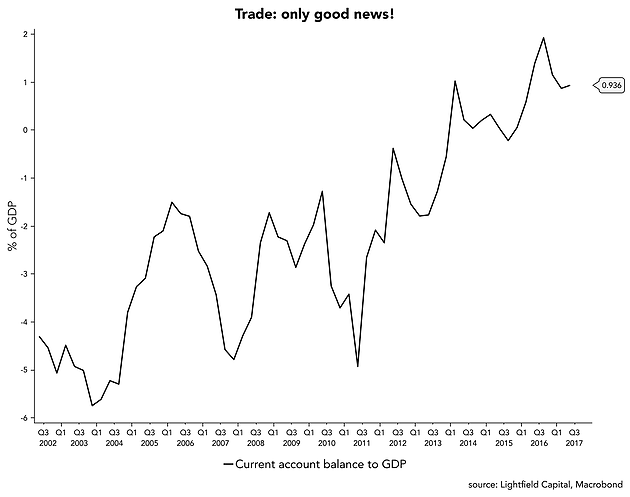 It seems to me that changes in the oil forward price (in CZK) as well as changes in the share price of European car manufacturers could provide an early warning signal for a deterioration in the trade balance.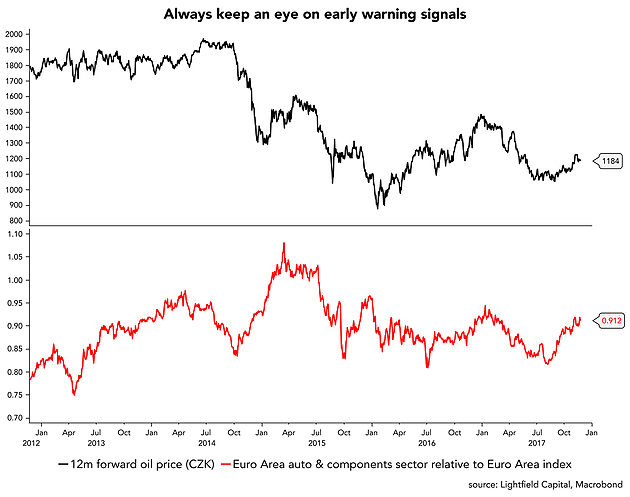 And now that foreign investors, both hedged and unhedged, in the local bond market are starting to show losses, I don't think it would take too much of a change in the "fundamentals" to start seeing increasing pressure on the currency.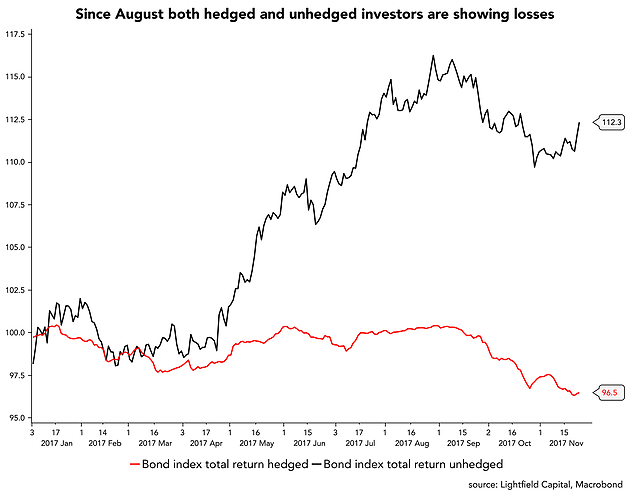 Now I'm obviously early on this, considering how strong the narrative of a healthier Europe is. But with the currency having rallied close to 20% since mid-2015 and glaring external vulnerabilities, I don't think it's too bad a time to start monitoring it.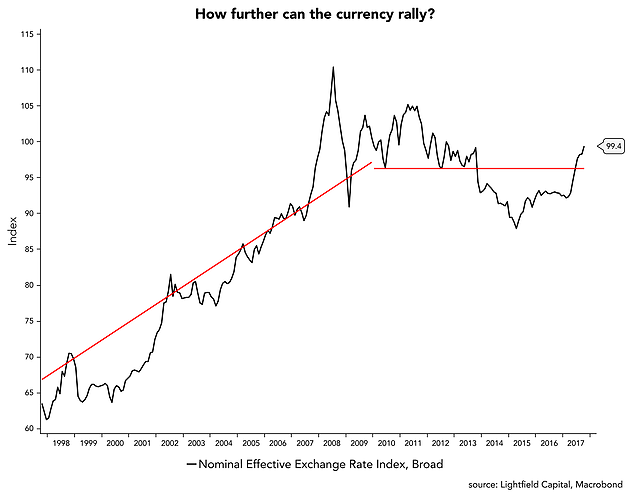 Disclaimer: The information contained in these blogs is intended for information purposes only. By opening these blogs you confirm your agreement that the information herein is not investment advice or recommendations by Lightfield Capital but the personal views and opinions of Samuel Gruen. These blogs are intended as a catalyst for conversation and debate between investment professionals. No reliance may be placed for any purpose on the information and opinions contained in these blogs. No representation, warranty or undertaking, express or implied is given as to the accuracy or completeness of the information in these blogs.