In a recent article, I made the case that millennial investors should consider starting a dividend growth portfolio as a way to adapt to certain ongoing trends in the economy, particularly the rise of the so-called "gig economy" and the proliferation of artificial intelligence. I also shared my current portfolio holdings.
In the discussion that followed the article, one reader asked me why someone as young as myself was investing in Canadian Apartment Properties REIT (OTC:CDPYF), and suggested that Northview Apartment REIT (OTC:NPRUF), another Canadian REIT, might be a better pick. While an initial glance at the summary quote for NPRUF elicited a certain degree of skepticism on my part, given the elevated yield, I decided to dig deeper and take a closer took. This is what I found.
History
Northview Apartment REIT was created as the result of a merger in 2015 between True North Apartment REIT and Northern Property REIT. However, its roots reach all the way back to 1968, when the company's founders sponsored a rental housing project in Yellowknife, the capital of the Canadian province of the Northwest Territories. Throughout much of its history, Northview's predecessor companies continued to operate primarily in the northern regions of Canada. However, in 2015, the company embarked on a corporate transformation when it merged with True North Apartment REIT, resulting the creation of Northview Apartment REIT.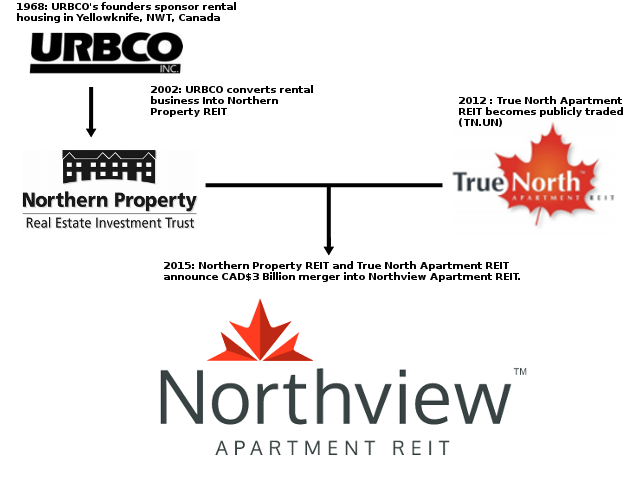 The addition of the True North portfolio has allowed Northview to diversify its portfolio away from its traditional northern bias. The REIT currently derives only 32% of its net operating income from Northern Canada - an impressive achievement, given its history. In an era of uncertain commodity prices, this is seen as a benefit, given the dependence of Northern Canada's economy on extractive industries such as oil and gas extraction.
Current Conditions
While diversification was certainly a prudent step for management to take, it did not completely decouple the fortunes of the Trust from the commodity price crash of 2015/2016, as the price history of NPRUF demonstrates:
Northview's concentration in Western Canada, together with its legacy business in Northern Canada, still make up a sufficient portion of its portfolio to put a severe hurting on its overall profitability when commodity prices go into free-fall, as they did in 2015/2016.
That being said, since the end of the worst of the commodity crash, the share price has rebounded quite nicely. While the share price appreciation is welcome news for investors who bought in the midst of the commodity carnage, it also raises questions about whether NPRUF is still a relative bargain for potential unitholders. For answers to those questions, let's review some of the financial metrics of the company.
Metrics
Occupancy
Occupancy has improved steadily, after taking a hit during the 2015/2016 commodity downturn:
This is a welcome sign, and demonstrates that slow and steady improvement is taking place in the rental markets that Northview serves, particularly the hard-hit Western Canada segment.
FFO
FFO per share has recovered nicely from the trough set in the middle of 2016. If occupancy rates continue to rise and if Northview's "Value Creation Initiatives" are effectively executed, then it's likely that FFO will continue its recovery.
NVU.UN FFO Per Share (TTM) data by YCharts
FFO Payout Ratio
While FFO is making a nice recovery, increased unit issuances seem to be masking the fact that FFO Payout ratio has continued to rise. For Q3 2017, Northview reported a diluted FFO Payout Ratio of 79.7%. While the seasonality of the rental industry can sometimes cause artificially high payout ratios to be reported, a glance at historical payout ratios shows a slow and steady rise:
The distribution appears to be safe for the time being, but the margin of safety as expressed by the FFO payout ratio appears to be steadily thinning.
Distribution Growth Rate
At the end of the day, the one major metric that sets a dividend growth stock apart from a bond with a similar yield - aside from the bond's superior position within the capital structure - is the possibility of increasing payments year after year. Over the past decade or so, the regular monthly distribution paid by Northview has increased from CAD$ 0.103 to CAD$ 0.1358.
That is an annualized rate of increase of about 2.8% per year. While the starting yield makes this an acceptable rate of growth, the distribution has not been increased since November of 2014. While this could simply indicate frugality on the part of Northview, it could also be a sign that management is not confident enough in Northview's financial strength to commit to an increased distribution payment level.
Evidence for the latter scenario comes from Northview's Q3 2017 Financial Statements (pages 19-20) - according to Northview, its debt covenants require it to maintain a debt service ratio of at least 1.50. Currently, this measure of the company's ability to service its debt stands at 1.65. That's a little too close for comfort to me, and suggests that the company will have little room to grow its distributions going forward, unless additional FFO growth materializes.
Discussion
Northview Apartment REIT has made great strides over the past 1-2 years. However, the declining FFO payout ratio and the stagnant payout make me hesitant to open a position. In any discussion of a high-yield investment, it can be useful to consider alternative investments, which offer a similar level of yield. This is particularly true in the case of Northview, since its last distribution increase occurred almost 3 years ago.
Take this baby bond, issued by Government Properties Income Trust (GOV):
Northview REIT is currently yielding about 6.4%. Assuming that GOV doesn't call its baby bond before its maturity date, that means that I can earn close to 90% of the yield that Northview is currently paying out on its units. However, as a creditor (albeit an unsecured one), GOV noteholders' income streams are guaranteed under virtually any circumstances short of bankruptcy on the part of the issuer.
As unitholders, Northview REIT investors rank much lower in the capital structure, and in the event of a cash crunch, it is extremely likely that their distribution checks will be reduced, Therefore, from an income investing perspective, I think that the extra 71 basis points of yield being offered by NPRUF relative to the GOV exchange traded note shown above isn't all that great of a deal for new investors.
Still not convinced? Challenge accepted! Take a look at this preferred stock, issued by Global Medical REIT (GMRE):
In this case, it looks like investors in this particular security are being paid more yield than prospective NPRUF unitholders! In addition, as preferred shareholders, investors putting their money to work in GMRE-A are also higher up in the capital structure than NPRUF unitholders.
Conclusion
The deteriorating FFO payout ratio and stagnant distribution from Northview Apartment REIT really hurts its potential appeal for income investors. If Northview Apartment REIT stabilizes its payout ratio and then embarks on a credible and sustainable program of distribution increases, then it will immediately blow the two other income securities discussed above out of the water. At that point, I would be potentially interested in making a small investment. Until that happens, however, I don't plan to be adding it to the Bridge the Chasm Portfolio.
That is not to say that there is not opportunity here for less risk-averse investors looking for potential capital gains. I also think that investors who got in during the worst of the commodity crash might as well hold on to their units, given their low cost basis. I am bullish on non-commodity focused Canadian equities in general, and I think that they would make a great addition as a diversifying element within most US-focused investors' portfolios.
In a future article, I intend to explain why I believe that Canadian assets have a promising future ahead of them. I will also introduce readers to my favorite Canadian REIT, which I hold in my portfolio in lieu of Northfield Apartment REIT: Canadian Apartment Properties REIT.
Note: For an alternative perspective on NPRUF, please take a look at this article by Trapping Value. This article is not intended as any sort of "rebuttal" of Value's article. We just happened to have written about the same stock at close to the same time.
Note #2: Please do not take my mentioning of GOVNI and GMRE-A in this article as an endorsement of them as potential investments. Make sure to do your own due diligence before making any investment.
Disclosure: I am/we are long CDPYF.
I wrote this article myself, and it expresses my own opinions. I am not receiving compensation for it (other than from Seeking Alpha). I have no business relationship with any company whose stock is mentioned in this article.
Editor's Note: This article discusses one or more securities that do not trade on a major U.S. exchange. Please be aware of the risks associated with these stocks.