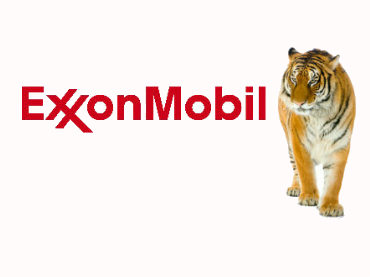 Exxon Mobil (XOM) is a major integrated oil company and a dividend aristocrat raising its dividend each year for the last 35 years. While it was hit hard by the large drop in oil prices, Q3 is another big step along the path towards adapting to the new environment. Based on its last three quarters of operational performance, the dividend is safer than it has been in several years. At current market prices, that dividend and its likely future increases make XOM a good buy for a dividend growth investor.
What did I think last time?
Back on I wrote about XOM following its Q2 earnings release. While many were disappointed that earnings were 6 cents below expectations, I was quite happy with the continuing trend of rising earnings and revenue. I very much liked that contrary to the recent past, debt levels actually decreased. I saw the dividend as fairly safe and the market price at the time being of a good value.
What new information do we have now?
On October 27th, XOM reported its Q3 results. This quarter XOM beat earnings estimates by 7 cents and revenue estimates by $2.81 billion. Earnings were up almost 50% from the year ago value of $0.63 and revenue was up a very respectable 12.8%. Below I present slides from the earnings presentation that I think best show this improved performance.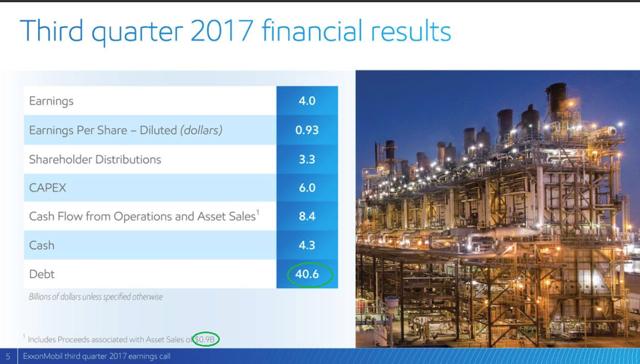 The slide above matches a similar one from the Q2 earnings report and shows improvements in several areas. The first area of improvement is that the debt level is even lower than last quarter. I very much liked that debt was lowered to $41.9 billion, and so it's even better to see that debt is now down to $40.6 billion, a reduction of $1.3 billion. Last quarter I was somewhat concerned about the small CAPEX spend, so it's good to see that this quarter that CAPEX spending is up to $6 billion. It's also good to see that Cash Flow from Operations is now up to $7.5 billion from last quarter's $6.9 billion. The $300 million increase in cash on hand is also a good sign. This slide shows an across the board improvement in operations for XOM.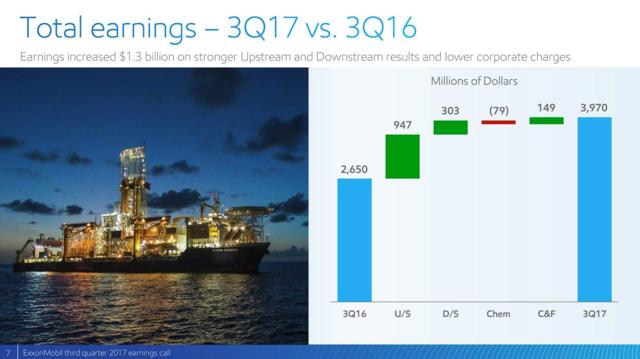 The slide above is similar to one in my last article and shows specific changes to earnings from a year ago by segment. Both upstream and downstream operations had improved earnings which since earnings a low I like having the two biggest segments both growing earnings. This tells me that the increased price of oil is allowing for more profits from wells, while at the same time prices aren't increasing so fast that the refined products can't keep pace with the increase in costs.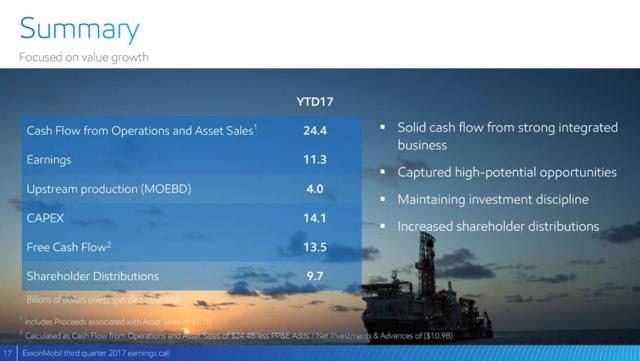 The slide above tells me how XOM has done so far this year. I like that for the first 3 quarters, between operational cash flow and asset sales XOM has had more cash than it needs for CAPEX and shareholder distributions. With assets sales being less than 8% of the total cash flow, I think XOM is in a good position. Since it has been able to pay down debt since the beginning of the year, I think the dividend is growing increasingly safe, and XOM's ability to increase it is growing as well.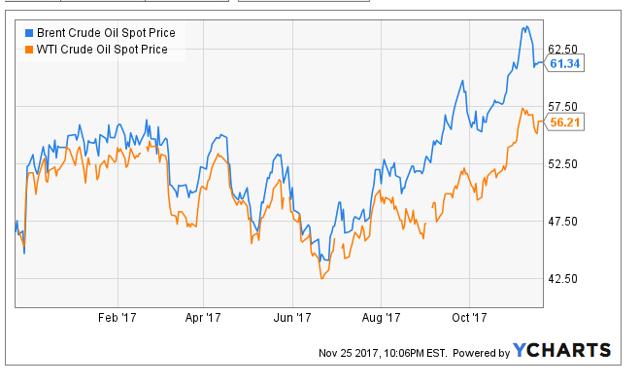 One factor in growing earnings is the price of oil. In the YChart above it can be seen that the price of oil on the spot market is higher so far in Q4 than it was in Q3. I think that bodes well for XOM's earnings in Q4 provided it can keep volumes steady or slightly higher. Since Q4 will include later fall and early winter months, I think volumes should at least be steady.
The YChart above shows the change in crude oil stocks. I don't see any big changes (on a relative basis) and in fact the swings seem a bit smaller than the recent past. This I think also bodes well for XOM in that I see no swings that would cause either a big change in price or a big change in continuing demand. Between these two charts, it looks to me like XOM will see a slightly higher price and steady to slightly higher volumes.
Based on performance to date and what I can see might be the performance in Q4, I think the dividend over the next 12 months will consist of one more payment of $0.77 and then 3 payments of $0.79. That will make for a total dividend payment of $3.14 over the next 12 months.
What's a good price?
To figure out a good price, I do a DDM calculation using my Excel based DDM calculator (pictured below, you can see the web-based calculator I based it on here and read a discussion on how the formulas were developed here). I also found this discussion of DDM, and note that in the article the author uses a discount rate of 5%.
Looking at the David Fish's CCC List(which contains a data on companies that have raised their dividend each year for 5 or more years) I see a very long history of annual dividend increases from XOM. I expect that streak to continue. In the last article I predicted that the dividend would increase at a rate of 2.7%, so I will keep that for this calculation. I will use a terminal dividend growth of 3% and a dividend payment of $3.14 based on XOM keeping the same pattern of dividend increase it had last year.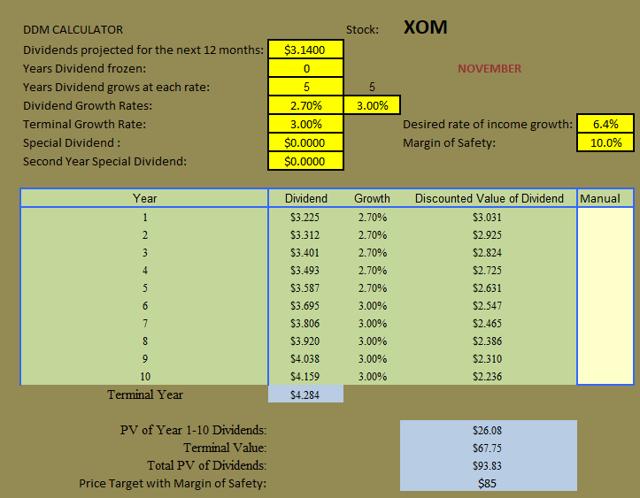 Using those parameters, I calculate that the NPV of the predicted dividend stream is $93.83. Last time I wanted an additional discount to the NPV of 10% due to uncertainties in the oil markets. I think the uncertainties have decreased since that time, but not enough that I am comfortable lowering my margin of safety. So using the same 10% discount to the NPV of the dividends, my buy price for XOM is anything below $85. Using the 4 year average yield of 3.09% gives me a price far in excess of my buy price, so I am happy with it. With the close on Friday being $81.42, XOM is a buy at this time.
Can options help?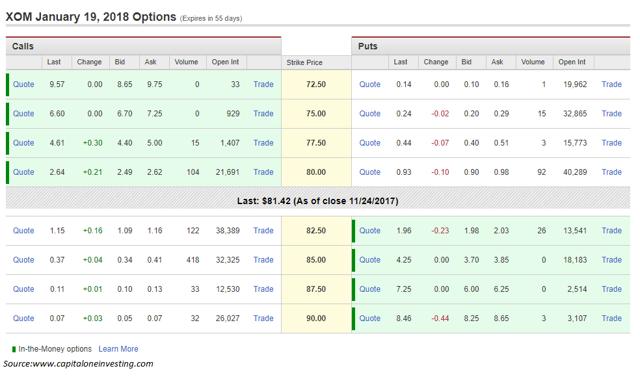 Depending on your cost basis, the call contract that expires on January 19th with a strike price of $85 could offer an attractive premium for holding less than 2 months. The spread is large enough that you should use a limit order.
The January 19th expiration date also offers a good put contract. Writing the $80 strike price call should get you more than $0.90 of premium if you use a limit order. Even if you don't end up getting assigned the shares, you will pick up more than a quarter's dividend for only 2 months.
What to watch for going forward?
Going forward, I think the most important things to watch are how much the debt is reduced and how large are the asset sales. I very much want the debt reduction to continue as with increasing earnings now is the time to do that. Oil is a cyclic business and so when times are good, you have to prepare for when times are bad.
Conclusion
XOM is continuing to grow earnings and revenues. It is continuing to pay down debt. All of that helps support the dividend and puts XOM in a better position to raise that dividend. Given the current market price, XOM is a good opportunity for a dividend growth investor to add more shares of a good company.
Note: I hope you all got something out of this article. I do appreciate the time you took reading it. If you are one of those who follow me here, I appreciate it; if you'd like to include yourself amongst those individuals, please hit the "Follow" button next to my name as well as following other contributors whose work you enjoy. As always, please leave any feedback and questions you may have in the comments below.
Disclaimer: This article is intended to provide information to interested parties. As I have no knowledge of individual investor circumstances, goals, and/or portfolio concentration or diversification, readers are expected to complete their own due diligence before purchasing any stocks mentioned or recommended. The price I call fair valued is not a prediction of future price but only the price at which I consider the stock to be of value for its dividends.
Disclosure: I am/we are long XOM.
I wrote this article myself, and it expresses my own opinions. I am not receiving compensation for it (other than from Seeking Alpha). I have no business relationship with any company whose stock is mentioned in this article.