"The realization that you can't predict the future - and mold it - could only come as a shock to an academic." - David Harsanyi
In today's Insiders Forum deep dive, we take a look at a fast food stock that has had a recent bout of "indigestion" but has seen significant recent insider buying, which could signal a bottom is close for the beaten-down shares.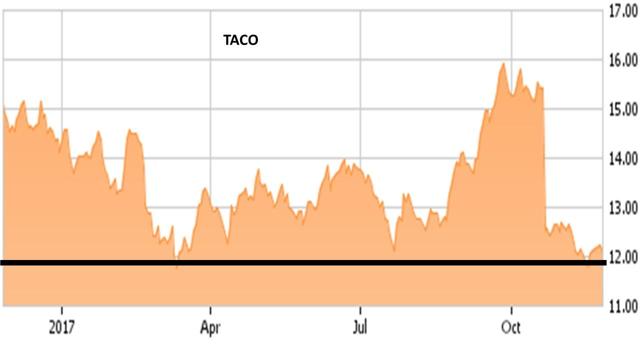 Source: Seeking Alpha
Overview
Del Taco Restaurants, Inc. (TACO) is a Lake Forest, Calif.-based operator of ~558 quick-serve (mostly) 24-hour Mexican-American restaurants located in 15 states. The first restaurant opened in Yermo, Calif., in 1964 featuring 19 cent tacos and 24 cent cheeseburgers. It is the #2 Mexican quick-serve restaurant concept in the United States after Yum! Brands' (NYSE: YUM) Taco Bell. Del Taco was purchased by Levy Acquisition Corp. in June 2015, at which point it became a publicly traded concern.
The distinguishing characteristic of this predominately Southern California franchise is the freshness of its offerings that are prepared by cooks that are grilling the marinated chicken and steak, preparing the salsa, and slow roasting whole pinto beans -- as if the customer was dining in a fast-casual restaurant -- except with the speed of a fast food operator. Delivery to customer averages just over two minutes with a system-wide average check of $7.13. Current locations are split ~55/45 company-operated/franchise-operated.
The Industry
The fast food industry, comprised of ~187,000 limited service restaurants, is expected to generate ~$220 billion this year -- and that's just in the U.S. Del Taco is positioned in between fast-casual operator, a sub-segment with $33.8 billion in 2015 sales, and quick-service, which dominates the balance of the limited service sector. It is also positioned as a Mexican-American restaurant, a vertical with significant demographic tailwinds as the American Latino population is expected to grow from ~58 million today to 77.5 million in 2030. One in five Americans is expected to be Hispanic by 2030. Given its menu offerings and pricing, Del Taco competes with Chipotle (NYSE: CMG), El Pollo Loco (NASDAQ: LOCO), Panera Bread (NASDAQ: PNRA), Jack-in-the-Box's (NASDAQ: JACK) Qdoba, Rubio's, Taco Bell, McDonald's (NYSE: MCD), and Restaurant Brands International's (NYSE: QSR) Burger King.
Del Taco's Growth Strategy
Although Del Taco restaurants are situated in 15 states, the company derives ~77% of revenues from its SoCal locations. Management plans to take its operating template initially to additional locations in the western U.S. where the brand is better recognized. Del Taco has identified 300+ locations to "in fill" in the western U.S. Overall, the company has identified ~1,500 locations as eventual expansion candidates with a close eye on the Southeast. Del Taco opened 13 restaurants in 2016 and anticipates opening 23 to 24 in 2017, with the pace of development anticipated to accelerate in 2018 and beyond. Growing the number of venues allows the company to leverage its corporate infrastructure, which should help operating margins.
In addition to growing the restaurant base, the company looks to grow same store sales through innovative menu offerings that cover both ends of the cost spectrum, with the Buck & Under Menu complementing the higher quality offerings such as The Del Taco and Epic Burritos. To better reflect the higher quality of its food (relative to other limited service restaurants), Del Taco underwent a rebranding in 2012 at a cost of approximately $45,000 per location that included investments in food preparation equipment and freshness coolers. It has also engaged in an "unFreshing Believable" marketing campaign to drive brand awareness.
Results
On the surface, the menu innovation, marketing campaign, and rebranding appear to be paying off, with the company announcing its 16th consecutive quarter of positive same-store sales and 21st consecutive quarter of positive comps from its company-operated locations -- no small achievement in the limited service restaurant sector -- on Oct. 19. System-wide comps grew 4.1% (company-operated up 3.7%) and 10.8% on a two-year stacked basis. System-wide Q3 2017 revenue was $111 million, up 6.3% from the same period in 2016. However, restaurant contribution margins were down 170 basis points to 19.2%, impacted by higher food costs -- specifically avocados, french fries, and cheese -- and higher labor costs as the company's ~370 California locations were hurt by the minimum wage increase to $10.50/hr. and the Pasadena, Calif., minimum wage increase to $12/hr.
Del Taco indicated that they are looking at equipment that will further enhance productivity to offset the increased labor costs. Adjusted EBITDA margin was 15%, down from 16.2% from the same period last year. Management also indicated that comps for Q4 2017 (an odd 16-week quarter) were trending up in the low single digits, but traffic and mix were trending lower sequentially vs. Q3 2017. Back on the positive side, the company indicated that the recent launch of its queso offering was proceeding very well with it mixing at 7% in its first six weeks, compared to 2% from a legacy nacho cheese offering.
Balance Sheet and Analyst Commentary
Del Taco had ~$7 million of cash on the balance sheet as of September 12, 2017 and ~$162 million of long-term debt with an additional $83.8 million available on a revolving credit facility. Even though the cash position looks low relative to debt, the ratio is deceiving as the company has bought back ~$10.7 million of shares and warrants through Sept. 12, 2017, with $24.1 million remaining under the share repurchase program. Also, the company trades at a manageable ~2.5x debt to EBITDA ratio, which should allow for continued expansion. As a side note, the company operates on a strange 52- or 53-week fiscal year that ends on the Tuesday closest to Dec. 31. Fiscal 2016 was a 53-week year; fiscal 2017 will be a 52-week year ending January 2, 2018.
Del Taco's market cap is approximately $470 and the stock sells for just over $12.00 a share currently. Analysts are sanguine on the company's prospects with five buy ratings and one hold. Twelve-month price targets range from $13 to $19 per share with $16.50 the median. The company is expected to earn $0.17 in the extended Q4 2017, bringing the total to $0.53 for the year. Analysts expect the company to earn $0.58 in 2018.
Insiders have been buying in significant quantities over the past month with Directors Lawrence and Ari Levy purchasing 300,000 shares in late October around $12.50 per share. Director Eileen Aptman also purchased 28,270 shares around the same time.
Outlook
After the company reported Q3 2017 earnings, investors walked away from the stock due to the 170-basis point drop in contribution margins. Shares of TACO plummeted 18.6% on Oct. 20, 2017, the day after the earnings release, and has essentially traded in a $1 range between $11.75 and $12.75 ever since. The 52-week price range is $11.58 to $15.99.
The company does face significant headwinds in California with the minimum wage slated to rise to $15/hr. by 2022. Because of its significant exposure to California, it will likely be impacted by this dynamic more that its competitors. Also, food price inflation could continue to impact margins, although that will be felt more equally across the entire industry. The stock trades at 21x 2018 earnings; however, it trades at less than 8x 2017 EBITDA, expected at ~$65 million. EV/EBITDA is less than 10x.
Del Taco also has three significant tailwinds. One, as more Americans become familiar with the Del Taco brand, the more they seem to like it, as evidenced by the 21 consecutive quarters of positive same-store sales. Two, its Mexican-American menu is certainly going to appeal to the fastest growing demographic of the population. Three, the company can triple its restaurants over the next 10 to 20 years without cannibalizing its existing locations. There are 35 states still to conquer. This expansion will divest itself of its current exposure to the California labor market, albeit slowly. It is significant to note that insiders used the weakness in the share price shortly after the earnings release as a buying opportunity.
This is not an industry I have much expertise in and I do worry about the company's current exposure to California, and its minimum wage hikes and generally anti-business regulatory environment. On the bright side, the company has significant long-term growth opportunities as well as recent insider buying. In addition, the stock does seem to have technical support at current levels. A delayed buy-write strategy may make strategic sense using the June $12.50 calls. This is probably the option strategy I start to implement Monday as the stock does seem to offer an attractive risk/reward strategy and little relative downside. That said, I don't think the shares have huge upside right now either, so an option strategy appears to make the most sense here for those that want to play the recent decline in this stock.
"Life is not only about acquiring knowledge, it is about applying knowledge." - Amit Kalantri
Note: The Free 14-Day Trial promotion for a risk-free test run into the Insiders Forum subscription service ends Nov. 30.
Disclosure: I/we have no positions in any stocks mentioned, but may initiate a long position in TACO over the next 72 hours.
I wrote this article myself, and it expresses my own opinions. I am not receiving compensation for it (other than from Seeking Alpha). I have no business relationship with any company whose stock is mentioned in this article.