Discounts on nearly all US closed-end funds are quite low now. But there are several closed-end funds trading outside the US with discounts that are quite attractive.
Pershing Square Holdings is a publicly traded hedge fund which trades as a closed-end fund. It is run by Bill Ackman, the highly controversial activist investor.
The fund trades under the ticker PSH on the London exchange and the Euronext Amsterdam exchange. But it is also available as an ADR in the US under the ticker (OTCPK:PSHZF).
Author's note: This article was released to members of the Yield Hunting Marketplace offering one week ago.
Fund History
After receiving an MBA from Harvard Business School in 1992, Bill Ackman started the investment firm Gotham Partners with fellow Harvard graduate David P. Berkowitz. In the early years, they had an excellent investment record, and they attracted $500 million in assets by 1998.
But the hedge fund ran into big problems at the end of 2002 when the fund gradually shifted from liquid holdings to more of a private equity fund holding thinly-traded illiquid assets. It could not handle a sudden increase in redemptions. In 2003, the hedge fund had to be liquidated. The details are described in this New York Times article.
Overall, investors who owned Gotham from inception made out pretty well, earning ~20% annualized returns until the last few years when they gave back around 30%.
In 2004, with $54 million in funding from his personal funds and from Leucadia National, Ackman started a new firm- Pershing Square Capital Management.
Pershing Square Capital produced excellent returns from 2004 through 2010, but performance has lagged the S&P 500 benchmark since then, although they had one good year in 2014.
Here are the annual returns for Pershing Square, LP, the Pershing Square fund with the longest track record, for the years 2004-2016: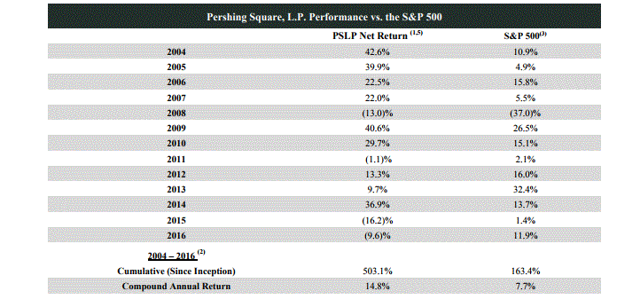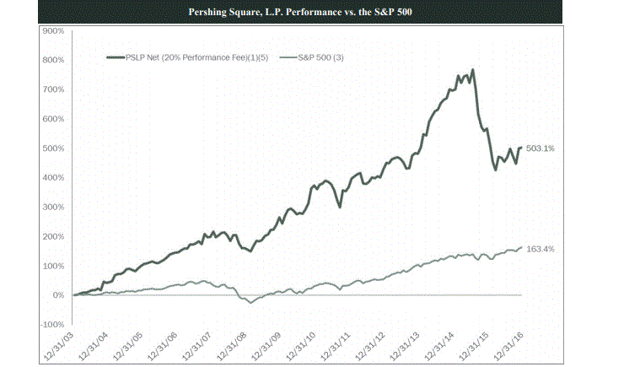 Source: 2016 Pershing Square Holdings Annual Report
Portfolio Review
Pershing currently runs a highly concentrated portfolio with seven reported long positions and one short position. To hear a detailed discussion of the fund's holdings, I recommend listening to the fund's quarterly conference call which is available until November 28.
There is also one new position which has not been disclosed yet:
"The idea generation machine is also alive and well. We recently initiated a new investment that we can discuss when our accumulation program is complete."
Here are excerpts about the portfolio holdings from the third quarter shareholder report. The fund's holdings are arranged by size.
1) Automatic Data Processing (ADP)
"ADP is a classic Pershing Square investment. It is a simple, predictable, free-cash-flow generative business that has significantly underperformed its potential. As a conservatively financed, high-quality business in a sector with substantial positive growth, we believe it has modest downside. If it is able to achieve its potential, we believe it offers substantial upside."

"ADP currently trades at an approximately 12% to 15% premium to its unaffected price prior to our rapid accumulation of ADP shares and market rumors of our investment. While the current stock price likely reflects some value for potential corporate tax reform, the market is also anticipating that ADP will make some progress improving its performance. We believe the dynamic created by the proxy contest will lead to substantially improved performance at the company, and, as a result we believe the stock remains undervalued. ADP is also potentially a large beneficiary of corporate tax reform as a reduction in US tax rates will boost ADP's earnings and its market value by as much as 20%."
2) Mondelez International, Inc. (MDLZ)
"We believe that Mondelez is currently substantially undervalued given its high business quality, long-term secular growth potential - especially in emerging markets - and substantial opportunity to improve profit margins. Today, Mondelez trades at 17 times our estimate for 2018 earnings per share, a discount to the S&P 500 market multiple, for a business whose attributes are substantially better than the average company in the S&P 500."
3) Restaurant Brands International Inc. (QSR)
"We consider Restaurant Brands' franchised business model to be a high-quality, capital-light, growing annuity that generates high-margin brand royalty fees from its three brands: Burger King, Tim Hortons and Popeyes. The company has an extremely capable management team, is backed by an owner-oriented sponsor (3G), and has a large unit growth opportunity that requires virtually no incremental capital. The company's operating strategy is highly scalable and replicable, which should provide opportunities for additional value-creating acquisitions over time."

"We believe that Restaurant Brands remains a compelling value at 21 times our estimate of 2018 free cash flow per share in light of our belief that the company can grow free cash per share in the mid-to-high teens for the foreseeable future."
4) The Howard Hughes Corporation (HHC)
"Howard Hughes continues to show solid and steady progress across its entire collection of trophy real estate assets. Unlike many real estate investment trusts that rely on access to the equity markets in order to grow, the equity for HHC's development program is provided by cash generated from existing income producing assets and residential lot sales, as the company is not required to distribute its profits to shareholders. Furthermore, HHC's large land ownership and entitlements provide decades of high-return investment opportunities without the need to acquire any new assets."

"In Summerlin Las Vegas, HHC is on track to generate over $100 million in land sales for the fifth year in a row. During the quarter, HHC announced the development of a ballpark for its wholly owned Las Vegas 51s Triple A baseball team, and signed a 20-year, $80 million naming rights agreement with the Las Vegas Convention and Visitor's Authority."

"Howard Hughes is a US-only taxpayer. As such, we expect it would be a large beneficiary of a reduction in corporate tax rates."
5) Chipotle Mexican Grill, Inc. (CMG)
"While the last six months have been challenging for Chipotle's brand, shareholders, and other stakeholders, we believe the company's significant long-term growth opportunity is one of the most attractive in the industry. Prior to making our initial investment, we understood that this investment could be a volatile journey, and this has certainly proven to be the case. As we have seen with many other restaurant companies in the past, brand and customer sentiment can change quickly, and we are confident that, with the right initiatives and execution, Chipotle will be able to stage a successful turnaround."

"Like ADP and Howard Hughes, we expect that Chipotle will be a substantial beneficiary of lower US corporate tax rates."
6) Fannie Mae (OTCQB:FNMA) / Freddie Mac (OTCQB:FMCC)
"Since our last quarterly letter, there have been a number of favorable developments in the political and regulatory landscape regarding the GSEs and housing finance reform. These developments include: (1) a Republican National Committee resolution made public on September 13, 2017 that seeks to protect taxpayers by restoring safety and soundness to the GSEs, calls for Fannie and Freddie to be "permitted to rebuild equity capital," and recognizes that Treasury can generate "an estimated $100 billion in additional cash profits by monetizing its warrants for 79.9% of each company's common stock;" (2) a September 13, 2017 letter from six Democratic Senators to the Treasury Secretary and FHFA Director "requesting that the GSEs be permitted to build capital" to prevent a future draw on Treasury's line of credit; (3) testimony from FHFA Director Mel Watt to the House Financial Services Committee on October 3, 2017 in which Director Watt outlined the extensive reforms that have taken place at the GSEs during their nine-plus year conservatorship, stated that required minimum capital levels for Fannie and Freddie should be "in the range of 2 to 3 percent," and hinted at some form of initial capital retention in the coming months; and (4) comments from Treasury Secretary Steve Mnuchin in mid-October that housing finance reform would be the next priority after tax reform, and that Fannie and Freddie would not be in conservatorship by the end of his initial four-year term. All of the above are broadly consistent with the key principles which we have been advocating since the inception of our investment in late 2013."
7) Platform Specialty Products Corporation (PAH)
"Platform's earnings continued to grow this quarter as growth in the Performance Solutions business offset a decline in the Ag Solutions business. Platform's organic revenue declined 1%, as Performance Solutions grew 4% and Ag Solutions declined 5%. The growth in the Performance Solutions segment continued to be driven by the positive results of the electronics business it recently acquired from Alent and strength in its industrial business. The decline in Ag Solutions resulted primarily from the ongoing drought in Brazil, which has caused buyers to delay their typical purchases in advance of the planting season. If the drought abates within the next few months, management believes it is likely it will recover these sales in future quarters."

"At the end of August, Platform announced that it intends to separate its Ag and Performance Solutions businesses into two publicly traded companies in order to increase long-term value. Management expects the separation to occur by the middle of next year, and is likely be effectuated by an IPO of the Ag business."
8) Herbalife Ltd. (HLF) Short
"During the course of our short position in Herbalife, we have held the investment in various forms, principally a mix of short stock and/or options. Recently we disclosed that we have restructured our short position in Herbalife, and our exposure is now represented entirely by put options. The current market value of the put position is approximately 5% of consolidated fund capital."

"We made the decision to convert our short position to put options because of the reduced free float of the stock, and to eliminate the incentive for market participants to attempt to squeeze us out of the position. Because we now own the position through the outright ownership of put options, we cannot be squeezed, even if the stock price were to increase substantially, as our exposure is capped at the current market value of the put options."
Three Year Chart of PSH Price and NAV (in GBP)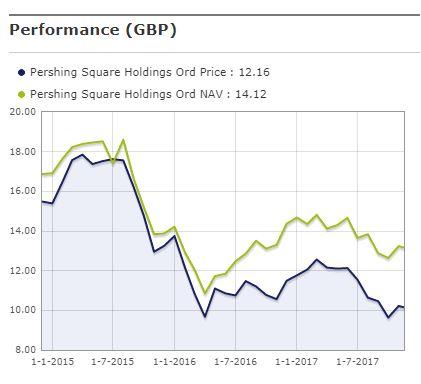 Investment Management Fees- High Water mark
The terms of the investment management agreement (a 1.5% management fee and a 16% performance fee) are lower than the usual 2%/20% charged by many other hedge funds.
The terms of the fund's management agreement with Pershing Square Capital Management have a "high water mark" feature such that investors only pay performance fees on increases in NAV above the highest NAV at which a performance fee has previously been charged. As a result, investors in the fund will not incur any performance fees until the NAV of the fund exceeds the high water mark of $26.37 per share. Note that the current NAV is only $17.38.
One potential advantage of this high water market feature, is that the PSHZF management may have an incentive at some point in the future to liquidate the fund in order to give them the opportunity of starting a new fund where they could immediately start earning performance fees. Because of the current high discount in PSHZF, this would not be bad for shareholders who could experience a nice gain by realizing NAV on their investment.
Pershing Square Bonds
The fund uses some leverage. There is $1 Billion principal amount of PSH Senior Notes with a 5.5% coupon maturing 7/15/2022. The bonds have recently traded above par and are currently selling for around $104. Back in February, 2016, there was a brief period when the bond traded as low as $85.
Recent Shareholder Friendly Actions
I believe that Bill Ackman has been very disappointed in his funds performance the last few years and is embarrassed by the fund's high discount to NAV. He appears to be willing to take aggressive action to narrow the discount over time. Some examples of recent shareholder friendly actions are:
1) In March, 2017, the fund applied for admission of its PSH shares to trade on the London Exchange. This was done because PSH was eligible for inclusion in the FTSE UK Index Series, including the FTSE All‐Share and FTSE 250 indices. The Company's previous listing on Euronext Amsterdam was not affected. This move attracts additional buying from index funds who use the FTSE indexes as benchmarks.
PSH also decided to seek a premium listing in London in an effort to improve market access for investors, increase liquidity in PSH shares, and assist in narrowing the current discount to net asset value at which PSH shares trade.
2) In April, 2017, PSH announced a share buyback program on the London Stock Exchange of up to 5% of PSH's outstanding public shares which began in May, 2017.
3) On November 8, 2017, the share buyback program was amended to permit share purchases on Euronext Amsterdam, alongside the London Stock Exchange. This was done to increase the pace at which the buybacks can be executed. The fund publishes a buyback report every day describing this activity. Here is a link to the report on November 17, 2017.
The aggregate volume of shares purchased under the Program on each trading day may not exceed 25% of the average daily volume traded.
Since the buyback program started on May 2, 2017, PSH has purchased an aggregate of 3,455,208 shares at a weighted average discount of around 19.5%.
Here is a chart showing the share buyback activity for five days ending November 17, expressed in US dollar terms:
Date

London Shares

London Average

Price

Euronext Shares

Euronext Average price

NAV

11/17/2017

36,310

$13.49

48,463

$13.48

$17.38

11/16/2017

5,216

$13.33

45,888

$13.32

$17.38

11/15/2017

20,430

$13.36

26,740

$13.38

$17.38

11/14/2017

19,338

$13.47

16,968

$13.49

$17.28

11/13/2017

15,976

$13.53

40,003

$13.55

$17.28
Pershing Square Holdings
Launch Date: Jan 1, 2013
Total Assets= $ 4.32 Billion
Dividend Frequency= None
Management Fee= 1.50%
Baseline Expense Ratio= 1.82%
Discount to NAV= -22.90%
Average 12 Month Discount= -18.61%
One Year Low Discount= -13.36%
One Year High Discount= -25.50%
One Year Z-Stat= -1.37
NAV Update Frequency: Weekly
Average Daily Volume= 10,293
Average Dollar Volume= $140,000
Leverage: 18%
For most US investors, it is easier to buy the PSHZF ADR than to buy the PSH shares that trade on the London or Euronext Amsterdam exchanges. If you buy PSHZF in an IRA account, you should not have to deal with any PFIC tax issues. Unfortunately, PSHZF is not very liquid, and the bid-asked spread can be five cents or more. It is best to be patient and use smaller limit orders when buying the shares.
I think PSHZF is a decent buy now for a long term investment. The fund has been in a slump the last few years, but that is often the best time to buy for a long term investor. I remember when Berkshire Hathaway went through a similar rough patch during the Internet bubble years and was a pretty good buy in the year 2000.
While there is no guarantee the portfolio will perform well going forward, I was quite impressed by the in depth research done by Bill Ackman and his team after listening to their last quarterly conference call.
Some other reasons to consider buying now are:
- Tax loss selling may be depressing the price.
- No performance fees until NAV reaches the high water mark.
- Active share buyback program helps to support the price.
- High discount to NAV.
- If the closed-end fund is liquidated, you recover the discount.
Marketplace Service For Those Hunting For Yield
In April 2016, we launched our marketplace service Yield Hunting: Alternative Income Investing dedicated to yield/income investors who wish to avoid the froth associated with most of the equity market. We encourage investors to utilize the free two-week trial in order to benefit from our yield opportunities within closed-end funds, business development companies, and other niche areas.
George Spritzer's top investment ideas are being featured on Alpha Gen Capital's "Yield Hunting" marketplace service. The goal of the offering is to provide a "low-maintenance portfolio" with a yield in excess of 8% on a tax-equivalent basis with capital gain optionality. The core portfolio has generated a high-single-digit yield, while taking approximately half the risk of the S&P 500 on price and one-third on NAV. For safe and reliable income streams, check out our unique marketplace service.
Editor's Note: This article discusses one or more securities that do not trade on a major U.S. exchange. Please be aware of the risks associated with these stocks.