When it comes to the growing list of marijuana stocks, investors can research an array of public companies, but the events that have recently transpired could suggest that Canadian cannabis companies in particular could be setting up for a big year ahead.
Constellation Brands (STZ) has opened up a Pandora's box of sorts for many investors who have simply been sitting on the sidelines. The reason has everything to do with their investment into Canopy Growth (TWMJF), a Canada-based company that holds core brands across a multitude of subsectors within the cannabis marketplace.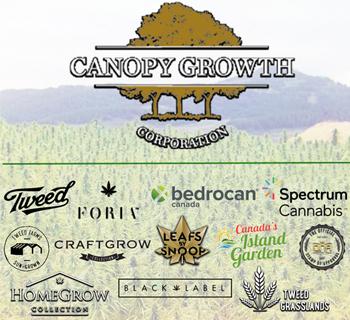 Though it was a 9.9% interest in the company, the action alone speaks volumes to the further acceptance of cannabis becoming a viable industry of scale. In fact, according to a report from New Frontier Data, it's already expected that by 2020 the legal cannabis market will create more than a 250,000 jobs in the U.S. alone. Based on further reports from Arcview, North America's legal cannabis industry should continue to grow at a 27% compounded annual growth rate to $22.6 billion by 2021.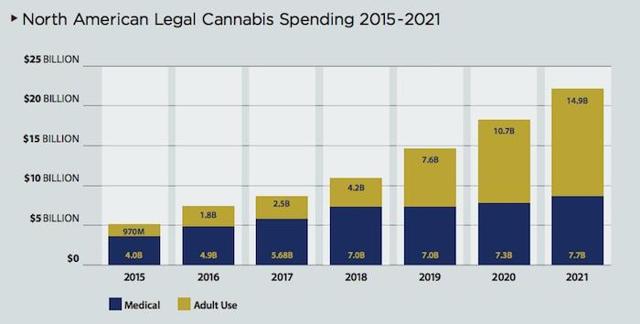 In addition to the deal between Canopy Growth and Constellation, other big events have been happening within the Canadian marketplace. Earlier this month, Canadian medical marijuana producer Aurora Cannabis (ACBFF) put in a bid to buy out its competitor, CanniMed Therapeutics (OTC:CMMDF). The bid price was for $18.75 per share, which gives CanniMed a value of roughly $425 million. It would make the value of this acquisition a cool $2 billion and just like the dealing with Canopy Growth and Constellation, this completed transaction would have a ripple effect across the industry.
It could even challenge the size of Canopy Growth entirely. Aurora's takeover would add significant leverage and capacity to its business. Combined, it would boost production to 130,000 kilograms of cannabis annually and further expand the global footprint of Aurora.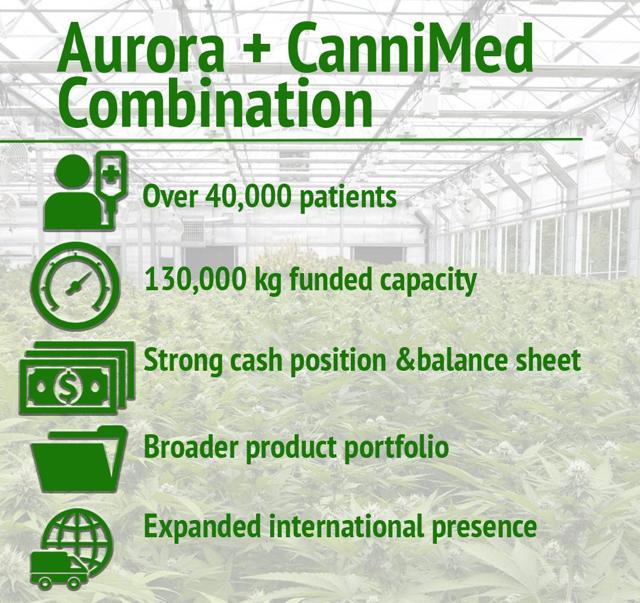 This year, the company has already purchased Pedanios GmbH, a wholesale importer, exporter, and distributor of medical cannabis in the European Union. Additionally, on the 23rd of the month, the company announced plans to acquire H2 Biopharma, which is in the process of completing a 48,000 square foot cannabis production facility just outside of Montreal. Of course, it should be noted that Aurora already has a facility under construction that is scaled out to roughly 800,000 square feet.
US Investors Are Looking At "F" Stocks
For many Canadian investors, the push for profitable marijuana investment opportunities isn't necessarily a new thing. The country has long been legalized for medicinal use. The timing for Canadian cannabis investment becomes more important now because the country is on the verge of legalizing the drug for recreational use nationwide in the coming year.
The road for submitting and achieving approval from Health Canada applications has been long, but for many companies, it's obviously looking like it will pay off. Production companies are popping up and the climate for mergers and acquisitions appears to be healthy in a race to build the largest production footprint.
With the US investor in mind, stocks with a 5 letter symbol ending with the letter "F" will most likely begin to take on a nice spotlight during the year to come. Though these companies are traded on the OTC exchange, they are international reporting companies that still need to maintain thorough financials.
Due to the relatively universal acceptance of medicinal marijuana in addition to the national legalization of recreational marijuana in Canada, there are few, if any, hurdles in the way for real institutions to make large investments.
This is in comparison to the United States where marijuana is still not federally legal and is registered as a Schedule I drug right next to heroine and LSD. Also, because major banks fail to recognize this industry, it makes it hard for US firms to make real investments into US-based marijuana companies.
Canada can act as a true litmus for the United States in terms of growth, regulation, taxation, and general investment. Right now US-based investors can grab their piece by purchasing an array of the "F stocks". Many of these companies have a focus on growing as well as on production of extracts like Cannabidiol or "CBD".
Like Aurora and Canopy Growth, Aphria Inc. (APHQF) is building a production footprint of its own on the east cost of Canada. Right now the company is working to complete a four-part expansion of its fully funded facility in Leamington, Ontario. The company has said that this will boost the greenhouse-growing footprint to 1 million square feet and increase supply capacity to more than 100,000 kgs of cannabis. Earlier this month, the company obtained a Dealer's License, which now allows it to sell and transport medical cannabis extracts to international markets.
It also should be noted that a recent bought deal financing of over $90 million should help with the company's expansion plans. Announced in early November, the proceeds of the deal are expected to go directly into strategic investments & expansion.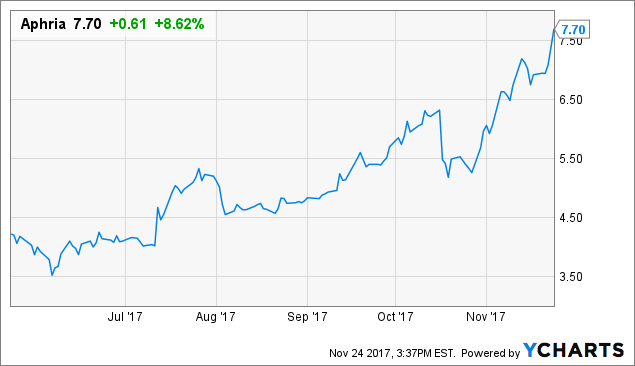 APHQF data by YCharts
Emblem Corp. (OTCQX:EMMBF) is another Canadian issuer targeting new growth that the country is set to see soon. The company has recently seen volume increase as well as trading price after announcing a licensing agreement with Canntab Therapeutics Limited.
The two parties will collaborate on the preclinical formulation, clinical development, regulatory approval, manufacturing and commercialization of a patent-pending oral sustained release formulation for cannabinoids. It gives Emblem exclusive right in Canada to Canntab's patents.
The company also announced a $28 million bought deal financing whereby 90% of the proceeds netted will go straight into the company's new facility. This is made up of 120,000 square feet of greenhouse space and 50,000 square feet of infrastructure space. Two key risk/reward factors investors should monitor closely are Emblem's oil division (which recently got a stamp of approval from Health Canada to begin selling their stock piles of extracted oils) as well as their biotech division headed by former Purdue Pharma CEO (makers of OxyContin) John Stewart.
As Jason Spatafora, known as the Wolf of Weed Street (@Wolfofweedst Twitter) puts it: "While I like the cultivation & oil elements of Emblem I have always viewed them as a bonus to the biotech side, which could potentially make Emblem (EMMBF) a juggernaut within the industry competing with a multitude of big pharma companies. The fact that Stewart left one of the biggest privately held biotech firms out there to become a founder of Emblem was the main reason I became a long-term investor in the company."
There have been questions about the price by which these institutions can convert shares of Emblem, however. At the time of this article, the prices are at a discount to the current market price. Therefore, anyone monitoring new progress for Emblem should keep this in mind when judging the market risks.
A Bullish Case For Canadian Marijuana Stocks
While the Constellation Brands acquisition of 9.9% of Canopy is very exciting, there have also been other companies creating strategic alliances with Canadian LPs. One such company is Eaton Energy Solutions, which formed a strategic alliance with organic cannabis producer The Green Organic Dutchman to provide its automation, grid technology and wholesale energy. This company is expected to IPO in January under the symbol "TGOD" with a US listing almost simultaneously.
Even further is the case that the current trend for Canadian marijuana stocks is just beginning. This can be clearly seen with a more than 90% move in the overall index that tracks Canadian issuers.

When it comes to US marijuana stocks, the market has been much more volatile and inconsistent, in general. There has also been a mere 27% increase since bottoming out during late October. Certainly a gain of 27% in such a short time period is nothing to bat an eye at; however, the Canadian markets are outpacing the US be leaps and bounds.

In fact, some of the biggest drivers of the North American index are Canada-based companies. Namaste Technologies Inc. (OTCQB:NXTTF) is up more than 240% since the beginning of November. Langton, Ontario-based Maricann Group Inc. (OTCQB:MRRCF) has climbed by as much as 73% since the end of October and Emerald Health Therapeutics Inc. (OTCQX:EMHTF) has made a move from roughly $0.90 in early September to highs of $2.25 on the Friday after Thanksgiving.
This doesn't mean that all US cannabis stocks should be overlooked. Take into account companies like Kush Bottles (OTCQB:KSHB) or Surna Inc. (OTCQB:SRNA), which have each seen a rise of roughly 60% since the end of October.
Needless to say, the case for Canadian cannabis continues to be supported by the overwhelmingly positive rally that these stocks are seeing right now. Ahead of full legalization in 2018, the latest string of big investment happening with Canadian companies should be a wake-up call for investors.
Disclosure: I/we have no positions in any stocks mentioned, and no plans to initiate any positions within the next 72 hours. I wrote this article myself, and it expresses my own opinions. I am not receiving compensation for it (other than from Seeking Alpha). I have no business relationship with any company whose stock is mentioned in this article.
Editor's Note: This article covers one or more microcap stocks. Please be aware of the risks associated with these stocks.