Investment Thesis
Callaway Golf Company (NYSE: ELY) has experienced fluctuating sales and a surge in price unrelated to performance and also finds itself in a tough industry. For these reasons, it's not a great investment candidate.
Overview
Callaway Golf Company is a leading manufacturer of golf equipment. The company began operating in 1982 as a producer of high quality golf clubs, but has since moved on to selling a wide variety of products for the golfing world, including clubs, balls, and bags.
The company tries to manufacturer products for golfers of all skill levels and sells its products through retailers, through subsidiaries, and through third-party distributors.
The company has manufacturing facilities all over the world and has roughly half of his sales come from the US and half of its sales come from international buyers.
Earnings
The company's sales have somewhat fluctuated over the past few years. Sales were $886 million in 2014, but dropped to $843 million one year later before rebounding to $871 million. Profits, however, have been growing. Gross profits went from $357 million to $385 million over the same period while income before income taxes went from $21.6 million to $20 million to $58 million over the same time. Net income was $16 million in 2014, then went to $14 million in 2015 and made a big jump to $190 million in 2016.
These numbers tell a nuanced story, and unpacking them and understanding them is important to understanding the current state of the company. The thing that's most worrying are the sales figures. Even though they have rebounded from their levels in 2015, they are still below 2014 levels and haven't grown meaningfully since 2012 and 2013. Sales are the purest measure of demand, and demand for Callaway products is worth close to $900 million a year, but its performance hasn't been stellar.
The sharp increase in income before income tax is mostly a result of a 2016 sale of a portion of a joint-venture that earned the company $17.7 million. Interest expenses were also down roughly $7 million from prior years. All these factors boosted income before taxes above normal levels.
The huge jump in net income was a result of a $132 million dollar income tax credit. The credit was a result of deferred tax assets. As the company explains in it's most recent 10-K, "In the fourth quarter of 2016, the Company performed an analysis to determine the realization of its deferred tax assets and concluded that it was more likely than not that the majority of its U.S. deferred tax assets will be realized."
The phrase "more likely than not" isn't very reassuring, but in any case, the jump in net income wasn't a result of business operations or pure growth.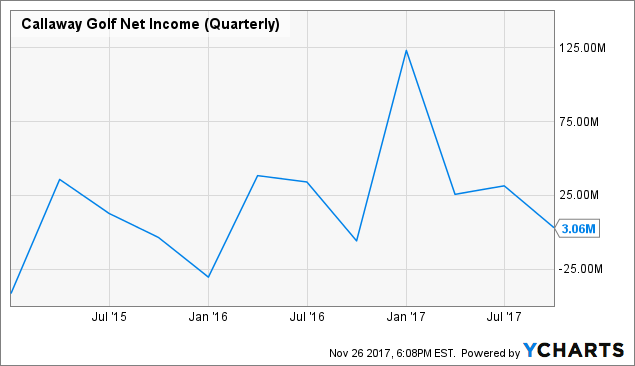 ELY Net Income (Quarterly) data by YCharts
As the chart above shows, the rise in net income hasn't been sustained by the company in 2017, and net income levels are back to normal this year.
Cash Flow
Cash from operations increased from $36.8 million in 2014 to $30.5 million in 2015 to $77.7 million in 2016. The sharp increase from 2015 to 2016 was a result of a rise in inventories and income tax credits.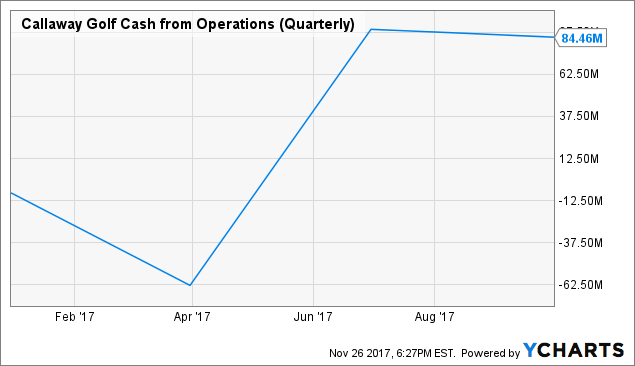 ELY Cash from Operations (Quarterly) data by YCharts
As the chart below shows, cash from operations has been volatile this year, but has grown to a figure of $84 million, which is higher than what the company achieved the year before.
Balance Sheet
The company's book value has grown substantially over the past few years. Going from $291 million in 2014 to $412 million in 2015 to $598 million in 2016. The increase from 2014 to 2015 was a result of a decrease in long-term debt. The company had taken on $112.5 million of debt in 2012, but was able to eliminate that debt in 2015 by issuing 15 million shares of common stock to the noteholders. The increase from 2015 to 2016 was mostly a result of an increase in cash and cash equivalents as a result of the income tax credit. Right now, the company's P/B ratio is a low 2.04.
Stock Performance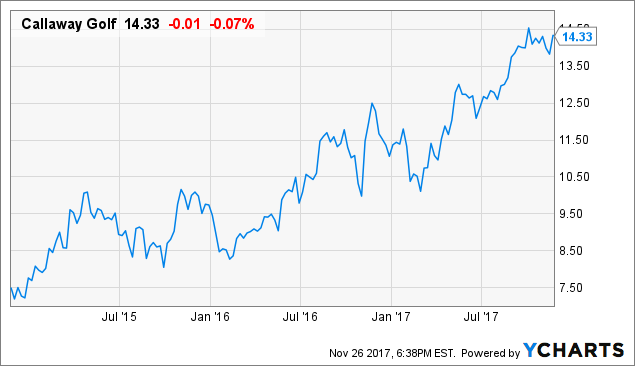 ELY data by YCharts
As the chart above shows, the company's stock has increased in price substantially over the past few years, nearly doubling since 2015. The company reported some losses early in the decade and the subsequent return to profitability fueled the run. This year, however, the company's stock has increased roughly 40%.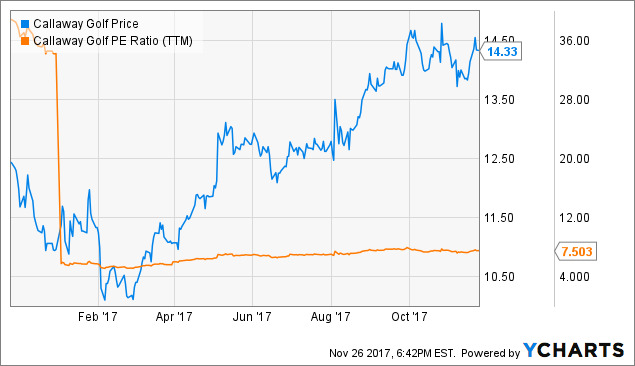 ELY data by YCharts
As the chart below shows, the stock was actually decreasing in price at the beginning of the year, but after the company filed it's annual report for 2016 and reported such a huge increase in net income - which drastically decreased the P/E ratio, as the chart shows - the company's stock has increased. It's important to realize that the increase in net income wasn't a result of increased demand for the company's products, but really as a result of a tax credit. As a result, I feel the increase in price isn't really justified, especially since the company's performance has been a little up and down over the past few years.
Market Landscape
When evaluating Callaway, it's also important to evaluate the market it's in. Of course, Callaway is a recognized brand. I'm not at all a golfer and have a passing interest in the sport, but the second I saw that the ticker represented the Callaway Golf Company, a picture of the Callaway logo popped into my head.
However, despite brand recognition, the company isn't in a special place in it's industry. Everyone in the market for golf clubs knows the brand, but they also know other brands like Titleist, Ping, and Mizuno. And after spending some time researching how people feel about the brand and how it's regarded compared to other brands, it seems as though no brand is the clear favorite. Reviews from the popular magazine, Golf Digest, for example, shows that 8 different driving clubs from 5 different brands, including Callaway, are rated "gold", and this same pattern exists for different types of clubs.
Logically, this makes sense. Golf clubs aren't extremely complicated pieces of technology and there's only a marginal difference between clubs from different brands. The same goes for golf balls and golf bags. Callaway, then, has no real moat for its business and it competes in an industry where having a moat is extremely hard and practically impossible.
This also means that it's going to be very hard for any brand in the industry to stimulate growth through product differentiation.
Conclusion
Overall, Callaway doesn't seem like a great candidate for investment. Demand for it's products have been inconsistent over the past few years, the company's earnings have also been inconsistent and a recent increase in earnings has been mostly fueled by an one-time event, the stock has surged in price as a result, and the company finds itself in a tough industry in which to differentiate oneself.
Callaway would make a solid investment if the stock price was very low, but the recent surge has eaten away at the margin of safety that investors might have enjoyed earlier and at much lower prices.
Disclosure: I/we have no positions in any stocks mentioned, and no plans to initiate any positions within the next 72 hours.
I wrote this article myself, and it expresses my own opinions. I am not receiving compensation for it (other than from Seeking Alpha). I have no business relationship with any company whose stock is mentioned in this article.