Value Overview
With the consumer staple industry out of favor and J. M. Smucker Company's (SJM) stock experiencing a 13.03% drop (one year to present), SJM continues to maintain solid cash flows, to increase dividend distribution, to participate in acquisition/expansion opportunities, and to buy back shares. SJM is a stable business that has been around for more than 120 years. They have grown customer loyalty through their strong iconic brands such as Jiff peanut butter, Folger's coffee, Smucker's jelly, etc.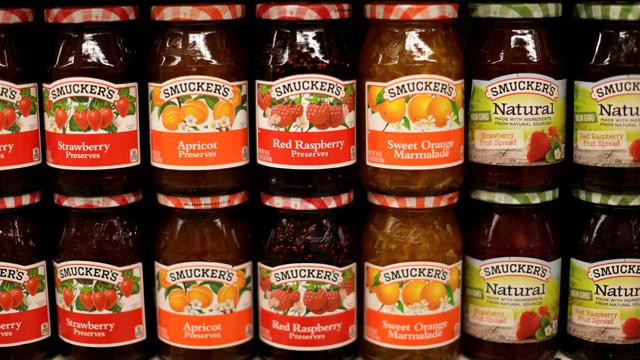 Share buybacks and dividend growth
SJM executed a share repurchase program in February 2017 and had already returned over $775 million to shareholders in the form of dividends and share repurchases. As of October 31, 2017, SJM has approximately 3.6 million common shares available for repurchase under their Board of Directors' authorizations. The company's share buybacks will grow its earnings per share and provide an opportunity to distribute a larger dividend to shareholders. Moreover, despite SJM's industry facing headwinds, SJM has been increasing its dividend for the past sixteen years. Recently, SJM increased their quarterly dividend by 4% from $0.75 to $0.78 which was paid September 1, 2017. SJM's share buybacks and growth of dividends reflect its strong cash flow and, fundamentally, gives support to my conclusion that SJM has value.
Catalyst – 3-Year Strategic Roadmap
The J.M. Smucker Company is transforming their business model by implementing a 3-year strategic roadmap that entails product innovations, acquisitions, and optimization of cost savings that will drive revenue growth.
Product Innovation
The J.M. Smucker Company is well-aware of the changing consumer behavior and continues to address the evolving consumer trends by focusing on improving its position in categories such as coffee, pet food, peanut butter, and snacks. The company's brand and innovation teams are preparing to launch new platforms that extend the reach of their iconic brands to meet consumer needs. For example, the upcoming release of Dunkin' Donuts (DNKN) coffee canisters and Milk-Bone Puffs dog treats will be available later in the fiscal year 2018. According to SJM's latest earnings call (Q2 2018), products are testing very positively with consumers and have already received excellent customer feedback. SJM will share more details at CAGNY as the launch dates get closer to these new platforms.
In addition, the company has acknowledged the potential growth in e-commerce. E-commerce sales for SJM's pet food brands doubled in Q2 2018. Jif peanut butter sales improved by over 75% and coffee sales in the channel increased over 150%. The e-commerce channel is still relatively small with just over 2% of SJM's U.S. retail sales in Q2. However, SJM is confident this will increase to at least 5% of net sales by fiscal 2020.
Acquisition/Expansion
According to J.M. Smucker's management, the company would deemphasize large, transformational deals in the next few years and instead explore small, bolt-on acquisitions. For example, in May 2017, Conagra's sale of its Wesson brand to J.M. Smucker for $285 million expects a $45 million tax benefit related to the acquisition. It projects $230 million in annual sales and $30 million in EBITDA, contributing $0.10 to EPS. Annual synergy costs of $20 million are planned to be realized within the next two years. This bolt-on acquisition will support SJM's Crisco oil brand, which is part of their retail consumer segment (28% of total revenue). This action illustrates SJM's plan for long-term revenue growth and will provide SJM a good cash flow in the future.
In regards to expansion, SJM began the construction of the new Uncrustables sandwich facility in Longmont, Colorado June 2017. When complete in fiscal 2020, SJM will have the capacity to double net sales from the $250 million level SJM projects for the current fiscal year.
Optimizing Cost Structure
The company plans to keep improving its operational efficiency and reduce costs through its cost management programs. This entails production consolidation, strengthening cost discipline, and reducing the workforce, through which it can generate incremental cost savings of $100 million in the fiscal year 2018 and a $450 million in total by 2020. Management said most of the new savings would be achieved in 2019, as the cost-saving programs progress through the upcoming budgeting season. In the Q1 2018, J.M. Smucker implemented their organizational redesign initiative reducing salary positions by 7%, and kicked off the ZBB (zero-based budgeting) spend management program. The cost reduction efforts will allow SJM to increase top-line growth and expand margins.
Valuation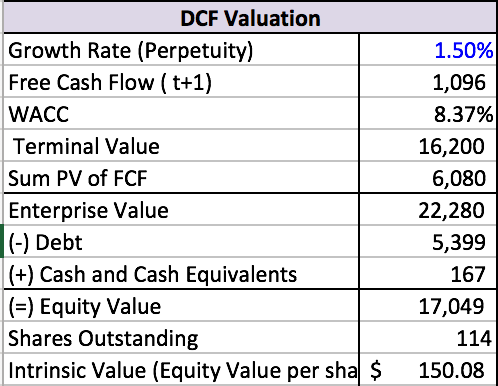 I used a Discounted Cash Flow (DCF) Model using Free Cash Flow to calculate the intrinsic value of the J.M Smucker Company. The Weighted-Average Cost of Capital ((OTC:WACC)) was calculated independently. The pre-tax cost of debt, beta, and the capital structure were taken from Bloomberg. The tax-rate was taken under management's guidance. The risk-free rate used is the 10-year Treasury Yield. I ran a valuation based on revenue growth assumptions forecasted for ten years (FY 2018-2027).
Revenue was forecasted considering management forecasts and catalyst sales growth. Based on the sales growth assumptions, my valuation yielded an intrinsic value for SJM at $150.08, which indicates the stock currently trading at a discount. The valuation results support my opinion of SJM being undervalued by Wall Street.
Conclusion
Taking into consideration the strong cash flows of SJM and management's clear strategic plan to drive long-term revenue growth, I believe SJM is a value play and should not be overlooked. Make sure you get your slice of PB&J!
Disclosure: I/we have no positions in any stocks mentioned, and no plans to initiate any positions within the next 72 hours.
I wrote this article myself, and it expresses my own opinions. I am not receiving compensation for it (other than from Seeking Alpha). I have no business relationship with any company whose stock is mentioned in this article.