Welcome to the November 2017 edition of the lithium miner news. Due to the massive growth in the lithium sector and the number of lithium miners I am tracking I have decided to split the monthly news into two. The new additional monthly news will be focused on the "junior" lithium miners, and will be published a few days after this one each month. For now I have kept in this news those miners that are likely to be producers before 2020.
This month we have seen some bold forecasts (from Mike Beck), continued very strong lithium demand, and rapid progress towards production from Altura Mining (OTCPK:ALTAF), Pilbara Minerals (OTCPK:PILBF) and Tawana Resources.
Lithium spot and contract price news
During November, 99.5% lithium carbonate China spot prices were unchanged for the month. According to the Galaxy November presentation, China net lithium carbonate prices are at USD 20,500/tonne. SQM reported contract prices for lithium carbonate "surpassing US$13,000/ton."
On November 21 at the Hard Asset Conference, Mike Beck stated he sees lithium prices going much higher "probably on its way to US$100,000/tonne" as you can view in his video here (12.20 minute mark), "Mike Beck: Nickel, Cobalt, and Lithium to Benefit From Generational Demand Shift in Commodities." Wow!
China Lithium spot price chart 2015 to 2017

Source: Galaxy Resources November 2017 presentation
Lithium Carbonate price comparisons - China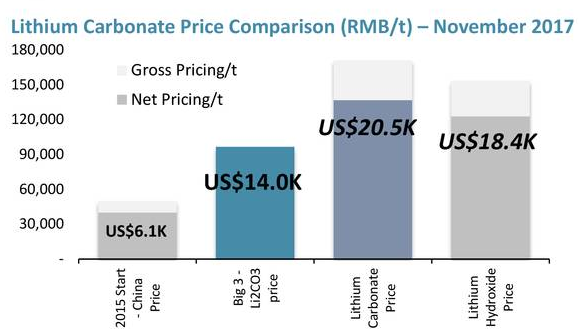 Source: Galaxy Resources November 2017 presentation
Lithium demand versus supply outlook
During the month I came across a nice chart from Bloomberg. The take-home is that the majority of global lithium reserves are found in the lithium triangle - Bolivia-Chile-Argentina. Given Bolivia's lithium brine generally has poor chemistry, then most of the global economic lithium is in Chile and Argentina.
Lithium reserves globally map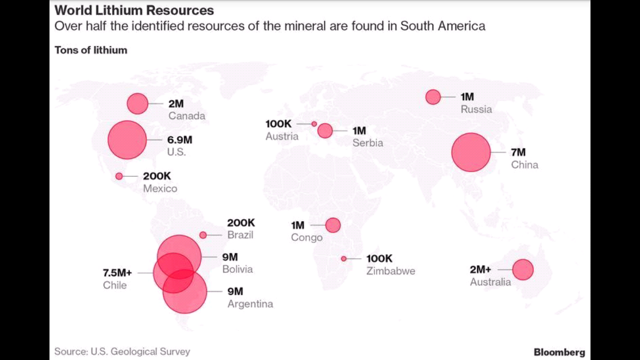 Source : US Geological Survey
UBS lithium demand forecasts to 2025 - 17% CAGR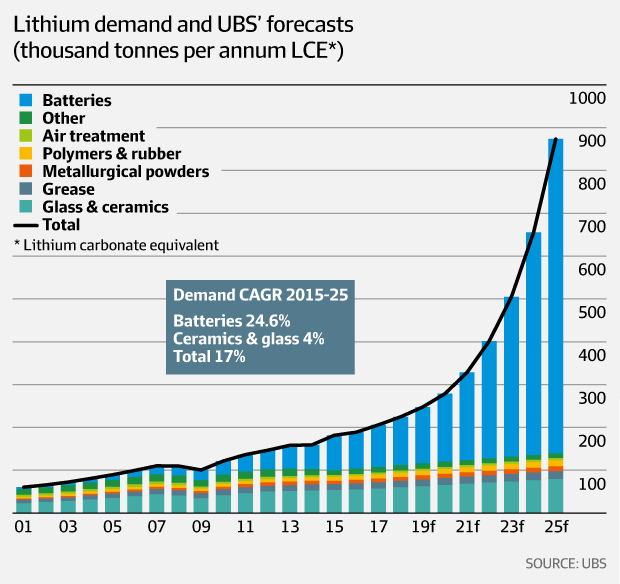 Source
Note: The above UBS figures would mean the lithium miners will need to bring on an average of ~70ktpa of additional supply each year to 2025. Note that UBS CAGR forecast to 2025 is 17%.
On November 20, 4-traders (from Baystreet.ca Media Corp) reported, "Li-Ion battery market surge will put further demand on lithium suppliers. Remarkable growth in the Lithium-Ion battery market will see the sector surpass $53 billion by 2024, according to new research. The 2017 report put out by Global Markets Insights highlighted the Lithium Ion Battery market's growth from USD $23 billion in 2015, at a rate of over 9% CAGR to blow past the $53 billion mark by 2024."
My view is that UBS's 17% CAGR will prove to be more accurate than the conservative 9% CAGR mentioned above.
Lithium battery and market news
On November 6, Pitch Care reported: "Battery powered equipment - It's the future." The key point being that most power tools and equipment in the future can run from Li-ion battery rather than gasoline.
On November 7, Nikkei Asian Review reported, "Samsung working on battery breakthrough for powering cars. Samsung's central research lab recently produced a lithium-air battery with a capacity of 520 watt-hours per kilogram. Samsung's new battery would theoretically let a similar electric vehicle go more than 700km. Samsung achieved this impressive capacity by cutting the width of the separator by more than 90% to 20 microns, making it possible to cram in more cells. But the technology is not nearly ready for market. Recharging is one challenge. Performance takes a dive after 20 charge-discharge cycles -- a serious problem for a battery that will need recharging thousands of times. Furthermore, the battery takes several hours to fully charge. Samsung apparently aims to commercialize the power pack by 2030."
The Lithium ion megafactories are coming - Shows 13 of the 20 now planned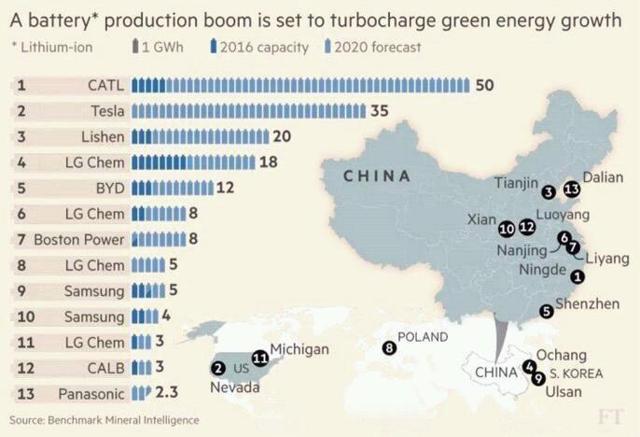 Source: Benchmark Mineral Intelligence
On November 14, Investing News reported, "CATL plans $2-billion IPO to boost Lithium-ion battery production." Remember back in July Volkwagen-CATL-Glencore proposed a massive cobalt deal (up to 20,000 tonnes of cobalt pa). Next will no doubt be a major lithium deal. Galaxy (OTCPK:GALXF) or Albemarle (NYSE:ALB) perhaps?
Below is a chart showing the expansion plans of 4 of the main cathode makers. For example, Umicore (OTCPK:UMICY) (OTCPK:UMICF) plans to triple its capacity by 2020.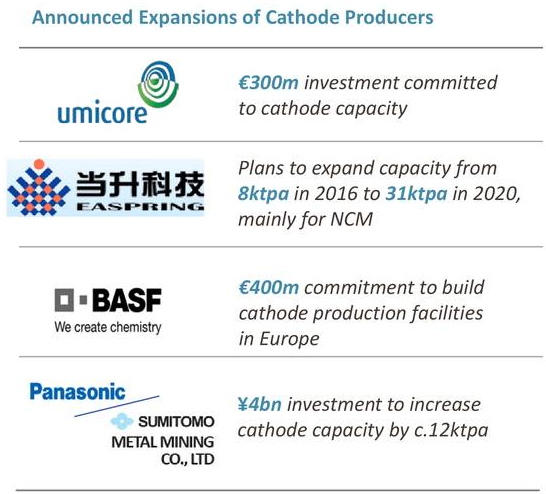 Source: Benchmark Mineral Intelligence
Lithium miner news
Albemarle
On November 8 Albemarle reported, "Albemarle continues double digit growth in third quarter."
Third quarter 2017 highlights included:
"Third quarter net sales were $754.9 million, an increase of 15% over the prior year.
Third quarter earnings were $118.7 million, or $1.06 per diluted share
Third quarter adjusted EBITDA was $209.4 million, an increase of 11% over the prior year; adjusted diluted earnings per share from continuing operations of $1.08, an increase of 19% over the prior year.
Delivered double digit growth despite the impact of hurricane Harvey, which reduced adjusted EBITDA by $11 million and adjusted diluted earnings per share by $0.07.
Announced technology innovation to increase efficiency of lithium extraction in Chile under existing pumping rates by 50% and requested related quota increase from CORFO."
On November 14, Seeking Alpha re-reported, "Deutsche Bank downgrades shares to Hold from Buy while raising its stock price target to $150, as the firm believes the stock is fully valued."
Investors of Trend Investing can view a recent interview I did with CEO Luke Kissam here. It is an excellent interview and a must read.
Sociedad Quimica y Minera S.A. (NYSE:SQM)
On November 20, Investing News reported, "Rio Tinto getting ready to bid for stake in SQM. The diversified miner is reportedly working with bank advisors on an offer for a 32-percent stake in top lithium producer SQM."
On November 22, SQM reported: "Earnings for the nine months ended September 30, 2017." Highlights included:
Third quarter 2017 earnings - "net income of US$112.9million (US$0.43 per ADR) compared to US$55.8 million (US$0.21 per ADR) for the third quarter of 2016."
Nine months earnings to Sept 30, 2017 - "US$317.2million (US$1.21 per ADR), an increase from US$197.4 million (US$0.75 per ADR) for the nine months ended September 30, 2016."

"In the lithium market, we continue to see strong demand growth and we saw prices continue to increase during the third quarter, surpassing US$13,000/ton, thus increasing another 8% compared to the second quarter. We believe this pricing trend should continue for the remainder of this year, and through the beginning of 2018. We continue to move forward with our new lithium projects. Our projects in Chile remain on time, and we expect to complete our lithium hydroxide and lithium carbonate expansions by the middle of 2018. In Argentina, we are investing in the first stage of the 25,000 MT expected to be online in 2019, and in Australia we finalized the documentation required to move forward with the joint venture with Kidman Resources."
Investors can read the company's September presentation here.
FMC Corp. (NYSE:FMC)
On November 6, FMC announced Q3 2017 results. Highlights were:
"Consolidated revenue of $646 million, up 3 percent versus Q3 '16
Consolidated GAAP earnings of $0.41 per diluted share, down 31 percent versus Q3 '16
Consolidated adjusted earnings per diluted share of $0.70, up 59 percent versus Q3 '16
Agricultural Solutions segment earnings of $118 million, up 31 percent versus Q3 '16
Lithium segment earnings of $37 million, up 31 percent versus Q3 '16
Raising guidance range for 2017 adjusted earnings per diluted share to $2.59 ti 2.69, including two month contribution from the recent acquisition."
Investors should also be aware that FMC has long discussed the idea of selling of its lithium business, perhaps to do a spin-off or an IPO.
(Chengdu) Tianqi Lithium Industries Inc. [SHE:002466]
No news for the month. Construction is ongoing at its Kwinana lithium hydroxide plant in Western Australia.
Tianqi Kwinana plant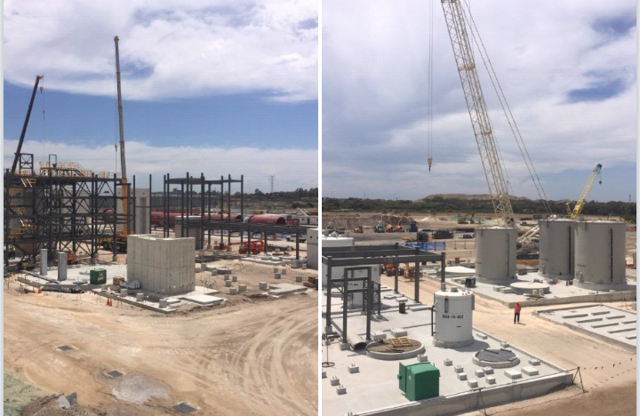 Jiangxi Ganfeng Lithium [SHE:002460], Mineral Resources [ASX:MIN], Neometals (OTC:RRSSF), [ASX:NMT], International Lithium Corp [TSXV:ILC] (OTCPK:ILHMF)
In November, Mineral Resources released a new corporate video which you can view here.
On November 25, I released on Trend Investing a new CEO interview "International Lithium CEO Kirill Klip Talks With Matt Bohlsen Of Trend Investing." The interview gives great insight into International Lithium, a stock still trading in an incredibly low market cap of just AUD 16m, especially given it has five lithium projects, of which four also have rare earths.
Neometals released an October 2017 company presentation which you can view here. You can view a video on GL/MIN/NMT Mt Marion mine here, and read my article on International Lithium here.
Orocobre [ASX:ORE], [TSX:ORL], (OTCPK:OROCF)
No significant news for the month apart from its AGM.
You can read the Orocobre November 2017 investors presentation here or a September video interview with CEO Richard Seville here. You can read more on my latest article on Orocobre here.
Galaxy Resources [ASX:GXY]
Galaxy Resources gave a nice presentation in November. My highlights were:
Mt Cattlin Q3 2017 production ramped up dramatically to reach 47,075 tonnes of spodumene (annualised that would be ~188ktpa, well above the 160ktpa previously forecast), improved plant recovery to 57%, reduced production costs to USD320/t, and increased average spodumene pricing to USD 843/t. Galaxy hit the trifecta this past quarter with increased production, decreased costs, and increased pricing. They are now saving rapidly with AU$ 48.9m in net cash, which will help towards starting up James Bay or Sal De Vida.
"Pricing for 2018 (Mt Cattlin) contracts being finalised with key customers."
A reminder that Sal De Vida has a post tax 8% NPV of US$1.4b. SDV site works commenced, and "discussions advancing with offtakers and potential customers (for SDV)."
James Bay drilling to increase resource, and upgrade resources to reserves.
Institutional buying of GXY has recently occurred - Ausbil Investment Management bought an additional ~4.45m GXY shares in November.
You can read more here with my article "Will Galaxy Resources Be Next With Some Good News?" Investors can read more on my article on Galaxy Resources here, a Capital Network video here, and the November 2017 company presentation here.
Upcoming catalysts include:
2017 - Mt Cattlin and James Bay drill results/resource upgrades. Any 2018 off-take announcements for Mt Cattlin.
H2 2017 - Project financing evaluation and discussions for Sal de Vida (SDV). Off-take discussions for SDV. Early stage development work at SDV has now commenced.
Q1 2018 - FS for James Bay.
Alliance Mineral Assets Limited ("AMAL") [SP:AMS] / Tawana Resources (subsidiary Lithco) [ASX:TAW]
On November 8, Tawana featured in a newspaper story, "Tawana digs in at Bald Hill. Mining of the company's Bald Hill lithium-tantalum project will begin this month ahead of the planned first concentrate shipment in the March (2018) quarter. Tawana will soon release an updated reserve for Bald Hill, having announced an upgraded resource of 18.9mt @1.18% lithium and 149 ppm tantalum last month. Tawana finds itself in the unusual position of not completing a DFS before achieving producer status."
Investors can read the Tawana September presentation here. Tawana/Alliance has a binding 5-year off-take agreement, and plan to start shipping its spodumene in Q1 2018.
Altura Mining [ASX:AJM] (OTC:ALTAF)
On November 13, Altura Mining announced: "Scoping Study confirms duplicating the size of the production plant to double output is the best expansion option. Mine life to remain greater than 10 years (based on current JORC Ore Reserve estimate). DFS to start immediately to examine the doubling of capacity to 440,000tpa of lithium concentrate. The (Stage 2) study is expected to be completed in April 2018. Stage 1 commissioning remains on track for Q1 2018 and first sales in Q2 2018." Altura plans to double mining capacity to 440,000 tpa from 220,000 tpa for its Stage 2.
Followers of mine are now up ~100% since I wrote Altura Mining "Lithium Miner Altura Mining Is A Bargain" (back at AUD 0.15). Investors can also read a company presentation here, or October newsletter here.
Upcoming catalysts include:
H2 2017 - Construction of the mine is ongoing.
Q1 2018 - Production is forecast to commence.
End Q1 2018 - Phase 2 (450ktpa spodumene) expansion study results to be released.
Pilbara Minerals [ASX:PLS] (OTC:PILBF)
On October 30, The West Australian reported, "Pilbara Minerals plans to be leader in lithium. Construction of the company's $234 million, 2mtpa Pilgangoora lithium-tantalum project 120km south of Port Hedland is in full swing with mining expected next month and first shipments anticipated before the end of June next year. It also recently announced a deal with Chinese car manufacturer Great Wall which will underwrite the development of Pilgangoora's stage two to boost capacity to 5Mtpa, producing as much as 800,000tpa. But Mr Brinsden said he expected demand to outstrip supply in the short to medium term, pointing to the potential for higher prices for the company's product. Pilbara Minerals announced this week it had two new discoveries on its existing tenements, likely to expand the company's existing resources further."
You can read my articles:
The last article was back when the stock was trading at AUD 0.43 or AUD 0.355 for Trend Investing subscribers, meaning an ~200% gain.
You can view the company's latest presentation here.
Upcoming catalysts include:
Q2 2018 - Commence lithium production.
2018 - Phase 2 (800ktpa spodumene) expansion study results to be released.
AMG Advanced Metallurgical Group NV [NA:AMG][GR:ADG](OTCPK:AMVMF)
AMG is a Dutch company that produces specialty metals and alloys such as titanium, chromium, ferro-vanadium, antimony, tantalum, niobium, silicon, graphite and soon lithium.
On November 2, AMG announced, "AMG is pleased to announce that it has mandated Outotec OYJ, Finland, to complete detailed engineering for a second lithium concentrate plant at the Mibra mine in Brazil. The annual design capacity of the second plant will be 90,000 tons, leading to a combined annual production capacity of 180,000 tons of lithium concentrate. Parallel to the engineering work on the second lithium concentrate plant, AMG is finalizing plans to double the operating capacity of the Mibra mine. The final investment decision for the second lithium concentrate plant is scheduled for December 2017. AMG expects the second lithium concentrate plant to be in production by the end of 2019."
Lithium Americas [TSX:LAC] (OTCQX:LACDD)
During November Lithium Americas stock underwent a 5 to 1 consolidation. The new NYSE symbol for Lithium Americas has changed from "LACDF" to "LACDD." You can read more here.
Followers have received ~100% gain as you can read here with my article "Lithium Americas Is Looking Good And Is Now Significantly De-Risked" (back at CAD 0.96 (adjusted CAD 4.80). Investors can read their November company presentation here.
Upcoming catalysts include:
2018 - PFS for Lithium Nevada. Further drilling, pond testing & engineering at Cauchari-Olaroz.
2018 - Cauchari-Olaroz plant construction.
2019 - Stage 1 Cauchari-Olaroz lithium production of 25ktpa.
NB: LAC previously sold 50% of the Cauchari-Olaroz project to SQM.
Lithium X [TSXV:LIX] (ROCEF) (OTCQB:LIXXF)
No significant new news this month. The company did finalize the Diablillos Basin brine agreement with Orocobre, and raised CAD 14.9m at CAD 1.90.
You can read my article "Lithium X Has The X Factor" and an investor presentation here.
Upcoming catalysts include:
H2 2017 - PFS for Sal De Los Angeles, and construction of further pilot pond facilities at Sal De Los Angeles.
Q4 2017 - Upgraded mineral resource and reserve statement. FS for Sal De Los Angeles (concentrate). Full scale production facility construction to begin.
Q1 2018 - FS for Sal De Los Angeles (lithium carbonate facility)
Q2 2019 - Sal De Los Angeles - Full scale lithium production to begin at 15,000 tpa.
Next lithium projects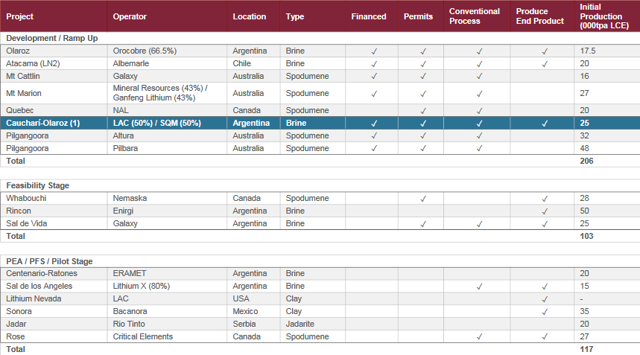 Source: Lithium Americas September 2017 presentation
Promising lithium juniors
Other promising juniors include Advantage Lithium (OTCQB:AVLIF) [TSXV:AAL], American Lithium Corp. [TSX-V: LI] (OTCQB:LIACF), Argentina Lithium & Energy Corp. [TSXV: LIT] (OTCQB:PNXLF), Argosy Minerals [ASX:AGY] (OTC:EEYMF), Dajin Resources [TSXV:DJI] (OTCQB:DJIFF), Enigri (private), Eramet (EN Paris:ERA) (OTCPK:ERMAY), Far Resources [CSE:FAT] (OTCPK:FRRSF), Force Commodities [ASX:4CE], Latin Resources Ltd [ASX: LRS] (OTC:LAXXF), Lithium Australia [ASX:LIT] (OTC:LMMFF), LSC Lithium [TSXV:LSC] (OTC:LSSCF), MetalsTech [ASX:MTC], MGX Minerals [CSE:XMG] [MGXMF], Millennial Lithium Corp [TSXV:ML] (OTCQB:MLNLF), NRG Metals Inc. [TSXV:NGZ] (OTCQB: NRGMF), Prospect Resources [ASX:PSC], Sayona Mining [ASX:SYA] (OTCPK:DMNXF), Standard Lithium [TSXV:SLL] (OTC:STLHF), and Wealth Minerals [TSXV:WML] (OTCQB:WMLLF).
Global X Lithium ETF (NYSEARCA:LIT) - Price = US$40.16
The LIT fund rose for the month of November. The current P/E is 32.7.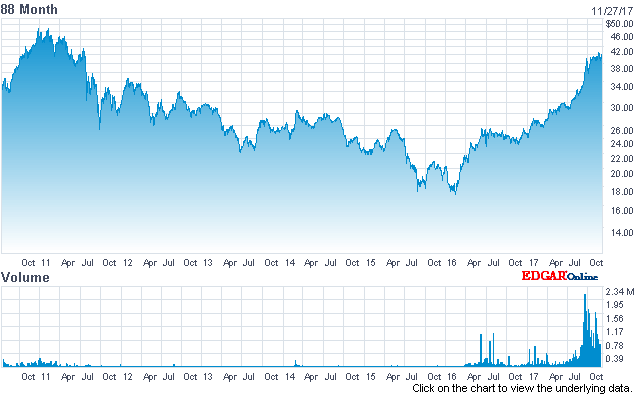 (Source: Nasdaq)
Lithium and electric metals fund (ISIN DE000LS9L822)
(Access via the Stuttgart stock exchange or wikifolio.com.)
The portfolio gives investors broad exposure across the EV metals miners, covering lithium, cobalt, nickel, rare earths, graphite and manganese. I have recently become involved managing the portfolio. The certificate is endless (open fund) and listed on the Stuttgart Stock Exchange, so it can be bought via a broker that carries the ISIN or via Wikifolio. The past 6 monthly performance is +38%, and there is a 10% performance fee.
Investors can view the portfolio holdings and learn more by accessing here.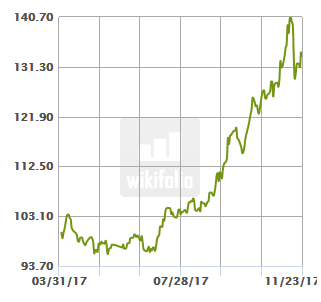 Disclosure: I may receive 50% of the profit from the above fund.
Conclusion
Lithium prices were little changed in November 2017 and are up strongly in 2017.
My highlights for November were:
Mike Beck sees lithium prices going much higher "probably on its way to US$ 100,000/tonne."
UBS forecasts lithium demand to grow at a CAGR of 17% from 2015-2025, approaching 1mtpa by 2025.
Altura plans to double mining capacity to 440,000 tpa spodumene from 220,000 tpa for its Stage 2.
Pilbara Minerals stage two to boost capacity to 5Mtpa, producing as much as 800,000 tpa spodumene.
As usual all comments are welcome.
Trend Investing
Thanks for reading this article. If you want to go to the next level, sign up for Trend Investing, my Marketplace service. I share my best investing ideas and latest articles on the latest trends that are going to change the business world. You will also get access to exclusive CEO interviews and chat room access to me, and to other sophisticated investors. I'd love to have you join our community as we look to take advantage of the hundreds of hours of work I've done to analyze the best opportunities in emerging industries, especially the electric vehicle and EV metals sector.
My latest Trend Investing articles are:
Trend Investing - Beat the price rise on Jan. 1, 2018
Sign up for Trend Investing before Jan. 1, 2018, and you can beat the price rise, and lock in the current subscription rate of either $480 annual ($40 monthly) or $60 monthly. From Jan. 1, 2018, subscription rates will be increasing by $5 per month on both the annual and monthly subscriptions. Note that current subscribers will not be initially affected by the price rise, as you are already locked in to your current subscription until your expiry date.
Disclaimer: The information in this article is general in nature and should not be relied upon as personal financial advice.
Disclosure: I am/we are long ALB, SQM, ASX:ORE, ASX:GXY, ASX:PLS, TSX:LAC, TSXV:LIX, ASX:AJM, TSXV:CRE, ASX:EMH, TSXV:ILC, ASX:AVZ, ASX:LPI, ASX:PLL, ASX:SYA.
I wrote this article myself, and it expresses my own opinions. I am not receiving compensation for it (other than from Seeking Alpha). I have no business relationship with any company whose stock is mentioned in this article.
Editor's Note: This article covers one or more stocks trading at less than $1 per share and/or with less than a $100 million market cap. Please be aware of the risks associated with these stocks.