The last time I looked at this issue, shortly after Trump's election, I was surprised to develop an indication for 10.9%. Noting that the SPDR S&P 500 Trust ETF (SPY) has returned 23% over the intervening year, I took another look at the situation. This article presents the methodology and indications developed.
Methodology
The Federal Reserve publishes quarterly statistics on FOR (Financial Obligations Ratio) and DSR (Debt Service Ratio). For DSR, there are three separate statistics - Mortgage, Consumer, and Total. The data is available from 1980 onward. Consumer DSR provides the highest credibility and was selected as the relevant variable for this study.
I combined this information with CAPE from Professor Shiller's website and Unemployment from the Bureau of Labor Statistics (BLS). Running it through a multiple linear regression, I developed the following formula: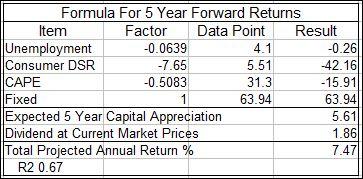 Briefly, for each item, the formula provides a factor which is applied to current data. The final item is a fixed number. Adding the results, expected 5-year annual capital appreciation is developed, to which the dividend at current yield is added.
Rationale
Consumer spending is about 70% of GDP. The assumption is that consumers spend until service on their debt becomes unmanageable. That's how it worked in the past. Unemployment hypothetically acts as a choke chain on this process, although the formula suggests that the effect is not as powerful as one would intuitively expect. CAPE serves to define the upper limit of market exuberance.
CAPE at 31.3 is high by historical standards. Bear in mind that the current level includes very poor earnings in 2008 and 2009. As these fall off the back of the computation, to be replaced by numbers from 2018 and 2019, CAPE will decline by 10% if the market stays at today's level.
As a retail investor, I don't have the time or the resources to do complex projections. I enjoy taking simple statistics and deriving results that contradict the wisdom of Hussman, Grantham et al. This type of thinking has worked out well in that it has kept the bulk of my holdings fully invested in the Vanguard 500 Index Fund (VOO) for many years through and beyond the financial crisis. I also do some self-directed investment, in a separate portfolio and with smaller amounts.
This simple method relies on readily available data, and is similar to what has worked for me in the past.
Investment Implications
Five years is a long time. In my experience, any formula purporting to project market returns going forward becomes more accurate as the time frame is extended, at least when backtested with historical data.
Investors really like the idea of 9% equity returns. If 5-year forward returns can realistically be expected to exceed that level, the market will go up short term as investors jump in. So if 10.9% was realistic last year, it's not surprising that the market has dragged future returns forward. Trump's election, with the promise of financial deregulation and tax cuts, has poured gasoline on a fire that was burning nicely.
A 15% correction would make 9% going forward realistic. Dip buyers would be likely to step in before that happens.
Not shown here, I experimented with tax cuts for consumers. A 2% cut to the overall personal income tax rate would bring projected returns up to 8.5%.
If corporate taxes were reduced from the 27% companies on the average have been paying, down to 20% as proposed by Trump, boards would look at their options: 1) raise the dividend, 2) increase buybacks, 3) invest in automation and job cuts, 4) give the CEO a big raise and 5) just hand it out to employees, $4,000-9,000 as a Christmas bonus. Perhaps about 25% could be applied to each.
Corporate profits would increase 9.5%, and stock prices would rise accordingly. Some of that is priced in.
It Doesn't End Well
There are any number of articulate and persuasive gurus who will expound at length on what will go wrong, with the implication that this will occur soon, and very soon. I don't think what's happening now is pointing in the right direction, and I anticipate an unhappy ending. The problem is one of timing, and the denouement seems to be receding into the future. I remain vigilant and prepared to withstand several years of downturn without being required to reduce equity positions at a loss.
Disclosure: I am/we are long VOO.
I wrote this article myself, and it expresses my own opinions. I am not receiving compensation for it (other than from Seeking Alpha). I have no business relationship with any company whose stock is mentioned in this article.
Additional disclosure: As a retail investor, I don't give financial advice. I blog in order to expose my investment thinking and methods to critical examination and comment by readers, under the theory it makes me a better investor.