Chesapeake Energy Corporation (NYSE:NASDAQ:CHK) has really scaled back in the Mid-Continent region and investors should take note. Back in May 2017, Chesapeake Energy Corporation was running four drilling rigs and two completion crews in Oklahoma. That has since fallen down to one rig and one frac crew as drilling & completion activity levels off. Let's dig in.
Past actions
There was a time when Chesapeake Energy Corporation was sitting on 2 million net acres in the Mid-Continent region. Over the past few years, the company sold off 1.1 million net acres in the play that housed 11,000 operated and non-operated wells which raised $1.2 billion in cash (not sure if that includes the latest deal). Cash that was used to retire VPPs (volumetric production payments), retire debt, and keep the lights on during dire times by covering (part of) its outspend.
A large chunk of those proceeds came from its Meramec divestment, when Chesapeake sold 42,000 net acres in the Anadarko Basin (part of STACK, home to core Meramec opportunities) to Newfield Exploration Co. (NYSE:NFX) for $470 million last year. Other bits and pieces have been sold off in small chunks.
Recently, Chesapeake divested 23,000 net acres in the region for $170 million. That acreage was set to generate $23 million in EBITDA next year, equal to about 1% of its expected EBITDA generation. Management noted that this acreage was producing 300 barrels of oil per day, but it must be producing some natural gas and/or natural gas liquids as well to get the $23 million annual EBITDA figure. Most likely it was a gas-heavy area.
During its latest update, Chesapeake noted that it retained 975,000 net acres (97% held by production, so drilling activity isn't needed to retain most of that acreage) producing 55,000 BOE/d net (30% oil mix) from 3,200 operated and 4,200 non-operated producing wells in the Mid-Continent region. It isn't clear if that includes the latest divestment or not.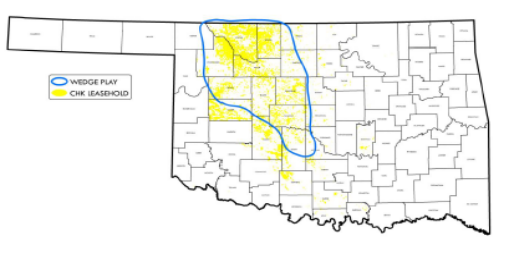 Source: Chesapeake Energy Corporation
Piecemeal Mid-Continent deals are being used to raise much needed cash and in many ways represents Chesapeake's way of slowly exiting the play. Chesapeake has a little development presence in the area now largely due to its Northern Meramec appraisal program running into high water cut problems.
When a well starts producing a large amount of water (referred to as a high water cut), that water needs to be processed and disposed of. Not only does that create a major burden on the upstream firm (additional investments are needed in water disposal infrastructure, and operating costs increase by a substantial amount) but well productivity also suffers. Which puts an enormous amount of pressure on well economics, leading to Chesapeake abandoning the effort.
Chesapeake sold off its core contiguous Meramec position, but it appears to still have a lot of acreage in Blaine, Kingfisher, and Canadian counties in Oklahoma (home to the over-pressurized oil window). Its acreage along the Blaine-Kingfisher County border and in Northwestern Canadian County should be fairly valuable as a bolt-on opportunity for other upstream players. Now that oil prices are a bit higher, management would be wise to try and find buyers for that acreage.
As Chesapeake is in the process of lowering its capital expenditures and remains very constrained by weak cash flow generation, that land wouldn't get developed for years and years. Selling it off converts minimal EBITDA generation into significantly larger chunks of cash, and those proceeds can be used to retire debt and bring down its hefty interest expenses.
Where Chesapeake is still active
Going forward, Chesapeake is now targeting the Oswego formation and the "Wedge" play in Northwestern Oklahoma. This is an area where Chesapeake has several very large contiguous acreage positions, particularly in the state's Woods, Major, Alfalfa, and Woodward counties. In the recent past, Chesapeake has tried to prove that its Major County acreage is a viable upstream opportunity, and I would expect that county will continue to be a major focus.
Just above the Meramec formation lays the Oswego formation. While there has been some Oswego development activity in the past, it remains a play that is not very well known.
The Oswego formation is made up primarily of sandstone, and there have been concerns in the past that it is too thin to support longer laterals in many locations. Chesapeake has drilled and completed a modest amount of Oswego wells, but publicly available information has been limited. All that is known is that it is an oil-heavy play.
While Chesapeake puts the Oswego play in the development category, meaning it is ready to be systematically developed to generate a profit, I would caution that the firm is jumping the gun. Average well productivity and recovery rates, total well costs, operating costs, production mixes, and other factors remain a mystery (at least to investors if not the company as well).
Operational updates on its Mid-Continent division were characteristically limited during its November 16 presentation. Based on its past A&D decisions, it is likely Chesapeake would like to divest its Oswego upside if given the chance. If that is the course management wants to take, Chesapeake is going to have to offer up a lot more info on the play. The industry knows the Oswego play is viable from an engineering prospective, drill and frack a horizontal well and oil will come out. However, without a solid understanding of the economics of the play, it is hard to gauge whether or not development is actually viable in a $50s WTI world.
Other than the Oswego, Chesapeake is targeting the "Wedge" play (made up of six oil bearing formations). Defined by Chesapeake as an appraisal opportunity, I would put that a different way. Chesapeake has a lot of divestable acreage in Oklahoma, with a large contiguous position in the NW of the state. Prove a play or two in the area and all of a sudden that acreage has a lot more value. Whether or not that will happen is a whole different thing.
Among the four counties in the area I mentioned previously, Major County has the thickest and greatest exposure to the entire Wedge play (see map below). Second is Woods County, which houses a thick portion of the Osage limestone.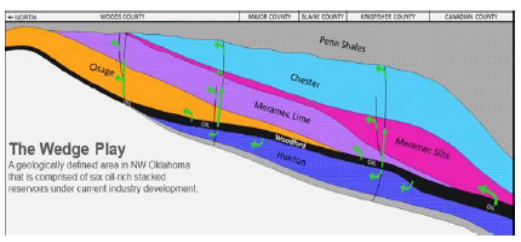 Source: Chesapeake Energy Corporation
Final thoughts
Sometimes with Chesapeake Energy Corporation, it is what isn't said that matters. Management has been saying that the company would like to keep the oil-heavy Eagle Ford and Powder River Basin in its portfolio. Combined with the sharp reductions in drilling & completion activities and lack of commentary or long-term plan for the Mid-Continent region, it appears Chesapeake Energy Corporation has decided this is the play it wants to exit in order to fund its turnaround efforts. Whether or not that turns out to be a viable strategy remains to be seen, but Chesapeake Energy Corporation now has a plan.
Investors interested in reading more about Chesapeake Energy Corporation should check out why I implore management (as a shareholder) to spend less on capital expenditures next year (link here). The recent developments regarding Chesapeake Energy Corporation winding down its Mid-Continent D&C activity seems to indicate that is becoming a likely scenario, which is good to hear.