Overview
In this series of articles, I will be reviewing Dividend Champions from a specific industry and selecting stocks as long term buys, as current holds, and as stocks to currently avoid based on variety of financial and valuation metrics. I will also be looking at recent news and future outlooks in making my determinations.
More information regarding the Dividend Champions, Contenders, and Challengers lists that Dave Fish maintains can be found here. For part 1 of this series, I looked at Dividend Champions from the Banking industry. For part 4 I will be looking at stocks from the various Food industries. These stocks include:
Financial Metrics
Revenue Growth
Over the past five years, Sysco has seen the highest revenue growth, while Tootsie Roll Industries is the only stock to have seen a decline in revenue during this time.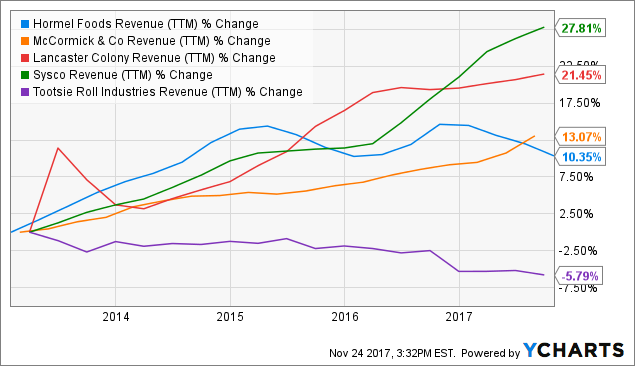 Sysco's large market, which operates both nationally and across 12 additional countries, gives it a great ability to limit short-term local impacts. For example, in the company's last quarter, Canada had great results, but Europe had a more difficult quarter due to a sluggish economy. However, overall international sales saw an increase of 6.4%, which was better than the 3.9% increase in the U.S. business segment.
Tootsie Roll continues to be plagued by decreased demand for its products. Although, it does have a strong portfolio with great brand recognition, the fact remains that revenue for the company peaked in 2012 and has continued on a steady decline since then, with no apparent end to this trajectory.
Earnings Growth
In terms of earnings growth, Hormel leads the pack with Tootsie Roll a strong second. Even though Tootsie Roll has seen declining revenues during this time, it has managed to put in place several cost cutting strategies that have allowed the company to continue seeing strong earnings growth even as its overall revenue slides. Lancaster Colony has seen virtually flat earnings growth over the past five years.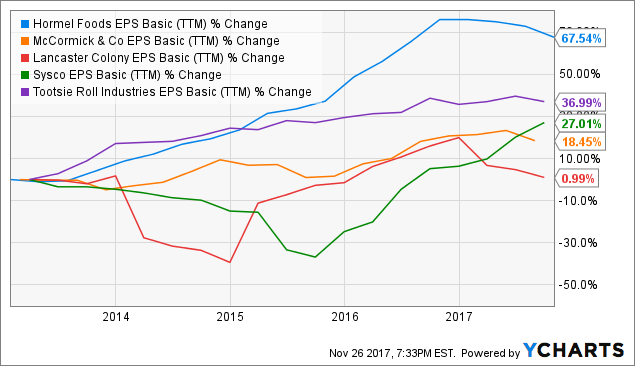 Even though Hormel has seen strong earnings growth it continues to be dragged down by its Jennie-O Turkey segment which keeps seeing declines in overall volume and profit. The company's international business segment has been one of the main drivers to its significant earnings growth. International segment profit was up 18% in Hormel's last quarter.
Lancaster Colony has missed earnings estimates in each of its last three quarters with declining same store sales from its food service business segment and high commodity and freight costs negatively impacting the company's bottom line. The unfavorable commodity costs are expected to have a negative impact in fiscal 2018 as well.
Return On Assets
In terms of ROA, Lancaster Colony has the best value, while Sysco is slightly worse than Tootsie Roll Industries at the bottom of the pack.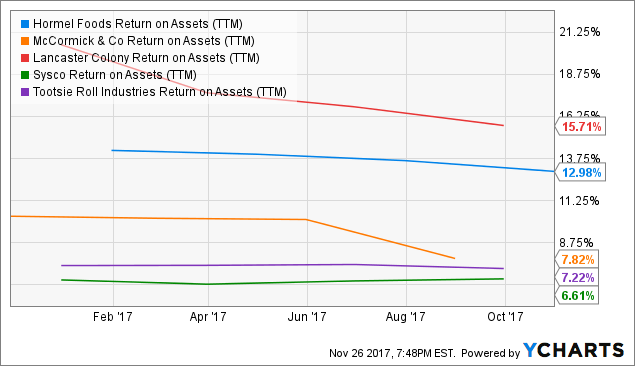 Return on Equity
Sysco goes from worst to first in terms of ROE as it has a significantly higher value than the other stocks reviewed. Tootsie Roll Industries by far has the worst value.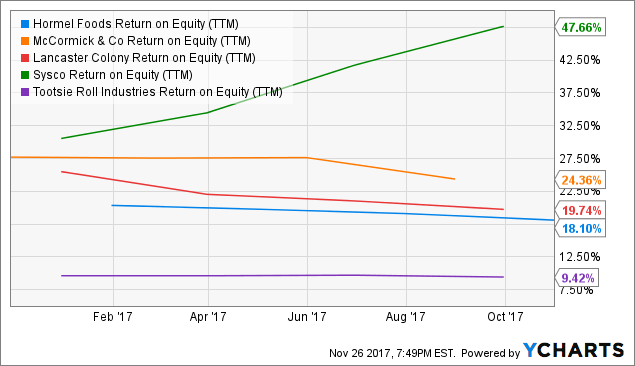 Dividend Yield
Sysco has the highest dividend yield with a value of 2.40%, while Tootsie Roll has the lowest yield at just 0.97%.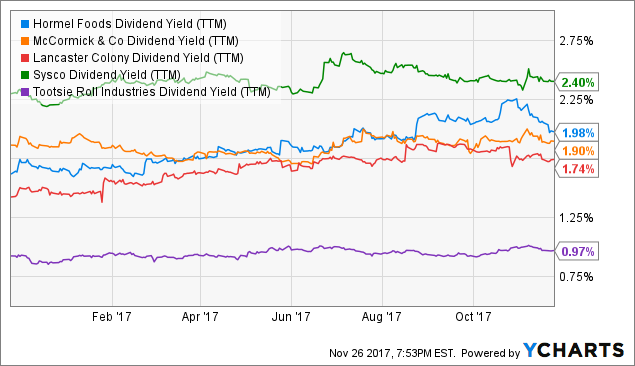 Dividend Growth
Hormel has easily seen the best growth over the past five years at 120.6%, while Sysco has seen the lowest growth at just 28.57% during this time.
HRL - 120.6%
LANC - 66.67%
MKC - 38.24%
TR - 30.42%
SYY - 28.57%
Valuation Metrics
Trailing PE Ratio
Tootsie Roll Industries appears to be the least attractively valued stock based on PE ratios, while Hormel appears to be the most attractively valued stock at the moment.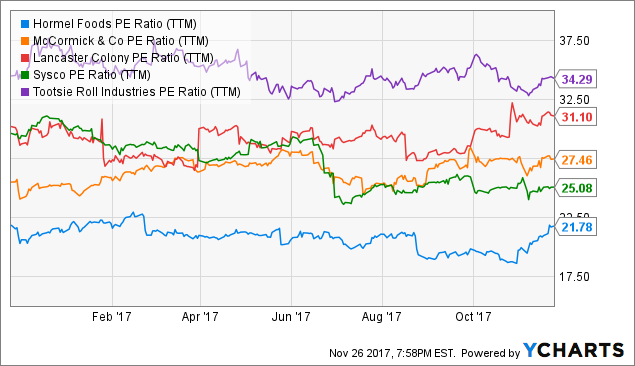 Price to Book Value
In terms of price-to-book value, it is Sysco that appear overvalued, with Tootsie Roll Industries looking much more valuable compared to its PE ratio.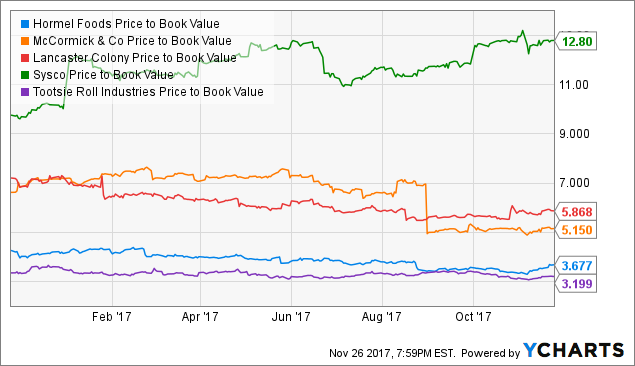 Total Scores
In the chart below, I have totaled the overall scores for each stock to determine which stocks are the most attractive based on overall fundamentals and current valuation. The stocks are sorted in the order of overall top scores.
| | | | | | | | | | |
| --- | --- | --- | --- | --- | --- | --- | --- | --- | --- |
| | Revenue Growth | Earnings Growth | ROA | ROE | Yield | Dividend Growth | PE Ratio | Price To Book | Total Score |
| HRL | 2 | 5 | 4 | 2 | 4 | 5 | 5 | 4 | 31 |
| MKC | 3 | 2 | 3 | 4 | 3 | 3 | 3 | 3 | 24 |
| LANC | 4 | 1 | 5 | 3 | 2 | 4 | 2 | 2 | 23 |
| SYY | 5 | 3 | 1 | 5 | 5 | 1 | 4 | 1 | 25 |
| TR | 1 | 4 | 2 | 1 | 1 | 2 | 1 | 5 | 17 |
Looking at just the scores, Hormel appears to be the best option with the highest overall score of 31, while Tootsie Roll appears to be the stock to avoid with the lowest overall score of 17.
Looking at financial metrics and current valuations are a good place to start, there are other things to consider when determining whether or not a stock should be considered as a current buy. This includes actual stock price appreciation, recent news and future outlooks of the individual stocks.
Price Appreciation
Looking at the chart below, you can see that Hormel foods has seen the highest price appreciation over the past five years, while McCormick has seen the lowest.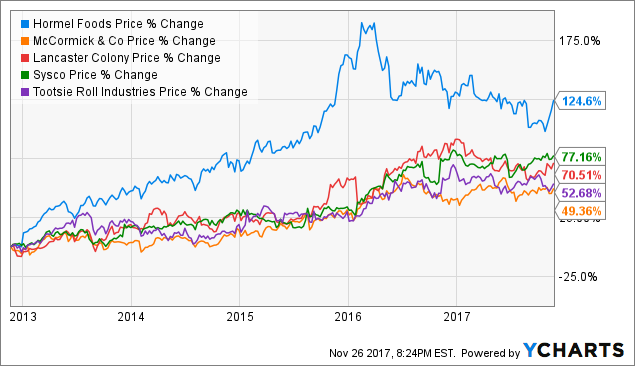 Shorter term results have not followed the same path as McCormick has seen the best price returns over the past year and is the only stock out of the five to have seen positive price appreciation year to date.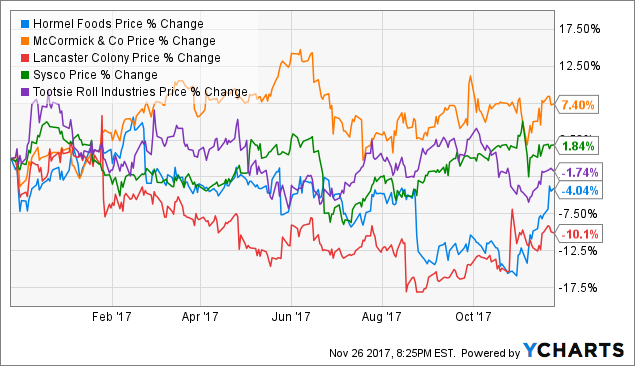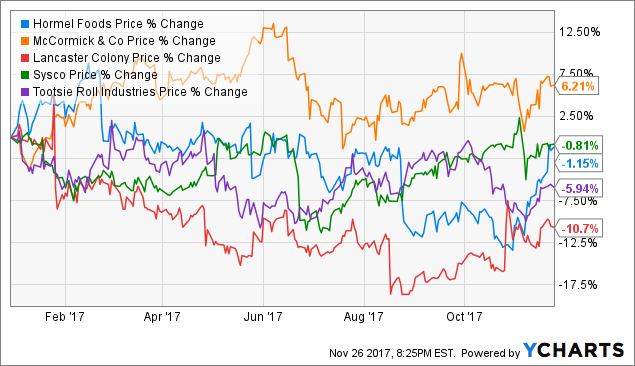 Recent News and Future Outlook
Hormel Foods
For its most recent quarter, Hormel beat both revenue and earnings estimates even though both declined compared to the same period last year. Full year earnings declined from $1.64 to $1.57 with estimates for next year set to the $1.60 - $1.70 range. The company's international business segment is a bright spot as it performed well, and should continue to be an area of sustained growth for the company in the future. Hormel is looking to focus more on the global aspect of its business as shown by its Ceratti acquisition in Brazil and its new manufacturing plant in China.
While its Jennio-O Turkey segment continues to struggle, I like the fact that Hormel continues to push new products.
As of the end of 2017, 14% of our total company sales came from products innovated in the last five years. Key products contributing to this growth include BACON 1, SKIPPY®PB BITES and HERDEZ guacamole salsa. Our current pipeline of new products is deep and our innovation teams are thinking of new and interesting ways to get products to the market faster, with more scale and in a more cost efficient manner.
I believe this along with growing its international market are the two keys for sustained future success of Hormel. It's last dividend increase was 10%.
McCormick & Co
McCormick & Company had a strong recent quarter with sales that increased 9% compared to the same period last year and an adjusted earnings per share increase from $1.03 to $1.12. The company is hitting on all cylinders at the moment with segments delivering strong sales thanks to both new and existing products driving growth and expanding market distribution. McCormick did take on a lot of debt to acquire RB Foods, but with that exception, its balance sheet remains fairly strong as both its consumer and industrial business segments continue performing well. It's last dividend increase was 9.3%.
Lancaster Colony
For its last quarter, Lancaster saw a 2.6% increase in revenue compared to the same period last year and a decline in earnings per share from $1.22 to $1.07. Lancaster saw its retail segment perform strongly with both organic sales increasing and its Angelic Bakehouse acquisition driving growth. The company's foodservice segment did not perform as well, seeing a 1.4% decline in net sales during the period. The company's cost cutting measures were not enough to offset the higher commodity and freight costs that the entire industry is currently facing. Inflationary pricing in the foodservice segment in particular should help offset more of these high costs moving forward. The company's last dividend increase was 9.1%.
Sysco
For its last quarter, Sysco saw a 4.9% increase in revenue and an increase in earnings per share from $0.67 to $0.74 compared to the same period last year. The company's continued investment toward its brand revitalization appears to be working based on the company's bottom line results along with the fact that its brand growth was up 82 basis points compared to last year.
The company saw increases both domestically and internationally even with negative economic factors in its European segment. With growing acquisitions both internationally (Costa Rica, South America, etc.) and domestically (Hawaii), Sysco holds a large platform capable of sustained future growth.
Tootsie Roll Industries
In its last quarter, TR saw a drop in revenue from $186.4M to $183M and a decline in earnings per share from $0.45 to $0.43 compared to the same period last year. The company's decline in revenue is nothing new as revenue has been sliding consistently since 2012. And even though TR had the second best earnings growth over the past five years out of the reviewed stocks in this article, you can see that this trend is not likely to continue as earnings this year were flat for Tootsie Roll Industries. With no new information coming from the company to suggest the sales troubles they have been facing will suddenly reverse, it is likely that any earnings growth moving forward will be slight.
Conclusion
Tootsie Roll Industries had the lowest overall metric score of the five stocks reviewed and has seen the second worst price appreciation over the past five years. The company continues to suffer from declining sales and has now reached a point this year where its earnings fell flat. The stock price has went down this year, but I don't think it is at an attractive price point considering its high PE ratio. With a yield under 1% and payout ratio that continues to move higher, I do believe that this stock should be avoided by long term dividend growth investors even though it is a Dividend Champion.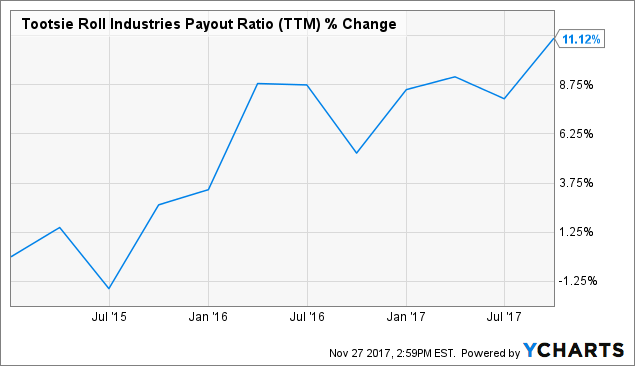 On the other hand, Hormel Foods had the best overall metric score and has also had the best price appreciation over the past five years. While I do think Hormel remains a great long term investment option, at this moment, I actually like McCormick a little better. McCormick has actually had the better revenue growth over the past five years, and over the past three years, the difference is even greater.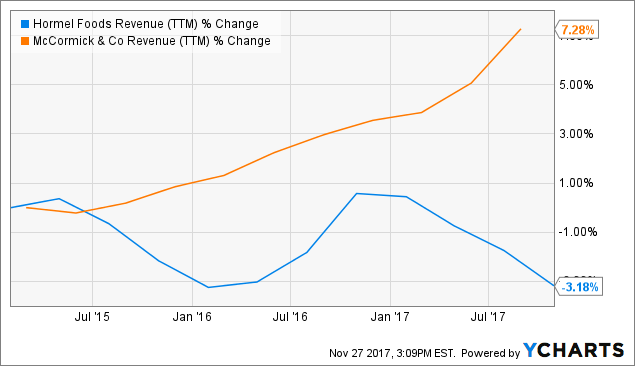 Hormel has still managed to maintain stronger earnings growth due to an ability to cut expenses, but I don't know how long that trend can continue with declining revenue. Hormel has made acquisitions and strategic initiatives to reverse this trend, but its Jennie-O segment shows no signs of improving any time in the near future. I think this will continue to drag down overall results.
And while Hormel looks more attractive based on a PE ratio, when looking at PEG ratios McCormick starts to look more attractive. It has a PEG ratio of 2.26x compared to Hormel's 3.58x.
I believe that Lancaster Colony and Sysco remain solid long term investment options as well, but at their current valuations I think Hormel and McCormick are the better bets in terms of looking for overall returns in the long run. Because of this I consider Lancaster and Sysco holds, with Tootsie Roll Industries being the one stock out of the five to sell and or avoid. As always, I suggest individual investors perform their own research before making any investment decisions.
Disclosure: I/we have no positions in any stocks mentioned, and no plans to initiate any positions within the next 72 hours.
I wrote this article myself, and it expresses my own opinions. I am not receiving compensation for it (other than from Seeking Alpha). I have no business relationship with any company whose stock is mentioned in this article.