Although I have not done something like this before, I believe there might be some insights to glean from the investment portfolio that I have built both for, and from, the Seeking Alpha community. As a rule, I generally write about companies that come up during my analysis as I search for companies that fit my personal investment style. The issue is that I am finding it difficult to write full articles with the Seeking Alpha audience in a timely way. The other issue is nearly every major investment is a fully Canadian company (or the best way to invest in them is on a Canadian exchange), which sometimes limits the article's value to a largely American platform. But there is value in expressing what my personal portfolio consists of and what ideas despite not writing full articles on them.
Please bear in mind that I am in a relatively unique financial situation and therefore have different goals and priorities than a typical investor. As my profile indicates, I recommend that most investors use broadly diversified ETFs for the majority of their investable assets.
Personal Information
In the interest of full disclosure, I should discuss some of the personal information that might help color the portfolio and its current form.
I am currently investing within relatively high dividend, deep value companies with a smaller selection of "story" companies that I invest in. They are all based on my individual investment belief in their future return potential. Some are held with the intent to sell at a gain over a relatively short time period, whereas others are part of my "future portfolio" which is my goal portfolio for this particular investment fund.
This portfolio represents only a portion of my investable net worth. The remainder are in specialty products, broadly diversified pensions and broadly allocated low-cost investment vehicles. They are excluded from this discussion since this portfolio is my active portfolio.
*Please note all dollar figures are in Canadian dollars unless otherwise noted*
*Please note I recommend American investors trade these companies on the Toronto Stock Exchange due to increased liquidity, or use limit orders to ensure a fair price during the transaction on low liquidity exchanges*
General Investment Philosophy
My preferred investments share some common themes:
1) Current undervaluation from what I consider their current value based on all factors. They are a good deal today.
2) They will likely continue that undervaluation over a reasonable time frame, with catalysts for why that undervaluation will eventually disappear. I can continue to accumulate the investment for many years at a good value.
3) They allow me to re-invest in the companies relatively easily and with relative safety over time. Good dividend yield and/or relatively small.
OR
4) They are currently severely undervalued and represent a short-term, higher-risk position that I follow in order to boost long-term returns but that are not required for long-term investment success. Risky investments that keep things interesting but won't destroy my portfolio.
The Portfolio By Weighting
Just to help readers understand the weight of the investments, though I avoid dollar amounts as they are not necessary to the overall discussion.

Investment Discussion
List of each company, along with a general overview, current valuation metrics I am using or story I am following and a list of the main reasons for holding the company.
Morguard North American REIT (MRCBF)

My largest current holding, Morguard North American REIT, is an interesting stock that I plan to hold for a very long time. The position represents a full position for me, and will be held to accumulate more units through a DRIP (Dividend Re-Investment Plan). They invest in apartments buildings in the United States and Canada and are run by Morguard Corporation (MRCBF, or MRC on the TSE), a planned future holding.
Morguard has a current yield of 4.42% and trades at a P/FFO of 12.87 and a payout ratio of 56.9%. This represents a fairly sizable discount to other Canadian Apartment REITs due to the management fees charged by their parent company Morguard. There are a few reasons I believe it represents a good value:
1) Morguard has a proprietary pricing model for their apartments, allowing them to (so far) operate their properties with prices that more closely reflect the actual value of the units within the area they operate. This has been shown to generate significant returns compared to similar operators in their test cases. This should continue to reflect on their results as they roll out these changes.
2) Their parent company, Morguard, has a very valuable multi-family apartment operation that I believe will (eventually) be held by this REIT. Combined with the apartment deals that have been initiated over time MRG.UN should grow large enough to justify an internal management structure with Morguard as a significant holder of units in the future, helping to eliminate that discount eventually.
3) Morguard owns a significant number of units and is a world class operator of their properties. With Morguard's management and support (including the outright purchase of their units should they become undervalued) adds to the value this REIT represents, even despite the relatively high fee structure paid to the parent company.
4) As they are externally managed that perpetual discount allows me to purchase units (and DRIP those units) at a significant discount to both their current value and their long-term value as we await an eventual structure change. Their operational results, the amount of funds they can reinvest within the company (due to the low payout ratio) and the value of the deals arranged by the parent company all make this one of my favorite ways to play the US and Canadian multi-family REIT market.
5) Shorter-term this REIT has begun to grow their dividend payments, something they had resisted doing for some time due to valuation (I assume). This gives the company a growing dividend yield and slowly lowering YOC that should generate a floor in pricing and give a nice annual boost in the minimum price of the units.
Northwest Healthcare Properties REIT (OTC:NWHUF)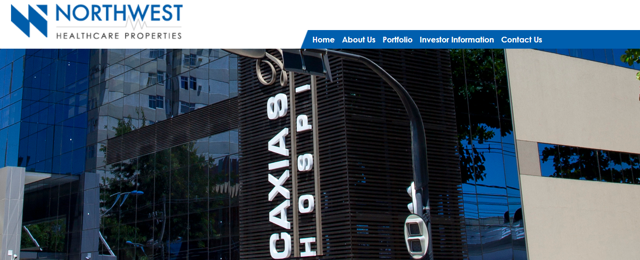 My second-largest holding and another permanent long-term holding for me (with active DRIP). They invest mainly in medical office buildings (MOBs) within the Canadian and German markets, and in hospitals in Brazil and Australasia.
Northwest Healthcare REIT has a current yield of 6.89%, payout ratio to AFFO of 83.3% (normalized) and P/FFO (normalized) of about 12.09, representing a good value compared to other MOB and Hospital focused REITs. Due to internalized management happening too quickly and some legacy issues, this REIT is well below fair value. There are a few reasons I invest heavily in this company:
1) Their unique mix of low risk MOBs from their Canadian portfolio represents a lower risk cash cow from which expansion is possible. The Canadian market for MOB has been relatively weak, depressing the value of units as expansion at the previous unit price was unsustainable. The international market for their business, hospitals and MOBs in Germany, Brazil, Australia and New Zealand are on the opposite side of the equation. They range from very predictable with low cost of borrowing (Germany) to higher risk, higher return investment possibilities (Brazil). These opportunities have been (and should be for the foreseeable future) high return investment opportunities that they can grow into.
2) Units were temporarily depressed by a transformation to an internally managed REIT with an extremely expensive management team and oversized staff. This all lead to a situation where the dividend was covered but barely. The units were depressed as there was a risk of a death spiral leaving the funds dead money for years. Some impressive investments and an increasingly diversified asset base are finally putting those fears to rest, and the units should continue to appreciate as the management team's size begins to be justified by the accumulation of assets.
3) There is a runway for growth and protected downside. They have inflation protection in some large Brazilian assets with good operators. This combined with the fair value adjustment requirement (Canada marks to market) and inflation-based growth of AFFO (most of their non-Canadian assets are set up this way) allows them to regularly post solid returns.
4) Their Canadian assets are in an oversaturated market, but they still have investment opportunities (most common being paid parking investments with reasonable returns on invested capital) to generate value. An eventual turnaround in the Canadian market would be nice, but investing that capital internationally is the real value here.
5) With the mark-to-market adjustments, inflation protected returns, relatively low risk re-investment opportunities in Canada and ample international investment opportunities, this company represents solid value with a high dividend. NWHUF should continue to trade at a discount to fair value (though not as extreme as it is now) for many years as the company grows into their management team and as their major hospital market, Brazil, continues to recover (and hopefully regain a favorable view from investors). This allows continued long-term accumulation of units with an eventual return to fair value.
Northview Apartment REIT (OTC:NPRUF)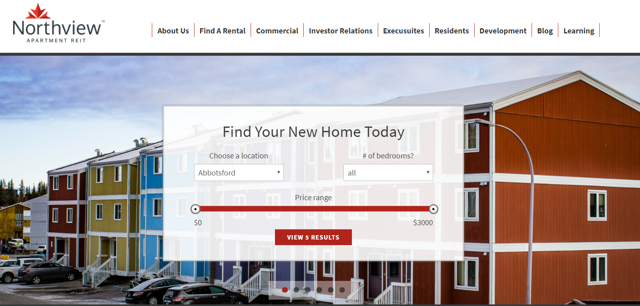 A position I am slowly (but surely) growing into a full position. This Canadian apartment REIT represents my focus on the Canadian REIT market as they are one of the most widely diversified apartment REITs available in Canada due to legacy northern Canada investments.
Northview Apartment REIT has a current dividend yield of 6.47%, a P/AFFO of 12.84 and a payout ratio of 98.2%. Although payout ratio remains an issue, there are a few reasons I believe this company represents significant value:
1) They invest heavily in smaller Canadian markets that other REITs (notably for me Morguard North American REIT and parent company Morguard) do not focus on. These smaller communities (northern Canada), Atlantic Canada and the western province focus allows for investments at better cap rates over time, as there is less competition within some of these markets due to their sensitivity to commodity prices and lower concentration of people.
2) They are likely to grow to become a major Canadian REIT player as their price continues to recover, their current portfolio recovers over time and their investments to upgrade the class of REIT properties continue to boost their NOI. Historically one of the two merged entities focused on lower-value properties with good cap rates, whereas Northview's management has decided to focus on increasing the quality of these holdings and has experienced some success thus far.
3) The sensitivity to commodity prices combined with the scale and size to invest where management feels there is the most value gives them the most flexibility (and most future upside) to both strengthening commodity prices and the Canadian market generally. They should also needlessly suffer during commodity busts like the one we are recovering from now, allowing long-term accumulation of the units at a discount to my valuation of the company (which accelerates during commodity bust cycles).
Medical Facilities Corporation (OTCPK:MFCSF)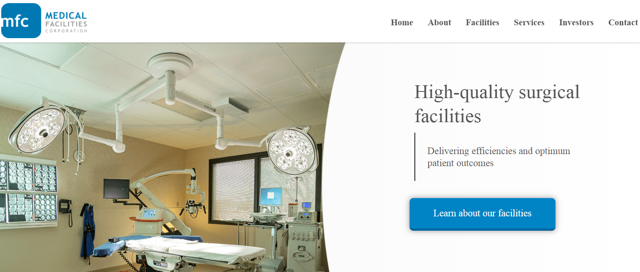 A relatively new position initiated without enough capital. I plan to grow this position most aggressively once more capital becomes available. This American healthcare facility operator is a unique investment that I believe represents a solid value and way to play the American healthcare market.
DR has an 8.53% dividend yield, 11.77 price/distributable cash and 69.0% payout ratio (the latter two fluctuate wildly due to their business model). At the moment, they represent a terrific play on the United States for several reasons:
1) The end of Obamacare (or continuation of Obamacare) influences this investment, which is why the unit price has fluctuated so wildly over time. This uncertainty in the future direction of American healthcare is suppressing the units, and will likely be responsible for wild turns to the upside and downside over time. This allows accumulation of units at heavy discounts as investors (eventually) realize the value here.
2) The healthcare system within the United States is broken and will likely continue to be for most of my lifetime. At its core, the decisions to reform healthcare have always been very friendly to the businesses operating within the healthcare field outside of insurers and pharmaceutical companies. As healthcare evolves over time, we should see a continued focus on insurers and pharmaceutical companies, and a continuation of hospital operators continuing the same as always.
3) They are a small operator (5 facilities) in a profitable niche that can continue to expand into this line of business with those that exist today. The type of business DR operates in is no longer an allowable form for hospital operators, but there are still over 500 of these types of organizations around that DR can continue to roll into its business model. This gives them investment opportunities when unit price is high, and a resilient business when unit prices are low.
4) As they continue to expand and grow into this niche business, they will (over time) become less and less reliant on certain key individuals (notably surgeons) within each individual facility. This size issue is a key long-term overhang on the unit prices (on top of the uncertainty around healthcare) that I think are over-represented in its price. Again, this overhang should alleviate over time.
Note: This company is very sensitive to universal "Medicare for all" system. The prices they can charge for procedures, if under the preview of a universal healthcare plan, could vastly lower their margins (though they will likely stay positive). I believe this will change the value of the units but the company will remain valuable, so I plan to continue owning it. Investors would do well to keep in mind that a push for universal healthcare and its eventual passage could be very hard on the company as they right-sized to the new, lower payments they'd receive. I am actively evaluating this position for inclusion in a long-term permanent capacity versus a relatively long-term trade.
Alaris Royalty Corporation (OTC:ALARF)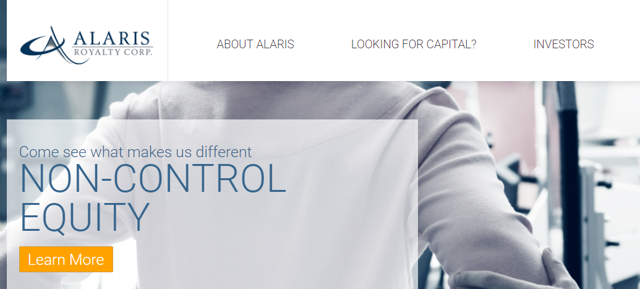 This private equity corporation operating out of Canada but invested heavily in the United States represents a long-term holding of mine, and one I plan to continue to add to during this price weakness. Their business model and long-term prospects belie the very low current unit price.
Alaris has a dividend yield of 8.77%, price/net cash from operation of 10.74 and payout ratio of approximately 94%. At the moment they represent good value due to:
1) Alaris is a proven management partner, their business model of taking a semi-permanent preferred share equity investments within their partnered companies with regular dividend payments that are then distributed to unit holders is an interesting and value-added private equity funding model. As they grow we should see less and less of these individual partnership issues affecting unit prices as drastically as this latest one.
2) They financed a relatively large company at a relatively low return (11%) as management makes moves to shore up the dividend. Investors may believe this represents the future return expectations from new investments, but I believe it was largely done to protect the safety of the dividend in the mind of investors (and back-fired). They are still investing within companies at their usual return rate, though in smaller amounts that move the needle slowly over time. This means this overhang from weaker partners will allow continued purchase of the units at a steep discount to their future prospects.
3) Should those weaker partners begin to see improved results, or Alaris uses their accumulated cash position to enter lucrative deals that both secure the business model and secure the dividend payments in the minds of investors we should see a rapid turnaround. I am not expecting (or hoping) for this as I want to continue to accumulate a full position and eventually DRIP the position as the recovery happens slowly (but surely) over time.
Village Farms International Incorporated (OTCQX:VFFIF)


Currently my only "story stock;" I promised myself I would try to avoid investing in story stocks that are not profitable, leading me to this company (which historically is as it was on my radar before the big news). This is a play on the Canadian and eventual American legalization of (and continued adoption of medical) marijuana. Village Farms is a greenhouse owner and operator in the core business of tomatoes, bell peppers and cucumber sales (hydroponically grown) which entered an agreement to convert one (with option for two more in the initial contract) of their largest greenhouses just outside of Vancouver, Canada, to marijuana production.
I plan to accumulate more shares over time as I attempt to prepare myself for future volatility. As there is a good story with this stock, there is always the risk of large drops in its price (temporary ones as investors are updated, along with the systemic risk that they are not approved for production). There are a few reasons I like the company and their long-term (and short-term) prospects.
1) Once the facility is converted they will be the low cost producer in Canada, with an expected all-in production cost of less than half the current low cost producer.
2) They are already an operator of greenhouses (that already exist and do not need to be built from scratch) and they are already positioned close to Canada's key marijuana market (Vancouver).
3) They are a historically profitable company with historically positive cash flows and a proven business model outside of marijuana, which means they are miles ahead of any other current or future marijuana operator in Canada and have downside protection should the legislative requirements take longer than anticipated or are not fulfilled.
4) The approval for marijuana growers and licensing has been smoothed out and streamlined. They stand to be one of the first to go through this new process of approval which bodes well for their timing into the market and (in my mind) makes approval more likely.
5) The valuations of Canadian marijuana companies is absolutely ridiculous (which might sound like I'm bearish), but this company is priced for long-term profitable operations at the current price and has tremendous room to run to even begin approaching the valuation other companies in this business trade at.
6) The other companies, if their prices hold up, have extremely low cost of equity which can allow them to purchase Village Farms as soon as approval and modifications are complete at a (potentially) strong valuation (I am expecting Aurora Cannabis or a company like them to bite once this happens).
7) Should America switch course and (eventually) join the developed world in legalizing marijuana for medical and perhaps eventually non-medical uses, Village Farms has the ability to convert many of their remaining greenhouses to marijuana production with similarly low costs of production. That future upside represents the value a long-term hold has in a company like this one.
8) As soon as Village Farms gets approval, and assuming another company does not move to purchase them outright, there is a major cottage industry of marijuana investments, including ETFs that focus on that industry. As soon as Village Farms is officially added to the ETF pool of marijuana stocks there could be an influx of investment dollars chasing a relatively small cap stock.
9) They are capable (and planning) of making all this happen with the funds the company has available to them (no equity raise). I personally think this is ludicrous and would recommend they issue at least some shares as prices rise to fund operations, pay for expansion and for use should the deal fail to come to fruition for whatever reason. If they actually do this without doing capital raises, I will forever hold this stock as I will have nothing but the highest respect for management's restraint and respect for investors, though I would not begrudge them issuing more shares as the price moves higher.
Discussion
This is my portfolio at this moment. I have some long-term holdings that I believe represent good value and some short-term investments where there is some long-term value I hope is unlocked over time (though it remains to be seen if I will hold them "forever"). I want to address a couple major potential questions (I will answer more questions in the comments and in the next article update).
Why Canada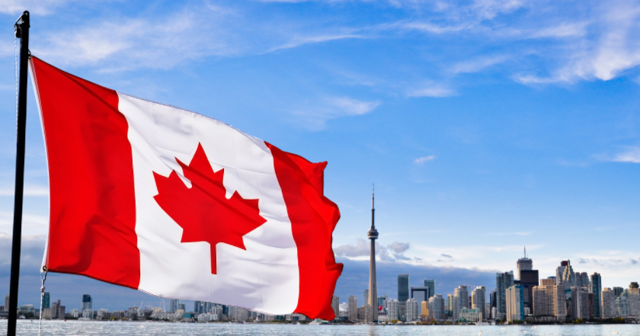 Source: Canada Volleyball | Pakmen Volleyball
I am a Canadian and they represent (in my opinion) a crucial part of my long-term investment plans. Canadian companies are unfairly traded by major indexes in line with crude oil prices. For some companies this makes sense, but in my opinion most trade at a relative discount for no justifiable reason aside from their inclusion in an index (during times of relatively low oil prices, like we are in right now). This is key to allowing me to add units/shares of companies I value for a relative discount over time, and that should trade at a premium valuation in the future that allows me to exit the position should that be necessary as I approach retirement. You will also notice that some of my major positions operate in both Canada and the United States as well, allowing me to be effectively not as Canadian weighted as I appear at first glance.
Why REITs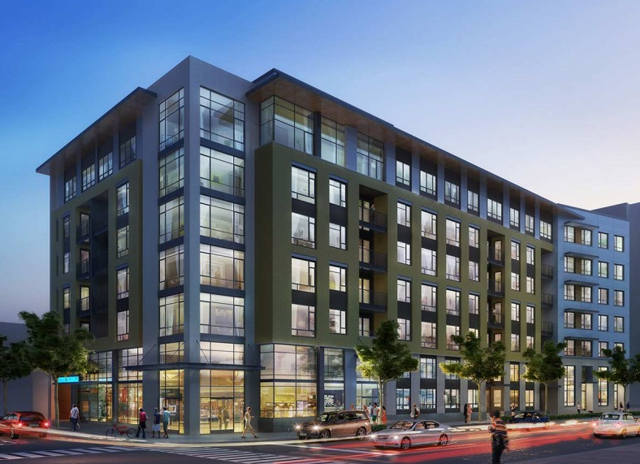 Source: New Apartment Building in Ballston Offers Luxe Amenities
This is mentioned in the article as we went but I believe that certain industries (particularly healthcare and multi-family apartments) are tremendous long-term assets that are, in these circumstances, not being valued anywhere near the future potential of these companies. In healthcare's case, these assets are being temporarily discounted for various reasons and in the case of apartment REITs, I believe there is a long-term fundamental shift in the market to continued apartment use over home purchases, adding a value that is not accounted for, in my opinion.
Why Such Small Companies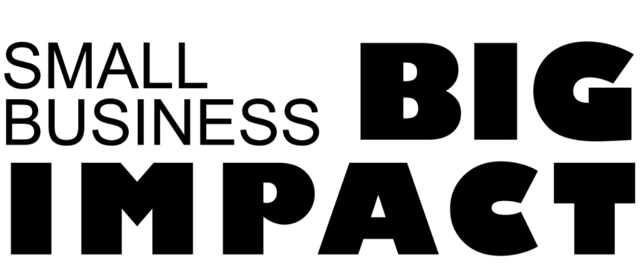 Source: EVENT- Small Business Week Meet & Greet " Athabasca County
That is not to say there is no risk in investing in relatively small companies, but their discount to their industry peers and discount to my perception of fair value make them a key candidate in my active investment portfolio. This is also key to the long-term idea that the investments will reach a full value at some later date as my investment horizon is very long and I can afford to wait.
Why Dividend Focused Instead of Dividend Growth, or Just Growth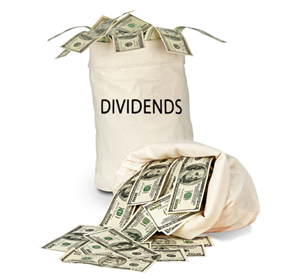 Source: What Is A Dividend?
I believe strongly that dividends make company management teams more disciplined in their investment approach and more aware of making investor-friendly decisions over time. On top of that it allows me to invest in (and grow my position) passively over time, returning much more than I would expect from a similar investment elsewhere. I also believe that all of the companies I have purchased which are not currently dividend growth companies will become dividend growth companies once their units/shares approach fair value as their management teams can distribute shares/units at a better cost of equity, reinvest them in the profitable niches that they operate in, grow distributions and share that with investors over time. Just because their current yield is stuck does not mean that they will not return or begin dividend growth once their valuations are high enough to allow them to expand their businesses. Once these companies begin increasing their dividend over time we should see even more capital appreciation over time as they grow into their area of expertise.
Conclusion
I hope there was some valuable information or ideas in here for investors that share my particular set of investment goals and/or methodology. I value any readers' feedback and ideas for improving the investments, portfolio or presentation of the information.
Thanks for reading, and I look forward to continued discussions with other users about investment ideas.
Disclosure: I am/we are long ALL LISTED COMPANIES.
I wrote this article myself, and it expresses my own opinions. I am not receiving compensation for it (other than from Seeking Alpha). I have no business relationship with any company whose stock is mentioned in this article.
Additional disclosure: I am long all of these companies and may accumulate more at any time. All companies are held on the Toronto Stock Exchange.
Editor's Note: This article covers one or more stocks trading at less than $1 per share and/or with less than a $100 million market cap. Please be aware of the risks associated with these stocks.