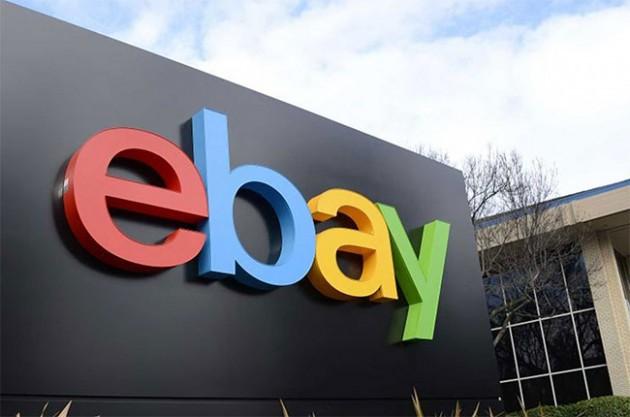 (Image Source)
eBay Inc. (eBay) currently trades at a trailing 12 month (TTM) PE of 5.3 which looks very cheap. But before buying, investors should be asking themselves, "Is this too good to be true?" In Q4 of 2016, eBay had two irregular events which resulted in record earnings of $5.9 billion for the company that quarter. The first was that eBay sold their equity stake in their Latin American cousin MercadoLibre, Inc. (MELI) for a $1.3 billion pre-tax gain. In hindsight, this was actually a mistake because the stock has nearly doubled since they sold their stake. The second event was the completion of a tax restructuring after the spinoff of PayPal (PYPL). After the tax restructuring, eBay recorded a non-cash income tax benefit of $4.6 billion. With an irregular Q4 in 2016, eBay's TTM PE of 5.3 can potentially mislead novice investors. I suggest using eBay's forward PE of 16.2 to value the company, especially when comparing eBay to its competitors:
Amazon (AMZN) trades at a TTM PE of 301. (150 forward)
Alibaba (BABA) trades at a TTM PE of 53. (28 forward)
Shopify (SHOP) doesn't operate at a profit yet and trades at a forward PE of 433.
At its current forward PE, eBay still looks cheaper than its major competitors. But is eBay's stock cheap for a reason? I believe that the company will face significant challenges in growing its Marketplace earnings long-term because its current business practices are unsustainable. I will go over some of the reasons why below.
Gross Merchandise Volume (GMV) has been flat since 2014.
While U.S. e-commerce spending has been experiencing double digit growth, eBay has been unable to participate in the e-commerce gold rush. Lack of GMV growth indicates that eBay has been unable to grow market share, and market share has actually been declining relative to the rest of the market.
Quarterly Gross Merchandise Volume (in billions)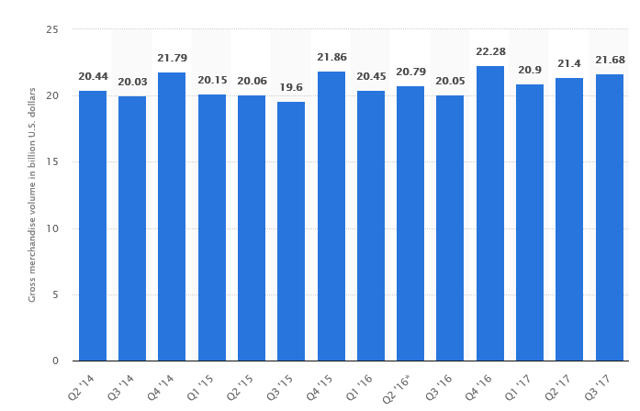 (Source: statista)
The real problem lies in the fact that eBay only has two ways to increase transaction revenue. Either GMV increases or they increase the fees charged to merchants to sell on the platform. Because GMV has been stagnant, their only option has been to increase fees charged to merchants. This leads to the second problem eBay faces.
eBay has been unable to improve take rate even after final value fee hikes on merchants.
For unfamiliar readers:
Final Value Fee - is the % fee eBay charges to merchants (depending on product category) as a percentage of sales to sell in the eBay Marketplace.
Take Rate - is the % of GMV that eBay earns as transaction revenue. Take rate is calculated as total transaction revenue divided by total GMV. Take rate effectively "averages out" final value fees collected across each product category.
Top Rated Seller - is an eBay merchant with a high on time delivery rate and very low order defect rate. eBay gives Top Rated Sellers a discount on final value fees as an incentive to promote quality service from merchants.
In May of 2017, eBay began a series of final value fee hikes on subscribed merchants. Final value fees increased by .15% across most categories. The Top Rated Seller final value fee discount was also cut from 20% to 10% (of the fee). This resulted in a .4% to .9% final value fee increase for Top Rated Sellers. eBay also decided to charge merchants that did not meet "eBay's minimum performance standards" an additional 4% in final value fees. This would double the fee for subscribed merchants selling in the lowest fee product categories.
May 1st 2017 Final Value Fee Schedule After Increases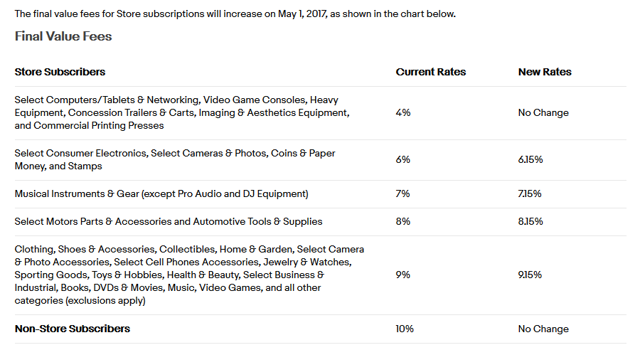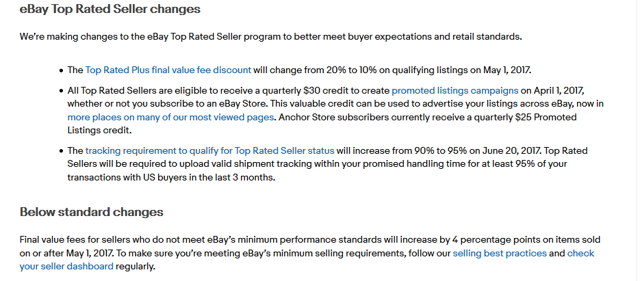 (Sources: eBay 2017 Seller Updates)
What is alarming is that eBay's Marketplace take rate has not improved after final value fee hikes. Most people would expect an improvement in take rate by roughly the same amount as the increase in fees. Instead, eBay's Marketplace take rate remained unchanged from 7.75% Y/Y. (The .15% increase in final value fees should have brought the take rate close to 7.9%.) It seems like this fee hike was an attempt at masking rising costs or eroding margins.
On the other side of the eBay Marketplace, customers have also been affected by eBay's cost cutting. At the beginning of the year, eBay cut their customer rewards program, eBay Bucks, in half. Instead of earning 2% back on purchases, customers now earn 1%. Reductions in customer rewards could also lead to less spending and in turn lower GMV.
There are serious sustainability issues that could arise from continuous fee hikes. A downward spiral in GMV could occur if management decides to abuse fee hikes:
eBay increases final value fees to increase Marketplace transaction revenue.

Higher final value fees deter merchants from selling products because it hurts their profitability.
GMV declines

eBay is once again forced to increase final value fees if it wants to stop transaction revenue from declining.
Stock buybacks only short-term fix
So far in 2017, $1.82 billion has been spent on stock buybacks. For comparison, eBay has generated $2.16 billion in free cash flow from its operating activities.
Q3 2017 Buyback Activity and Balance


(Source: eBay Q3 2017 Report)
There is still another $2.57 billion in cash authorized for stock buybacks. At eBay's current price, another 71.8 million shares (roughly 6.6% of current diluted outstanding shares) can be repurchased.
Relevant Financials
For the nine months ended September 30. All values in $millions except where indicated.
| | | | |
| --- | --- | --- | --- |
| Period | 2015 | 2016 | 2017 |
| Marketplace GMV (Excludes Stub Hub) | 57,423 | 58,142 | 60,890 |
| Y/Y Change (decrease) | -- | 1.3% | 4.7% |
| Marketplace Transaction Revenue | 4,519 | 4,505 | 4,721 |
| Y/Y Change (decrease) | -- | (0.3)% | 4.8% |
| Marketplace Take Rate | 7.87% | 7.75% | 7.75% |
| Net Income | 1,248 | 1,330 | 1,585 |
| Y/Y Change (decrease) | -- | 6.6% | 19.2% |
| Common Shares Outstanding (Diluted) | 1,226 | 1,153 | 1,091 |
| Y/Y Change (decrease) | -- | (6)% | (5.4)% |
| Earnings Per Share (Diluted)(Dollars) | 1.02 | 1.15 | 1.45 |
| Y/Y Change (decrease) | -- | 12.7% | 26.1% |
(Sources: eBay Q3 2016 and Q3 2017 Reports)
I admit that in the past year, eBay has benefited from financial engineering through buybacks. Earnings per share grew 26.1% Y/Y. But net income growth has not been from eBay's core business, eBay Marketplace. Percentage wise, buybacks have outpaced eBay Marketplace GMV growth. Unfortunately, buybacks still don't solve the stagnant GMV growth problem.
Author's Closing Thoughts
Investors should not be fooled by eBay's TTM PE of 5.3 or even their forward PE of 16.2. The company has very serious sustainability issues in their eBay Marketplace segment due to stagnant GMV. Raising final fees on merchants puts eBay on a very slippery slope because it can potentially create a downward GMV spiral. While Marketplace GMV and transaction revenue have increased about 5% Y/Y, the fact that the take rate hasn't increased after numerous fee hikes suggests that there have been rising costs in the segment. What the company needs is organic GMV growth, but I don't see this being accomplished by fee hikes on merchants or cuts to the customer rewards program.
The company has resorted to stock buybacks to propel earnings per share. Normally, I would not be against buybacks. eBay's forward PE is lower than the S&P500's (SPY) 19.5, but a forward PE of 16.2 is still not low enough to perform buybacks when you consider all the risk factors the company is facing.
If you liked this article, please press the follow button or leave a comment below. Also, feel free to look at my profile and read other articles I have written.
Disclosure: I/we have no positions in any stocks mentioned, and no plans to initiate any positions within the next 72 hours.
I wrote this article myself, and it expresses my own opinions. I am not receiving compensation for it (other than from Seeking Alpha). I have no business relationship with any company whose stock is mentioned in this article.