Air Lease Corporation (NYSE: AL) is an aircraft leasing company whose primary business is purchasing commercial aircraft and leasing them to airlines. They have a strong international presence, leasing to airlines in 47 countries around the world. Air Lease is a relatively young company, having been founded by Steven Udvar-Hazy in 2010 but don't make the mistake of thinking of Air Lease as the new kid on the block. The top brass at Air Lease probably has more years of experience than any other management team in the industry.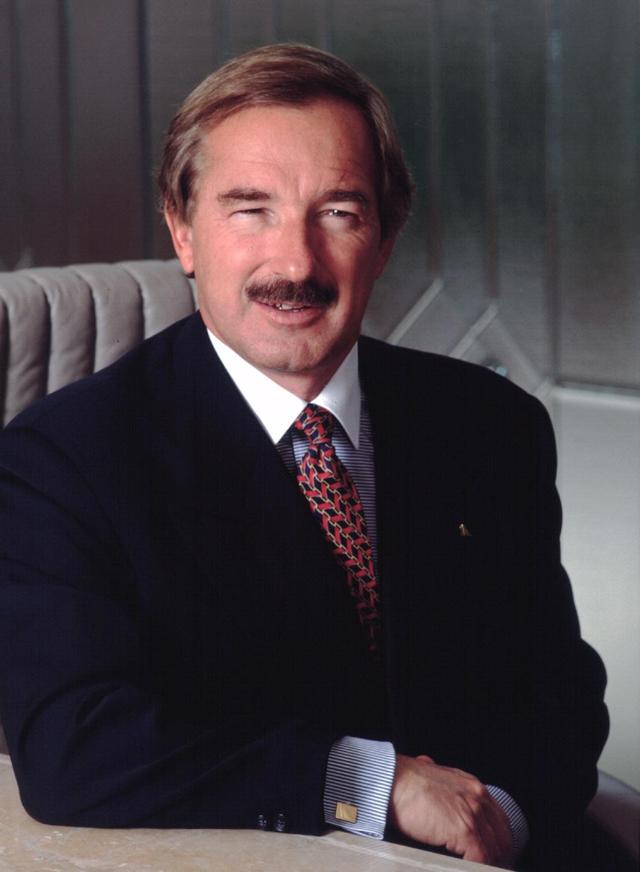 I originally became intrigued with Air Lease when I read an article on Udvar-Hazy in June of 2012. I was fascinated with his story but equally fascinated with Air Lease as an investment possibility. After doing my due diligence, I bought in mid-July of that year and Air Lease has grown to be one of the top two holdings in my portfolio. The stock has not disappointed as the company has achieved impressive EBITDA and revenue growth since that time, resulting in share price appreciation that has outpaced the S&P 500 by 15%. Let's look a little further into the company and see if the growth story still has some legs or if prospective investors might be wise to go elsewhere with their investment dollars.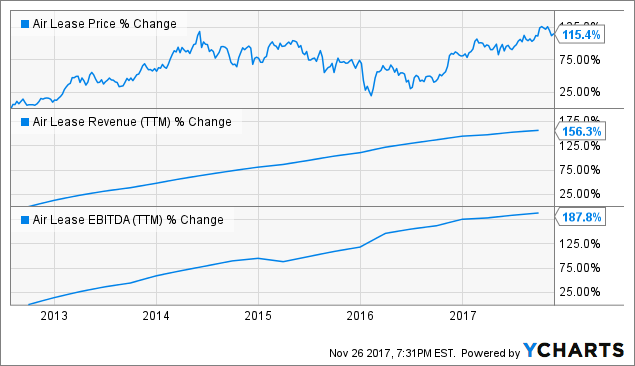 AL data by YCharts
Legendary Management
Management matters and Steven Udvar-Hazy, the founder and executive chairman of Air Lease, is a legendary leader and fascinating individual. He is 71 years old, a well-known prankster, and he still flies his own planes. He was born in Hungary, but came to the United States at the age of 12. Udvar-Hazy attended high school in Los Angeles and attended UCLA before essentially pioneering the aircraft leasing industry in his mid-twenties. His company, International Lease Finance Corp. soon became the world's largest leasing firm. His company was bought out by AIG, who kept him on as CEO for twenty years. When the government took an 80% stake in AIG during the recession, Udvar-Hazy tried to buy a fleet of ILFC's planes and when that didn't work, he took the "if you can't buy, em, beat em approach" and started his own company.
Udvar Hazy recently stepped down as CEO but don't begin to think that will slow either Udvar-Hazy or Air Lease down. Udvar-Hazy will continue working full time as executive chairman and will focus on working with airline customer leadership, OEMs, and financial partners.
His successor is John Plueger and I will just say this about John. There are times when you hear someone speak and you just know that the person speaking is the smartest man in the room. That is the feeling I get with John every time I hear him speak. Plueger has worked with Udvar Hazy for 30 years and so far the transition has been seamless.
A Growing Industry
Both airline traffic in general and aircraft leasing have been in growth mode for last quarter century and growth is expected to be the norm going forward. IATA projects 4.1% annual growth in airline traffic over the next five years. In addition, the company's Q3 presentation states that the global percentage of aircraft that are leased has grown from 1.7% in 1980 to 39% last year.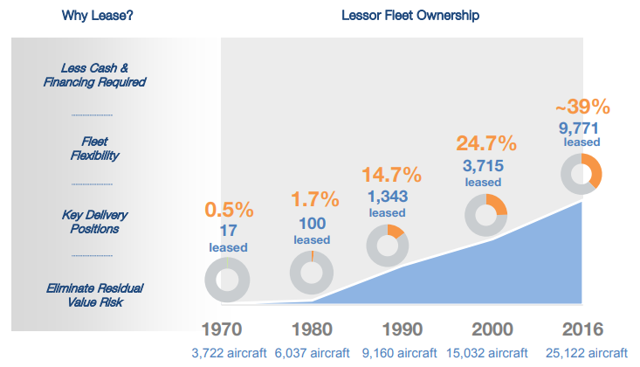 SOURCE: AIR LEASE
Impressive Execution
Since the company's IPO in April of 2011, Air Lease has executed its business plan flawlessly. Over the four years, Air Lease has grown revenues at a compounded annual rate of 21%. Analysts expect 11% earnings growth over the next five years as Air Lease continues to expand its reach around the globe.
If I am going to hang my hat on any one or two metrics when evaluating air lessors, I would choose margins. Both operating and EBITD margins are important as they highlight how efficiently the company is being run. The table below compares Air Lease with ten competitors and shows that by those two metrics, Air Lease comes out on top.

SOURCE: FACTSET
Part of the reason that margins have been impressive is that the company focuses on quality over quantity. Tune in to any Air Lease conference call and you will likely hear the terms "disciplined growth" or "smart growth" numerous times. Quality also shows through in the age of its fleet. Air lease seeks to hold an aircraft for one-third of its useful life before selling it on the secondary market. Because it retires and sells aircraft at a relatively young age, Air Lease's fleet is significantly younger than that of its competitors.
| Company | Ticker | Average Age of Aircraft | Remaining Years on Lease |
| --- | --- | --- | --- |
| Air Lease | AL | 3.7 | 6.8 |
| AerCap Holdings N.V. | AER | 6.9 | 6.6 |
| Fly Leasing | FLY | 6.2 | 6.5 |
SOURCE: AIR LEASE, AERCAP HOLDINGS, FLY LEASING INVESTOR RELATIONS
The Value Proposition
Alright, so you know by now that I like the company. I like it enough that the stock represents 11.5% of my personal portfolio. At the same time, we need to look and see if the stock is attractively valued right now. The best way to do that is to take the meaningful valuation metrics and compare Air Lease's numbers to those of its competitors. For valuation purposes, I will reference the same two competitors that I referenced above.
| Company | PE | Forward PE | PEG | Price to Book |
| --- | --- | --- | --- | --- |
| Air Lease | 12.16 | 10.44 | 1.11 | 1.21 |
| AerCap Holdings N.V. | 8.09 | 7.93 | 1.20 | .97 |
| Fly Leasing | | 7.17 | 6.84 | .71 |
SOURCE: YAHOO FINANCE
When we look at and combine the first three metrics, Air Lease does not stand out one way or the other. Air Lease has slightly higher multiples in the first two columns but a slightly lower PEG, which implies higher projected growth over the next five years. If analysts' projections on these three metrics hold up reasonably well, Air Lease looks fairly priced when compared to its peers.
Where a bit of separation comes in is with its price/book ratio. Air Lease clearly has a higher valuation when we use this metric. As investors, that gives us three questions to consider. The first is how much weight do we want to give that metric? Secondly, we should ask if Air Lease deserves a premium valuation when using price/book because of other positives surrounding the company. Finally, if we decide Air Lease is worthy of a premium, we have to decide how much of a premium is merited.
Possible Caution Flags to Consider
Price/Book: We have already mentioned the price/book ratio. We do have to consider if we are comfortable with Air Lease having a higher price/book ratio than its peers. While Air Lease is my second largest holding, I don't think we can totally ignore this metric. In fact, CEO John Plueger made it clear at the Q3 conference call that he felt price/book matters when he brought up price/book as a reason for the company not to buy back its own stock. Interestingly, the comment was unsolicited in that no questioner even brought up buying back stock before Plueger gave the reason for not doing it.
And as much as our company shares are trading at significantly above our book value, we felt that a dividend increase was a more appropriate way of rewarding our shareholders than buying back our stock, when, in fact, we can deploy that capital more profitably buying airplanes.
Debt: Air Lease currently has $9.3 billion in debt which is a little more than twice its market cap. For a growing company in a highly levered industry, however, high debt is the norm. Air Lease's debt numbers do not seem out of line when compared to fellow lessor AerCap Holdings, a company with $27.18 billion in debt and a market cap of $8.08 billion. Air Lease has a solid credit rating and its debt/equity ratio of 2.53 is right in line with management's target of 2.5.
Competition: Any growing industry will draw new players and the aircraft leasing industry is no exception. A recent report from Reuters indicated there were as many as 54 Chinese leasing firms trying to build expertise in the aviation space. Investors have to decide if more competition will lead to declining margins down the road. Personally, I think Air Lease is fairly safe in this regard, at least in the near-term.
Final Take
Air Lease is a very well run company with what I believe to be the best management team in the industry. With 91% of the fleet booked through 2019 and an average of 6.8 years remaining on current leases, the near-term looks good. Management has plans to double its fleet in the next five years and while that is ambitious, I believe they will come fairly close.
I don't think the stock price is unreasonably high and I do believe Air Lease's stock does deserve to trade at a premium to the industry. How much of a premium is the question? With a current price to book ratio of 1.21, Air Lease's CEO basically said buying back AL stock was his third best choice when looking at capital allocation. That makes a 21% premium to book value a little too high.
In the end, three things stand out to me. First, management seems to view the current stock price as too high for repurchase activity. Second, the growth story is largely intact. Third, the management team is the best in the business.
With these three things in mind, I assigned a slightly lower price/book of 1.15 and modeled for 80%(discounted by 20% to account for possible margin contraction and competition) across the board growth in five years and came up with a five-year price target of $71.35. With those numbers and the confidence I have in management, I have no plans to sell any of my personal shares. While I feel this stock is a very solid long-term buy and hold, I am going to play it conservative and recommend investors put this stock on their watch lists with a target entry point of $39.60.
Disclosure: I am/we are long AL.
I wrote this article myself, and it expresses my own opinions. I am not receiving compensation for it (other than from Seeking Alpha). I have no business relationship with any company whose stock is mentioned in this article.