The S&P 500 index (NYSEARCA:SPY) closed at another all-time high of 2,602.42 on Friday, while the correlation between the index and the yield of the 2-year U.S. Treasury Note over 200-day period rose to +0.90, meaning the S&P 500 and the 2-year yield move in the same direction, up or down, where +1.0 is a perfect positive correlation. The correlation between the S&P 500 and the 2-year yield has steadily increased since mid-November 2016 after the U.S. elections and reached its peak at about +0.91 in late July, before making a small pullback.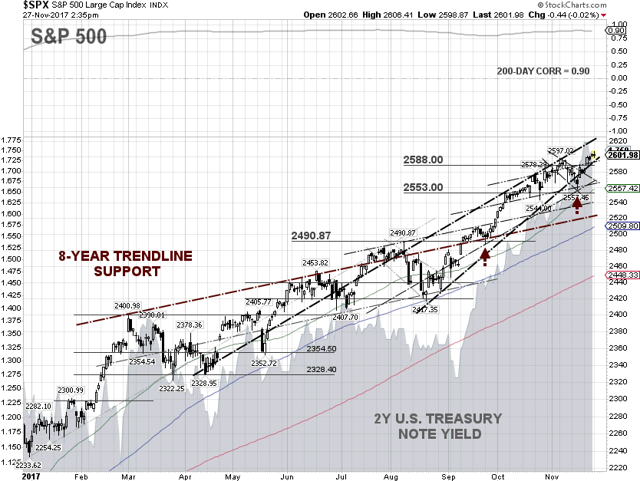 Arguably, the strong correlation between the S&P 500 and the yield of 2-year U.S. Treasury Notes is consistent with what one expects if investors sell 2-year U.S. Treasury Notes as funding to buy S&P 500 shares. In rising interest rate environments, one is expected to sell short-term Treasury notes and buy long-term Treasury bonds, which are influenced more by growth and inflation expectations and less by rising interest rates. However, that was before the Fed's plan to reduce its balance sheet, which may cause yields of long-term bonds to rise over time as the private sector is forced to absorb an increasing share of Treasuries.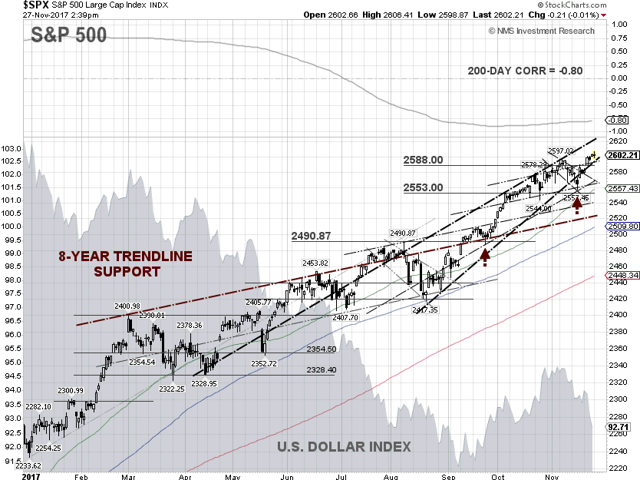 An inverse correlation between the S&P 500 and the U.S. dollar index (NYSEARCA:UUP) over a 200-day period emerged in early July, while the S&P 500 bounced off the 2,420 level. In August, Credit Suisse said in a note that a weaker U.S. dollar should be another tailwind helping the technology sector (NYSEARCA:XLK) continue to outperform because it has the greatest overseas exposure, at 59% of sales, with the semiconductor sub-sector (NASDAQ:SOXX) generating an even higher 82% of sales from outside the United States.
Wall Street Remains Undecided On Strategies
Wall Street market strategists are still split over how investors should prepare for the Fed's rate hike cycle. Goldman Sachs warned investors ahead of the rate hike at the Federal Open Market Committee, or FOMC, meeting last March that with equity growth momentum nearing its peak and rates increasing further with a hawkish Fed, the asymmetry for equities was turning increasingly negative and recommended investors to underweight the S&P 500.
RBC Capital Markets, on the other hand, told its clients that while the popular narrative is that a tighter Fed policy is a headwind to market success, the data challenges this assertion, as the market advanced during each of the past five rate hike cycles. RBC based its argument on historical data showing that interest rates and the stock market trend in the same direction over the long-term before the Fed rate hikes cause damage to the market or economy.
One should not expect the Fed rate hike cycle to be over soon because here is what San Francisco Federal Reserve President John Williams told reporters at a conference on Asian economic policies at the San Francisco Fed less than two weeks ago,
"My view is that a perfectly reasonable path for policy would be one more increase this year, and three next year."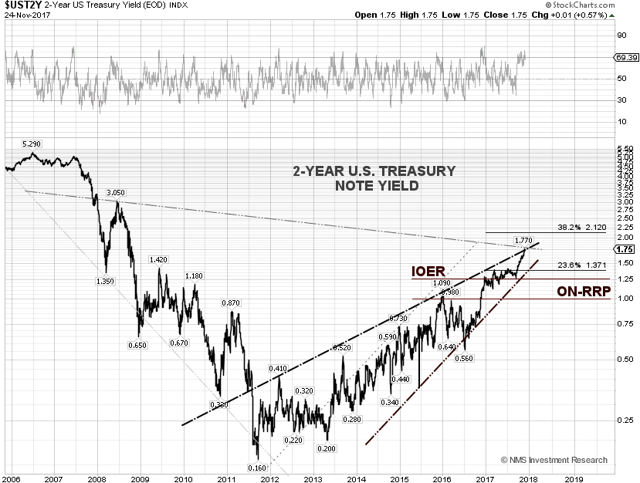 In our view, the yield of 2-year U.S. Treasury Notes could be heading to test 2.12%, or the 38.2% Fibonacci retracement level, by the middle of 2018, while the interest on excess reserves, or IOER, and the overnight reverse repo, or ON-RRP, rate will be at 1.75% and 1.5%, respectively, if the Fed raises interest rates by another 50 basis points by then. The rising 2-year yield and the weakening U.S. dollar will push the S&P 500 index towards the 3,000 level next year. Just last week, the BMO Financial Group and UBS set their S&P 500 year end targets for 2018 at 2,950 and 2,900, respectively, citing higher earnings potentials, among other things.
The Weakening U.S. Dollar Means A Weak U.S. Economy Is Ahead
Since December 2016, the U.S. dollar index has consistently sold off, down almost 10%, and the yield spread between the 10-year and 2-year U.S. Treasury Notes has tumbled over 100 basis points, after the Federal Reserve raised its Fed Funds Rate three times, in December, March, and June. The Treasury yield curve flattens as the yield spread narrows, signaling that worsening economic conditions are ahead. Since 1960, each time the yield spread went from flat to negative, a recession in the U.S. followed approximately 12 months later. Despite a U.S. GDP of about 3% and a low unemployment rate, the market may continue to perceive the Fed rate hikes as "policy mistakes".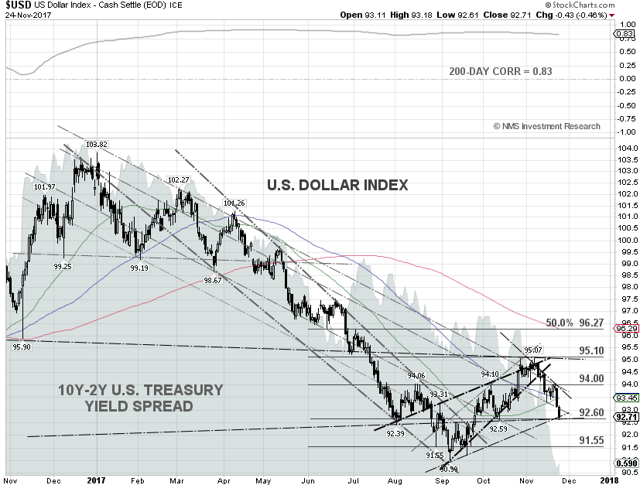 The effective Fed Funds Rate, or EFFR, which stands at 1.16% as of November 24, 2017, is expected to increase by another 25 basis points after the FOMC meeting on December 12-13, 2017, as the Federal Reserve is trying to slow down the U.S. economy. If the correlation between the U.S. dollar index and the yield spread over a 200-day period, which has been above +0.80 since February, continues to remain strong, the U.S. dollar index will trend lower.
Fundamentals And Technicals May Be Weakening In The Tech And Financials Sectors
Information technology, the largest sector in the S&P 500 index with 20.41% weight, may be showing some signs of weakening after not-so-encouraging news last week from a monthly report by North America-based manufacturers of semiconductor equipment, or SEMI, saying that October worldwide billings were $2.02 billion, the fourth consecutive monthly decline after the record spending posted in June. On a year-over-year basis, billings may grow just 18.3% during Q4 2017. The semiconductor and semiconductor equipment sub-sector, which is weighted about 17.3% in S&P 500 Information technology, has been up about 46% this year, while the tech sector is now trading at the top of the 9-year range, meaning a technical pullback might be overdue.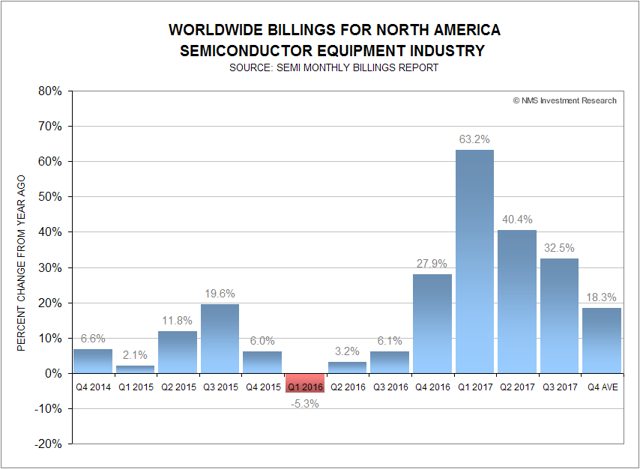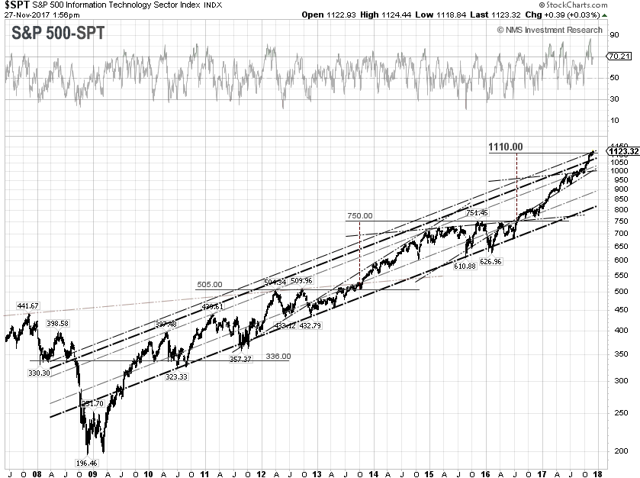 Back in early August, Stamford, Conn-based Gartner was expecting worldwide semiconductor capital spending to increase 10.2% in 2017, to $77.7 billion, followed by declines in both 2018 and 2019, of 0.5% and 7.3% respectively, citing weaker-than-expected end-user demand in key electronics applications. The semiconductor equipment business could get even more dynamic next year when China is expected to become the world's second largest semiconductor equipment market, surpassing Taiwan and South Korea, according to SEMI.
In late October, the Semiconductor Industry Association, or SIA, issued its monthly report showing that September 2017 global sales of semiconductors came in at $35.95 billion, up 22.2% year on year. The latest forecast by the World Semiconductor Trade Statistics, or WSTS, suggests that worldwide sales growth could start decelerating in the Q4 2017. Sales growth, which has been supported by skyrocketing DRAM and NAND flash prices, may be about to slow down as both IHS Markit and Samsung Securities Co. have forecasted a decline in the price of memory semiconductor sales, which may happen as soon as the middle of next year.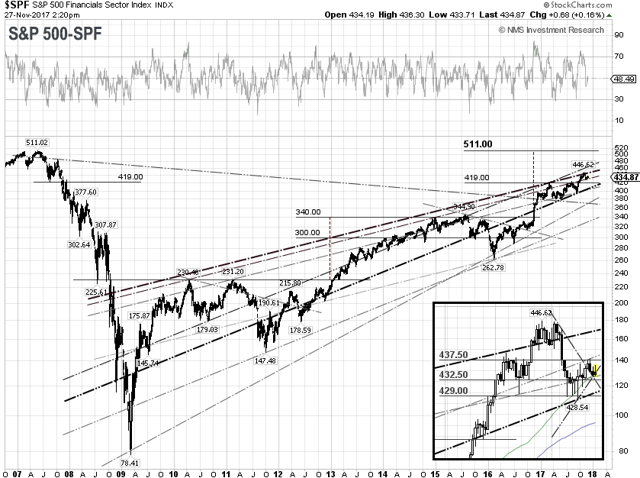 Financials (NYSEARCA:XLF), the second largest sector with 16.92% weight in the S&P 500 index, is starting to look bearish after a head and shoulders pattern emerged in the chart. If the yield spread between the 2-year and 10-year U.S. Treasury Notes continues to narrow, it could be bad for financial institutions as it reduces bank profit margins.
Conclusions
The S&P 500 index is highly correlated to the yield of the 2-year U.S. Treasury Note as the Federal Reserve continues to tighten its monetary policy. The U.S. dollar index, which shows a strong inverse correlation with the yield spread between the 2-year and 10-year U.S. Treasury Notes, could weaken further as the market may perceive the Fed rate hikes as "policy mistakes", despite a U.S. GDP of about 3% and a low unemployment rate.
The rising 2-year U.S. Treasury Note yield and a weaker dollar will push the S&P 500 index towards 3,000 next year, in agreement with some Wall Street market strategists. The fundamentals of the S&P 500 may be showing signs of weakening in the technology sub-sector, including semiconductor and semiconductor equipment.
Disclosure: I/we have no positions in any stocks mentioned, and no plans to initiate any positions within the next 72 hours.
I wrote this article myself, and it expresses my own opinions. I am not receiving compensation for it (other than from Seeking Alpha). I have no business relationship with any company whose stock is mentioned in this article.