"They're not gonna be stores forever, they're gonna be places." - J. Rogers Kniffen CNBC Contributor and WWE CEO on Kohl's stores, shortly after referring to them as "boxes."
As the retail landscape continues its rapid evolution, investors remain wildly divided over what role Kohl's (NYSE: KSS) will play in the industry's future. The company's stock trades almost a world away from its 52 week high even after its recent run, reflecting investor disappointment with the company's lackluster sales progress over the past year. Yet over the past three months, following a reversion to positive comparable same store sales growth and consecutive announcements of a partnership with Amazon (NASDAQ:AMZN), Kohl's share price gained over 14% as investors gained confidence in the retailer's future.
However, the rampant speculation regarding the Kohl's and Amazon partnership (which is partially responsible for the stock's recent run) does not sit well with me. Each time a headline came out about Kohl's and Amazon the stock seemed to shoot up even if the move Kohl's made appeared to never be significant to the bottom line.
But upon reviewing recent developments in the company's business strategy, my distaste with the market sentiments governing Kohl's stock price movement is outweighed by my appreciation of recent moves made by the company's executives. Kohl's management team appears to understand the role the company can play in the future of retail, evidenced by the execution of new loyalty initiatives, new store formats, and growth of the buy online, pickup in-store strategy.
Internal to Kohl's: Omni-Channel Development and Loyalty Program
I initiated a stake in the company over a year ago when the company's shares sold off (on one of many occasions) and offered a compelling entry point. If Kohl's could return to consistently flat to slightly positive comp sale growth then the shares were significantly undervalued in the low 40's. Then, as now, I believed firmly that the promotional department store's popular loyalty program and strengthening e-commerce platform would ensure continued success.
These thoughts have since been borne out by improving - albeit still negative until Q3 2017 - comparable same store sales results and increased e-commerce revenues, but challenges, such as the persisting need to resize stores and drive foot traffic, remain. Because of these challenges, and the slow pace of change in revenue trends, I became tempted to exit my position in Kohl's once the Amazon hysteria offered a higher exit point.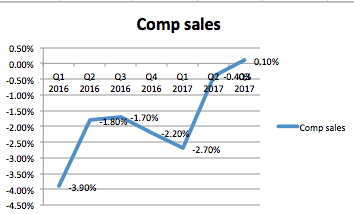 Data Source: Company Filings
These temptations caused an examination of Kohl's future in the retail space. Specifically, as consumers try to stretch their dollar - finding either better quality or great deals - can Kohl's keep up? Since the company will not win the quality contest anytime soon, dazzling a deal-focused consumer base requires taking a scientific approach to Kohl's loyalty program. To that end, offering reasons to keep coming back such as the company's Kohl's Cash program will allow the company to continue to drive traffic even in tough times.
Analyzing the company's last quarter reveals that the company's execution on foot traffic initiatives are gaining ground, with CFO Bruce Besanko stating in the Q3 Earning's Call that "The comp improvement was again generated by improved traffic trends. Though still negative for the quarter, were encouraged by the sequential improvement in traffic we saw throughout the quarter." Next quarter's earnings release will be crucial for judging the company's development: is Kohl's really generating better foot traffic or was this recent improvement just a blip?
In the battle for foot traffic, Kohl's yields an impressive arsenal. The company's combination of Kohl's Cash (a cash back type program that rewards customers with what is essentially a Kohl's Gift Certificate for crossing certain purchase thresholds), Yes2YouRewards (a conventional points-based rewards program), and Kohl's Charge (consumers are promised at least 18 discounts a year if they spend over $600 on their Kohl's credit card) combine to create one of most extensive loyalty programs in all of retail.
Still, room for improvement exists as the company's overall digital marketing efforts are a far cry from scientific; in fact, a recent WSJ article reported that Kohl's "segments its emails based on gender, income, geography and other metrics, which is different from personalizing messages for a single shopper." If Kohl's fails to leverage its rewards program into offering more personalized shopping recommendations and precisely targeted promotions, the core thesis that Kohl's can thrive in the future as a loyalty master begins to fall apart. Progress here is slow, but apparent, with management revealing in Q3 that "We completed the rollout of Your Price during the third quarter. Your Price shows the personalized price of individual items based on the customer specific offers and provides immediate visibility to the value of those customers receive at Kohl's."
What's more is many of the aforementioned loyalty elements have existed for years, and yet Kohl's still struggled with maintaining all-too-important comp sales metrics. Could the three headed monster of Kohl's Cash, Yes2You, and the Kohl's charge card be too complex? Monitoring progress on improving both these elements and ad personalization are crucial, particularly as they are the efforts that will enable Kohl's to consecutively stabilize comp sales.
Once again, management seems to be aware of these issues and is beginning to execute, a fact demonstrated in the last conference call which provided investors with an update that stated "we believe [the rewards programs'] next evolution has great opportunity to drive a step change in traffic and sales. The timing of the pilot has now been set for the second quarter of next year and approximately 100 stores will participate." Though success is not guaranteed, Kohl's at least looks like a company on the road to recovery.
With Gross Margin down year-over-year once again last quarter (36.8% vs. 37.1%) many investors grew fearful that the continued shift towards digital will continue to eat away at margins. However, the company's opening of its fifth e-commerce center and continued jumps in e-commerce revenues (online demand generated sales grew 15% last quarter) are more signs of preparedness for the future than they are foreshadowings of doom. Inventory finished the third quarter down 2% per store, another factor that could lead to gross margin stabilizing in the next few quarters as the company continues to resort to less discounting activity to clear merchandise. The company also remains on track to cut $250 million in expenses within the next three years.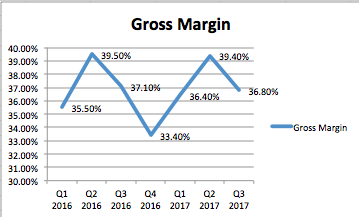 Data Source: Company Filings
Kohl's future also consists of downsizing and reimagining store size, a tactic that can further boost store margin. The CNBC clip talking about Kohl's stores as mere "places" and "boxes," is not terribly off-base. The company's value derives itself from its ability to leverage its physical spaces in a digital world, and we are in the very early stages of seeing the advantages of having physical locations to complement e-commerce. Through buy online pickup in-store and downsizing efforts, Kohl's is starting to rethink the role of its stores in the future.
In fact, buy online pickup in-store composed 30% of online orders in Q3; the higher this figure climbs, the greater the opportunity for ancillary sales and increased foot traffic. The option, which is prompted to buyers when they are checking out online, enables Kohl's to save money on transport costs and helps the buyer receive the item quicker.
Buy online pickup in-store's thus far strong execution should be applauded by shareholders as such omnichannel interaction represents Kohl's future differentiation opportunity. While the company continues to slowly iron out its loyalty and personalization programs, the online sales growth and interconnection with stores provide reasons to suspect revenues will continue to return to flat year-over-year and that the retailer is on the right track.
Letting The Fox Into The Hen House?
The value of having physical locations is not lost on e-commerce giant Amazon (NASDAQ: AMZN), a company that displayed its need for physical spaces through its Whole Foods acquisition and recent Kohl's partnerships. The first portion of the Kohl's-Amazon partnership, the Amazon Smart Home Experience at Kohl's, gives Amazon a store-within-store at 10 Kohl's locations; here, customers can try out Amazon's growing electronics offerings. The second leg of this partnership allows customers to return Amazon packages to Kohl's for free at the 82 stores participating in the program.
The speculation brought on by this program includes chatter about a potential buyout and prophecies of Kohl's complete demise after letting the fox into the hen house. Neither of these speculative theories were the most important signal from the partnership, however. For one, the acquisition chatter is entirely speculative in nature (such headlines made me consider selling my shares on what I considered to be an overdone stock price jump) and the rumors of demise seem way off base for such a small partnership, especially since so little data is available on its content.
With the financial details unknown, and unhelpfully vague management comments about the partnership in the Earnings call, it is far too early to judge what this partnership will mean for Kohl's; however, it inspired new confidence that the Kohl's management team is willing to consider various means of utilizing its physical space to maximize shareholder value. Time will tell if offering Amazon products is an efficient use of space, just like time will tell if accepting Amazon returns will truly be a logistical nightmare. In the meantime, investors can seek contentedness in Kohl's attempts to skate towards where the puck will be in the future of retail.
Conclusion
Like the Amazon partnership, Kohl's as a company is in a stage of experimentation to prepare for an increasingly digital future. The execution of buy online pickup in-store epitomizes that the company can indeed combine its "boxes" and website to grow revenues, even as lackluster personalization efforts continue to restrict the company's overall revenue potential. The future of Kohl's in retail cannot be known with any type of certainty, but recent results suggest to me that the company is headed in the right direction. I will be maintaining my stake in the company (essentially a HOLD rating on the stock) but will continue to monitor the company's personalization, store downsizing, and loyalty efforts.
Disclosure: I am/we are long KSS.
I wrote this article myself, and it expresses my own opinions. I am not receiving compensation for it (other than from Seeking Alpha). I have no business relationship with any company whose stock is mentioned in this article.
Additional disclosure: As always, investors are encouraged to do their own due diligence. Nothing in this article or any article by the author constitutes investment advice. All content is intended only as commentary. The author spent last summer working as an Intern at a retail company that competes with Kohl's.