Apple (NASDAQ:AAPL) is doing well, up about 14% in the last 60 days (November 27), in large part on news that the new iPhone models are selling well, particularly the flagship iPhone X. This suggests the following questions:
Just how well are sales doing? What will the outcome be for the December quarter?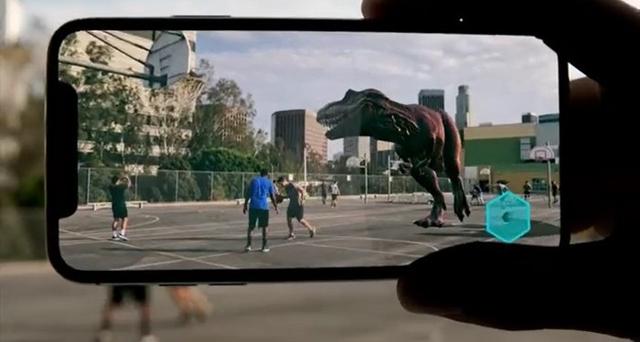 (Source: Tech Awareness)
In an earlier post, I explained why the iPhone X would be a huge success. Here I will examine evidence showing that is so.
Official forecast
In answer to question #2, Apple's forecast for the quarter is:
Revenue between $84 billion and $87 billion
Gross margin between 38 percent and 38.5 percent
Operating expenses between $7.65 billion and $7.75 billion
Other income/(expense) of $600 million
Tax rate of 25.5 percent
(Operating expenses for Dec. quarter 2016 were $6.817 billion)
Let's begin with some historical data relevant to the current one. I will refer to calendar quarters instead of Apple's fiscal quarters for the sake of consistency.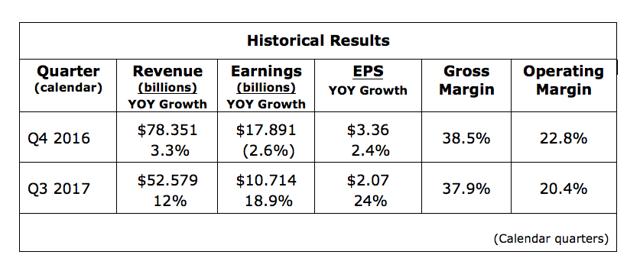 First prediction
Number of shares
Just to get a very rough estimate, let's suppose that the year-over-year growth rate for revenue is the same as for the September quarter just reported, and margins are the same as in Q4 2016.
These are certainly arguable assumptions for rough estimates.
December 2016 quarter number of shares saw a decline of 266,132 from the previous year. Let's say the decline this year is just 200,000, due to higher share prices, giving us 5,127,995.
These give the following figures, which are very much in line with Apple's estimates.

Another analysis
For a more detailed analysis, let's focus on some data regarding iPhone sales.
Analytics firm Mixpanel provides usage analysis data for both web and mobile apps. They publish certain high-level statistics that they gather, including iPhone models distribution. That is, each current model as a percentage of all iPhones in use worldwide (although, oddly, they do not list the SE). The products reports page is here.
Of course, a percentage of phones in use is of little value if you don't know how many phones are currently in use. Chuck Jones, in an article for Forbes, estimates the number of various iPhone models sold in the first weekend of sales. To do so, he averages models of currently in-use iPhones from two different analysts. He arrives at a figure - at the launch of the two iPhone 8 models, there were approximately 787 million in use (of a cumulative 1.24 billion sold).
Let's say that sales since then have brought us up to a round 800 million units in use. We can now apply Mixpanel's statistics to this number to calculate an estimate of units sold since the models went on sale.
But first…
When looking at statistics and analytic data, it is very important to understand exactly what is being measured. Here we have a service that the app developers integrate into their app, and these routines report back to Mixpanel servers. So, in order to be counted, a user must use one of the apps that use the Mixpanel service. If you do not use one of these apps on any given day (or do not own any of the measured apps), then you will not be counted in the statistics - you will be invisible to the system.
The question here is this: Are the new phone models as likely to be invisible as other, older models? If the non-users of Mixpanel apps are distributed proportionally over the whole history of models, then it does not matter at all, because the statistics will continue to apply.
If, however, there are reasons that users of older phones are significantly more likely to not use any Mixpanel apps, then the users of the newer models will be over-represented percentage-wise.
In the Mixpanel data set provided, there are data for iPhones 7 and 7 Plus and later. All else is listed as "Older" - a category that currently includes 60% of the sample. (In the charts shown, I have hidden all but iPhone 8/8Plus/X to better show the trajectories.)
Let's suppose that a large number - 20% - of older models are invisible. Since this category represents 60%, it would mean that about 12% overall are missing, and this would be approximately 100 million units (of the 800 million). So we are suggesting that only 700 million units should be used in applying Mixpanel data.
As a matter of simplification, we will keep this as the representative total measured iPhones in use throughout the calculations - as if all new purchases were upgrades and retired the owner's previous model.
The data
The Mixpanel data is presented in the graph below. It's interesting to see how the iPhone X has surged. It has already passed sales of the 8, and in the next few days, will almost assuredly pass sales of the 8 Plus. In fact, at this rate, it could pass combined sales of the two in another 2-3 weeks.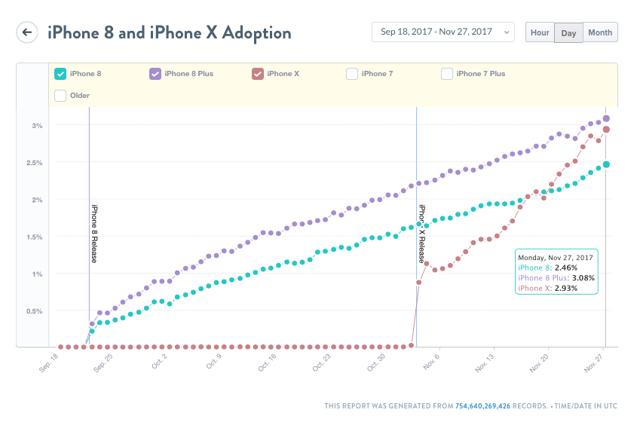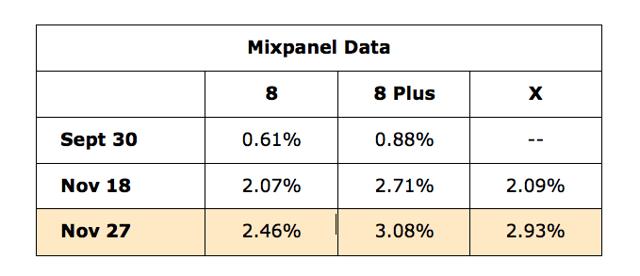 If we apply these percentages to the estimated 700 million measured units, we get the following rough estimates of units sold on the date specified: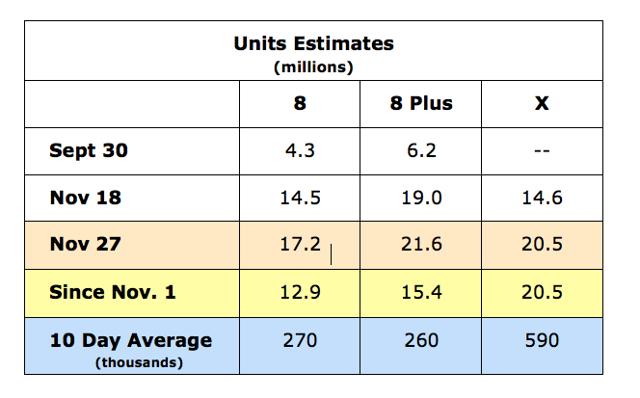 Projections
There are about 32 days left to the quarter.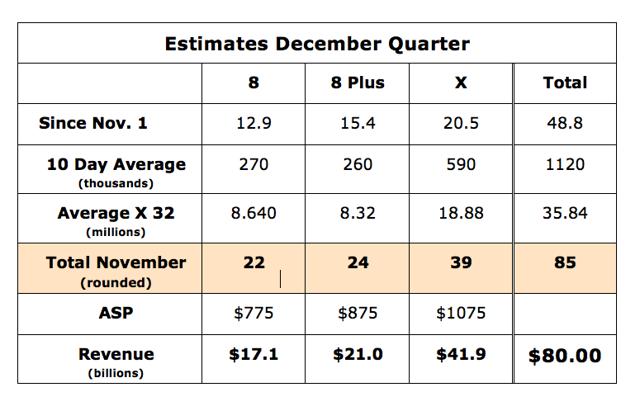 Whoa!
This is almost assuredly outside the realm of possibility. Apple only projects for a total of $87 billion revenue in the quarter. Last quarter, the total revenue excluding the iPhone amounted to $24 billion. Adding this in would put the company over $100 billion, not even accounting for selling any iPhone models 7, 7 Plus or SE.
StreetInsider writes on a report by Rosenblatt China Technology analyst, Jun Zhang, in which he says that iPhone X production could go to from 3 million to 4 million units per week. This is actually in line with the projections above. However, his estimates are: (1) that only about 15 million have been sold so far, and (2) that 30 million will be the total for the quarter.
If we posit that he is still a bit low, and the final figure will be 32 million units, then this will be very roughly 20% below our estimates. If we apply this throughout, we have $64 billion, to which we should add another $6 billion for other models to get $70. Add $25 for the other portions of the business and you have an extraordinary $95 billion revenue, 9% above Apple's high estimate. This is not an outrageous estimate.
Summary
The Mixpanel data is real, hard data on the results of its system. The question is, how does that data relate to the big picture? The numbers that a simple use of its figures suggests seem too high for reality. Yet other data corroborates that it is not totally out of the ballpark. If Apple is indeed producing over 500,000 iPhone X units daily, and the company is selling them, then this is not too far from even the suggested estimates.
One thing we should note - the Mixpanel data obviously does not include any units that were purchased and held for Christmas presents. Of those purchased in November or earlier, this is probably not too many (who is buying two months in advance?), but now and going forward, we can expect many to be held until the big day. Yet, the slope of Mixpanel's iPhone X percentages shows no sign of slowing.
It is always difficult to estimate iPhone sales. There is no solid one-stop center for complete data. One has to look around for indicators in various places. Still, one thing is clear - we most likely can look for Apple to top its projections this quarter.
If Apple were to reach $95 billion revenue, and it maintained the 22.8% operating margin, we would have:

Your comments are appreciated.
Disclosure: I am/we are long AAPL.
I wrote this article myself, and it expresses my own opinions. I am not receiving compensation for it (other than from Seeking Alpha). I have no business relationship with any company whose stock is mentioned in this article.