I wrote a series of articles this year focusing on the hard times that retailers have been going through. I focused mostly on grocers, like Kroger (KR) & the now Amazon-bought Whole Foods, or mixed operations, such as Wal-Mart (WMT) or Costco (COST). I have been focusing on seeking out weaknesses or resilience, given the fact that these companies are going through a very tough time. There is the big story in regard to how Amazon (AMZN) is disrupting retail through its exponentially growing online sales. It is a trend that tends to affect grocers and mixed stores to a lesser degree, given that people still overwhelmingly pick up their groceries from the store, even if they increasingly pre-order for pickup. While people walk in to pick up their groceries, they also tend to often pick up non-grocery items and sometimes vice-versa, as is the case with general retail stores such as Wal-Mart & Target (TGT). Target is the company I want to cover in this article. It has the same profile in terms product mix as Wal-Mart, which I consider to be the most resilient brick & mortar retail model given the current environment. When it comes to Target however, it seems that it has some catching up to do when it comes to taking the initiative in meeting the challenges of the times. At the same time, it can hardly afford to make any wrong moves at this point in time.
Declining profitability on weak revenue.
Before I get to the wider picture in regard to where Target is within the current context of growing competition within the retail sector, I want to first highlight its recent financial results, given that it provides a glimpse into Target's adaptability within the current environment. As I pointed out already, profitability is a major issue for most grocers. Whole Foods was experiencing significant issues in this respect before it was purchased by Amazon. Kroger has not been immune to it either. Target has seen a decline in operating profits of 4.5% in the first nine months of the year, compared with the same period in 2016. This, while revenues increased .6%. In this respect Target is definitely exhibiting the same kind of trend of thinning profit margins as seen in the rest of the field. With net earnings of $1.9 billion, on revenue of $48.8 billion, the profit margin comes in at just under 4% for the first nine months of the year. That is actually considerably better than Wal-Mart, which had a operating profit/revenue ratio of 2.4% the last time I looked in on its operations. Wal-Mart does seem to have a stronger track record in terms of revenue growth however, which I think shows overall a better adaptation to the current situation.

Source: Wal-Mart.
Target's sales have been suffering in the past few years.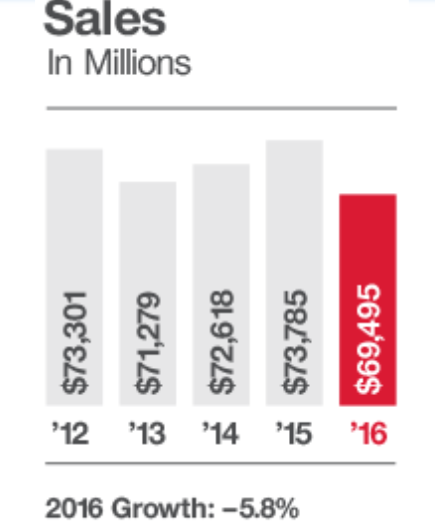 Source: Target.
As we can see, 2016 was the weakest in half a decade and assuming that the current rate of sales growth will continue for the rest of the year, 2017 will still be the second-lowest year in terms to sales since 2012. This is an important fact that needs to be kept in mind in regard to Target and its future prospects, within the context of rising competition in the retail sector. That's because, while it still has a comparatively high operating profit margin, it is very likely that it will end up having to sacrifice it in order to defend sales.
Pressure on retailers only set to grow. Target seems poised to try its own distinct response.
As I pointed out in my analysis of the other grocery or mixed retail companies, the competition is only getting to be more intense. The big worry at the moment is that Amazon will use its recently acquired Whole Foods chain as a springboard into the grocery business, where it is feared that it will do what it did to the rest of the brick & mortar retailers. In past years, Wal-Mart responded to challenges like Costco & Amazon by offering the consumer some of the same things that these competitors do. Target seems more interested in morphing its brick & mortar operations into something that is better suited to reaching its customers where they may happen to be.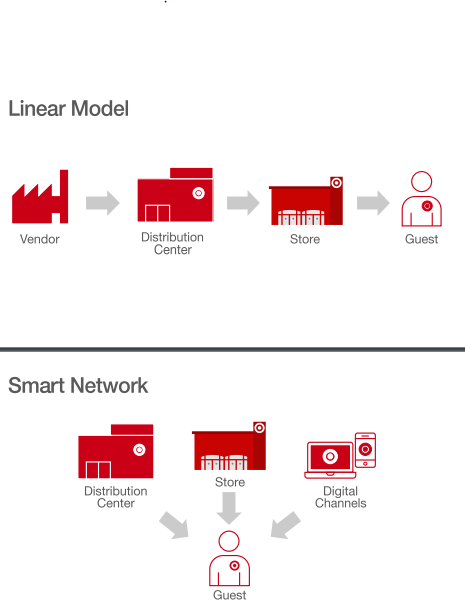 Source: Target.
The idea here is not so much to counter whatever the competition is doing, which is the Wal-Mart approach by trying to match it to some extent. Rather, it is to focus on countering the changing habits of the consumer and reach out. If the consumer happens to be shopping on line, Target wants to be present. But if the consumer happens to be on a college campus, Target also wants to have a small presence there. It also aims to build smaller stores across communities, in order to make itself more accessible.
It remains to be seen just how successful the approach will be. Needless to say, Target needs to see a reversal of its fortunes, especially when it comes to the declining sales volumes trend it has been experiencing in the past few years. In my view, the approach it is taking at the moment is not necessarily the best way forward. The US is already described as the most saturated retail space on the planet. We also have new players either expanding or entering the market. German and European giant Lidl is one such example: it is set to take on the already established US retail scene methodically, by first expanding into East Coast states. If its success in Europe is to be a measure of how likely it is to succeed, I have to say that it should be reason for US retailers to worry. I saw their operations in Europe myself on many occasions, and it seems to me that one of their core strengths happens to be adapting to different cultural and economic environments as needed. This is currently operating in most EU member states.
Aside from Lidl, which is just starting to make inroads in the US, there are other chains like FreshThyme, which is currently expanding in the Midwest. I think most of us can now say that one thing we are not lacking wherever we may live is that there is a shortage of grocers or general retailers in our communities. For instance, I live within a half hour's walking distance of three major grocery stores, as well as small organic store and a Wal-Mart and a Target. Target's strategy of moving into neighborhoods where grocery or general stores are in short supply may be wise, but I question just how many such viable and lucrative opportunities still exist. This is not to mention the fact that wherever Target may go, other grocers or general retailers may follow.
In my view, Target should focus mostly on getting as many people as possible through its current facilities in order to avert having to sacrifice its profit margins in the name of fighting for market share. If there is one measure where it currently excels compared with its competition, it is its ability to maintain the relatively comfortable profit margin rate. Any expansion into offering smaller stores in communities where consumers may feel under-served, or where Target may feel that it could challenge existing retail establishments should be well-thought out. We should keep in mind the miscalculation it made in regard to Canada. It was commonly reported that it failed due to Wal-Mart already being there, as well as a number of other factors. But in my view it failed mainly because aside from Wal-Mart, there was already a formidable Canadian competitor in place, called Loblaw (OTCPK:LBLCF). There was simply no need for another major general retailer. Some aspects of the change in operating philosophy that Target is looking to implement make a lot of sense, but the retail environment is currently such that it cannot afford to make any major mistakes in its decisions, because within this brutal environment, mistakes can become fatal.
Disclosure: I/we have no positions in any stocks mentioned, and no plans to initiate any positions within the next 72 hours.
I wrote this article myself, and it expresses my own opinions. I am not receiving compensation for it (other than from Seeking Alpha). I have no business relationship with any company whose stock is mentioned in this article.