Lithium Series
This is the fifth article about Lithium explorers, developers, and miners spawned by an explosive interest by investors aware of the current and growing demand for Lithium, a mineral that is key to the production of Lithium-ion batteries needed to propel Electric cars. Earlier articles included information about the growing global demand given near term and future expectations for battery powered vehicles. They also included a range of junior and more senior mining concerns that might prove to be good investments in this climate.
Please refer to the following titles for in depth background and addition company reviews: Lithium Americas: Potential Big Gains; Lithium Players Emerging Big, NRG Metals Prepared For A Move UP; Chemical Mining Company Of Chile: The Big Boy Lithium Player Take A Look, and Orocobre: A Lithium Producer With A Two Month, 20% Gain.
Company Background
Quantum Minerals Corporation(OTCPK:QMCQF) is a junior work in progress with potential for a big payoff.
QMC Quantum Minerals Corp., a junior mineral exploration company, engages in the acquisition, exploration, and development of mineral properties in Canada. The company primarily explores for lithium, silver, gold, nickel, copper, zinc, and volcanogenic massive sulphide (VMS) deposits. It holds interests in mineral exploration properties located in Manitoba, Canada, including the Namew Lake VMS project comprising the Rocky Lake property, the Rocky-Namew property, and the Namew Lake property, as well as the Carrot River property; and the Cat Lake Lithium property. QMC Quantum Minerals Corp. was incorporated in 2003 and is based in Vancouver, Canada.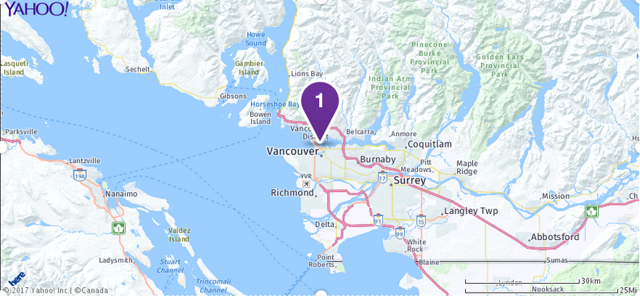 Clearly, this is a junior company with a current focus directed at Lithium. Recent developments have caused the stock price to shoot up dramatically as seen in the chart below.
Quantum Minerals Corporation Stock Chart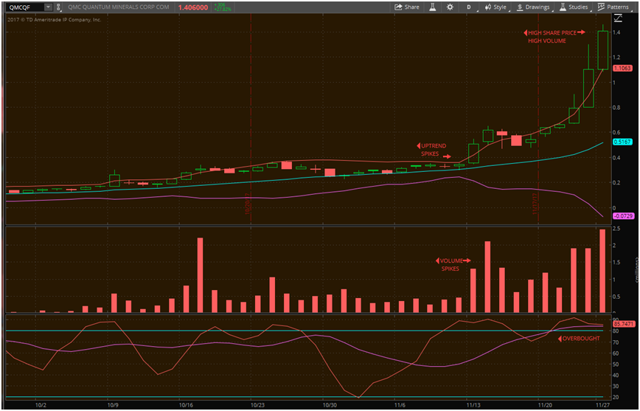 Permission TD Ameritrade
Trading volume began to increase in early October as shareholders began to bite and reached a peak today as the stock hit an all-time high of 1.406, up 27.82%. The recent real impetus to valuation occurred on November 13 followed by a six session daily increase in the stock's price. Something is afoot.
Recent good news mentioned about this junior player has propelled its stock's price like a rocket. The Stochastic in the first chart is highly overbought above 80%. This is good news in terms of the potential future company prospects and also good news for prospective future investors. The operative word is future after some inevitable profit taking create a more realistic buy point.
Irgon Mine Lithium Project
On September 9, A recent review of the 2011 assessment work program conducted at the Irgon Mine property resulted in approval of a work permit from the Government of Manitoba for the Company' s Irgon Lithium Mine property. On September 19, 2017. Shortly thereafter the company's stock began to rise.
Crews have moved on to the mining site located at Cat Lake, Manitoba.
To date, four channels have been cut across the dike which have been sampled on 1 metre intervals. The resulting 53 samples are being sent to SGS labs in Lakefield, Ontario for combined ICP-AES and ICP MS analysis of 56 elements. Geologic mapping of the dike has also been initiated.
This ongoing sampling program at intervals across the dike, along the entire strike length of the dike is expected to confirm previous grab sampling, trenching and drilling results that are published in the historical record.
The resulting 53 samples are being sent to SGS labs in Lakefield, Ontario for combined ICP-AES and ICP MS analysis of 56 elements. Geologic mapping of the dike has also been initiated.
Re-Sample & Assay Locations With >2% Lithium
On November 8, 2017, QMC reported samples with greater than 2% Lithium within the company's Irgon Lithium Mine Property, located in the Winnipeg River Pegmatite Field in S.E. Manitoba, will be re-sampled. As noted in the stock chart this is where the company stock took off climbing from approximately 30 cents to 1.40 per share or 79%. This is where we are as of this writing on November 27.
Company New Financing
On November 16, the company reported that it will issue a private placement of $1,625,000 consisting of 2.5 million units at $0.65 per unit. The complex financial arrangement is further explained here. New funding will likely be directed at development of the Iron Mine project.
As noted in the stock chart, this announcement really moved the needle with share value increasing approximately 58% in 5 days.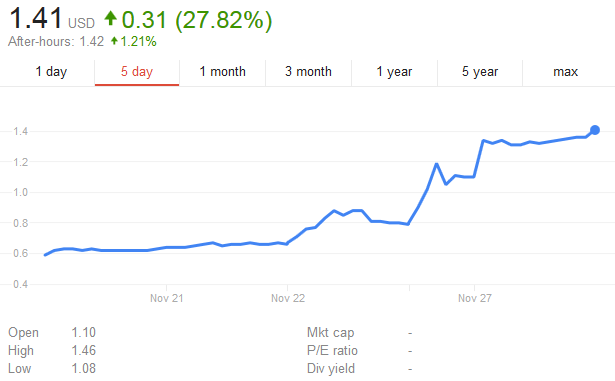 Stock Price Update
Being in the middle of an article, not during the weekend, can change the dynamics of the company you are writing about. Today - Tuesday, November 28, as I am completing the article - I note that profit taking after the huge run-up is taking place. Presently, this is the picture.


The share value has lost 21.76% in anticipated profit taking after a sustained rise. Scanning financial news outlets I find no company news to warrant the drop in share price other than profit taking. Clearly, if this is a good buy point, I expect investors to pile in and some sellers to buy back.
Take-Away
This stock is risky, but the risk has to be weighed in possibilities at this time and into the future. One consideration is that the site is in Canada and the work permit has been provided, unlike a situation in Chile. Another is that Quantum Minerals is a diversified mineral Corporation and Lithium is an add on, albeit, a very important one at this moment. The assay has found Lithium and there is recent new financing. Clearly, early investors who piled on are considering these positive conditions as good possibilities for future financial gains.
Lastly, the price of admission is now cheaper. A big question is, will it get cheaper still, or will buyers fill in the recent price decline? As I write this, the stock is above the day's low.
Author's Note: Thank you for reading and commenting. You can follow my articles on SA by clicking on follow.
Author Disclosure: The information and data that comprise this article came from external sources that I consider reliable, but they were not independently verified for accuracy. Points of view are my considered opinions, not investment advice. I bear no responsibility for investment decisions you decide to make. but I wish you luck in making winning ones.
Disclosure: I/we have no positions in any stocks mentioned, but may initiate a long position in QMCQF over the next 72 hours.
I wrote this article myself, and it expresses my own opinions. I am not receiving compensation for it (other than from Seeking Alpha). I have no business relationship with any company whose stock is mentioned in this article.